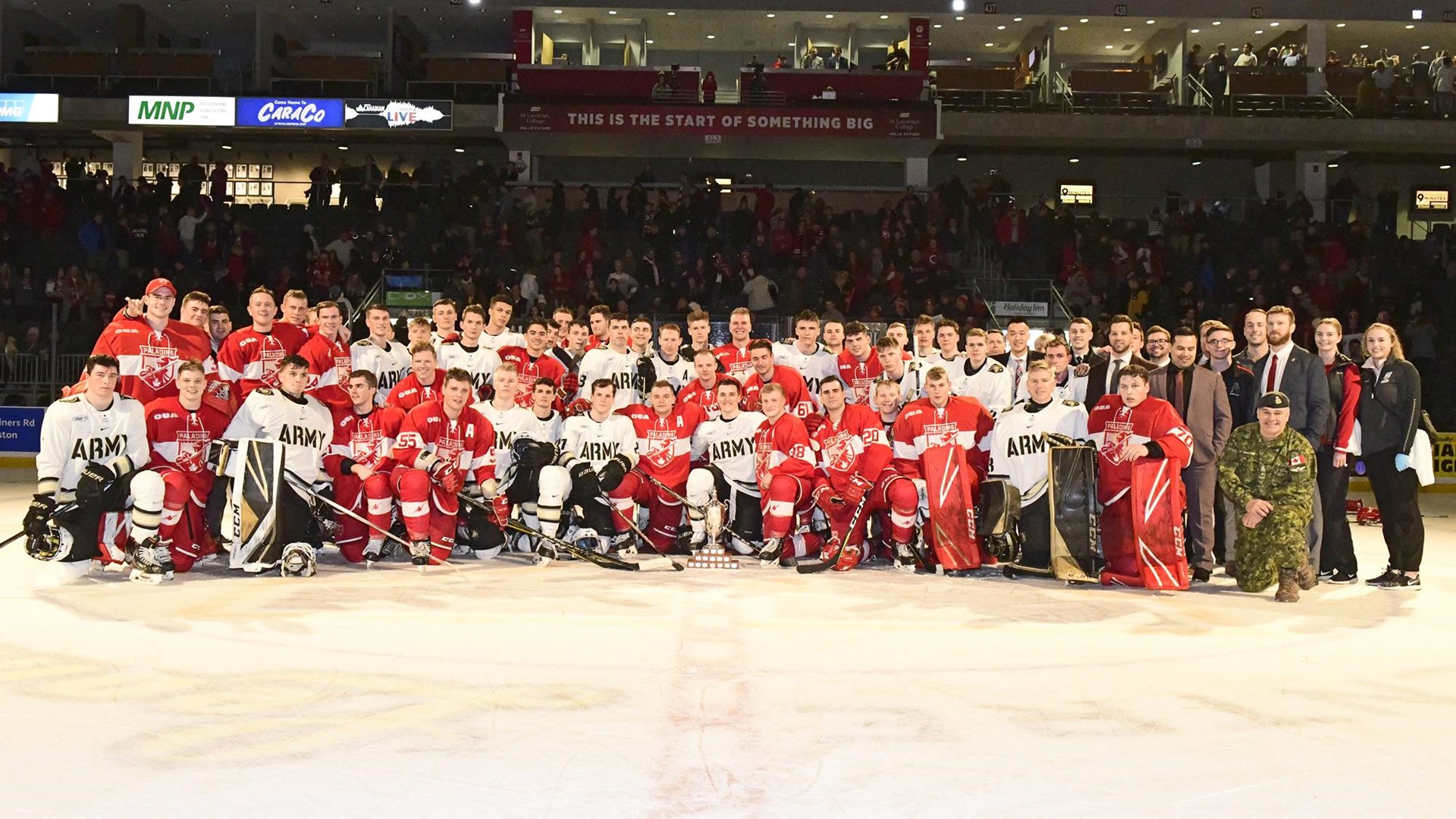 Due to COVID, the historic Army vs RMC hockey game did not take place in 2021 or 2022.
Unfortunately, RMC and United States Military Academy ("Army") were not able to schedule the game for the 22/23 Academic year.  Instead, the RMC hockey team travelled to West Point in early September and engaged in a weekend exchange with the Army Hockey Team.  Members of the RMC Team stayed with their counterparts at USMA, attended classes, toured the campus, and attended an Army football game.  The team also practiced on the Army ice.  It was an excellent experience for all involved and greatly built in the friendship between our institutions.
The traditional West Point Weekend exchange will still be taking place Jan 20-22 at USMA involving Debate, rowing, Tae kwon do, judo, chess, and climbing.  RMC is also competing against USMA in fencing, men's volleyball and possibly rugby this academic year.
We are fully committed to play against Army in the 23/24 academic year and are discussing dates with USMA.
Go RMC!
Darren Cates
Director of Athletics
---
Le point sur la partie de hockey annuelle opposant West Point et le CMR
En raison de la pandémie de COVID-19, la traditionnelle partie de hockey annuelle entre la USMA et le CMR n'a pas eu lieu en 2021 et 2022.
Malheureusement, le CMR et la United States Military Academy (USMA) n'ont pas été en mesure d'organiser une partie de hockey pour l'année universitaire 2022-2023. À la place, les membres de l'équipe du CMR se sont rendus à West Point au début de septembre dans le cadre d'une fin de semaine d'échange avec l'équipe de la USMA. Ils ont été logés chez leurs homologues, ont assisté à des cours, ont visité le campus et ont assisté à une partie de football de la USMA. L'équipe s'est aussi entraînée sur la patinoire locale. L'expérience a été très enrichissante pour tous les participants et a consolidé l'amitié qui unit les deux établissements.
La fin de semaine traditionnelle d'échange avec West Point aura tout de même lieu du 20 au 22 janvier à la USMA. Au programme : débats, aviron, taekwondo, judo, échecs et escalade. Des compétitions d'escrime, de volley-ball masculin et possiblement de rugby entre les deux établissements seront aussi organisées cette année.
Nous mettons tout en œuvre pour que la partie de hockey annuelle ait lieu en 2023-2024, et nous discutons de dates possibles avec la USMA.
Allez le CMR!
Darren Cates
Directeur des sports