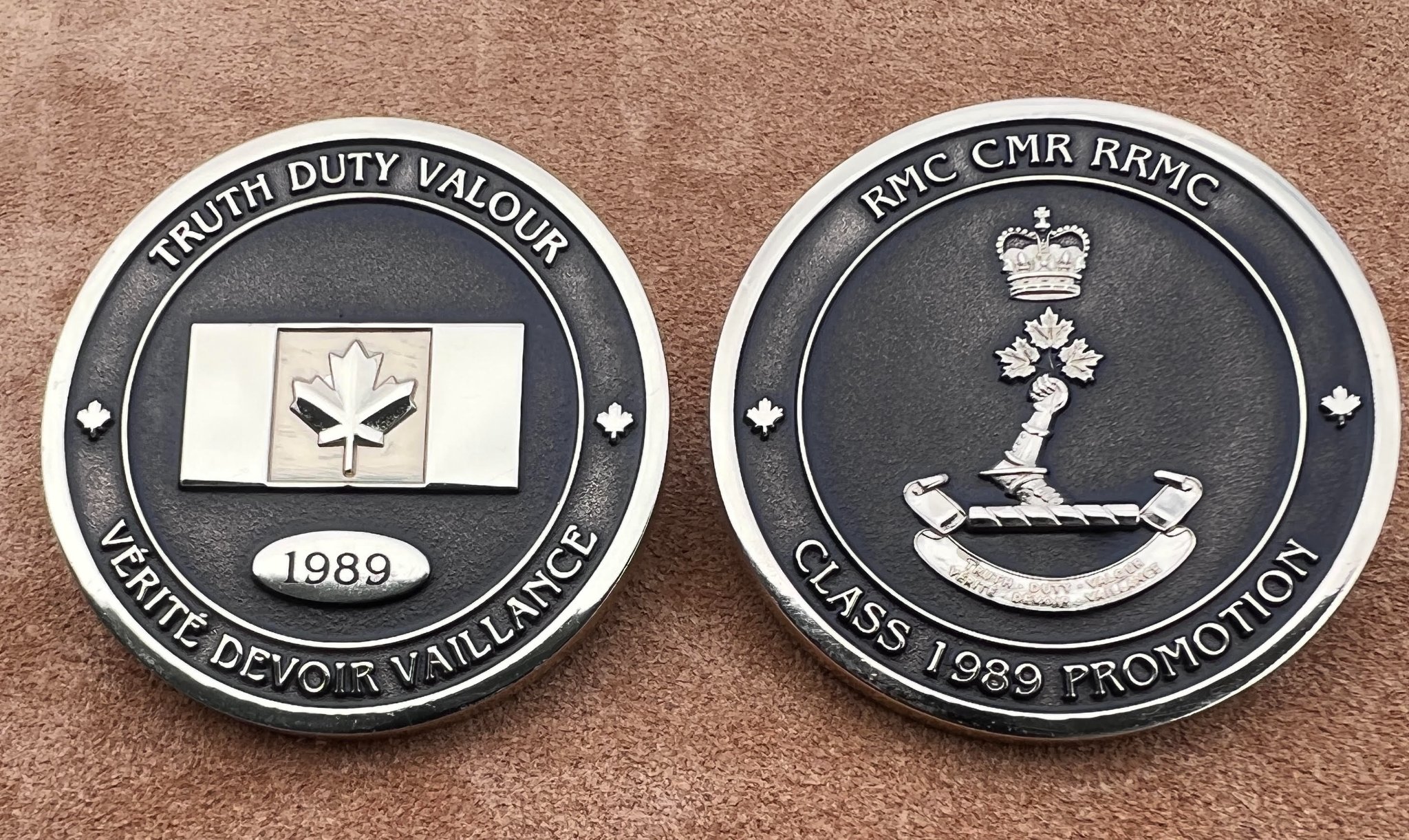 The Class of 1989 has designed, manufactured, and successfully distributed a Class coin.  16891 RMC 1989 graduate Guy Parent says that the effort was a collaboration with his classmates.  "We came up with the idea of a Class coin as a fundraising initiative to help support and fund extra costs associated with our Class reunions," says Guy.  "After our 30th reunion in 2019, we realized that extra funds were required to make those gatherings special. We thought that this would be a great way to raise money while also creating a lasting memento for the Class". 
 16872 RMC 1989 Pete Karagiannis communicated the idea to the Class, 16902 RMC 1989 Kurt Schobel handled the finances, and 17017 RMC 1989 Barb Pierce used her artistic talent to render a design that could be used by the manufacturer of the coin. "Once we had a design in place, it was easy to communicate and promote the idea to our classmates" says Pete Karagiannis. "We were hoping to get a minimum order of 100 coins and pleasantly exceeded that by almost 60%" says Pete.
The collaborative effort brought to life a memorable coin, representing the three military Colleges (RMC, Royal Roads and CMR), the uniqueness to the Class of 1989, and the students' bilingualism.
"I think we achieved all of these components with this coin," says Guy.  The coin has two dies meaning each side of the coin has its own unique motif.  "One side of the coin has the Canadian flag, which could be used by other graduating Classes should they be interested in designing their own coin. The oblong plate under the Canadian flag that has the "1989" is left blank on the die cast and the "1989" is engraved by the foundry after the coin is struck. And so this die can be used to reflect any Class year. This way, other Classes will not have to pay for the casting of the die for that side as it is already created by this project" Guy elaborates. "They can freely design the other side of the coin to their liking and only pay for that side of the coin cast. This saves other Classes about $400 for only having to cast one side of the coin should they choose to go this way".
The entire project took about a year from concept to final distribution. "The design phase definitely took the longest as we wanted to make sure that the coin was just right" says Guy.
SGS Marketing out of Calgary manufactured the dies for the coin. Once the Class team was satisfied with the casts, the coin went into final production.  "Jason and Susan from SGS were great to work with," says Guy.  "They were really responsive to our needs and communicated freely with us through the entire project".
 Overall, it was a successful project, raising funds for the Class, and creating a lasting memento.
Should other Classes wish to embark on a similar project or require additional information, please contact Guy Parent by email at guy23parent@gmail.com or they can contact SGS directly through their web site at www.sgsmarketing.ca.
---
Pièce commémorative de la promotion de 1989
La promotion de 1989 a conçu, fabriqué et distribué une pièce commémorative. 16891 RMC Guy Parent, diplômé en 1989, dit que l'effort était une collaboration avec ses camarades de classe.
«Suite à notre réunion de 30e anniversaire en 2019, nous avons réalisé que des fonds supplémentaires pourraient être utiles afin de rendre ces réunions encore plus spéciales.  Afin de soutenir des coûts supplémentaires potentiels associés à nos réunions de classe, nous avons eu l'idée d'organiser une collecte de fonds» explique Guy. «Nous avons donc pensé que la vente d'une pièce commémorative serait un excellent moyen de collecter des fonds complémentaires tout en créant un souvenir mémorable pour les membres de la classe des diplômés».
16872 RMC 1989 Pete Karagiannis a communiqué l'idée à la classe des diplômés, 16902 RMC 1989 Kurt Schobel s'est occupé des finances et 17017 RMC 1989 Barb Pierce a utilisé son talent artistique pour créer un dessin qui pouvait être utilisé par le fabricant de la pièce. L'ébauche, une fois en place, il a été facile de communiquer et de promouvoir l'idée auprès de nos camarades de classe,» explique Pete Karagiannis. «Nous espérions obtenir une commande minimum de 100 pièces et nous l'avons dépassée de près de 60%!» déclare Pete.
Cet effort collectif a donné naissance à une pièce mémorable, représentant les trois collèges militaires: RMC, Royal Roads et CMR;  la promotion de 1989; et le bilinguisme des étudiants.  «Je trouve que nous abordons tous ces éléments avec cette pièce,» dit Guy. La pièce a deux empreintes: une spécifique pour chaque face de la pièce. «Le côté de la pièce qui porte le drapeau canadien est suffisamment générique, donc les autres promotions pourraient l'utiliser s'ils souhaitent concevoir leur propre pièce commémorative. La plaque oblongue sous le drapeau canadien portant le « 1989 » est laissée non-marquée sur la pièce moulée. Et finalement, pour ce qui est du « 1989 », il est gravé par la fonderie après que la pièce ait été créée afin qu'elle puisse refléter n'importe quelle année de promotion. De cette façon, les autres classes de diplômés n'auront pas à payer pour l'empreinte pour ce côté car il est déjà créé par ce projet », explique Guy. «Ils peuvent librement concevoir l'autre face de la pièce à leur goût et ne payer que pour cette face de la pièce. Cela permettra aux autres classes de diplômés d'économiser environ 400$ pour n'avoir à lancer qu'un seul côté de la pièce si elles choisissent de suivre cette voie».
«L'ensemble du projet a pris environ un an, de la conception à la distribution finale. La phase de conception a certainement pris le plus de temps car nous voulions nous assurer que la pièce était parfaite» déclare Guy.
SGS Marketing de Calgary a fabriqué les empreintes de la pièce. Une fois que l'équipe était satisfaite, la pièce est entrée en production finale. «Ce fut un plaisir de travailler avec Jason et Susan de SGS,» déclare Guy. «Ils ont été très réceptifs à nos besoins et ont communiqué librement avec nous tout au long du projet.»
Dans l'ensemble, ce fut un projet réussi, avec des fonds collectés et un souvenir mémorable pour la classe.
Si d'autres classes de diplômés souhaitent réaliser un projet similaire ou souhaitent obtenir des informations supplémentaires, veuillez contacter Guy Parent par courriel à guy23parent@gmail.com ou elles peuvent contacter SGS directement via leur site web à www.sgsmarketing.ca.