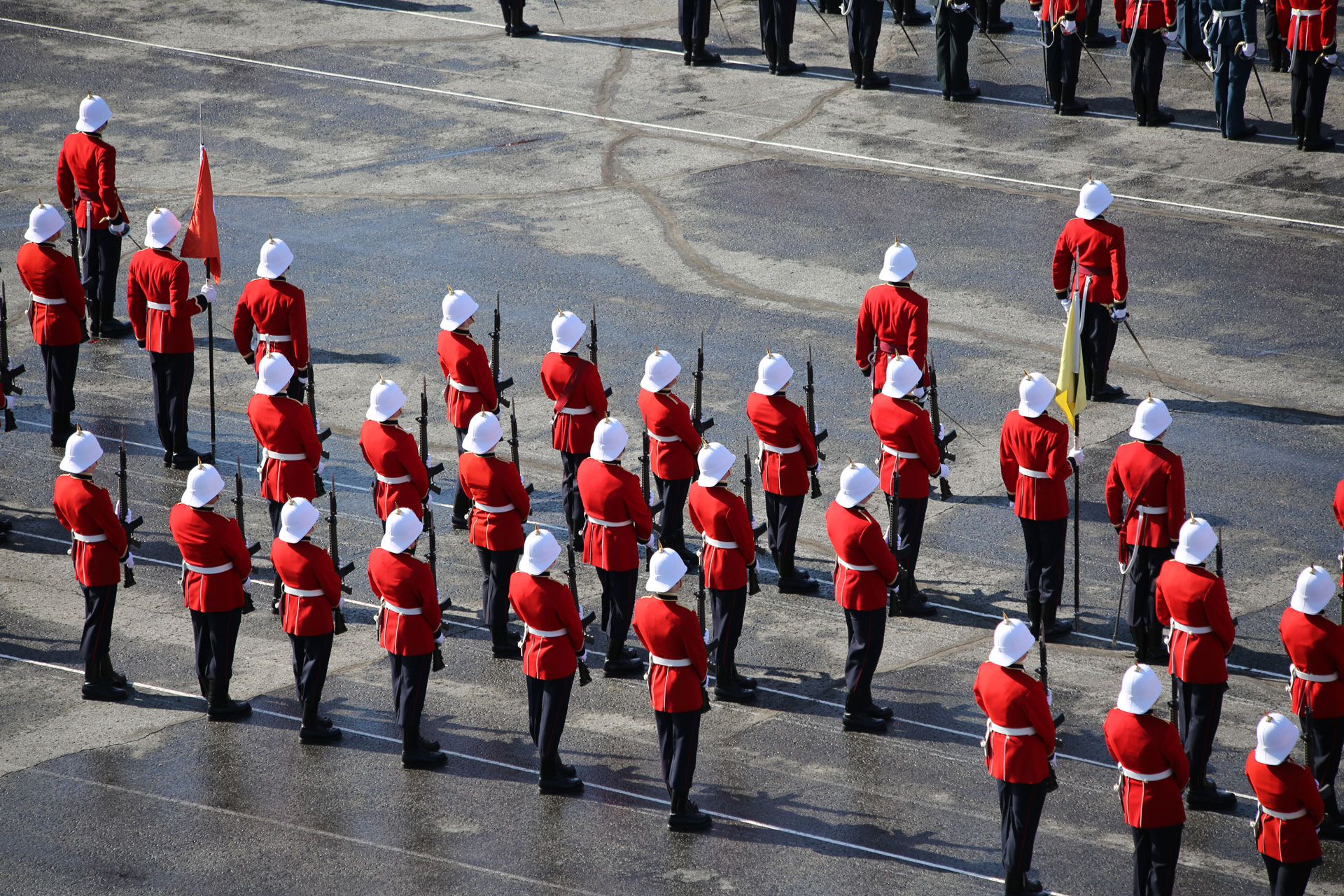 Follow your favourite team by clicking on the link in the table below:
| | | |
| --- | --- | --- |
| | | |
| Men's Basketball | OUA- Men's Basketball | CIS – Men's Basketball |
| Women's Basketball | OUA – Women's Basketball | CIS – Women's Basketball |
| Men's and Women's Running | OUA – Cross Country | CIS Mens Running / CIS Womens Running |
| Men's and Women's Fencing | OUA – Fencing | |
| Hockey | OUA- Hockey | CIS – Hockey |
| Rugby | OUA – Rugby | |
| Men's Soccer | OUA – Men's Soccer | CIS – Men's Soccer |
| Women's Soccer | OUA – Women's Soccer | CIS -Women's Soccer |
| Taekwondo | | |
| Men's Volleyball | OUA – Men's Volleyball | CIS – Men's Volleyball |
| Women's Volleyball | OUA – Women's Volleyball | CIS – Women's Volleyball |
_______________________________________________________
(W) Volleyball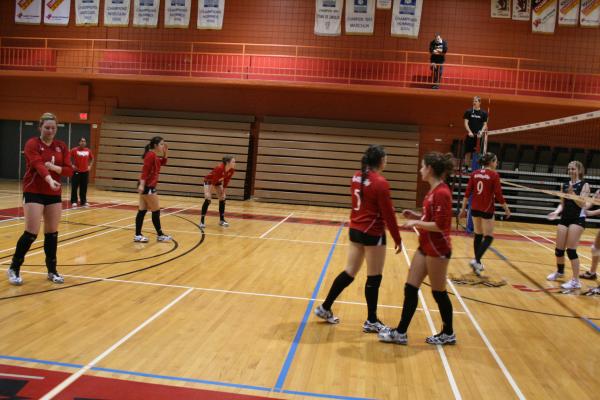 WVB trip to the East Coast…
By: 25249 OCdt (II) Rebecca Fielding
RMC Women's Volleyball team travelled to the East Coast during the Holidays to play teams from Quebec, New Brunswick and Nova Scotia. The Lady Paladins had set out goals to achieve during their trip and they were successful numerous times. The matches that they played are an essential learning block for the girls to continue their play in the OUA. RMC worked together as a team to battle weather, transportation troubles and strong eastern squads in order to make their own game better. The Paladins tried new things in their quest for success in the East and they achieved goals that they are hoping to carry into their next round of upcoming games.
More on (w) volleyball)…



Je me suis rendu au Cégep de Limoilou ce matin pour assister à la rencontre que les demoiselles du CMRC disputaient contre les représentantes du collège de la région de Québec. En fait, nous étions deux fois plus de spectateurs pour supporter l'équipe que pour l'équipe de Limoilou ; le chauffeur de l'autobus et moi-même.
Je n'ai malheureusement pas été en mesure d'assister à toutes les parties mais je les ai vu gagner un match par le compete de 29 à 27. Quand j'ai quitté vers la fin de l'autre match il était aussi en surtemps.
Il faut admirer comment ces élèves-officiers qui ont choisi de racourcir leurs vacances du temps des fêtes peuvent être toujours aussi dévouées à la cause dans le but de s'améliorer et de représenter le Collège.
Mesdemoiselles, je n'ai pas pu me souvenir des mots complètement durant le match mais voici pour vous :
Gimme a beer! — Beer! Esses! Emma! T-D-V! Who can stop old RMC! Shrapnel, Cordite, NCT! R-M-C Hooah!
Serge Arpin
6426
Promotion de '66
____________________________________________________________
McGill Edges RMC in OUA Hockey
By: Earl Zukerman, McGill Sports Information
Forward Andrew Wright of Toronto tallied twice and defenceman Glenn Tindle of Vancouver, B.C., scored what proved to be the game-winner as No. 5-ranked McGill escaped with a 3-2 victory over Royal Military College in men's university hockey at Constantine Arena in Kingston, Sunday.
It was McGill's sixth straight win over the Paladins and improved their lifetime record against RMC to 49-8-4,
McGill, which owns the top offence in the nation and is scoring an average of 5.94 goals per game, struggled to hit pay dirt against the pesky Paladins but finally broke the ice when Wright connected at 6:42 of the second period. Wright then added his sixth of the season at 4:21 of the third, on the power-play, courtesy of a nifty tic-tac-toe passing play with centre Francis Verreault-Paul and blueliner Marc-André Dorion.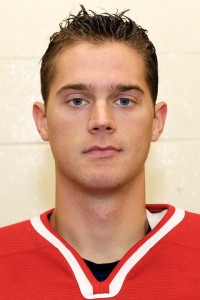 Tindle, a 6-foot-2, 190-pound mechanical engineering senior, made it 3-0 with his second career goal – and first-ever in regular-season play – mid-way through the final period, converting Maxime Langelier-Parent rebound on a rare 2-on-0 breakaway. Tindle's marker was the 18th of the season by the McGill blueline corps, who have collectively accounted for an impressive 18.9 per cent of the team's 95 goals scored.
It proved to be eventful as RMC rallied in the final four minutes with goals from Paul Whalen and Shawn Cox, at 16:16 and 19:11, respectively, the latter coming after rookie goaltender Alexander Stewart was pulled for an extra attacker. Stewart, making his first career start, registered 32 saves in a losing cause.
Danny Mireault, who was making his first league start for the Redmen after missing 12 games with a fractured collarbone, improved his record to 2-0 as McGill outshot the Paladins 35-32.
McGill went 1-for-6 on the power-play and held the Paladins scoreless in six manpower situations. The Redmen now lead all 19 OUA teams in penalty-killing with a 90.1 per cent efficiency, snuffing out 82 of 91 shorthanded situations.
Referee Duane Parliament called a combined total of 58 minutes in penalties, including 10 roughing minors, two more for unsportsmanlike conduct and a 10-minute misconduct penalty, proving that there was no love lost between the two teams, despite a distinct McGill flavour with three Redmen grads now involved with the RMC hockey program… Ken Morin, who captained the Redmen last year, is now patrolling the RMC blueline, where he is working on a master's degree… Also, Paladins head coach Adam Shell skated for the Redmen from 1999 to 2003 and Chad Blundy, his assistant coach, toiled for McGill from 2000 to 2005.