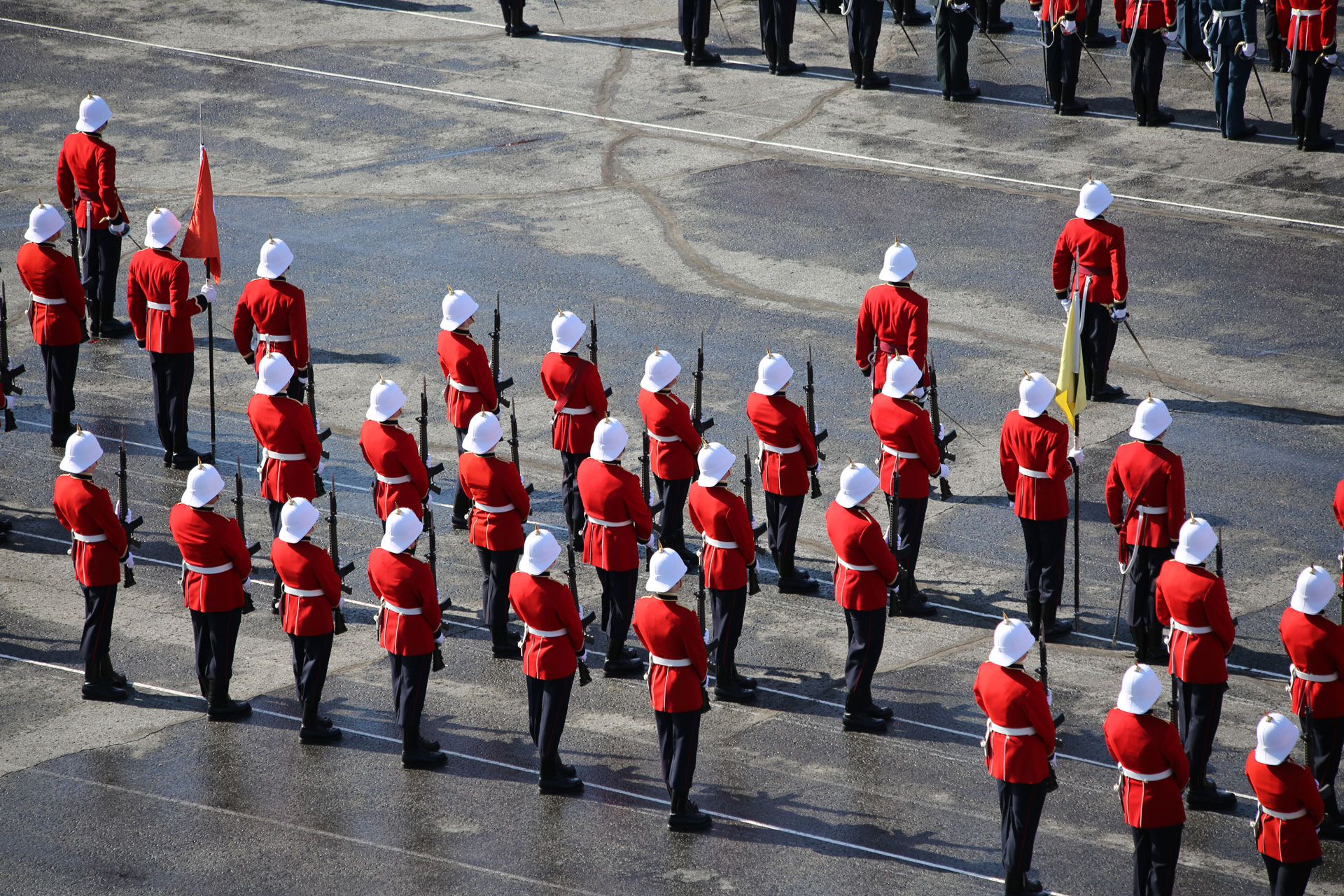 HIGHLIGHTS: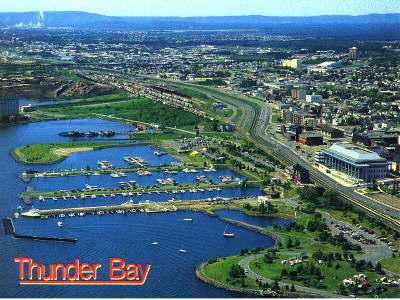 Inside View of a Varsity Road (Air) Trip: (W) Basketball goes to Thunder Bay


Varsity road trips are a bit of an adventure every time we take off. There's a general expectation on our team that something will probably go wrong. Last week, for example, our bus broke down on our return trip just ten minutes from the Guelph University gym, stranding us in a Bulk Barn parking lot (kind of a bonus considering how much candy we were able to buy in the span of a few minutes).
This weekend we head all the way to Thunder Bay to play Lakehead, and then on Saturday, McMaster. So yes, as everyone is preparing to rock their socks at Christmas Ball, the basketball teams will be watching Anchor Man (or any form of Will Ferrell) for the 13th time on the bus. Jealous yet?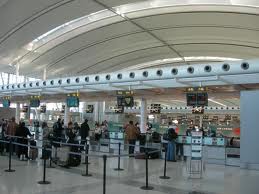 Our trip started with a couple of hours spent on our bus to Toronto Pearson Airport. Once we were settled in the airport, the hunt for Rocky Mountain Chocolate Mountain began almost immediately. After traversing the entire airport, we were all able to blow some money on delicious snacks for our Saved by the Bell marathon going on in the boarding area. There was a major debate over who was better looking, Zack, AC Slater, or Jesse Spano. AC won by a wildcard vote from a first year, which was scandalously influenced by the promise of Rocky Mountain mint fudge. Obviously our conversations are deep when we're bored…
After arriving in Thunder Bay, we head out to the hotel and triple up in rooms. Senior players get their own beds while the younger girls double up. Once we're separated we all pretend that we'll get some serious homework time in… Until somebody finds a TLC "Say Yes to the Dress" marathon followed by "Cake Boss," and our ambitions quickly die.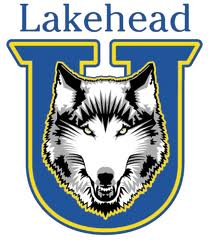 08:30 rolls around and we all gather for breakfast and our team meeting. Here, we talk about the scouting report of the team we will be facing, our plans for the game, timings for the day etc. Once the meeting is over, the teams head to the gym for a "shoot-around." We get about an hour to have some shots, go through our plays, and loosen up before the game. Today's shoot around actually went really well, and we're feeling excited for tonight's game. Every time we play in Lakehead there is a big crowd for both the men and women's games. I'm guessing Friday nights at the local bar "Skuttlebutt's" get kind of old in a metropolis like Thunder Bay, and our games are now the highlight of entertainment… We're not complaining though, crowds are fun to play in front of! (Blatant hint for the readers to come out to our games – Fridays at 6:00 and Saturdays at 1:00)
See you there!
25104 Cassandra White
Oh PS: our team ran into Pauly D from MTV's Jersey Shore while we were in the airport. It's ok, you can be jealous.
SCOREBOARD:
(W) Basketball
Thunderwolves roll over Paladins
(M) Basketball
(M) Volleyball
(W) Volleyball
(M) Hockey
Check OUA sport sites for standings & upcoming games in your area!
________________________________________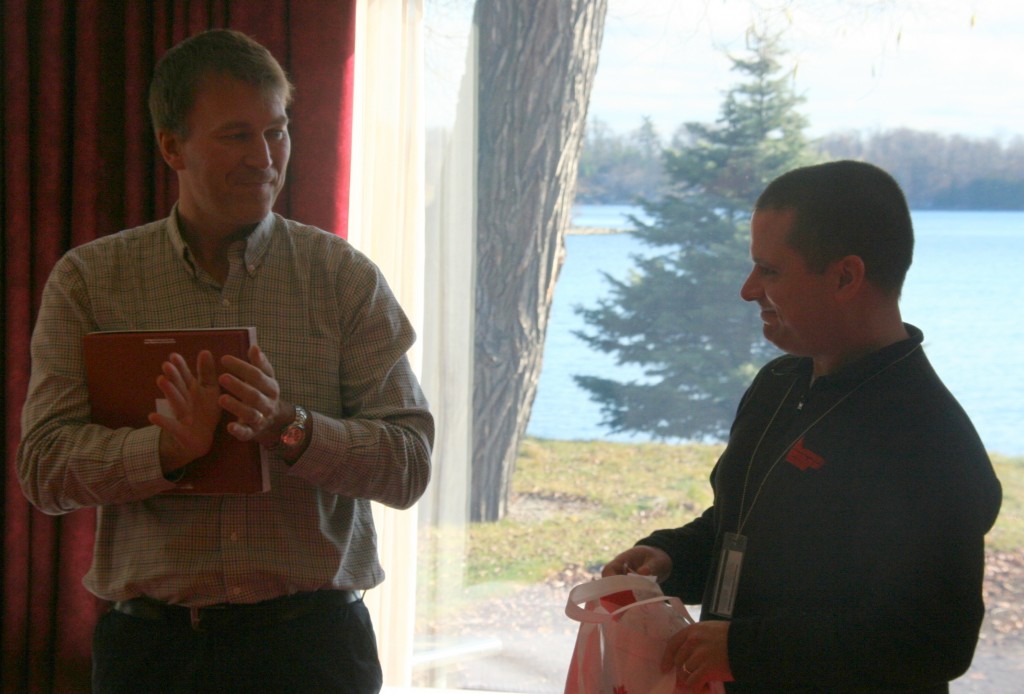 Photo by: Dan Fleming
10th anniversary! Guy Dube (right) joined RMC on June 26, 2000 as the Varsity Manager and just celebrated his tenth year in the position. "Guy is an extremely hard worker that is very committed to RMC," says Darren Cates (left) , Director of Athletics; "Anyone that has dealt with Guy knows how attentive he is to detail and how quickly he addresses and resolves issues. We are fortunate to have him on our staff". Guy oversees the operation of the varsity program which includes eleven teams and upwards of 2oo OCdts in any given year. "I feel very fortunate to work at such a great institution for so many years," said Dube; "working with the OCdts and the staff is challenging but enjoyable."
________________________________________
IV Year player with great basketball memories!

By: 25432 Nathan Williams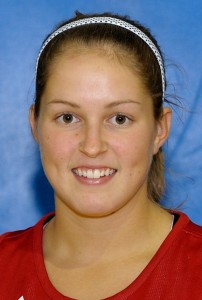 NCdt Stephanie Stone, 24945, 4th year, 2 Squadron. Growing up in Kingston, Stephanie was fairly familiar with the Royal Military College long before she eventually decided to enrol in the business administration program and pursue a career as a MARS officer. An avid basketball player, having played competitively for the past 8 years, she stated that the RMC varsity basketball program was a huge factor in her choosing to enrol at RMC. Stephanie plays guard/point-guard, and had nothing but great things to say about her varsity experience, emphasizing what a wonderful opportunity it has been for her and the great opportunities and experiences she has had being part of the team. One of the memories she recalls most fondly was the week she spent with the team in Newfoundland during her second year.
Superstition: I have to listen to my I-pod before every game and I wear two pairs of socks.
One thing people don't know about me: I had laser eye surgery to join the military in grade twelve.
Favorite Food: Pickles without a doubt.
Hobbies: Playing the piano. I have been playing since I was young. I earned my grade 8 conservatory in high school.
Favorite movie/song: John Mayer – slow dancing in a burning room.
________________________________________