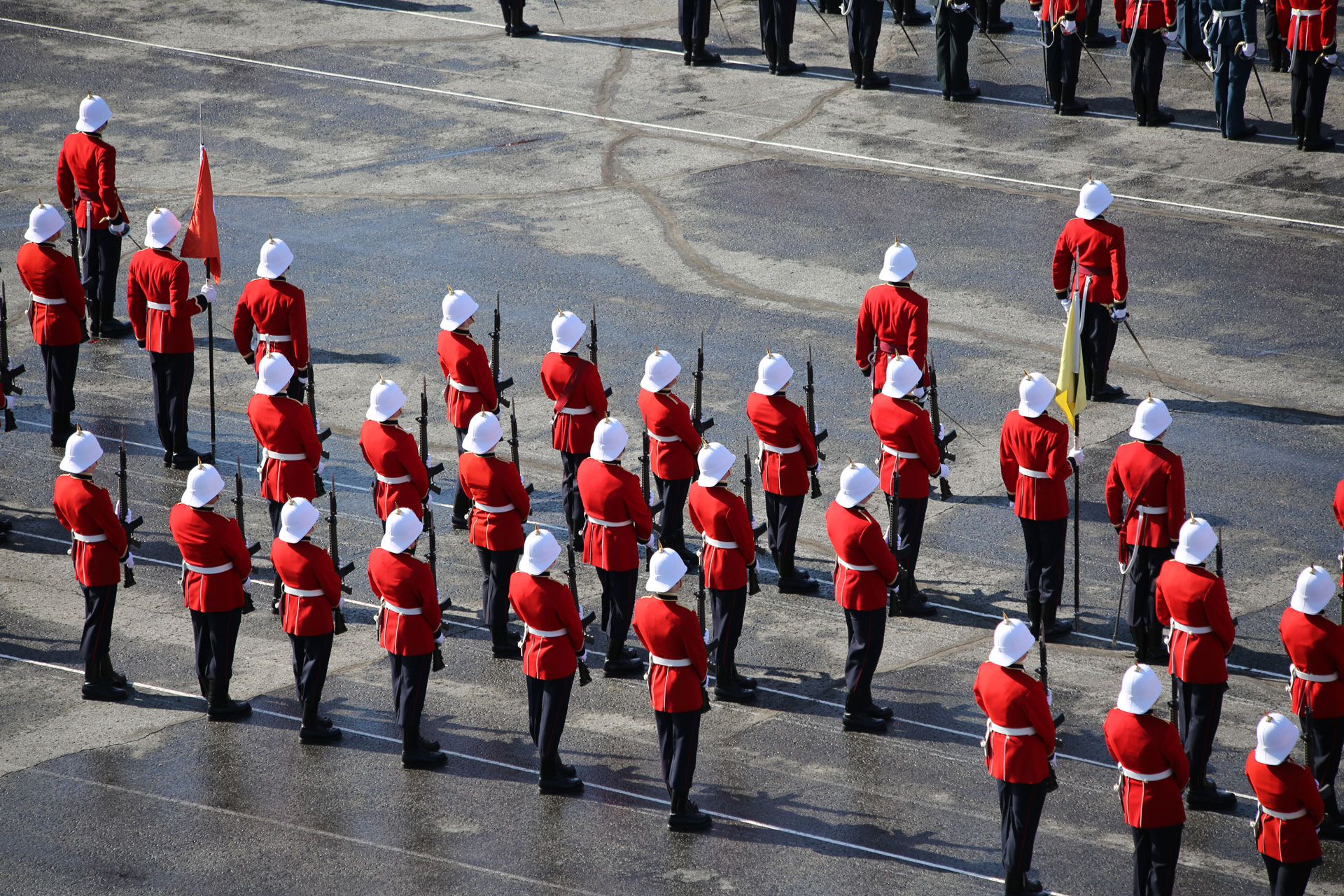 Three varsity teams have started OUA league play. Click on to the OUA section for scores for (W) & (M) soccer; and the (m) rugby team.
Check for upcoming games in your area!
________________________________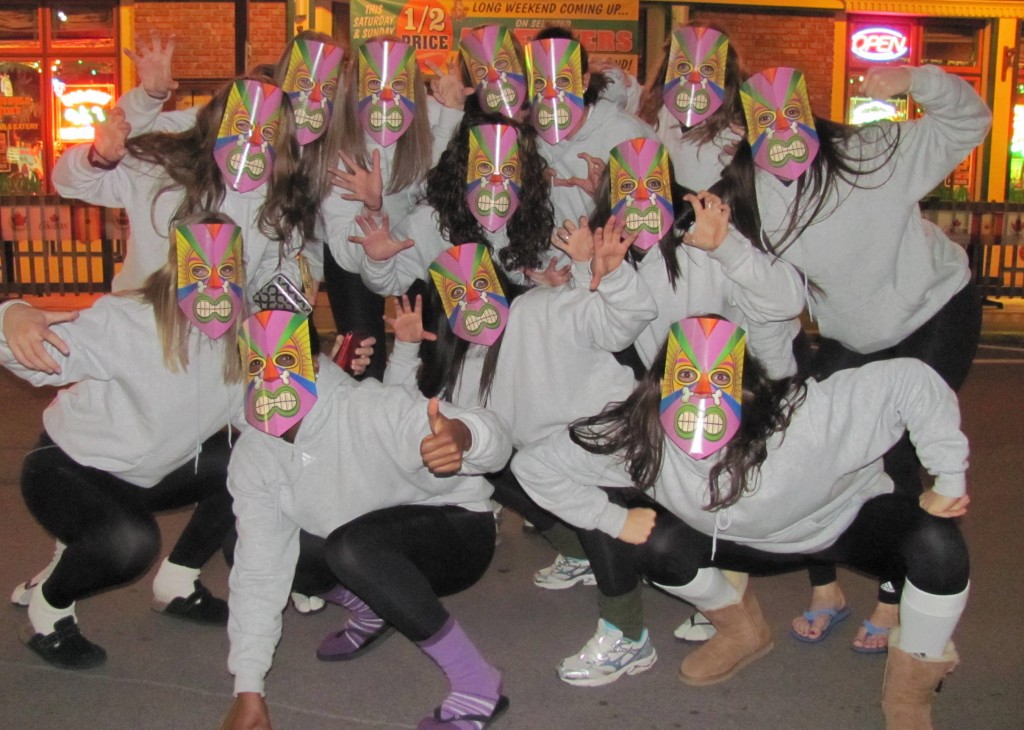 Caption: Team spirit… at its best! We were informed that the 2 pictures of the (w) volleyball team best represent the trip to New Brunswick over Thanksgiving Weekend. (The other photo is at the end of the article)
(W) Volleyball Cap Off Successful Trip to N.B.
OCdt (|||) 25249 Rebecca Fielding
The women's volleyball team travelled to Fredericton, New Brunswick for Thanksgiving Weekend to play a variety of teams in preparation for their home opener on Oct 29 against Lakehead.
The ladies arrived Thursday evening, practiced Friday morning and then played the University of New Brunswick on Friday evening. UNB is a strong team and the Lady Paladins played a good match but eventually lost in 3 sets with close scores of 24-26, 10-25 and 25-27. It was the girl's first official game together and they were anxious to get to know each other on and off the court.
The RMC team practiced in the St Thomas University gym on Saturday morning, working on their mistakes from the UNB game to be prepared for their match against the Fredericton Spoilers A team on Saturday afternoon. The Kingston based team  struggled in the first set but ended up working together to win the next 3 with scores of 20-25, 25-16, 25-21 and 25-17. The Lady Paladins played STU Saturday night, winning in 3 straight sets with scores of 25-20, 25-18 and 20-16.
The women's volleyball team played Sunday morning against the University of Maine, beating them in 3 straight sets with scores of 25-14, 25-11 and 25-20. They finished their games for the weekend on Sunday afternoon, beating St Thomas University for the 2nd time in 3 sets with scores of 25-18, 25-19 and 25-17. RMC finished their busy Thanksgiving weekend with a practice on Monday morning before they returned to Kingston on Monday night.
The weekend was very successful for RMC as they were able to get to know each other, working on team cohesion and camaraderie, and spending the weekend bonding in order to have success as a team this season. They are looking good with strong veteran players returning from previous years and new fresh 1st years who are willing to learn and they all work very hard together. They are experiencing playing together, in different spots working on different lineups to see what works best.
The ladies had a busy and productive weekend together, playing 6 games in 3 days. They are excited to be home home in Kingston, to continue practicing in anticipation for their first league game at home on October 29 against Lakehead University.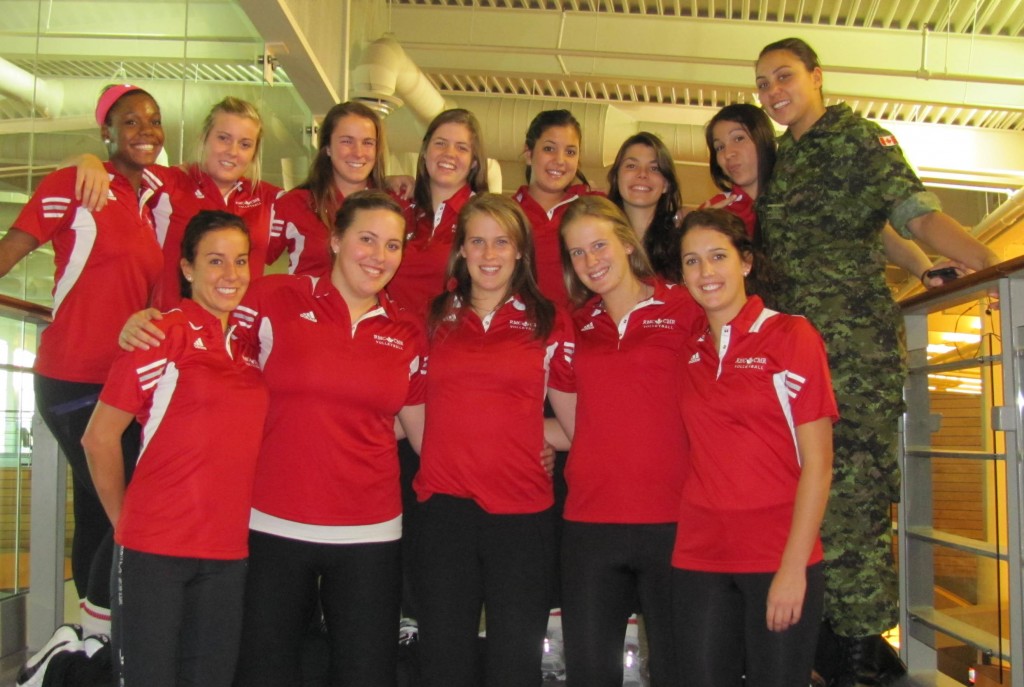 ________________________________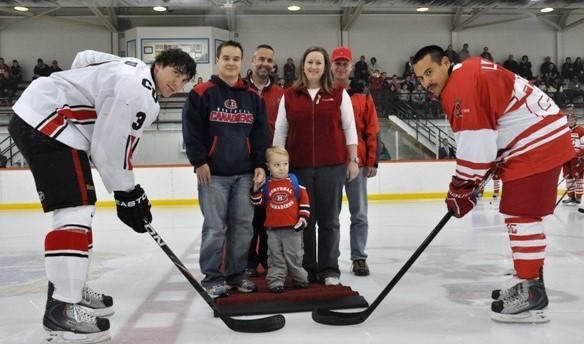 Hockey Season Starts!
Three year old Lucas Pollard along with dad Jeff and mom Chantille, Commodore Bill Truelove, Commandant RMC and CWO Tony Slack, College CWO, drops the puck for Richard Lim of the RMC Paladins and Brad Good of the Carleton Ravens prior to Friday night's home opener for the Paladins.
Paladins help raise money for son of ex-cadet
Photo & article by: Cynthia Kent – RMC PAO
The Royal Military College of Canada Paladins kicked off their hockey home season on Friday night with a special ceremony for a little boy with leukemia.
The game, against the Carleton University Ravens, was dedicated to 3 year old Lucas Pollard, the son of 2Lt Jeff Pollard Pollard, who now works at 1 Wing in Kingston, is a former member of Otter Squadron. He graduated from RMC through the University Training Plan for Non Commissioned Members (UTPNCM) this year. Two months later, Lucas was diagnosed with leukemia.
Even the best medical plans do not cover all of the expenses associated with cancer treatment, so Otter Squadron is stepping in to help. The squadron is spearheading a fundraising drive to help pay expenses associated with Lucas's treatment. At Friday's game donations were taken and there was a 50-50 draw.
Lucas, a Montreal Canadiens fan just like his dad, got to drop the puck to kick off the Paladins home opener. Commodore Bill Truelove, Commandant of RMC, Chief Warrant Officer Tony Slack, College Chief Warrant Officer and Lucas's mom Chantille and dad Jeff were there to help.
Even though the Paladins lost 6-2, the game was a successful start for the fundraising effort.
________________________________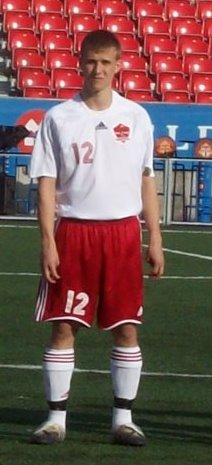 Varsity Athlete
By: 25432 Nathan Williams
I recently sat down with 25223 Greg Theriau from Canaan, Nova Scotia to find out a little more about this mid-fielder and captain of the RMC men's soccer team.
Greg is an Aerospace Engineer, currently in the third year of and Aeronautical Engineer program. One of only two children, both sons, of Bryan and Cheryl Theriau, Greg came to RMC just over 2 years ago in order to accept the challenge of becoming an officer in the Canadian Forces as well as to pursue his studies in one of the few Canadian universities to offer Aeronautical Engineering.
xxxxxxxxxxxxxxx
xxxxxxx

Nickname: Greggy
Position: Midfield or Defence
I have played soccer: Since I was 4 years old
One special memory you have from soccer is: The away games every year are always memorable because we get to travel together as a team and spend the nights in hotels.
My most memorable game was: The game against Ryerson at BMO field. The stadium was incredible, with the CN tower in the background, with my parents in the stands.
The team I like playing most is: Queens because of the rivalry that exists between the two universities.
One thing people don't know about me is: I won the Lieutenant Governor's medal in grade 11.
Favorite Food: Chicken
Biggest Fear: Sharks
Hobbies: Soccer: have no time for anything else.
Future Aspirations: To work for CSA or NASA
__________________________________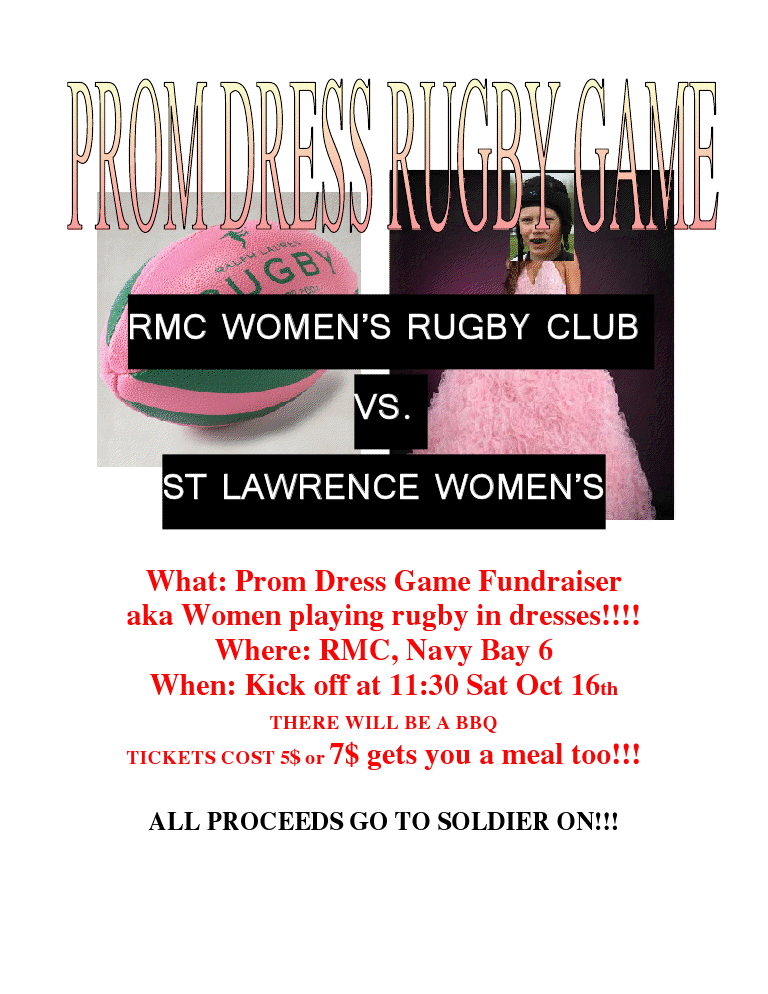 (Click, click on poster for better viewing)
Rugby Ladies heading to their 2nd prom
By: 25323
The Royal Military College's women's rugby team, some new players, some veterans (and about 8 rookies) will be playing against St. Lawrence in a fundraising game on October 16th to raise money for Soldier On.
The game will be a 15 minute quarters, hour long match but the girls will be wearing prom dresses. The cost to watch is 5$ per person. We will be having a BBQ which will cost 3$ for a hotdog or hamburger and a drink, or you can buy a ticket for 7$ that allows you to watch and get a meal in.
All the funds will be going to the Soldier On program which is a program that encourages ill and injured CF personnel to maintain a healthy and active lifestyle. The goal of Soldier On is to optimize the independence of CF personnel or former personnel by delivering programs and services that give opportunities that support an active participation is physical fitness, health promotion and sport.
The match with take place on Navy Bay 6 and will begin at 11:30, on Saturday October 16th. It's fun, dirty and very entertaining to watch. This is the second year for the fundraiser and last year we raised 526$ for the first 32 fund, that helps young girls go to camp. For more information on last year's event, please visit ?p=23151.
__________________________________