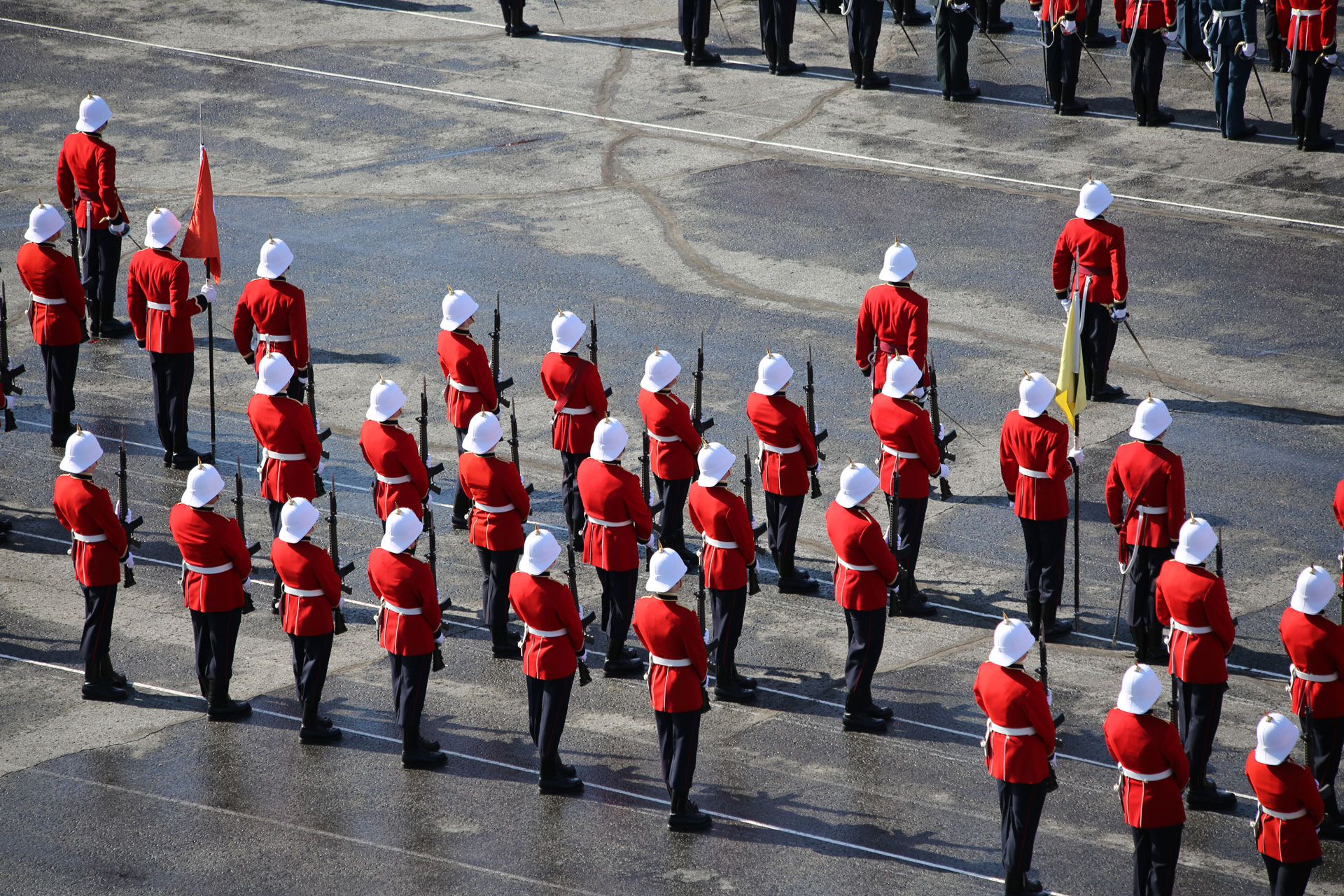 40th RMC Team Fencing Invitational
The 40th RMC Team Fencing Invitational took place this weekend at the KMCSC Field House. Over 130 teams came to Kingston for this challenging tournament from Quebec, Ontario, New York state and Great Britain.
The kick-off to the tournament was the Gala Match Thursday night between RMC A teams and the British Combined Services teams. Team Canada (RMC) won the challenge 4 matches to 2.
At the weekend tournament RMC fielded teams both as RMC-CISM and RMC to build upon both the CISM Fencing Program and the varsity programs for fencing. The RMC-CISM teams, made up of current and ex-cadets won three bronze medals, one silver and one gold. Ex-cadets Capt Marilyne Lafortune (women's foil), Capt Natalie Jones (women's sabre) S(Lt)Chantel Lemay
(women's sabre), 2Lt Sarah Rogers(women's sabre) and Lt Alex Prymack (men's foil) joined their former teammates this year, in preparation for the upcoming World Military Championships scheduled for Venezuala April 22-30 2010. This was an important opportunity for our CISM teams to fence and prepare for Worlds. CISM Team Manager Major Helga Grodzinski was all smiles when handing out medals to her top-notch CISM team medalists. Also winning medals this weekend for RMC were the men's and women's epee teams, both winning bronze. Highlights included IV Brendan Kilburn clinching a medal for
his men's epee team with an exciting victory over a junior national team member fencing for Queen's, and II Andrew Sheahan's amazing bout against a former chinese national team member in the first round of men's epee, when he came from behind to tie the match with 2 seconds left, & then won in extra time.
RMC men's sabre placed a respectable 9th place with one outstanding match, against Les Seigneurs de la Rive Nord (SRN) one of the top sabre clubs in Quebec, winning 45-44. IV OCdt Nick Goulet made the final hit shocking SRN with their loss. The RMC team, fielding two complete beginners who made the team only eight short weeks ago, performed extremly well under pressure.
The RMC Cutting Edge program also garnered a medal with a composite team of the RMC Fencing Chairman's daughter Natasha Grodzinski, the coaches' daughter Becca Howes and RMC varsity fencer Jackie Ruis, who fought in the gold medal match against RMC-CISM to win the silver. It was a coaches dream to watch an all RMC Fencing final.
Congratulations to all the RMC Fencing Program athletes, who not only refereed and ran the tournament, but successfully challenged the competition to some of the best fencing in Ontario. The combined efforts of the RMC fencers garnered them the win of the "RMC Invitational Tournament Cup", for the fifth consecutive year. Well done athletes and all the best for continued success this season!
You make RMC proud!
xxxxx
________________________________________________________________
| | | |
| --- | --- | --- |
| | | |
| Men's Basketball | OUA- Men's Basketball | CIS – Men's Basketball |
| Women's Basketball | OUA – Women's Basketball | CIS – Women's Basketball |
| Men's and Women's Running | OUA – Cross Country | CIS Mens Running / CIS Womens Running |
| Men's and Women's Fencing | OUA – Fencing | |
| Hockey | OUA- Hockey | CIS – Hockey |
| Rugby | OUA – Rugby | |
| Men's Soccer | OUA – Men's Soccer | CIS – Men's Soccer |
| Women's Soccer | OUA – Women's Soccer | CIS -Women's Soccer |
| Taekwondo | | |
| Men's Volleyball | OUA – Men's Volleyball | CIS – Men's Volleyball |
| Women's Volleyball | OUA – Women's Volleyball | CIS – Women's Volleyball |