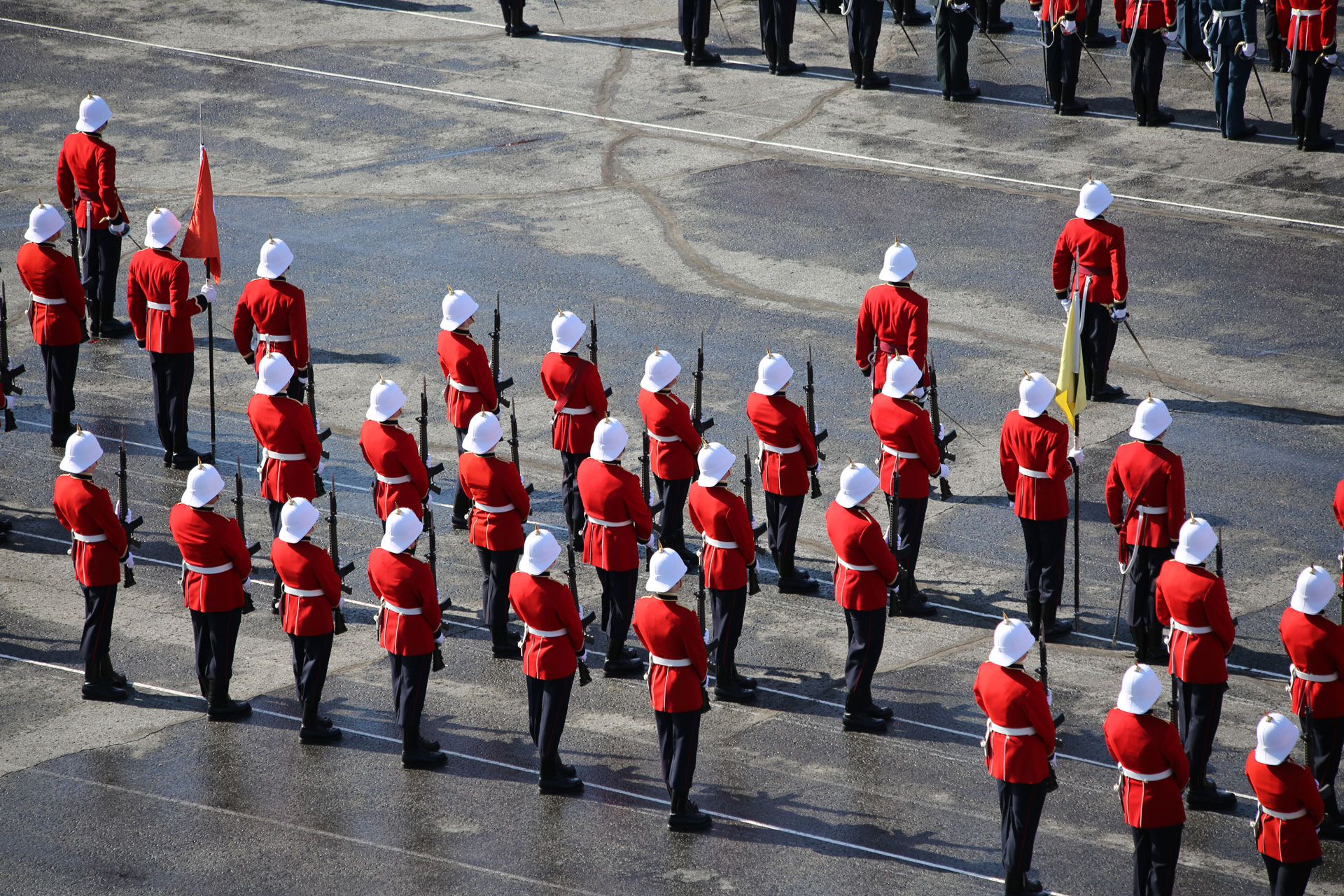 Fencing write-up Coming Soon…
________________________________________________________________________________________________
RMC

Running

Team
Coach of the Year

– Trevor Davies

By 25275 OCdt Julia Anderson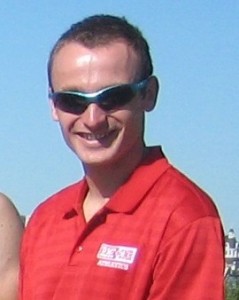 eVeritas – Trevor, Which award did you receive?
Trevor – Male Coach of the Year – Military Personnel Command
eVeritas – How long has the running team been together?
Trevor –The team has been a part of RMC since the early 1900's. It was recently welcomed back to RMC three years ago.
eVeritas – How often do you train?
Trevor –The train teams six times a week.
eVeritas – What's involved in coaching the RMC Running team?
Trevor –While most people might consider running to be an individual sport, I see it as a group of keen, dedicated athletes supporting one another in both training and competition, and seeing the results of the Team as the end goal. This team approach also applies to the coaching and the managing of the team. Under the mentorship of the Head Coach, the control of the team is firmly in the hands of the team captain and his executive. This method gives the coaching staff more time to spend coaching and gives the cadet athletes valuable leadership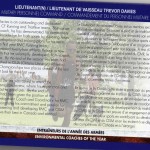 opportunities.
eVeritas – What are your future goals for the team?
Trevor –Between the team captain (24692 IV OCdt Jacob Trivers) and the other coaching staff, we've set two goals for the team this year: being competitive and staying injury-free. The first objective goes well beyond the results on the track, but is focused on developing a winning attitude within the team and individual athlete when it comes to nutrition, commitment, training, academics, attitude and military training. The second goal is focused on ensuring that athletes will remain healthy and fit so that they can continue their competitive athletic training when they leave RMC.
________________________________________________________________________________________________
WOMEN'S
SOCCER

STAND STRONG ON NAVY BAY
2009 Season Review – By Coach Chad Beaulieu
The Women's Soccer team finished the 2009 season with 3 wins, 1 tie and 12 losses. With 10 first year athletes (out of 20) the team quickly gelled thanks to the efforts of team captains 24263 OCdt Jessica Hawn and 25003 OCdt Sam Beckett and the rest of the senior players.
The team's performances at home, on Navy Bay #4, in front of their loyal supporters earned them 3 wins, 1 tie and four losses in 8 appearances. That stands as the programs best home record in OUA regular season play. However the young team struggled on the road losing each of the 8 away games, certainly an area of improvement for next year.
Three players will graduate from the team 24263 OCdt Jessica Hawn and 24682 OCdt Kate Searle as well as LS Heather MacLellan. In four years Hawn played 3629 minutes while Searle compiled 2490. MacLellan set a new program record for minutes played amassing 5365 minutes over her five years with the team.
25003 OCdt Samantha Beckett led the team in goal scoring netting four goals on the season, two of those being game winners. Third-year 24278 OCdt Laura Gray had another standout season as she scored 2 goals and won an amazing 78 fouls against her in 15 games played, a single season record. Rookie goalkeeper OCdt Olivia Clarke had a most impressive season setting team records for a rookie goalkeeper in the following categories: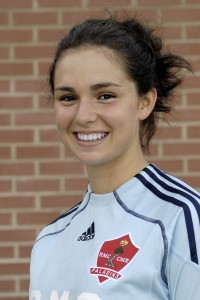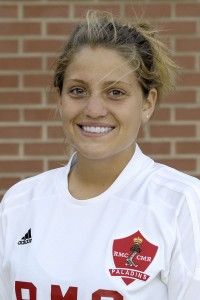 Games started: 16
Minutes played: 1402
Saves: 156
Goals against avg.: 2.5
Clean Sheets: 2
Wins: 3
On Thursday, October 29th the OUA announced the All-Star selections for the 2009 Women's Soccer season. RMC's Laura Gray (Right) and Olivia Clarke (Left) earned second team all-star spots. For Gray it is her second all-star award, while Clarke earns her first as this marks the first time RMC Women's Soccer has had two all-stars in one season.
________________________________________________________________________________________________
Men's
Basketball

Start Up
2009 Season Start Up – By Coach Scott James
This year's men's bball team consist of mainly returning 3rd year cadets with a mix of talented first years and second year players.
x
III OCdt Nicolas Cooke, III OCdt Simon Dakin and Reservist Justin Hill will lead the team. Although the team is more talented than last year, injuries are hampering any success the team might have. Starting the season off with a 40 pt win over King's College (Alberta) and a 9 pt loss to Concordia University early in the season, injuries to over half of the team have severely attributed to a 4 game losing streak.
x
x
_______________________________________________________________________________________
Men's
Volleyball

Start Up
2009 Season Start Up – By Coach Steve Leknois
The RMC Men's volleyball program is in it's third year of the current five year cycle. The leadership this year comes from 5th year player Ocdt Ian Wookey. I'm pleased to have Ian as our team captain as he brings logic and athleticism to the team. His no quit attitude should inspire the team to greater heights than past seasons. Asst Captain Rober Hartzell brings passion and commitment, and our quiet leader Brent Fisher always provides sound logic and feedback to any situation that comes up. There are three young rookies on the team this year two walk on athletes in Ocdt Eric Hawn, who was a pleasant surprise and will be a big part of the team in the future. Also walking on was Ocdt Robert Kilpatrtick. Robert is currently working hard at becoming a better player, he knows what lies in front of him, and from what I have seen so far is a determined young cadet.
The one recruited athlete that came in this year is Ocdt Ryan Courtney. Ryan understands the game of volleyball very well in fact better than I initially thought. I believe that one Ryan reaches his full physical capability he will become a force on the court.
In conclusion, the 15 players on the team are working extremely hard to help the volleyball program move forward at RMC and I believe the future is bright.
________________________________________________________________________________________________
Women's
Volleyball

Start Up
2009 Season Start Up – By Coach Carolyn Welden
The Paladins, who return all four starters from 2008-09, are seeking to improve their win loss ratio.  The returnees are led by both middle blockers II Melissa McCoy and III Glynis Rogers.  Second year libero Rebecca Fielding left her mark in digs last season.  During pre-season training camp and exhibition play, the team has been having strong performances from first year Norah Collins, right side hitter averaging 15 pts and Brianne Baum, setter putting up more than 30 assists per match.
________________________________________________________________________________________________
Men's
Rugby

Wrap Up
2009 Season Wrap Up – By Coach Sean Mcdonaugh
The 2009 men's rugby team welcomed 16 new faces to the team with much optimism and hope for the future.
RMC's annual pre season home and away with Concordia University saw a plethora of injuries to the starting lineup as OUA all star Josh Whiteside, III Steve Juillet and I Stuart Davis all were sidelined for the season with lower limb injuries. This meant a quick reshuffling of personnel as I years Colin Carswell and Rick Spiller were thrown into the centers and expected to hold the line. A major bright spot and area of pride was the stellar work of the RMC pack lead by team captains IV Kyle Harbottle and IV Simon Johnson. Time and again the tough Paladins pack dominated the scrum and forced teams to adjust their line out formations. Three RMC recruits Brandon Black, Clarke O'Reilly and Riley Saliken finished the campaign in the top 15 in league scoring. Two tough loses to Laurier 35-30 and Waterloo 17-10 at the end of the season saw RMC finish out of the playoffs for the first time in three seasons. The Paladins now turn their sights on their annual spring campaign with West Point and Annapolis.
________________________________________________________________________________________________