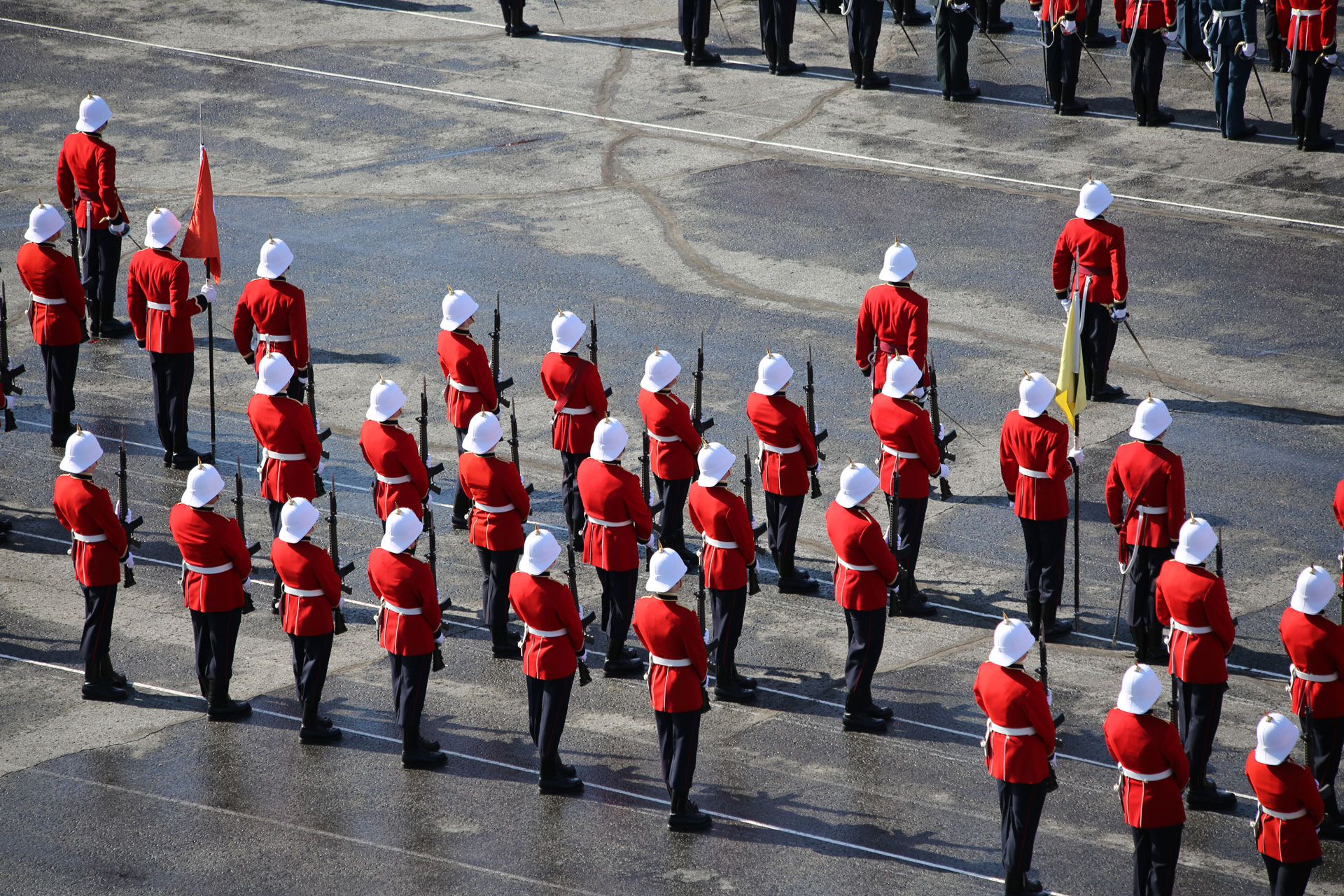 xxxxxxx
The second round of host requests managed to identify 15 fantastic host billets, leaving us in need of 10 more host billets to accommodate the 25 RMC Cadets in the contingent!!!
Please seriously consider billeting a cadet or two to assist with the 2009 Calgary Leadership Dinner. This event is already on track to make a significant donation to your Alma Mater, so please step up to support this event!
The Details
Who: The Calgary Branch of the RMC Ex-Cadet Club is sponsoring the 2009 Calgary Leadership Dinner. A RMC contingent of approximately 25 Cadets will be coming to Calgary in association with the event. A detailed schedule of all activities including high school liaison visits, guidance counselor luncheon, Leadership Dinner, and Grey Cup related activities will be provided in the near future.
What: Hosts are required to provide room, board and transportation for the RMC Cadets from the time they arrive until we send them back to exam routine! Hosts will typically be required to complete one drop off and one pick up per day. However, there may be occasion for a second pick up / drop off as the schedule dictates.
Where: The 2009 Calgary Leadership Dinner Event and associated RMC Cadet activities will all be held in Calgary. Hosts that live in the city will be best suited to provide the logistics support required.
When: The RMC contingent will arrive Wednesday, November 25th, 2009 and will be departing Monday, November 30th, 2009. A detailed itinerary of drop offs and pick ups will be provided to hosts.
Why: To support the 2009 Calgary Leadership Event and provide Cadets with the opportunity to promote RMC and enjoy some alumni time in Calgary. In addition, all hosts are invited to a luncheon at the Ranchmen's Club on Friday November 23rd, 2009 where the Commandant will be meeting with high school guidance counselors and principals from the Calgary area.
I am requesting that you respond to me directly via email or phone by next Friday, November 6th with an indication that you are willing to host 1, 2 or more Cadets for this event. If you have any constraints surrounding hosting, please also let me know. I am looking to hear back from everyone ASAP, so first come first serve!
Thanks in advance!
Regards,
21853 Luke Schauerte
schauerte@shaw.ca
403-547-4883                                                                              Calgary Leadership Dinner Details
XXXXXXXXXXXXXXXXXXXX


________________________________________________________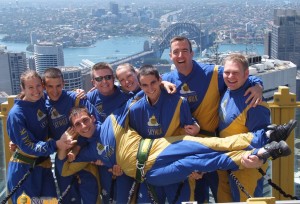 CANUCK TRIO FLIES HALFWAY ROUND THE WORLD
Realize that drop bears don't exist, but that kangaroo is delicious
By: 24198 Nick Goulet  –  CSL 8
After spending roughly 24 hours getting to know each other quite intimately in the slightly uncomfortable middle row of a Boeing 747, 24608 OCdt Kait Dignan, Maj Bruce MacLean and myself, 24198 OCdt Goulet, finally arrived in sunny Sydney, Australia on Monday the 19th of October 2009. While we could easily have taken a short flight into the nation's capital, the trio decided instead to take a scenic three hour van ride to Canberra with the kind and gentle PT instructor WO Pierce. While on route we stopped only once: at the Mackers for some lunch, and so we could listen to the unique mating song of the local birds. Asp Paul Tapis and Asp Michael Carvalho, our co-exchangers from l'École de l'Air in France, became quite adept at mimicking these calls, which might easily have been mistaken for young children having a yelling match, much to the dismay and frustration of the local fauna. Also to our surprise, the usual canadian service of french-english translation was very seldomly required, as both gentlemen understood and applied the English language almost perfectly.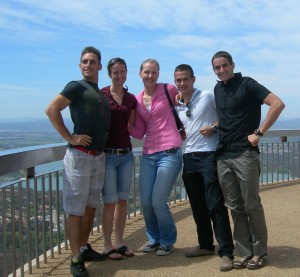 On arrival at the Australian Defense Force Academy (ADFA) we were greeted with friendly g'days by our Aussie mates Midn Mitchell Thomas, Offcdt Teresa Bond, Offcdt John-Paul Thornbjornsen, Ocdt Nathan Mills and Leut Kropp who had all visited us in Kingston a few weeks prior. We immediately got ourselves into our number five uniforms and spent the arvo conducting a walking tour of the campus, which is shared between ADFA (on the right of the main road) and RMC Duntroon (on the left). During the tour, the canuck pair received an outstanding number of sideways glances, friendly smiles and even a few catcalls to make us feel ever more welcome within the institution. We learned that ADFA is a tri-service academy founded in 1986, which grants three and four year university degrees to junior officers who concurrently undergo a completely staff run military component. RMC Duntroon, on the other hand, offers an 18 month military training program to Army officers once they have obtained their university degrees and was founded in 1911 by one of our own graduates, Number 25 MGen William Bridges.
The next morno, while I was having heaps of fun writing a midterm for my Combustion Engines course in the room where ADFA cadets go to get charged for their misdeeds, OCdt Dignan shadowed our hosts through their classes and experienced the cadet mess. A very interesting establishment, the mess offers students a place to relax and grab a free coffee at night or even during the day between classes. In fact, due to it's open nature, it's entirely possible to order a beer at the bar and then head outside to eat your meal on the patio! We then had the opportunity to have an interesting discussion with the academy's Commandant, Air Commodore Margaret Staib and present her with a token of our gratitude. A brilliant woman, she was perhaps the only Australian we encountered who didn't try to convince us of the dangers of "drop bears", the koala's fearsome flesh-eating cousin.
Seeing as how the seasons are inverted around the southern hemisphere, we had the opportunity to visit during the very last week of class. This made the journey all the more memorable, as we were able to witness and take part of some of the more exciting traditions at the academy. Like the cadets back home, dressing up in strange costume was first on the agenda. The last morning PT session had everyone dressed in the wackiest ensembles imaginable and on the last day of classes, with the ADFA cadets authorized to wear each others uniforms, the highly sought after canadian scarlet uniforms were pawned off to the highest bidder and the tropical uniforms (all too revealing short shorts for the men and the lovely RAAF "sac" for the women) were put out in full force. Throughout our stay, our hosts and their companions also ensured that we were well versed with Canberra's nightlife as we participated in their 50 Days To Go party, rocked out at Karaoke, shared cigars with cadets from St-Cyr at their Naval Mess Dinner, engaged in the End of Academics festivities and even visited a "Canadian" bar aptly named "Moosehead's". For the record, not only do the Aussies have a tradition similar to our own "Dancing Queen" in Cold Chisel's "Khe Sanh", but they further supplement it with another even more revealing tradition in Daddy Cool's "Eagle Rock".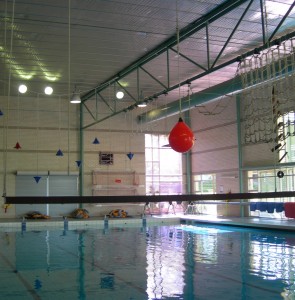 To add a little intensity to our visit, we got to practice our pirating skills on the waterbourne obstacle course which hangs over academy's pool. Basically consisting entirely of grueling back strength and balance obstacles, we were asked to hang and jump from platform to platform and finally complete as many pullups as possible before plunging 15 feet into the water. In order to ensure that we could at the very least pretend we had done some tourism while on the other side of the world, we visited Australia's remarkable parliament buildings, saw koalas and emus at the zoo, paid homage to kindred spirits at the highly impressive war memorial, climbed the Black Mountain Tower, jumped precariously atop Sydney's Centrepoint Tower, swam with jellyfish on the beautiful Bondi Beach and gazed upon the famous Opera House.
XXXXXXXXXXXXXXXXXXXXXXX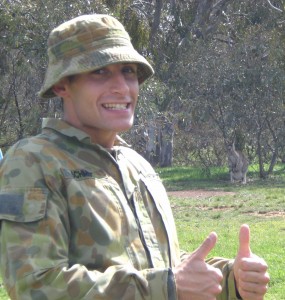 Now, we couldn't have had a trip to Australia without seeing the iconic kangaroo, and we did get to interact with it on two occasions. First, eager to see at least one of these marsupial over the course of our trip, we dressed in the Australian camouflage uniforms and took a walk around an adjacent training ground. After nearly giving up the search, one of our french cohorts noticed movement among the trees with his keen pilot eyes. As we approached, we witnessed as roughly a hundred kangaroos, including a few pouched joeys, got up and bounded away with surprising speed and agility. Second, with all the walking working up our appetite, we were all too happy to retire to a local restaurant and feast on healthy portions of delicious emu, crocodile and of course, kangaroo. As we return to Canada, stomachs full and looking forward to a fair bit of jet lag, we can't help but feel extremely grateful for our chance to go down and meet our slightly better-tanned but eerily similar cousins to the south.
MORE PHOTOS