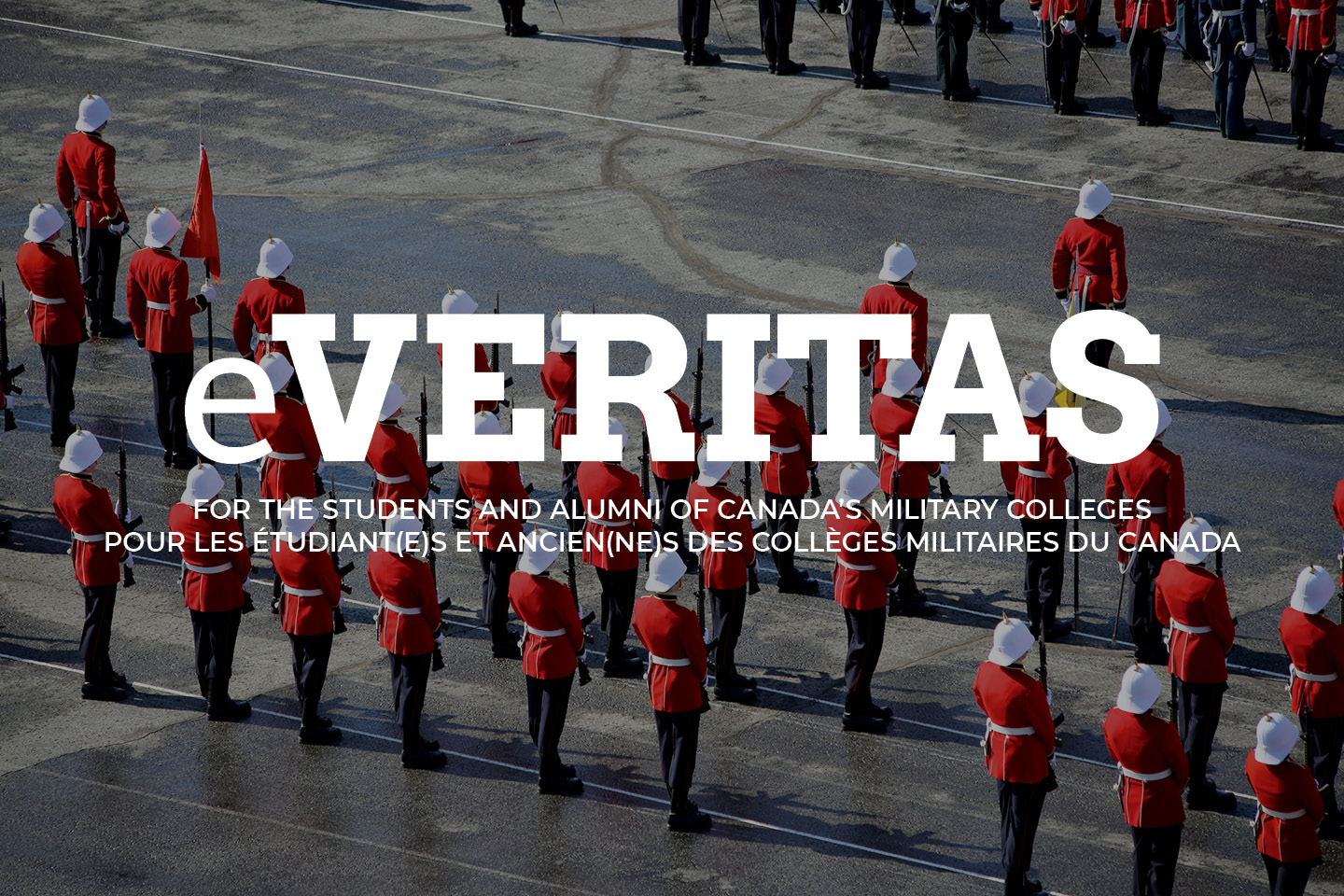 Click – click on photos for larger viewing / cliquez 2 fois sur la photo pour l'élargir
Paid up members of the Club can expect the latest edition of the magazine to be in their mail box within a couple of weeks. Those folks who have moved recently and have not notified the Panet House office please do so: rmcclub@rmc.ca
For lapsed members or for those who have never been paid up members of the Club – we need your help and support. You can most demonstrate support by taking out a membership. Call toll free 1-888 386-3762 or here
Following is just a quick glimpse at some of the outstanding articles. The entire articles are available in the hard copy.
Les membres en règle du Club des CMR recevront sous peu le dernier numéro de Veritas. Veuillez aviser le bureau à la Maison Panet de tout changement d'adresse au : rmcclub@rmc.ca Si votre carte de membre est périmée ou que vous n'ayez jamais été membre du Club – nous avons besoin de votre appui. Devenir membre démontre votre appui de façon concrète. Appelez sans frais au 1-888-386-3762 ou ici
Voici un aperçu des articles qui paraîtrons au complet dans la revue.

Exec Notes
Our Cover
Flying Hercs in war time
We are delighted to feature an operational piece from our Air Force folks. 22149 Captain Kevin Kozak has come through with a very complete account of what is involved in hauling troops and trash into and out of Kandahar Airfield (KAF). I remember Kevin fondly from the days when I ran the IM hockey league at the College circa 2000-01. I also coached one of the four teams along with CWO JAD Perry, the then College RSM, Tim Nash from the Chemistry Department, and Sgt Bill Cavanagh, one of the squadron Sr NCMs. Kevin ended up the season as the playing coach of his team and can best be described a guy you want to have on your team because he was hell to play against. If my Matt were still around he would certainly agree because he and Kevin did battle regularly in the corners.
Climbing Mount Everest – pretty routine for some
Notes exéc
Notre couverture
Piloter des Hercs en temps de guerre
Nous sommes ravis de publier à la une un article sur les opérations de nos camarades de l'Aviation. 22149 Capitaine Kevin Kozak nous a donné un récit détaillé du transport des troupes et des équipements de toutes sortes atterrissant et s'envolant du terrain d'aviation de Kandahar (TAK). Je me souviens affectueusement de Kevin du temps où je dirigeais la ligue de hockey intra-muros au Collège vers les années 2000-01. Je fus aussi l'entraîneur chef de l'une des quatre équipes avec Adjuc JAD Perry, le SMR du Collège, Tim Nash du département de génie chimique et le Sgt Bill Cavanagh, l'un des sous-officiers d'escadron. Kevin a terminé la saison en tant qu'entraîneur/joueur de son équipe. La meilleure façon de le décrire est qu'il est un gars que l'on veut sur son équipe parce que c'est l'enfer de jouer contre lui. Si mon Matt était ici il serait d'accord avec moi car lui et Kevin se bataillaient régulièrement dans les coins.
Escalader le mont Everest – une routine pour d'aucuns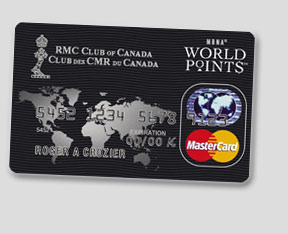 Operation ACTIVE ENDEAVOUR and HMCS Toronto
By 20552 Lt(N) Owen Brine

The following is the continuing story from Fall/Winter issue of Veritas, chronicling the role of HMCS Toronto. Toronto was part of the fleet that formed NATO's Standing Naval Maritime Group 1 that sailed around the Horn of Africa beginning in July 2007. In September, Toronto sailed to the Mediterranean where it took part in NATO's Article Five counter-terrorism Operation ACTIVE ENDEAVOR (OAE) until the end of the year.
20552 Lt(N) Owen Brine was one of 11 Ex-Cadets on the crew.
Having completed the historic circumnavigation of Africa as a NATO Task Group, we were all in very high spirits. We had just transited the Suez Canal and many within the crew of HMCS Toronto were looking forward to being reunited with loved ones in Souda Bay, Crete by taking advantage of the Canadian Forces Reverse Leave Travel Assistance program. Although the port visit to Souda Bay was almost upon us, we quickly became focused on of the importance of our mission when a vessel of interest was known to be in the area and the NATO Task Group was tasked to monitor the situation in support of Operation ACTIVE ENDEAVOUR (OAE). While nothing came of the situation, it served as reminder of our continued role.
Opération ACTIVE ENDEAVOUR et le NCSM Toronto
Par 20552 Ltv Owen Brine
Voici la suite de la chronique du périple du NCSM Toronto qui a paru dans le dernier numéro automne/hiver de Veritas. Le Toronto faisait partie de la flotte du Standing Naval Maritime Group 1 de l'OTAN qui a pris la mer autour de la Corne de l'Afrique au début de juillet 2007. En septembre, le Toronto s'est dirigé vers la Méditerranée où il participa jusqu'à la fin de l'année à une opération anti-terroriste « Article cinq » de l'OTAN, l'Opération ACTIVE ENDEAVOUR (OAE). 20552 Ltv Owen Brine était l'un des 11 Anciens qui faisaient partie de l'équipage.
Ayant terminé la circumnavigation historique de l'Afrique en tant que participants du groupe opérationnel de l'OTAN, nous étions tous pleins d'entrain. Nous venions tout juste de franchir le canal de Suez et plusieurs membres de l'équipage du NCSM Toronto avaient hâte de retrouver leurs êtres chers à Souda Bay, en Crète, profitant du programme d'assistance aux rencontres familiales des Forces canadiennes. Malgré que nous fumes près de Souda Bay, nous nous sommes rapidement concentrés sur l'importance de notre mission lorsque nous avons appris qu'un navire non identifié était dans la région et que le groupe opérationnel de l'OTAN fut chargé de suivre la situation de près dans le cadre de l'Opération ACTIVE ENDEAVOUR (OAE). Bien qu'il n'en ait rien résulté, ça nous a rappelé que la mission se continuait.

Commentary:
Engaging the Islamic Republic?
by 6523 Terry Colfer, Former Canadian Ambassador to Iran
Not too long ago, some senior Iranian officials laid out how the world is seen from the Tehran perspective. Take a look at their point of view. Iran, they say, helped the West organize the Northern Alliance to oust the Taliban in Afghanistan. Once the Taliban were gone, Iran quietly aided the U.S. in forming the new government in Kabul. They claim no Iranian was involved in September 11th or has been found in Al Qaeda. They also stress Iran is the most democratic nation with the freest press of any Muslim country in the Middle East. Isolating Iran and labeling the country as part of the Axis of Evil simply does not make any sense to them.

Commentaire:À la rencontre de la République islamique
Par 6523 Terry Colfer, ancien ambassadeur du Canada en Iran
Il y a peu de temps, quelques représentants officiels de l'Iran ont dévoilé la façon dont le monde est perçu par Téhéran. Voici leur point de vue. L'Iran, disent-ils, a aidé l'Ouest à organiser l'Alliance du Nord afin d'évincer les talibans d'Afghanistan. Une fois les talibans partis, l'Iran a discrètement aidé les ÉU à former le nouveau gouvernement à Kaboul. Ils soutiennent qu'aucun Iranien n'était impliqué dans les événements du 11 septembre ni ne se trouve avec Al Qaeda. Ils soulignent que l'Iran est la nation la plus démocratique et que sa presse compte parmi les plus libres des pays musulmans du Moyen-Orient. Selon eux, isoler l'Iran et considérer le pays comme faisant partie de l'axe du mal, est contraire au bon sens.

ABORIGINAL VETERANS OF ST. PETER'S
By 5119 LCdr(Ret'd) Bill Shead
In 1907, the illegal surrender of the St. Peter's Indian Reserve dispossessed the Band of the lands that they had settled on for over 100 years. The once prosperous Indian Settlement on the banks of the Red River near Selkirk was virtually depopulated. However, St. Peter's Old Stone Church and graveyard remind us that the St. Peter's Band once thrived there. Further, a close look at the grave markers around the church will reveal that many Band members served in the Canadian Forces. Considering the sad circumstances of the St. Peter's surrender, such military service is surprising.
During the early 1790's, Chief Peguis and a small band of Saulteaux settled the area just north of what is now the City of Selkirk. Other Indian bands had migrated in and out of the area but there were no permanent settlements along this part of the Red River until Peguis and his people arrived. In 1812, the Selkirk Settlers began settling south of Selkirk. Peguis and his people befriended and protected the settlers whenever they were intimidated by the fur traders. During his 1817 visit to Red River the Settlers' benefactor, Lord Selkirk, acknowledged this kindness and signed a treaty with Peguis that recognized Peguis and his people as owners of the land they occupied. Peguis died in 1864 and his son, Henry Prince, succeeded him as Chief. By 1902, the St Peter's Reserve was well developed with good houses, schools, churches, farms and roadways. It was close to good employment opportunities and excellent trading centres at Selkirk and Winnipeg. With increasing immigration, land speculation exploded. This led to conflicting claims for the excellent land around St. Peters. Local speculators then initiated a movement to engineer the surrender of the St Peter's Reserve.
ANCIENS COMBATTANTS AUTOCHTONES DE ST-PETER
Par 5119 Capc (ret) Bill Shead
En 1907, le transfert illégal de la réserve indienne de St-Peter a dépossédé les
autochtones des terres qu'ils avaient habitées pendant plus de 100 ans. Le village indien qui était
jadis prospère sur les rives de la Rivière Rouge près de Selkirk fut pratiquement dépeuplé.
Cependant, la vieille église de pierre de St-Peter et le cimetière nous rappellent qu'autrefois la bande
de St-Peter florissait. De plus, en examinant de près les pierres tombales autour de l'église on
remarquera que plusieurs membres de la bande ont servi dans les Forces canadiennes. Si l'on tient compte
des circonstances pitoyables de la cession de St-Peter, un tel service militaire est surprenant.
Tôt durant les années 1790 le Chef Peguis et un petit groupe de Saulteaux se sont installés dans la région juste au nord de ce qui est présentement la ville de Selkirk. D'autres bandes d'indiens avaient migré et quitté la région mais il n'y avait eu aucune habitation permanente le long de cette partie de la Rivière Rouge jusqu'à l'arrivée de Peguis et son monde. En 1812, les colonisateurs de Selkirk commencèrent à s'installer au sud de Selkirk. Peguis et ses membres se montrèrent accueillants et protégeaient les nouveaux colons lorsque les marchands de pelleteries les intimidaient. Durant sa visite à la Rivière Rouge en 1817 le parrain des colons, lord Selkirk, a manifesté sa gratitude envers ces premiers habitants et signa un traité avec Peguis reconnaissant Peguis et son peuple comme propriétaires du territoire. Peguis est décédé en 1864 et son fils, Henry Prince, lui succéda comme chef. Déjà en 1902, la réserve de St-Peter était bien aménagée avec de bonnes maisons, des écoles, des églises, des fermes et des routes. Situé près de Selkirk et de Winnipeg, on y trouvait de bonnes perspectives d'emploi ainsi que d'excellents centres de commerce. Avec l'immigration toujours croissante, les spéculations immobilières montèrent en flèche. Ce qui a produit des conflits de titres pour les magnifiques terrains autour de St-Peter. Les spéculateurs locaux ont alors lancé un mouvement pour manigancer la cession de la réserve de St-Peter.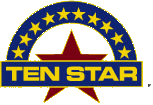 Q & A – In Conversation with 21678 Captain Meagan McGrath,
Experimentation Planner A1
Air Force Experimentation Centre
Was RMC a good experience for you?
RMC was an extremely valuable experience for me. I often describe it as "the worst of times, and the best of times." There were some tough challenges and yet, I had some of my greatest experiences there. I learned how far inside me I could "dig" and keep on persevering.
How did RMC help you fix on excelling at mountaineering, realizing you didn't start out to climb Everest but were really seeking "challenging" vacations?
Mountaineering requires its participants to excel in harsh conditions – it's often cold, wet, and windy. It's also extremely physically demanding; you have to be smart and know a lot about things, like weather, climbing techniques, group dynamics, logistics, expedition planning, public affairs, marketing, etc.
One of the biggest things a climber must excel at is mental perseverance – to suck it up and make things happen, even when you are in an uncomfortable situation. At RMC, I was always in an uncomfortable situation – I didn't exactly make the honour role! The pressure to excel at so many things was a lot to handle. I had friends who helped me chill out a bit and kick me in the pants when I needed it. It was at RMC that I learned the value of teamwork and what I was capable of enduring.
If I can be honest, graduating RMC was the hardest thing I've achieved to date. When I received my commission and my degree, I really knew that I could achieve anything.
How do you balance a career as an AERE officer with something as demanding as mountaineering, with time to train and execute?
Time management; I work out before or after work and on weekends. Very rarely do I go for a run during work hours. It's a lot of commitment to be able to wake up early or stay up late and get in those training sessions. As for execution, I use my annual leave – believe or not, a normal CF member, with no accumulated leave, has the time to complete what I have done. It takes many years, but with dedication, it can be done.
As for work, my plate is certainly full. I have not been cut any slack to dedicate to my expeditions and I appreciate this. If anything, I have been rewarded with more responsibility. I appreciate that my capabilities are being recognized and my Chain of Command (CoC) is confident that they can challenge me with new and varied tasks – even as I continue to pursue expeditions and training.

Where did you get the idea to climb Kilimanjaro? Did you know of 21768 Russ Eyestone when you were at the College? He did that climb during a Christmas break one year.
Q & R – Conversation avec
21678 Capitaine Meagan McGrath,
Planificatrice en expérimentation A1
Centre d'expérimentation de l'Armée de l'Air
Est-ce que le CMR a été une bonne expérience pour vous?
Le CMR a été une expérience très utile pour moi. Je dis souvent que c'était « le meilleur des temps et le pire des temps ». Il y avait de sérieux défis et pourtant c'est là que j'ai vécu des expériences fort enrichissantes. J'ai appris jusqu'où je pouvais puiser dans mes réserves afin de continuer à persévérer.
De quelle façon le CMR vous a-t-il aidé à vous fixer sur l'alpinisme réalisant qu'escalader l'Everest n'était pas votre premier but car vous cherchiez plutôt des vacances « mouvementées » et stimulantes?
L'alpinisme exige que les participants se surpassent malgré les conditions rigoureuses – souvent il fait froid, il pleut et il vente. Ça demande beaucoup physiquement; il faut être intelligent et maîtriser plusieurs sujets tels que la météo, les techniques d'escalade, la dynamique de groupe, la logistique, l'organisation de l'expédition, les affaires publiques, le marketing, etc.
Un alpiniste doit exceller sur le plan de la persévérance mentale – on endure et on va de l'avant même dans des situations pénibles. Au CMR j'étais toujours dans des situations inconfortables – et je n'ai vraiment pas brigué les honneurs! L'obligation de maîtriser un éventail d'aptitudes était incontournable. J'avais des amis qui m'aidaient à relaxer et me bottaient le derrière au besoin. C'est au CMR que j'ai d'abord appris l'importance du travail en équipe et découvert mes capacités d'endurance.
Je peux honnêtement dire que graduer du CMR fut pour moi le défi le plus redoutable jusqu'à ce jour. Lorsque j'ai reçu mon brevet d'officier et mon diplôme, je croyais désormais pouvoir réussir l'impossible.
Comment pouvez-vous concilier une carrière d'officier en Génie aérospatial avec les exigences de l'alpinisme, le temps requis pour l'entraînement et les excursions?
Emploi du temps; je m'entraîne avant et après le travail et en fin de semaines. Je cours rarement durant les heures de travail. Il faut être très motivé pour se lever tôt ou se coucher tard afin d'être assidu aux sessions d'entraînement. Quant à l'exécution, j'utilise mon congé annuel – croyez-le ou non, un membre des FC, sans congé accumulé, a le temps d'accomplir ce que j'ai fait. Ça prend plusieurs années mais avec de la détermination ça peut se faire.
Quant au travail, j'ai déjà beaucoup à faire. On n'a pas assoupli ma tâche afin que je puisse me consacrer à mes expéditions et je l'apprécie. J'ai peut-être été récompensée par des responsabilités additionnelles. J'aime que l'on reconnaisse mes capacités et mes supérieurs sont confiants que je puisse relever le défi de tâches nouvelles et variées – même en continuant de poursuivre mon entraînement et mes excursions.
D'où vous est venue l'idée d'escalader le Kilimandjaro? Connaissiez-vous 21768 Russ Eyestone lorsque vous étiez au Collège? Il a fait cette montée une année durant son congé de Noël.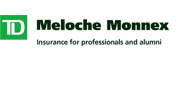 22596 Capt Matt Dawe Memorial Volleyball Tournament

by 24170 OCdt Matthew Jokela
On 1 December 2007 the first Capt Matt Dawe Memorial Volleyball Tournament was held at RMC. The RMC Men's Volleyball Team organized the event, which will be held annually, and did the major part of the officiating. The tournament counted 22 teams composed of Grade 7 and Grade 8 boys and girls; by all accounts it was a great success. Not only did it provide the opportunity for the kids to play and compete but it also raised $1,500 for the Capt Matt Dawe Memorial Fund (currently standing at $25,000). The fund will be used to send two outstanding high school athletes to Madawaska Volleyball Camp where they will work with some of the best volleyball coaches in the country and gain valuable experience. A second objective of the fund is to provide resources for the local chapter of the Boys and Girls Club to allow grass roots participation for young Canadians who might not otherwise have the opportunity. Organizing the tournament brought together the entire Kingston volleyball community and one very positive spin-off was that the Boys and Girls Club was given some good used equipment with which to launch their league.
Tournoi de volley-ball en mémoire de 22596 Capt Matt Dawe
Par 24170 élof Matthew Jokela
Le premier tournoi de volley-ball en mémoire du Capt Matt Dawe a eu lieu au CMR le 1er décembre 2007. L'équipe de volley-ball pour hommes du CMR a organisé et encadré la majeure partie de cette activité; qui aura lieu annuellement. Il y avait 22 équipes composées de garçons et de filles de 7e et 8e année; au dire de tous ce fut un grand succès. Ça n'a pas seulement donné l'occasion aux élèves de jouer et de participer à une épreuve sportive mais aussi de lever $1,500 pour le fidéicommis en mémoire du Capt Matt Dawe (présentement $25,000). Le fonds sera utilisé pour que deux athlètes doués du secondaire puissent participer au camp de volley-ball de Madawaska où ils travailleront avec quelques-uns des meilleurs entraîneurs du pays et pourront ainsi acquérir une expérience très utile. Un deuxième objectif du fonds est de fournir les ressources pour rendre possible la participation de jeunes Canadiens du chapitre local du Club des garçons et filles qui n'en auraient autrement pas la chance. L'organisation de ce tournoi a permis de rassembler toute la communauté de volley-ball de Kingston et le Club des garçons et filles a eu l'avantage inespéré de recevoir de l'équipement usagé et en bonne condition pour lancer leur ligue de volley-ball.

RMC hockey players volunteer to support area children

By Brandy Young
Program Director, Boys and Girls Club of Kingston & Area
Over the past five years, Frontenac Public School, St. Patrick's Catholic School and Rideau Heights Public School have participated in the NHLPA Goals and Dreams Program run by the Boys and Girls Club of Kingston & Area. This program is well-received by educators, parents and students and the RMC hockey team have played a huge role in its success.
This program allows economically-disadvantaged children and youth of Kingston the opportunity to participate in organized ice hockey. It also provides equipment, ice time, role models and support.
Des joueurs de hockey bénévoles du CMR aident les enfants de la région
Par Brandy Young
Directeur de programme du Club Garçons et Filles de la région de Kingston
Au cours des cinq dernières années, les écoles secondaires publiques Frontenac et Rideau Heights ainsi que l'école catholique St-Patrick ont participé au programme Goals & Dreams (objectifs et rêves) de l'AJLNH sous la direction du Club Garçons et Filles de la région de Kingston. Ce programme est bien reçu des professeurs, des parents et des élèves et l'équipe de hockey du CMR a grandement contribué à son succès.
Ce programme permet aux enfants et aux jeunes de Kingston qui sont défavorisés de se joindre à un club de hockey sur glace. On fournit aussi l'équipement, le temps de glace, les instructeurs et l'encadrement.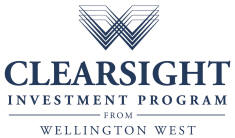 On good news and graduation
By 6776 Col (Ret'd) Tim Sparling – RMC Club President

I am delighted to be able to start this article with a number of good news stories. First thing is to tell you all of the stars are in the right alignment to see a resumption of the RMC West Point hockey series during the 2008-2009 academic year. A hearty well-done to E0733 LCol Tony O'Keeffe and to both coaches who have taken this on as a personal challenge.
You are all aware by now of the re-opening of RMC St-Jean. The decision to offer a two year CEGEP qualification leading to three years in Kingston to obtain a degree will help attract more francophone candidates and offer an exceptional opportunity for a select group of Anglophones to achieve their bilingual status early in their College career. On behalf of all of us I offer our congratulations to the new Commandant 12603 Col J.U.F. Pion, OMM, CD and wish him good luck as he prepares to create a new educational entity within the CF . It will be great to see scarlets back on the campus in St-Jean!
Bonnes nouvelles et graduation
Par 6776 Col (ret) Tim Sparling
Je suis heureux de pouvoir vous donner de bonnes nouvelles. Premièrement, les étoiles sont bien alignées pour entrevoir la reprise des joutes de hockey West Point/CMR au cours de l'année académique 2008-2009. Bravo à E0733 Lcol Tony O'Keeffe et aux deux entraîneurs chefs qui ont pris l'initiative de mettre fin à l'impasse.
Vous êtes sans doute au courant de la réouverture du CMR de St-Jean. La décision d'offrir deux années de qualification CEGEP menant à trois années à Kingston afin d'obtenir un diplôme, attirera un plus grand nombre de candidats francophones et offrira une occasion exceptionnelle à un groupe choisi d'anglophones d'acquérir plus tôt durant leur séjour au Collège la maîtrise de la langue seconde. Au nom de nous tous, j'offre nos félicitations au nouveau commandant 12603 Col J.U.F. Pion, OMM, CD et nous lui souhaitons bonne chance alors qu'il met sur pied une institution académique nouvelle pour les FC. Il sera merveilleux de voir à nouveau les tuniques rouges sur le campus de St-Jean!

Old Brigade Notes
by 3918 Al Roberts, Adjutant
Toronto Leadership Dinner
On 23 November 2007, I represented the Old Brigade in Toronto at this year's Leadership Dinner, with the theme "Celebrating Canada's Global Military Contribution." The dinner was sponsored by the Toronto Branch of our Club and the reserve units of the Canadian Forces in the Greater Toronto Area. The monies raised were allocated to the Wounded Warriors Fund and the establishment of a bursary for attendance at the College for members of the Reserve Forces. In attendance was the recovering wounded warrior (now a corporal) after whom the fund was inspired.
Ex-Cadets, serving members of the Reserve Forces and local regiments and some 40 scarlet-clad officer cadets from RMC made up the bulk of the over 350 attendees. The guest of Honour was S148 General Rick Hillier, C.M.M., M.S.C., C.D., Chief of the Defence Staff. Also present were Don Cherry (hockey analyst and strong supporter of RMC and the Canadian Forces) and Christie Blatchford (author of the recently-published best seller Fifteen Days, which recounts "stories of bravery, friendship, life and death from inside the new Canadian Army" based on her three tours to Afghanistan in 2006).
A highlight of the affair was the presentation of the Birchall Leadership Award to Old Brigader S109 Major Danny McLeod. He, as many of you know, has provided inspired leadership in war and peace as an officer and as a great sportsman and coach with links throughout the hockey community and Canadian university sports organizations. The award, first presented at the Calgary Branch Leadership Dinner in 2006, is named for former Commandant 2364 Air Commodore Leonard Birchall, a Canadian hero of the Second World War. His widow, Kathleen, was in attendance.
Notes de la Vieille Brigade
Par 3918 Al Roberts, Adjudant
Dîner Leadership de Toronto
Le 23 novembre 2007, j'ai représenté la Vieille Brigade à Toronto lors du dîner Leadership qui avait pour thème : « Célébration de la contribution militaire globale du Canada ». Le dîner fut parrainé par le chapitre de Toronto de notre Club et les unités de la réserve des Forces canadiennes dans la région de Toronto. Les sommes amassées furent attribuées au Fonds des guerriers blessés et à la création d'une bourse afin que les membres des Forces de la réserve puissent fréquenter le Collège. Le guerrier blessé et toujours en convalescence (un caporal) qui fut l'inspiration pour ce fonds, était aussi présent.
Anciens, membres des Forces de la réserve en uniforme et des régiments de la région et environ 40 élèves-officiers en tunique rouge du CMR formaient la plus grande partie de plus de 350 convives. L'invité d'honneur était S148 Général Rick Hillier, C.M.M., M.S.C., C.D., Chef d'État major de la Défense. Don Cherry (analyste de hockey et ardent partisan du CMR et des Forces canadiennes) était aussi présent ainsi que Christie Blatchford (auteur du best-seller Fifteen Days récemment publié qui raconte « des histoires de bravoure, d'amitié, de vie et de mort au sein de la nouvelle Armée canadienne » basées sur ses trois séjours en Afghanistan en 2006).
Un haut point de la soirée fut la présentation du prix de leadership Birchall à un membre de la Vieille Brigade, S109 Major Danny McLeod. Comme plusieurs d'entre vous le savez, il a inspiré le leadership en tant qu'officier à la guerre comme en temps de paix, comme sportif talentueux et comme entraîneur chef qui a des liens partout dans la communauté du hockey et des organisations sportives des universités canadiennes. Le prix fut présenté pour la première fois lors du dîner Leadership du chapitre de Calgary en 2006, ce prix fut nommé en l'honneur de l'ancien commandant 2364 Air Commodore Leonard Birchall, un héro canadien de la Deuxième Guerre mondiale. Sa veuve, Kathleen, était présente.

In the air over Afghanistan
The story of Canada's CC-130 Hercules support to the Task Force
By 22149 Captain Kevin Kozak
Since 2001, the Canadian Air Force has been quietly conducting the longest sustained airlift in its history. Using CC-130 Hercules to fly between Camp Mirage, an undisclosed forward operating base in southwest Asia, and Afghanistan, this airlift has been carried out by a small air unit known as the Tactical Airlift Unit or TAU. The Mirage-based TAU has been a crucial element in the conduct of CF operations in Afghanistan, having transported millions of pounds of freight and every single Canadian soldier into and out of theater. Without this unit, Canada would have great difficulty maintaining the size and complexity of its current operation. Between January 2006 and November 2007, I had the privilege to be involved in this world of tactical airlift. During this time period, I trained on the Basic Tactical Air Transport (BTAT) Course and was subsequently deployed to theater from April to June 2006, October to December 2006, and September to November 2007. As a trained Search and Rescue pilot prior to this time, I was once in the dark about Hercules operations in support of the Task Force. Realizing there may be others under a similar shadow, I write this article in the hope it will help others to understand tactical airlift in Canada and the scope of operations currently being conducted by CC-130 aircrew in Afghanistan. more
Vol au-dessus de l'Afghanistan
L'histoire des CC-130 Hercules du Canada et leur appui à la Force opérationnelle
Par 22149 Capitaine Kevin Kozak
Depuis 2001, l'Aviation canadienne a maintenu discrètement le pont aérien de la plus longue durée de son histoire. Utilisant les CC-130 Hercules pour voler entre le camp Mirage, une base non divulguée d'opérations avancée au sud-ouest de l'Asie et l'Afghanistan, ce transport aérien continue d'être effectué par une petite unité d'aviation appelée Unité de transport aérien tactique (Tactical Airlift Unit) ou TAU. Le TAU basé à Mirage a été un élément essentiel pour mener à bonne fin les opérations des FC en Afghanistan, car il a transporté des millions de livres de cargaisons ainsi que chacun des soldats canadiens arrivant ou quittant le théâtre. Sans cette unité, le Canada aurait eu beaucoup de mal à maintenir l'envergure et la complexité de cette présente mission. Entre janvier 2006 et novembre 2007, j'ai eu le privilège de faire partie de ce monde du transport aérien tactique. Durant cette période, j'ai reçu la formation du cours de base de transport aérien tactique (Basic Tactical Air Transport) (BTAT) et par la suite je fus déployé en théâtre d'avril à juin 2006, d'octobre à décembre 2006 et de septembre à novembre 2007. En tant que pilote qualifié en recherche et sauvetage jusqu'à ce point, j'ignorais tout des opérations des Hercules à l'appui des Forces expéditionnaires. Comme il y en a peut-être d'autres éprouvant une telle ignorance, je m'empresse donc de rédiger cet article dans l'espoir d'éclairer les autres sur le transport aérien tactique du Canada et sur l'ampleur des opérations présentement menées par le personnel naviguant des CC-130 en Afghanistan.

Book Review/ Résumé de lecture
Baptism of Fire
The Second Battle of Ypres and the Forging of Canada, April 1915
Author/Auteur: Nathan M. Greenfield
Publisher/Éditeur: Harper Collins
$34.95
Victory at Vimy
Canada Comes of Age: April 9 – 12, 1917
Author/Auteur: Ted Barris
Publisher/Éditeur: Thomas Allen Publishers
$34.95

A Baptism and a Victory
by 12570 Mike Kennedy
Nearly 100 years have passed since the mid-summer day in 1914 when Serbian anarchist Gavrilo Princip fired the "shot heard round the world" which was the flashpoint for igniting the Great War of 1914-18. In the first few weeks of the conflict it was widely expected that hostilities would be over by Christmas; certainly, no one foresaw the war would bring four years of appalling carnage and would destroy four European empires and devour 20 million lives.
The cenotaphs found in numerous Canadian cities and towns offer a stark testimonial to the significance that the events the First World War played in shaping our evolution as a nation. Out of a population of just eight million inhabitants in 1914, over 600,000 Canadians enlisted for service over the course of the war. Of these, nearly 65,000 did not live to see the Allied powers' victory. Even more impressive than the sheer number of Canadians who volunteered for military service was the performance of those who fought on the front lines. By the time the Armistice was signed in November 1918, the officers and men of the Canadian Corps had earned over 60 Victoria Crosses and acquired a formidable reputation as being the "shock troops of the British Empire."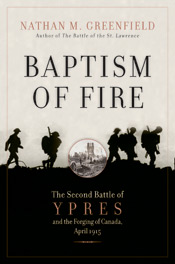 Book Review/ Résumé de lecture
Baptism of Fire
Le Canada façonné par l'épreuve, avril 1915
Author/Auteur : Nathan M. Greenfield
Publisher/Éditeur: Harper Collins
$34.95
.
.

.
.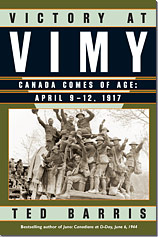 Victory at Vimy
Le Canada gagne ses épaulettes : avril 9 – 12, 1917
Author/Auteur : Ted Barris
Publisher/Éditeur : Thomas Allen Publishers
$34.95
.
.
Un baptême et une victoire
Par 12570 Mike Kennedy
Il y a près de 100 ans, un jour au coeur de l'été de 1914, l'anarchiste serbe Gavrilo Princip a tiré le « coup de feu qui a résonné autour du monde » et qui déclencha la Grande Guerre de 1914-18. Au cours des premières semaines du combat on s'attendait généralement à ce que les hostilités soient terminées avant Noël; certainement, personne n'avait envisagé une guerre marquée par quatre ans de carnage effroyable, qui allait détruire quatre empires européens et dévorer 20 millions de vies.
Les cénotaphes que l'on trouve dans un grand nombre de villes et de villages canadiens témoignent des activités de grande portée qui ont contribué à l'évolution de notre nation lors de la Première Guerre mondiale. Parmi une population de huit millions d'habitants en 1914, plus de 600,000 Canadiens se sont enrôlés durant la guerre. Presque 65,000 d'entre eux n'ont pas vécu pour voir la victoire des Forces alliées. Encore plus impressionnants que le nombre de Canadiens qui se sont présentés pour le service militaire furent les vaillants exploits de ceux qui se sont battus au front. Avant que l'Armistice ne fut conclu en bonne et due forme en novembre 1918, les officiers et les hommes du Corps canadien avaient mérité plus de 60 Croix de Victoria ainsi que la réputation phénoménale d'être « les troupes de choc de l'Empire britannique ».