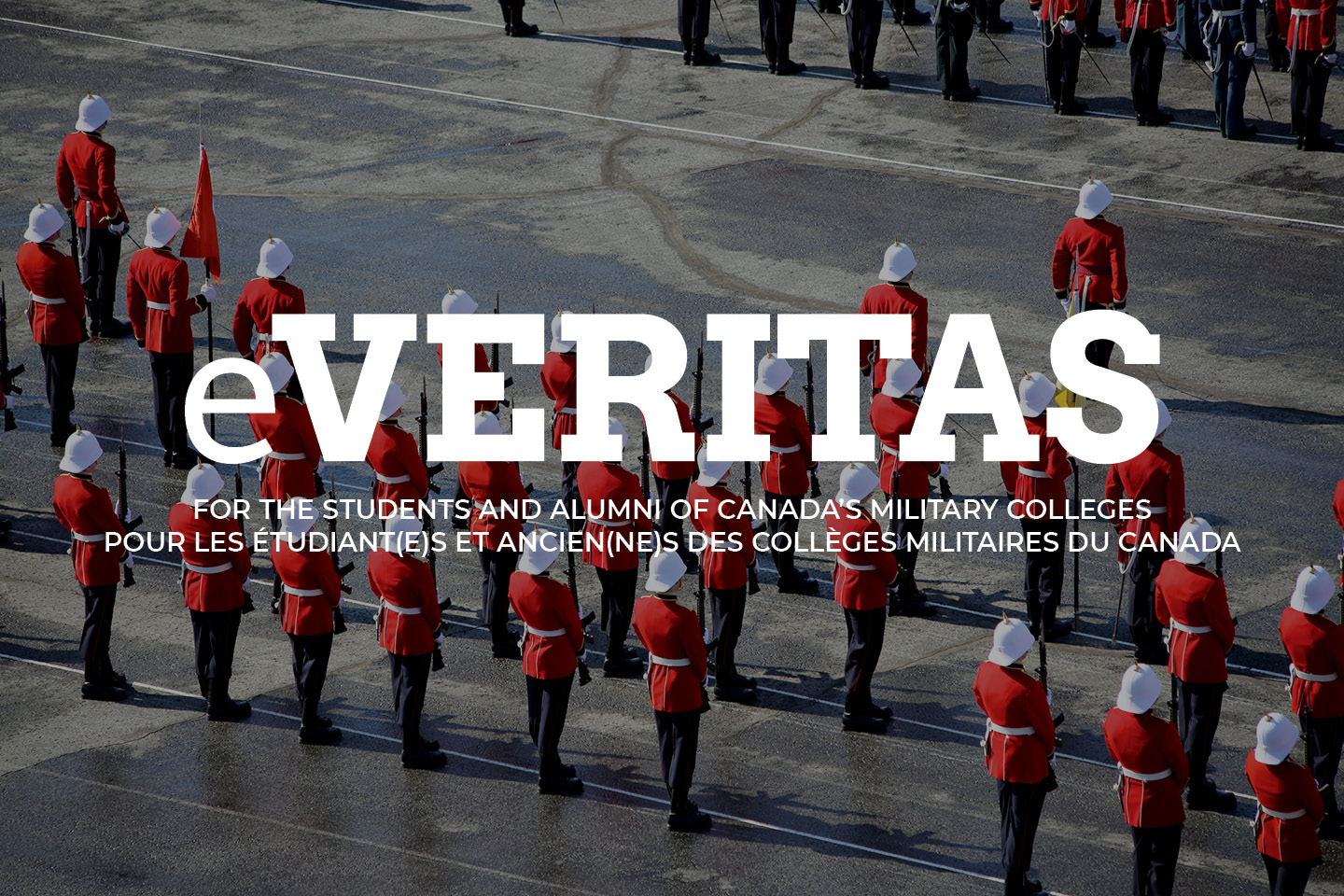 E3161 Victoria Edwards in conversation with 11690 Simon Macdowall (CMR '78), former Curator of the Fort Saint-Jean museum. 
e-Veritas: Outline your career progression.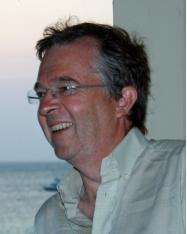 11690 Simon MacDowall: Although I was born in England my parents immigrated to Canada when I was 10. Six years later I joined the Canadian army, serving briefly as a gunner in the 30th Field Artillery before going to Collège Militaire Royal de Saint-Jean as an Officer Cadet. Commissioned into the Royal Canadian Dragoons in 1978, I spent much of my early army career with NATO forces in West Germany. Later I re-trained to become a Public Affairs Officer working with the media. I saw active service in Honduras and Nicaragua with the UN and with NATO in Croatia, Bosnia and Kosovo. In 1994, I was the UN spokesman in Sarajevo. Since then I have worked as Director of Communications in several UK government departments including the Ministry of Defence where I was responsible for all communications for the Armed Forces including managing media issues and crises in Afghanistan and Iraq.
e-Veritas: You have published a number of guides to wargaming set in various historical periods.
11690 Simon MacDowall: I have always had a deep interest in military history and that is what probably prompted me to go to CMR in the first place. My particular interest is the later Roman Empire and early Middle Ages and I have written several books on that period for Osprey Publishing. I think there are fascinating parallels between what was happening at the end of the Roman Empire (economic and political crises; inequality and migration) and what is happening now. One of my books, "Adrianople AD 378," was about the battle that saw the defeat of the Roman army at the hand of a band of Gothic refugees who had crossed the Danube and moved into the Balkans. I got the idea for the book when I was working for NATO in Macedonia in the lead-up to the Kosovo war. At that time we had to deal with a flood of Albanian refugees in exactly the same area as the Goths and Romans fought over 1600 years earlier.
For me, wargaming is a hobby that allows you to bring history to life. It involves researching historical armies and representing them with miniature figures which you have painted yourself. "Wargaming in History: Goths, Huns and Romans" was my first published work back in 1991. It is a complete wargaming guide to the later Roman period including scenarios and mechanics for recreating battles of the period. Since then I have published others, most of which are available on my website: www.legio-wargames.com. Although my great love has always been Romans I do, however, delve into other eras, particularly the early colonial conflicts in North America.
e-Veritas: You are a blogger on historical wargaming.
11690 Simon MacDowall: Legio-Wargames.com is a website devoted to my hobby of historical wargaming with miniature figures. In these pages you will find rules, tips, painting guides and game scenarios. There is also a liberal sprinkling of photographic eye candy. On these pages I share my thoughts and ideas and hopefully give others some of the joy I have had from the hobby.
There are also several sets of rules which you can download which will allow you to play games set in different time periods. These include the Ancient and Medieval period, the campaigns of Marlborough in the early 18th century, and skirmish rules set in North America which cover the French and Indian Wars through the Riel Rebellion.
e-Veritas: Some of your wargaming figures and battle reports relate to Canadian subjects.
11690 Simon MacDowall: I have also attached a couple of photos of my figures which are more related to Canadian subjects rather than Roman. They are:
1. Iroquois war party 1750's
2. Tecumseh 1812
3. Northwest Mounted Police trooper 1883
4. Canadian Militia Officer 1883
The following links also give 'battle reports' on Canadian subjects, the first is set in the Northwest Rebellion 1883 http://legio-wargames.com/#/the-legio-blog/4553964887/A-skirmish-in-the-northwest/1509437
And the second is in the French and Indian War (1758) http://legio-wargames.com/#/the-legio-blog/4553964887/Woodcutters'-Surprise/1512706
e-Veritas: What was CMR St Jean like in the 1970s?
11690 Simon MacDowall: Well, I spent the full 5 years at CMR. Looking back now I remember a combination of great fun and good friendship alongside difficulty in accepting the many petty restrictions on what I could or could not do. I'm afraid I have always had a bit of a rebellious streak and more than once I would hop the back fence to head out to one of the local brasseries at a time that I was not supposed to be doing so. Back then all civilians had long hair so even if we were dressed in civvies you stood out like a sore thumb, although sometimes we were taken for police. The other big differences from today, of course, are that there were no women, you could smoke inside and beer was very cheap.
Probably the greatest personal benefit was learning French. I was pretty well unilingual when I arrived at the ripe old age of 16 and being in a French speaking milieu for 5 years was a great way to learn the language in a way that has stayed with me ever since. I also got a lot of enjoyment and long term benefit from the extra-curricular activities. In addition to the Museum and Wargames clubs I was a member of the Debating Society.
e-Veritas: Talk about that experience.
11690 Simon MacDowall: I was very active in the Debating Society. We traveled all over the US and Canada and had a great track record in beating teams from top American universities who took it all rather too seriously while we relied more on wit and humour. There was one particularly memorable tournament at Columbia University in New York which at that time was a hotbed of left wing radicals (the Vietnam War was still on). We won every single debate and cleaned up in the final. We also had a great time in New York city which was quite an edgy place back in the mid 1970's and it probably helped when walking through Harlem that our short hair made us look like policemen.
e-Veritas: Did your interest in wargaming with miniature figures stem from your time at CMR?
11690 Simon MacDowall: I have been wargaming with miniature figures for as long as I can remember. Many young boys 'play with soldiers' and I guess I never grew out of it! What happened at CMR is that together with 11282 Ross Macfarlane we started to develop something that helped us to combine our love of history with the creativity of modeling to come up with something that would stand the test of time.
e-Veritas: You designed dioramas for the Musée du Fort Saint-Jean Museum. Any tips?
11690 Simon MacDowall: Nowadays there are many sources of figures and three dimensional terrains that you can buy commercially but back then there was very little. We had to use a combination of skill, imagination and resourcefulness to create the armies of figures that we needed.
This applied both to wargaming and creating the dioramas in the Fort Saint-Jean Museum. For example, there were no figures available in the dress and equipment worn by the Carignan-Salières Regiment back in 1666 so we converted all sorts of other figures by cutting bits off, adding putty, changing equipment and clothing. It is a labour of love and I get as much joy out of raising and painting my armies as I do playing the actual games. In doing so it feels as if I am bringing to life the men who made history.
e-Veritas: You served as the 4th curator of the Musée du Fort Saint-Jean/ Fort Saint-Jean Museum. What did that position/club involve?
11690 Simon MacDowall: Well, by that time it was very much keeping going what the earlier curators 11282 Ross Macfarlane, 10389 Chris Cottle and 9540 Paul Jenkins had achieved. It is true that I helped Chris and Ross with the dioramas and other aspects of the museum when they were curators but in my last year at CMR I was more active with debating and wargaming and did not make any changes to what my predecessors had done. www.museedufortsaintjean.ca/EN/index-en.htm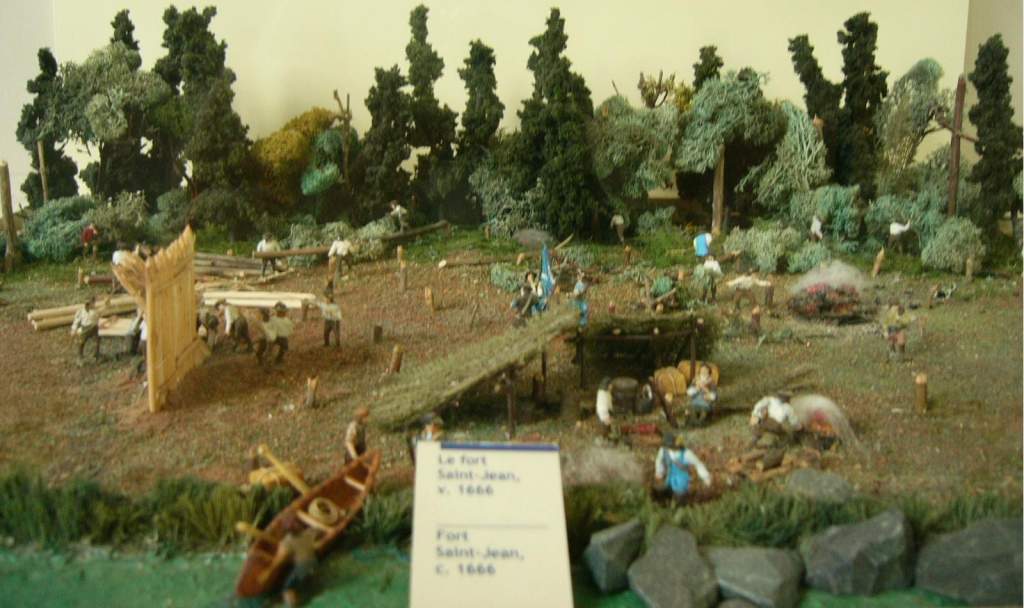 e-Veritas: Please comment on dioramas dating back from the old exhibit which are still at the Fort Saint-Jean Museum.
11690 Simon MacDowall: I remember Ross designed the original diorama of the construction of Fort Saint Jean in 1666 and I helped him with it. The diorama that is there now looks different although it is depicting the same construction activity. The actual figures are not the ones I remember so I suspect there has been some renovation work done on it.
We also had a diorama of a skirmish outside the fort during the American siege in 1775 which now seems to have been replaced. Most people do not know about the vital role Fort Saint-Jean played in the defence of Canada against the Americans. The garrison of Fort Saint-Jean held out against an overwhelming force for forty-five-days. This delayed the American invasion so much that they could not attack Quebec City before December and we all know how cold Quebec can be in winter! Most of the invasion force, which had expected a walk over, was actually lost before it reached Quebec.
I think the other dioramas have been added since my days there.
e-Veritas: What are you up to these days?
11690 Simon MacDowall: I am working as an independent communications consultant for Emic Communications http://www.emic-communications.com. It is a partnership with an ex-Royal Marine friend and we advise international companies how to communicate more effectively across geographical and cultural divides. My early years in the bilingual atmosphere of CMR and the skills I developed in the CMR debating society have been a great help here.
I have settled down on the Suffolk coast in England, living in a cottage that was built back in the 1750's when Canada was still French. Much of my work takes me to Scandinavia, the Netherlands and Germany. Another benefit from my time in the Canadian Forces is the ability to speak German as a result of 6 years in Lahr with the RCD.
I have two grown children, Katharina and Alexander, both of whom are working in the UK civil service and live in London. Apart from painting miniatures, wargaming and military history my great interests are travel, walking, skiing, scuba diving, good food and drink. I'm also a blogger; my main blog being The Legio Blog.