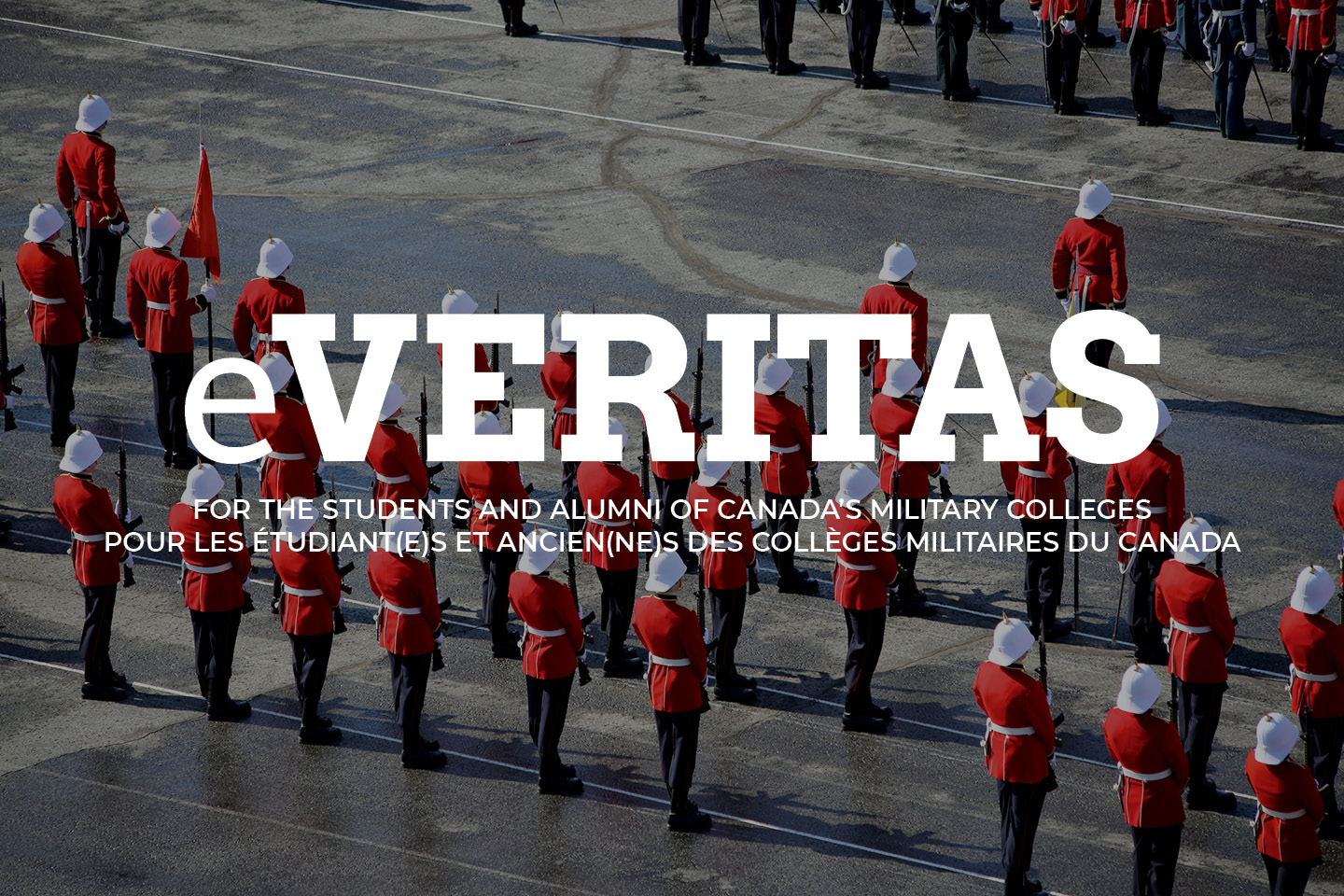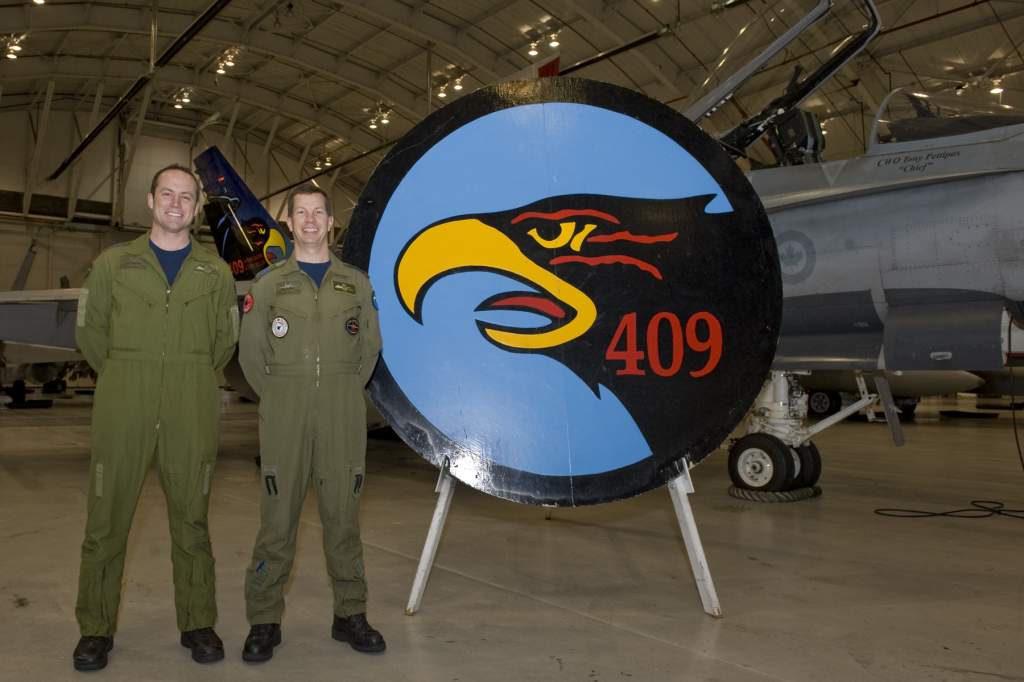 The next installment in our series of Ex cadets and other Canadian Military College graduates who have been recognized for going above and beyond the call of duty.
E3161 Victoria Edwards recently contacted 19171 Col Eric J. Kenny, MSM, CD, (CMR RMC 1994), Director of Air Force Readiness, who was awarded the US Meritorious Service Medal.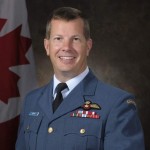 e-veritas : Which Military Colleges did you attend?
19171 Col Eric Kenny: In 1989 I enrolled in the Canadian Forces under the Regular Officer Training Plan and attended both the College Militaire Royal de Saint Jean (1989-92) and the Royal Military College of Kingston, graduating in 1994 with a degree in Computer Engineering. I am a graduate of the Canadian Forces Command and Staff Programme in Toronto and earned a Master of Defence Studies from RMC in 2008.
e-veritas: You served as a 4 bar at RMC in Kingston.
19171 Col Eric Kenny: Yes, I was the Cadet Wing Training Officer, a 4 bar position on the College HQ staff, in which I worked closely with the Cadet Squadron Training Officers and college Chief Warrant Officer. My key areas of focus were dress, discipline and drill.
e-veritas: What were your main extracurricular activities while at the college(s)?
19171 Col Eric Kenny: At military college I played a lot of sports. Although I wasn't on the rep teams, I played ice hockey, broomball and soccer. I enjoyed cross country running and social activities outside the college. When I had a break in my studies, I enjoyed going downtown with friends.
e-veritas: What are your worst memories from Military College?
19171 Col Eric Kenny: For me, recruit camp was a six week long journey from civilian to military life. I didn't have a lot of info in regards to what to expect there. I vividly remember lots of drill, classroom time for basic instruction, physical training, inspections, getting yelled at, and lots of push ups. I didn't sleep much. Before room inspection each day we had to run four circuits around the drill square. If the room inspection went well, we had the faint hope of having fewer circuits to run the following day, but that never seemed to happen. The final rite of passage was the obstacle course.
e-veritas: What are your best memories from Military College?
19171 Col Eric Kenny: My memories from Military College center around sports and friendships made. Although everyone came from different backgrounds, we shared a common series of experiences, traditions and challenges. Whenever I bump into those who attended, we talk about old times and catch up. I also met my wife Angie during my 3rd year. We have two children, Melanie and Jason.
e-veritas: You were recently awarded the US Meritorious Service Medal.
19171 Col Eric Kenny: I was awarded the US Meritorious Service Medal for my time as the Deputy Director of the Air Operations Control Centre in Kabul, Afghanistan in 2009. I initially worked at the ISAF HQ, but moved halfway through my tour to the ISAF Joint Command (IJC HQ). We were responsible for prioritization of air assets across Afghanistan based on each Region's air requirements, airspace management, intra-theatre airlift, personnel recovery, JTAC standards, as well as coordination of real-time air support to "Troops In Contact" situations. I was recognized for my work as the lead air planner for the creation of the IJC HQ. This was a busy but exciting time as we had just over 3 months from concept announcement to standup of a brand new theatre operational command which reported to ISAF HQ. I really enjoyed my time in Kabul.
e-veritas: You were selected for pilot training.
19171 Col Eric Kenny: Yes, after graduating in 1994, I proceeded to 15 Wing Moose Jaw and completed the basic and advance flying courses I got my Wings in the summer of 1995. I was selected to fly the CF18 but there was a long delay before starting my training, so from 1995-97 I flew the Tutor out of Winnipeg, followed by a Wing operations staff position at 4 Wing Cold Lake. In June 1998, I completed the CF-18 course and was posted to 3 Wing Bagotville as a member of 433 Tactical Fighter Squadron. I have accumulated 2800 flying hours, 2100 of them in the CF-18.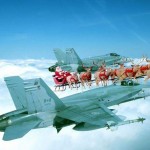 e-veritas: You were a Santa escort pilot in 2010.
19171 Col Eric Kenny: Yes, with the CF18s we have a standing commitment to NORAD which performs its mission 365 days per year; but on Christmas Eve, NORAD performs an additional mission – tracking Santa around the world. On December 24th 2010, I was one of the four CF-18 Hornet fighter pilots selected to act as Santa's official escorts. At the time I was the Commanding Officer of 409 Tactical Fighter at 4 Wing Cold Lake. My role was to take over the escort duties through Canadian airspace as Santa made his way safely into Western Canada. My kids were pretty excited that dad got to escort Santa that year.
e-veritas: What have you been doing since you graduated? Any highlights?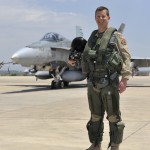 19171 Col Eric Kenny: I deployed to Aviano, Italy twice to participate in Op ECHO (1998/99), air presence missions over Bosnia, and Op Allied Force, the 1999 NATO air-bombing campaign in Yugoslavia. As previously mentioned I deployed to Kabul, Afghanistan in 2009 for Op ATHENA. In 2010 I was appointed the Commanding Officer of 409 Tactical Fighter Squadron at 4 Wing Cold Lake. I was deployed to Keflavik, Iceland as the Task Force Commander for Op IGNITION in April 2011, NATO-Iceland Air Policing. I went straight from Iceland to Trapani-Birgi, Italy as the Detachment Commander for Op MOBILE, Task Force Libeccio from May – July 2011 as part of the NATO campaign over Libya. Upon promotion to my current rank, I was then sent to Poggio-Renatico, Italy as the Commander Air Coordination Element, Op MOBILE, Task Force LIBECCIO until NATO's Operation Unified Protector finished. I have flown a total of 32 combat missions in the CF18, eight over Yugoslavia and twenty-four over Libya.
e-veritas: What are you up to these days? How do you keep fit?
19171 Col Eric Kenny: Upon return to Canada in November 2011, I was appointed Director Air Force Readiness (D Air FR). As D Air FR, my staff and I are responsible to the Comd RCAF and the Director General Air Force Development (DG Air FD) for establishing the operational output (capacity) of the Air Force and communicating aerospace capabilities/capacity to the Strategic Joint Staff (SJS) in support of CF strategic decision making. We collaborate extensively with the SJS to maintain Situational Awareness (SA) on potential force employment scenarios/opportunities. I inform the Comd RCAF of Air Force Force Generation challenges and provide advice on the in-year adjustments to air force readiness. How I stay fit depends on the season. When the weather is warm I run or water-ski. In the winter months, I play hockey in an intersection league and downhill ski.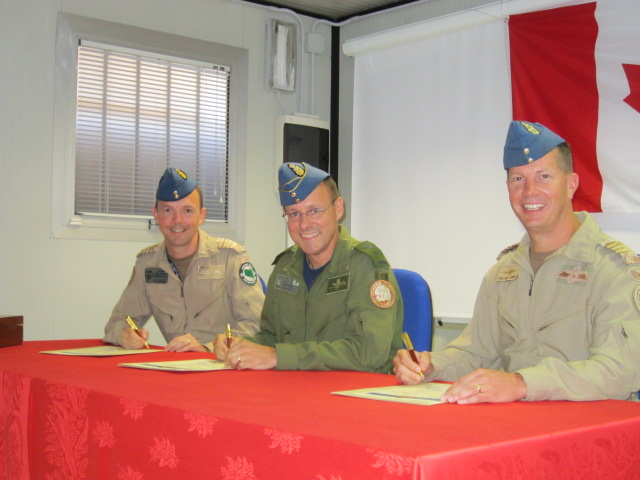 Layout by NCdt (IV) Mike Shewfelt, 25366