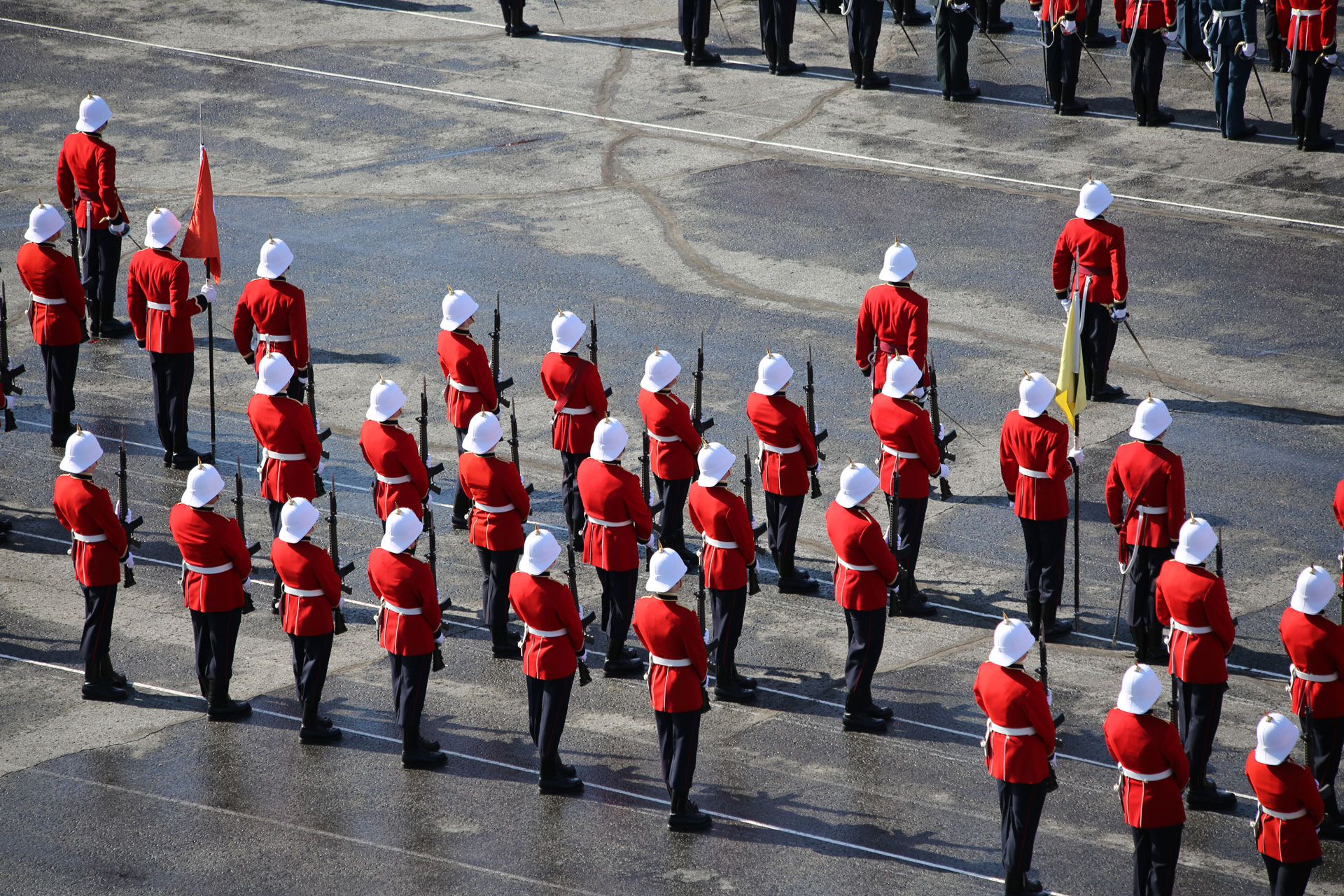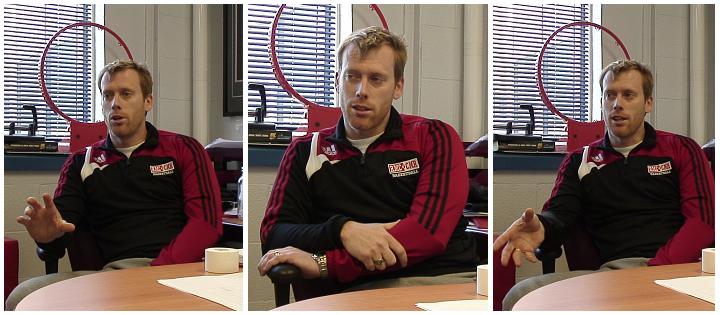 Sitting in his office last week, 21295 Brad Schur was soft spoken and reflective as he talked to Bill Oliver about coaching the RMC women's basketball team. The RMC lady hoopsters have yet to win a league game over the past 5 plus seasons – for a total of 124 straight losses. There appears to be a light at the end of the tunnel. The team does have better balance this season and recruiting prospects look very promising.
Q. As a player did you dream or plan on some day being a university head coach?
A. I started coaching during my OAC year in high school. I had always had an interest and our midget girls team needed a coach. My first year we were very successful, I think we lost one game. After that, I was hooked. I continued to coach at high school and summer camps until I came to RMC. During my years at the College, I continued to coach at camps in the summer during my leave.
Q. How long has basketball been your niche? Where did you start? Explain the journey.
A. I didn't start playing until grade 8. Like most small town Ontario kids, I played hockey and just about every high school sport. Eventually, I think grade 10, hockey and basketball started to interfere too much and I had to make a decision. For me, is was easy. I really enjoy all sports but basketball has always been my passion.
Q. Are you comfortable coaching a player who is young and stubborn?
A. I think a certain type of 'attitude' is required to be a successful athlete. You need confidence. Unfortunately, sometimes young players who lack confidence react poorly to constructive criticism. The difference between playing high school and university basketball is significant. There is a growing period that is different for each player. Part of a coaches job is being able to help the athlete gain confidence and show them that their stubbornness may be holding themselves or the team from being successful.
Q. What type of player were you to coach? Early on at the high school level? Later at RMC?
A. I think I was always a student of the game. I am sure I was frustrating to some coaches because telling me to do something was never enough. I always wanted to know why. I try to remember that when I am coaching my team. I believe that teaching why forces players to understand the game better. At the speed the CIS game is played at, it is an essential skill.
Q. What were the toughest lessons, you learned from the best coaches from high school to the varsity level?
A. I think being accountable was an important lesson. I played the point guard position; traditionally the 'coach on the floor'. I learned to take responsibility for not only my play but also the play of my teammates. Trust plays an important role on a basketball team. If you prove to your teammates that they can count on you, that you will be there when they need you, that you will always work to get better, you will learn to respect you. I've found that teammates can't always be best friends but if they respect each other and their commitment to the team, they can achieve great things.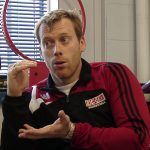 Q. How do you teach players to accept ownership and take responsibility? I understand that prior to a lady being cadet able to play on your team she must score a minimum of 400 pts on the college fitness test. What is your rationale?
A. As I mentioned above, accountability is important. As a team, every player has the right to hold every other player accountable for their actions that affect the team. More importantly, they must first be accountable to themselves. I don't have a lot of time for players who make excuses; especially for those players who blame others. You must be accountable for your own actions.
Q. How do players learn to take self out and give to the team? What have been the big lessons you have learned coaching young women vs young men?
A. I think that players learn early that they can't be successful as individuals. Players who focus on themselves can achieve individual goals but their team will never be successful. I think coaching at RMC gives me an advantage because the military stress the idea of commitment to something bigger than oneself.
A lot of people stress the differences between coaching men and women. I believe there are l lot more similarities. Every player is different and reacts differently. As a coach, you need to be able to figure out how to draw the best out of your athletes and still maintain a level of fairness throughout the team.
Q. How important is it to communicate? How do you gain the trust of the players?
A. Communication is essential. I don't know if we have ever had a practice or game where communication wasn't mentioned. In a team sport, everyone depends on everyone else. You must be able to communicate clearly and concisely in order to operate as a cohesive unit.
I think my players know how important their success and well being is to me both on and off the court. We spend a lot of time together and a good portion of that time is under stress. The players live their everyday lives at RMC, and I know from personal experience, that is a demanding lifestyle. On top of that they have a made a commitment to play varsity basketball and take on the pressures involved with competing at the CIS level. I hope that by showing them how much they can accomplish and being there to help them I can earn their trust.
Q. How do you handle players who are not happy with your style of coaching?
A. Many new players have a hard time adapting to playing basketball for me. I can be very demanding and I expect things done a certain way. However, in addition to playing for me, they have to learn how to live away from home, start their university education and learn to live a military lifestyle. These are huge life changes and we expect them to deal with them all at once. I try to be understanding of the changes they are going through while helping to smooth the transition. I also believe that some players are not willing to make the sacrifices required to be a successful athlete. Many people don't understand the time and effort that my players put into making themselves and the team better. Sometimes, the sacrifices become too much and players decide to leave the program. Most times, the blame rests with me but I always do what I believe to be the best for the team. Not everyone is willing to pay the price of success and I understand that; I just don't foster it on our team.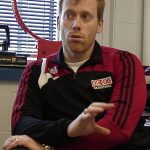 Q. This is the season six for you and RMC at varsity OUA level. Realistically, what are the teams' chances of winning a game or more this season?
A. I honestly believe we will have victories this season. We have been close several times and we are still learning how to win. We are, however, playing the right way and playing well as a team. Everyone is contributing and our team chemistry is great.
Q. 23803 Jennifer Donofrio played the first five seasons. Arguably for those past five seasons some people would say that RMC has been a "one woman" team. How do you replace her offence and defence?
A. Jen is not the type of player that anyone will replace. Her contributions, especially on the offensive end, will need to be replaced by a team effort. We have proven to be a much more balanced team and have had 8 of 11 players lead us in scoring in different games. I believe that this has made us much more difficult to defend for our opponents.
Q. How do you keep motivated after losing so many consecutive games over five years?
A. I believe we continue to get better every season and we continue to focus on what we need to do to improve. As long as that continues to happen, as long as we continue to progress, I will continue to be motivated. Every season brings different challenges, new players and new experiences.
Q. Do you take the game home with you following losses?
A. It is very hard for me to leave the game at the gym; whether it is after a game or a practice I am always thinking of how to do things better. When I first started coaching at RMC, I had a hard time sleeping after games. There were so many things to work on that I couldn't stop thinking about it. Things are different now. I still bring the game home but it isn't as consuming as it used to be; I have better balance in my life.
Q. How are you able to maintain balance in your life away from basketball?
A. My wife, *Nicole, helps to remind me that there is life outside basketball. She is a big part of our program and the young women on the team quite often go to her for guidance. This year she has played a more direct role by leading the team through team building exercises, tutoring and providing a calm positive presence on the bench. For me, however, Nicole is the one person that can pull me up short when I get too focused on basketball.
* Wife Nicole is 20994 Nicole (McNutt-Holland) Schur (RMC 1998)