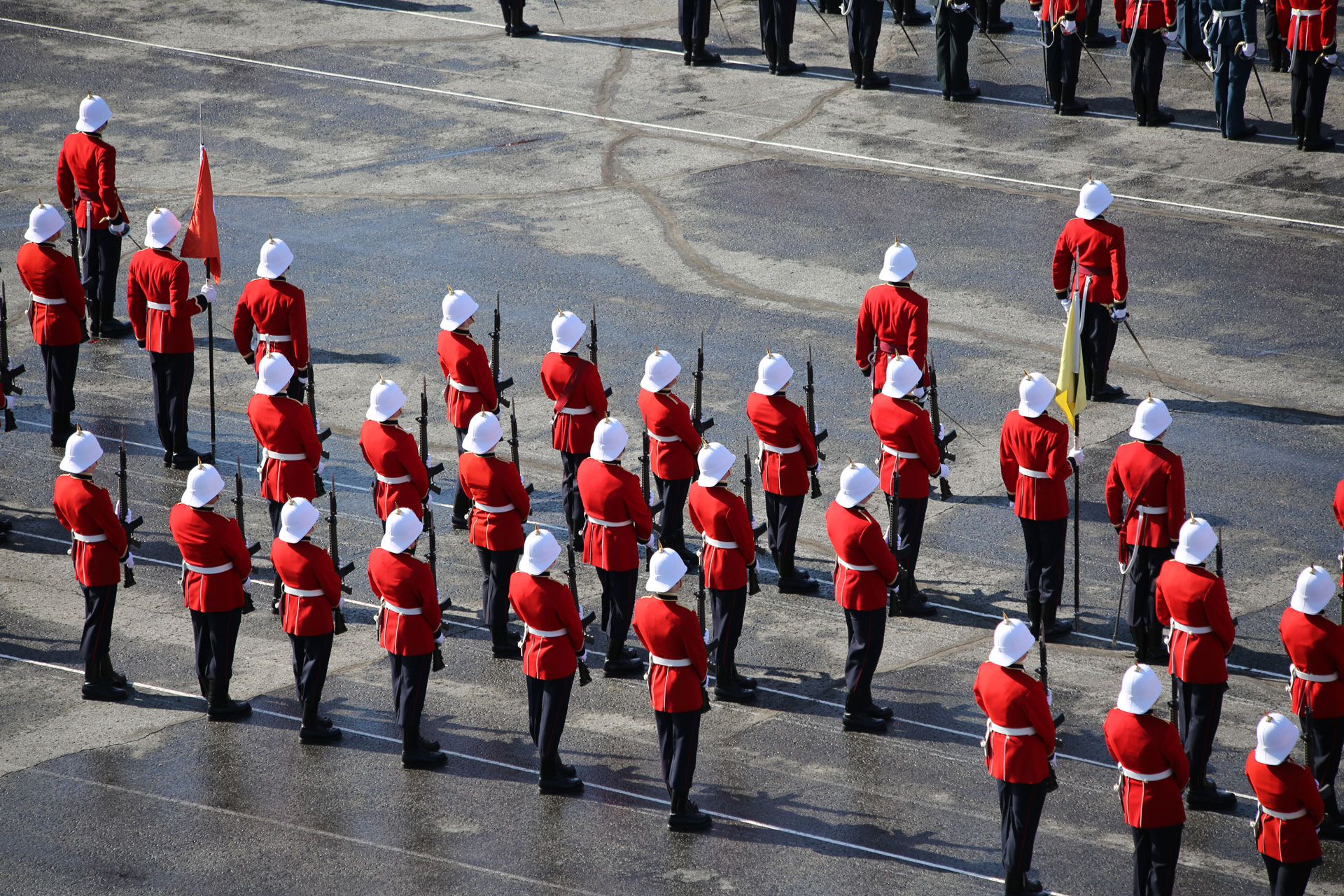 What I remember of 2816 BGen (ret'd) WW Turner (RMC '40) – former RMC Commandant

By: 11551 Ray Richards – RMC Cadet Wing Commander 1976-77
There were a few things that were a bit different in my last year. Most notably, we were on the back half of the centennial year, so had a number of centennial-related activities – the ex-Cadet weekend where the bronze statue ("Bruce") was unveiled and the laying up of the old queen's colour (we got the new one on Parliament Hill the preceding May/June, but had to wait until the fall to lay up the old one). It was also the last year where cadet officer positions were held for the complete year.
My overall impression of BGen Turner was probably formed mostly as a result of our weekly meetings in his office. I remember that he was always immaculately turned out, and he always had time – broke off whatever he was doing, and devoted his full attention to our time together. He would always start off by saying "What's on your plate this week?" It never failed to impress me that he never in any way "played down to me". He really listened to what I had to say, and honestly valued my suggestions and opinions. This gave me an enormous amount of confidence – he was a great mentor.
We discussed issues from opposite perspectives on several occasions and I always felt that he seriously considered my arguments. He always maintained perfect and professional composure – never once did I see him even remotely start to show the slightest hint of what we would now call "losing it". On a few occasions, he agreed with me. The most significant of these was in Nov '76 when I proposed that the College break up the Cadet Officer slate into two terms in the same sort of way that Royal Roads did. I clearly remember the discussion on the pro's and con's – it went on for quite some time – but in the end, he agreed, however drew the line at implementing it that year.
That is not to say that he wasn't clear in his direction! I remember a very concise description of what would happen to the Cadet Wing if "Bruce" was wearing any women's undergarments or make-up when Gen Dextraze pulled the shroud off during the official unveiling on ex-Cadet weekend!
I remember also when I accompanied him to an Ex-Cadet dinner in Hamilton one weekend, and I had not packed my sword belt (scarlet one with gold tassels). I was mortified upon discovering that fact. I knocked on BGen Turner's door feeling like an incompetent rook, and explained the situation. He was totally unfazed – just shrugged and said something like "brass it out".
There were 2 occasions I recall where I was invited to a Senior Staff lunch with special guests, and I recall BGen Turner casually pointing out Gen Chris Vokes to me – and for just a moment I could tell he was right back in NW Europe. On a different occasion, the NATO Staff College came for a luncheon, quite a number of who were West Germans. I remember standing outside the senior staff mess with BGen Turner saying our good-byes as the "students" boarded the bus. As the bus pulled away, without skipping a beat, he sort of half-turned to me and said something like, "You know, 30 years ago I was trying to blow holes in guys like that."
I think one of the really unique things about BGen Turner that probably wasn't appreciated at the time (at least by most of the Cadets) was that he was a bona-fide wartime soldier – one of the last of his breed still serving in the Canadian Forces. While he could appreciate the many "silly-bugger" things we got up to as Cadets – young lads often with more energy than brains – he also REALLY knew what the profession of arms meant, and what we had actually signed up to do, and had to be prepared to do. Phrases like "ultimate sacrifice", "duty" and so on weren't just so many words that were easily bandied about young hotheads with idealistic notions of glory. He knew and understood them too well. We were very fortunate to have had the privilege of having him as our Commandant, and I was exceptionally fortunate to have had the opportunity to be mentored by him.