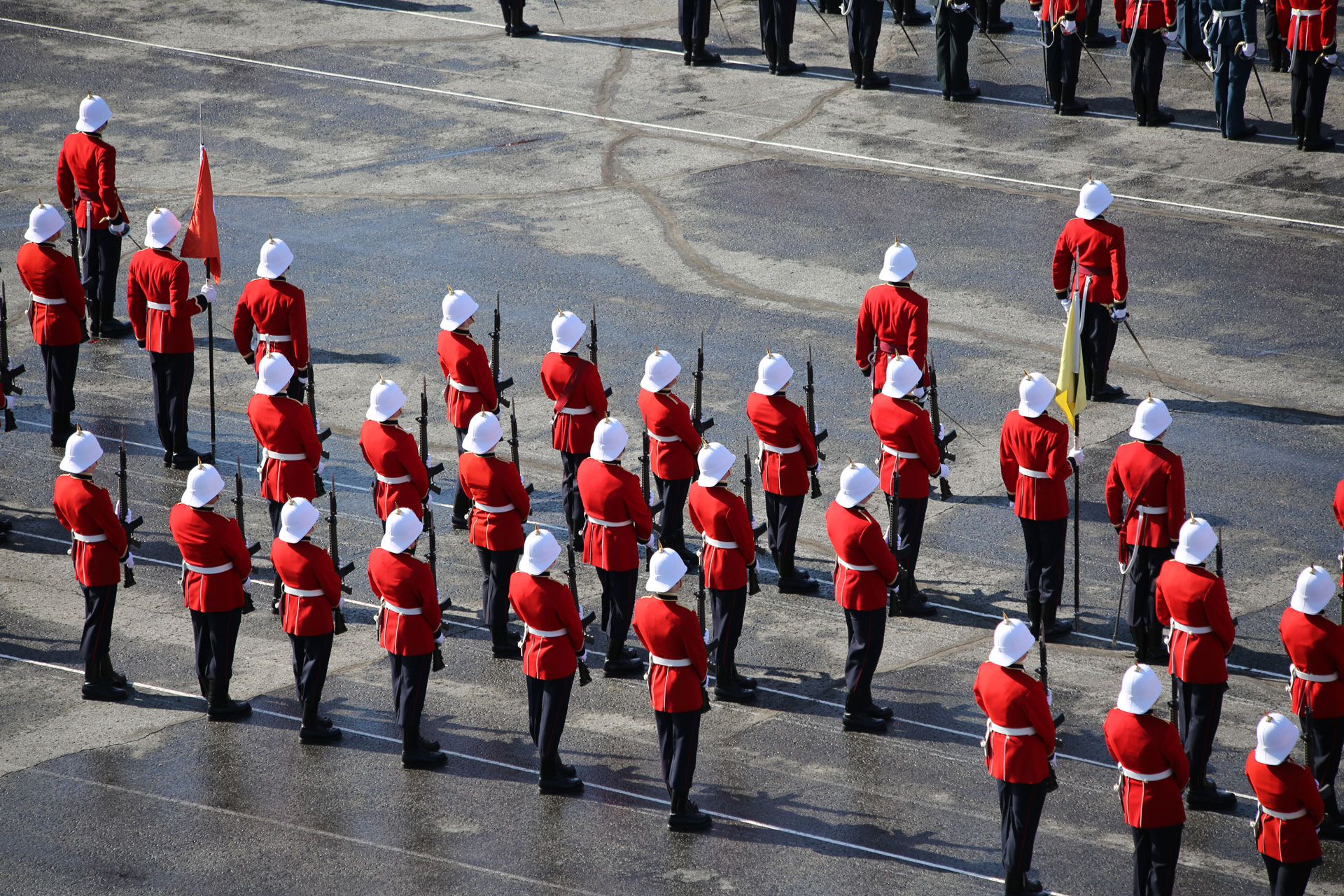 by M0917 Dean Fleet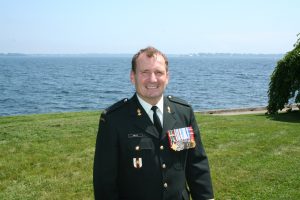 Recently I had the distinct pleasure to sit down and get to know newly-promoted E0670 Major Brent Mills (RMC 1997). Many eVeritas readers will remember him as the College Drill Sergeant-Major from 1993 to 1997, and still others as the Ops and Training Officer from 2002 to 2005. He has had quite the storied career, and it is my pleasure to give account of it.
Brent Mills joined the CF in 1974 as an artilleryman. Over the next twenty-years he was posted to Germany, Shilo, Gagetown, Valcartier. His time included two deployments to Cyprus, 1982 and 1987, as well as being involved in the Oka Crisis in 1990. He rose through the ranks, and in 1993 he arrived at RMC to serve as the DSM. Having only had limited previous interaction with OCdts, it took him a year to discover, as best as one can, the intricacies of college life. While initially not a fan of OCdts, at RMC he came to understand their development in greater detail and came to appreciate the process by which they undergo professional development at the college, and the end product which RMC produces. Rather than limiting himself to just parade square activities, he even signed up for courses. Since his posting to Shilo in 1981, he had begun taking courses at Brandon University. These evening and distance courses were soon supplemented by courses from the University of Manitoba, and upon arrival at RMC, he continued his academic pursuits. One can only imagine how disciplined and awake courses with the DSM must have been! By the time that he was posted out in 1997, two things happened: MWO Mills had enough credits for a general BA with a concentration in History, and he decided to accept a CFR (Commission From the Ranks).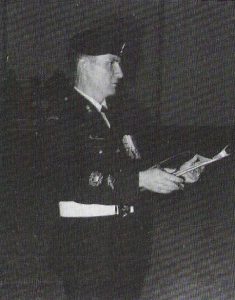 There were a number of reasons why he opted for the commission. As an NCM, opportunities start to close off as one gets higher in rank, whereas for officers, there was a wealth of greater opportunity. Also, he viewed his time at RMC as the pinnacle of this career as an NCM. He could not imagine that being an RSM at a unit would have been any better than it had been at RMC, and wanting to continue on in the military, he opted for the change. One of his proudest moments was in the fall of 1997, when the Cadet Wing was formed up for a Remembrance Day parade and they saw the newly-commissioned Capt Mills walk by, all began cheering and clapping.
The next stop for Capt Mills was the Land Force Technical Staff Programme before being posted to Gagetown's Land Force Trials and Evaluations Unit. He again continued his studies, this time at the post-grad level at both RMC and the University of New Brunswick, earning a Master's in War Studies in 2003. He returned to the peninsula in 2002 as the Ops and Training Officer. In 2005 he was posted across the road to Department of Applied Military Science (AMS), where he is the Directing Staff (DS) in charge of the Modern Weapons Systems and the Modelling and Simulation courses. This course teaches NCOs and Officers about capability development, equipment procurement and lifecycle management. During that time he completed a deployment to Afghanistan as a staff officer at Regional Command (South) HQ in Kandahar. In addition to his recent military promotion to Major, he recently received word from Dr. Sokolsky that he has been promoted within the academic community as well. As a member of the AMS faculty, which falls under the engineering Department, he has been made an Assistant Professor in that Department – not bad for an Artsman!
He has bumped into numerous ex-Cadets while deployed at home and abroad, and is always glad to see how far they have progressed in their careers. Viewing RMC from the outside, he is glad to see that the leadership of the Wing has again been placed under the cadets themselves, as this affords them a greater opportunity to hone their leadership and disciplinary skills in a contained environment. He also mentioned that he was especially proud of the cadets with whom he worked and how they have progressed, notable amongst them: CWTO 20305 Tyler Brooks (RMC 1996) now in medical school, CWC 20056 Andrew Lutes (RRMC RMC 1995) now a Lieutenant-Colonel, CWTO 19874 Brian McDonald (RMC 1995) now an assistant to the Minister of National Defence and CWC 20979 Mason Stalker (RRMC RMC 1997), now a Coy Commander.
During both of his tenure at RMC, Major Mills was a strong proponent of RMC Hockey. He had the satisfaction of being a
linesman at the 1996 West Point-RMC hockey game. He was also the driving force between the annual Hockey History series, which had at one point been on the verge of dying. This annual series between 2RCHA, Queen's, and RMC observes the rules of hockey as they existed over a century ago with the players wearing the same equipment and uniforms of that era. It continues each year at Market Square here in Kingston, having just celebrated its forty-first year. For a large number of years Brent coached and organized the RMC team. This included the 2003 game when he organized the RMC squad, which for one reason or another was composed of ex-cadets, including the RMC Club's Executive Director S150 LCol (ret'd) Peter Dawe. Other fond memories included being the Guest of Honour at 7 (Wolfe) Squadron's mess dinner in 1997, this college DSM was honoured to fill a seat normally occupied by the likes of Major-General Lewis Mackenzie, 13738 Colonel Chris Hadfield (RRMC RMC 1982) et al. He has also been named an honourary grad for both the 1995 and 1997 classes, as well as an honourary coach (along with Jim Ryan) for the 1997 Carr-Harris Cup.
One of his funniest recollections was during the annual pre-grad parade drill fest in 1997. He was trying to get the Cadet Wing timing down pat for Trooping the Colours and used a metronome to time the 40 beats per minute that was required for rifle drill. When it came time for coffee break, DSM Mills would announce "Lets do it like they do it in the real world… 10:00 – 10:30!" He would even go so far as to have tables set up with coffee for the entire wing. Well on this occasion, one cadet decided to take it upon himself to bend one the arms of the detested metronome. Upon the resumption of the practice, it beat too fast, and the DSM not only let them know verbally what he thought of this prank, but had the wing double-timing around the parade square at port arm. He never did find out who the gutsy cadet was, but he did receive a postcard one day cheekily asking if the metronome had been fixed?