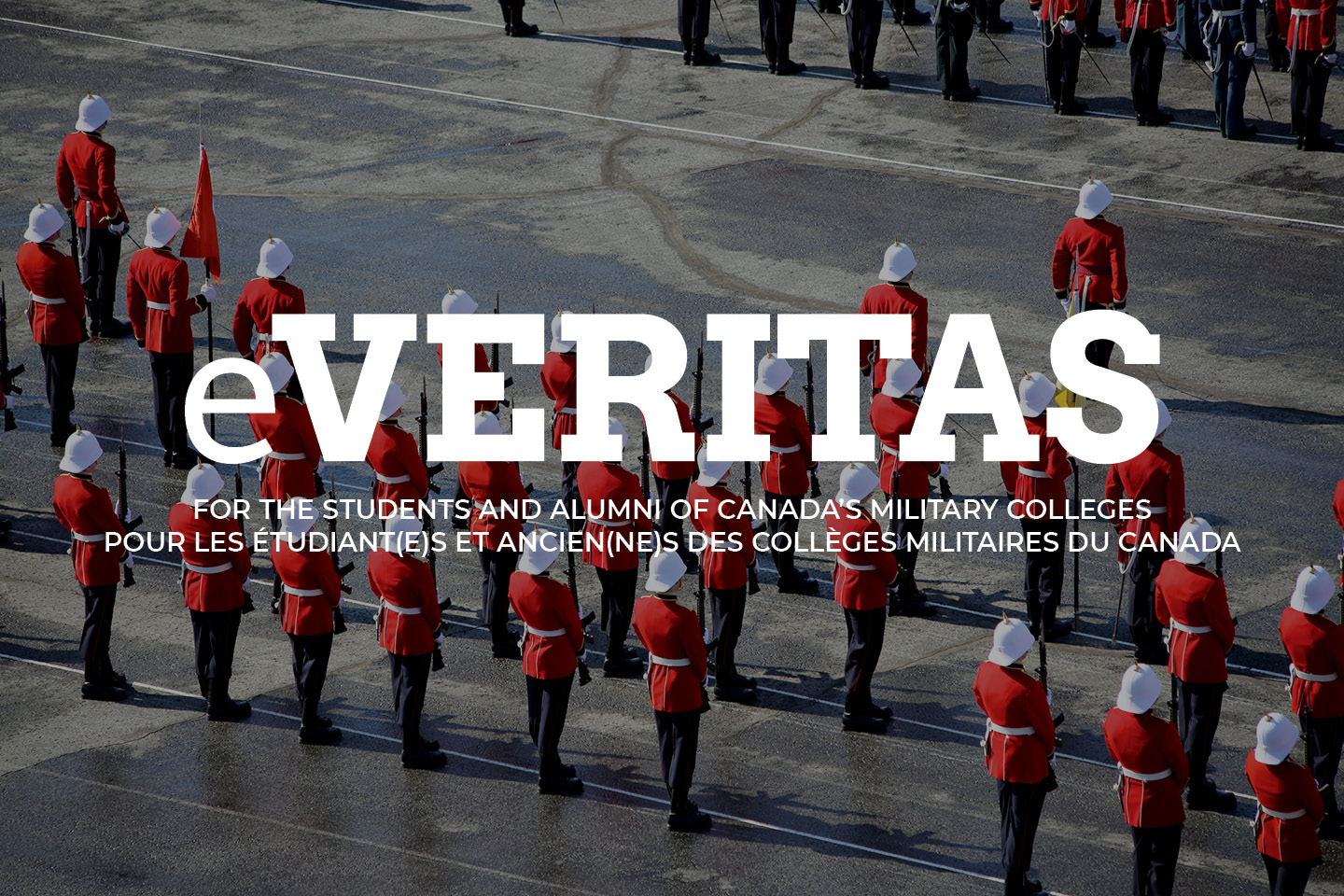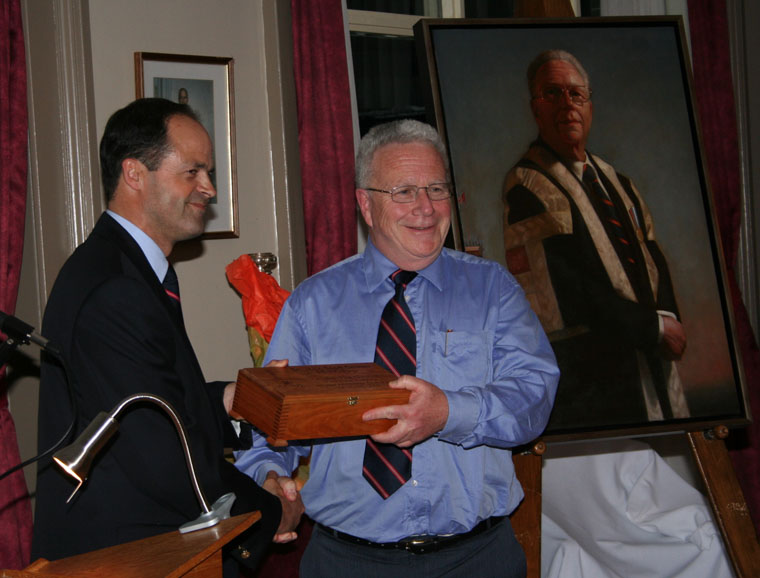 (Click for larger image)
Dr. Cowan's Retirement Dinner
Dr. Cowan's well attended Retirement Dinner was held June 6, 2008 at the Senior Staff
Mess. Distinguished past and current military and civilian staff along with family and friends from near and far enjoyed the opportunity to pay their collective respect.
Dr. Cowan has been the RMC Principal for almost a decade and retires at the end of July. Pictured (L) is RMC Commandant, BGen Tom Lawson presenting the highly respected outgoing Principal with a retirement gift. A painting portrait of Dr. Cowan was also unveiled during the evening and will be permanently displayed in a place of honur at RMC.

New Defence Research and Security Institute launched
By Captain Paule Poulin
Dr. Robert S. Walker, Assistant Deputy Minister (Science and Technology)/Chief Operating Officer Defence Research and Development Canada (DRDC) and Dr. John S. Cowan, Principal at the Royal Military College of Canada (RMC) signed a Statement of Common Intent between DRDC and RMC on June 13, 2008 at RMC, creating the Defence and Security Research Institute (DSRI).
"I am pleased to establish this strategic alliance with DRDC. For the college, its faculty and researchers, it will foster greater impact and broader visibility within both the Department of National Defence (DND) and Canada's public security community," said Dr. Cowan. "RMC continues to demonstrate its relevance and expertise in defence-related research."
The new DSRI will be an internationally-recognized defence and security centre within both the academic and defence and security science research communities.
"The DSRI will build federal S&T capabilities and maximize its impact at national and international levels through influencing, planning, and delivering research, technology and analysis projects," said Dr. Walker. "This institute will enhance DRDC's access to the world-class research, knowledge, and technology available through the college and its academic partners."
This joint institute will be located in Kingston. The DSRI Steering Committee will provide program oversight and a director and associate director will be appointed by DRDC and RMC. DRDC and RMC have identified five initial cross-cutting Research Areas of Pursuit (RAP) which draw on the respective fields of expertise, unique S&T capabilities, and defence requirements that contribute to the Defence S&T Enterprise. The RAPs are: communications, energy, environment, materials, and security policy. It is anticipated that the RAPs will evolve as the DSRI and its program develops.

Sam Rogers, 19930 Major Nicholas Vlachopoulos (RMC '95), Team Leader and Ted Bailey, members of the RMC Green Team winners of the DM/CDS Innovation Award, in front of Mackenzie building.
RMC Green Team receives Deputy Minister/CDS Innovation Award
By: Capt Paule Poulin
The Royal Military College (RMC) of Canada's Green Team received the prestigious Deputy Minister/Chief of the Defence Staff Innovation Award at a ceremony held at the Canadian War Museum in Ottawa, on June 17, 2008. Major Nicholas Vlachopoulos, Director of the Green Team, received the award for "his leadership and contributions in the areas of energy efficiency, water treatment and waste management."
"The RMC Green Team merits many congratulations on winning this prestigious award," says Brigadier-General Tom Lawson, RMC Commandant.

"They are at the cutting-edge in their field and we are extremely proud of their accomplishments, which has benefited not only RMC but the Canadian Forces as a whole."
The Innovation Award is given to someone who has been a champion of change in a specific organization, been proactive in terms of initiating a change process, put the management principles into practice or been the person/team who has shown the "vision".
" This award is really a team award recognizing the excellent work done by the RMC Green Team that has benefited the Canadian Forces (CF) since its creation in 2005," states Major Vlachopoulos, an Assistant Professor within the Civil Engineering Department at RMC and Director of the Green Team. "The Green Team provides the Canadian Forces and DND with expert solutions, with excellent results, in a timely manner. It fills a unique need within the CF for this sort of technical expertise."
The RMC Green Team has provided contaminated site, water and wastewater treatment, solid waste management, energy efficiency and other environmental support to over 30 Wings and Bases since its creation. Its innovative approaches are gathering recognition even beyond the Canadian Forces. For example, it presented at the International Conference on Engineering and Waste Management in Hong Kong from 28 May to 30 May on the composting and spreading of sewage sludge and on an energy savings approach based on extracting heat from composters at a CF Wing.
"Having worked first hand with Major Vlachopoulos in his role as a director, supervisor, and project manager, I cannot think of a more deserving person to receive this prestigious award," states Mr. Sam Rogers from the RMC Green Team. "He has ensured that all projects that have been completed by the RMC Green Team have been completed to the high standards and to the exact specifications of the clients within the CF."