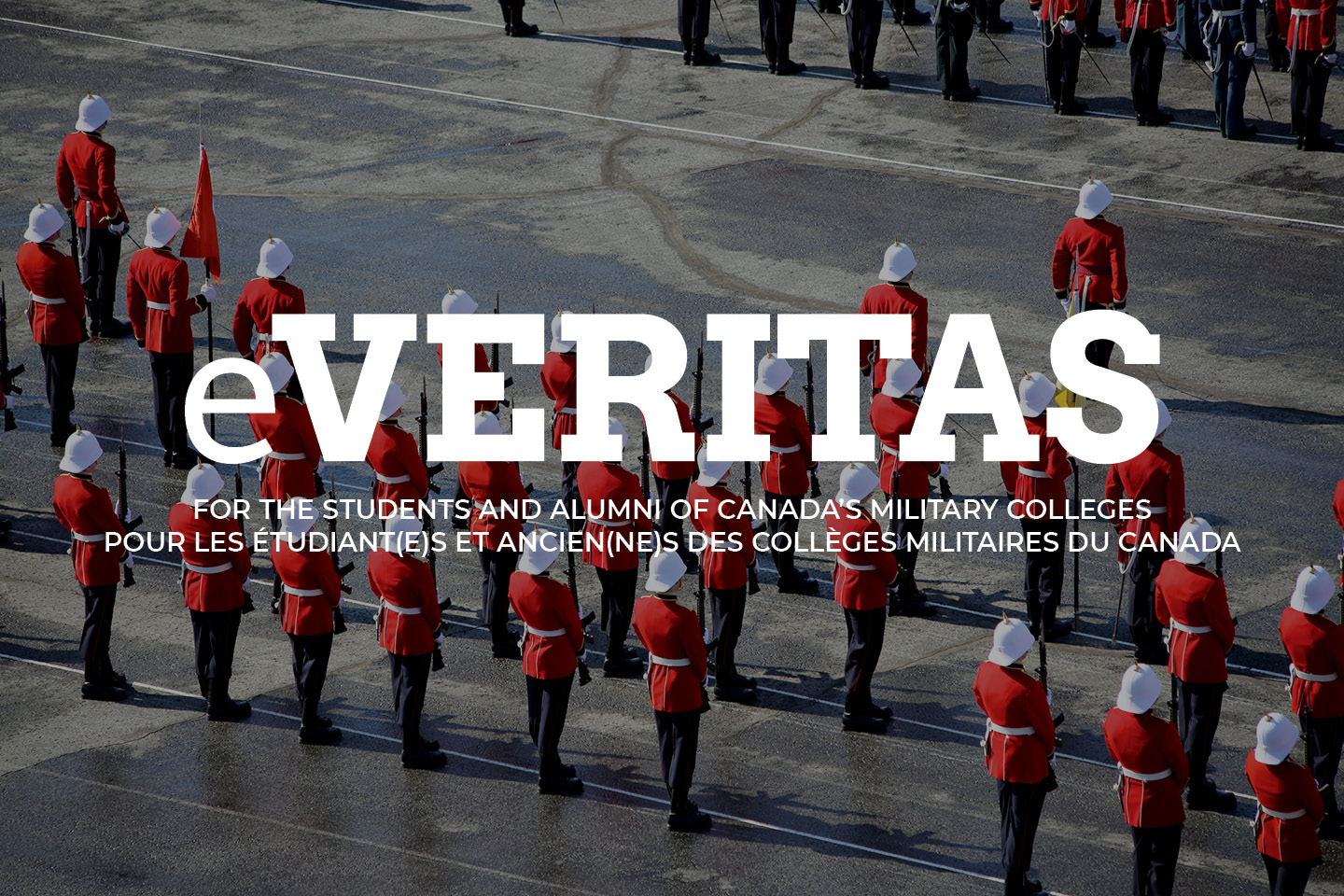 Sandhurst Team Selection
Class of 2010 Food Drive
la classe du CMR de 2010
Sandhurst Team Selection: and then there were 15
By Captain Paule Poulin
Frigid temperatures and really strong winds could not dampen the enthusiasm of the 30 RMC Kingston Cadets going through the Sandhurst Team selection event on 9 and 10 February 2008.
"We're living the dream," stated one of them as they came out of the firing range butts to await their turn on the range.
That is the kind of toughness and spirit that Capt David Brassard, the officer in charge of the Sandhurst Team, and his group of staff were looking for in selecting the final 15 team members.
"We evaluated fitness, upper and lower body strength, but also endurance and willpower," stated Capt Brassard.
The event also meant to measure the ability to think under pressure, a skill needed during the actual competition, amongst others in the Commandant's Challenge stand, in which the team leader must lead his team in a task that he/she only finds out on the spot.
Participants of the selection process underwent a pool event to evaluate watermanship on Saturday 9 February to start things off. Then the selection course the next day started off on the ranges, and consisted of going through different stands scattered across CFB Kingston: kit inspections, Jerry-Can carry, pull-ups, rucksack carry, a navigation stand, and a mind game to finish things off. Speed was also a factor since the entire course was timed, with a total of about 5 km running in between all the stands.
The scoring system had the overall time for completion as a factor, but similar to the actual Sandhurst competition, time penalties were added for dropping kit, touching the bottom of the pool, touching a pylon with the rucksack and wrong answer on mind game test.
Training up until this point had consisted of marksmanship and individual fitness and strength exercises, but will now shift into more targeted training aimed at the specific events of the actual competition.
"Two of the stands of the Sandhurst competition were modified this year," said Colonel Bernard Ouellette, Director of Cadets. "They now have a section attack for example, which is more subjective to mark. We are confident though that our RMC Team will do us proud at this year's competition."
The final team members are a blend of experience, years at the College and occupations, counting 5 returning members and 10 rookies on the team, 4 Navy, 6 Air Force, 4 Army and one Service Support Officers. The team also has 5 first-years, 4 second-years, 4 third years, and two fourth-years.
The Team Captain and most experienced member (in his fourth year with the team), IV OCdt Connor Ryan, stated that, "Everyone who tried out for the team worked really hard. Our team will now focus on the best training to ensure our success."
Congratulations to the 30 Cadets who trained hard and tried out, and to the final 15 selected team members, and may you have success in bringing home a fourth victory in a row.
2008 SANDHURST TEAM – FINAL SELECTION
Name Initials Sqn College # Year Sex
1 Mercier SA 10 24938 I M
2 Houle SM 13 24743 I M
3 Gallant CG 7 24789 I M
4 Lebouthillier A 11 24796 I F
5 Best CJ 6 24927 I F
6 Ménard JL 7 24519 II M
7 Spencer BJ 2 24137 II M
8 Borody LW 3 24585 II M
9 Arsenault J 2 24577 II M
10 Moore ITB 6 24493 III M
11 Zeeman LB 10 24398 III M
12 Lebouthillier JJ HQ 24174 III M
13 Downey CP 11 24302 III M
14 Hamelin ANT 1 23863 IV M
15 Ryan CH 10 24054 I V M

Class of 2010 Food Drive
By: OCdt Guay
As the events unfold in Afghanistan and around the globe, the Canadian Forces are frequently asked to deploy in various theatres of operation to restore peace and help localcommunities. The professionalism shown by our troops has earned us a reputation of dedication, fairness and generosity. As fellow military members, serving within our own borders, it is our duty to remain true to those values that our deployed comrades abide by.
Continuing a long and successful tradition in support of Kingston's less fortunate, the RMC class of 2010 will conduct a food drive from Saturday, March 15 to Sunday, March 16 at the A&Ps on Garner Rd. and on Barrie Rd., the Food Basics on Barrack St, the Price Choppers on Princess St. and the Bennett's Value-Mart at the Rideau Town Centre. Every donation, whether a non-perishable item or a monetary donation, will be greatly appreciated. Boxes will also be placed at the Canex on base to collect food but no OCdt will be present.
Every year, the Second Year Class project has had an enormous impact in helping numerous families in need throughout the Kingston community. All donations will be given to the Partners in Mission Food Bank for immediate and effective distribution.
We look forward to seeing you there.
la classe du CMR de 2010
par: Élof Guay
Étant donné les événements en Afghanistan et dans le monde entier, les Forces canadiennes sont souvent invitées à se déployer dans divers théâtres d'opérations pour rétablir la paix et aider les communautés locales. Le professionnalisme démontré par nos troupes nous a valu une réputation de dévouement, de loyauté et de générosité. En tant que confrères militaires, servant à l'intérieur de nos propres frontières, il est de notre devoir de rester fidèles à ces valeurs que nos camarades déployés respectent.
Poursuivant une longue et fructueuse tradition d'appui à la communauté moins fortunée de Kingston, la classe du CMR de 2010 mènera une collecte de denrées alimentaires du samedi 15 mars au dimanche 16 mars aux A & Ps sur Garner Rd. et sur Barrie Rd., au Food Basics sur Barrack St, au Price Choppers sur la rue Princess et au Bennett Valu-Mart au Rideau Town Centre. Des boîtes seront placées au Canex sur la base, mais aucun élève-officier ne sera présent. Chaque don, qu'il s'agisse d'aliments non périssables ou d'argent, sera grandement apprécié.
Tous les ans, le projet de classe des « deuxième année » a eu un impact énorme pour aider de nombreuses familles dans le besoin dans l'ensemble de la collectivité de Kingston. Tous les dons seront remis à la Partners in Mission Food Bank pour distribution immédiate.
Au plaisir de vous y voir.