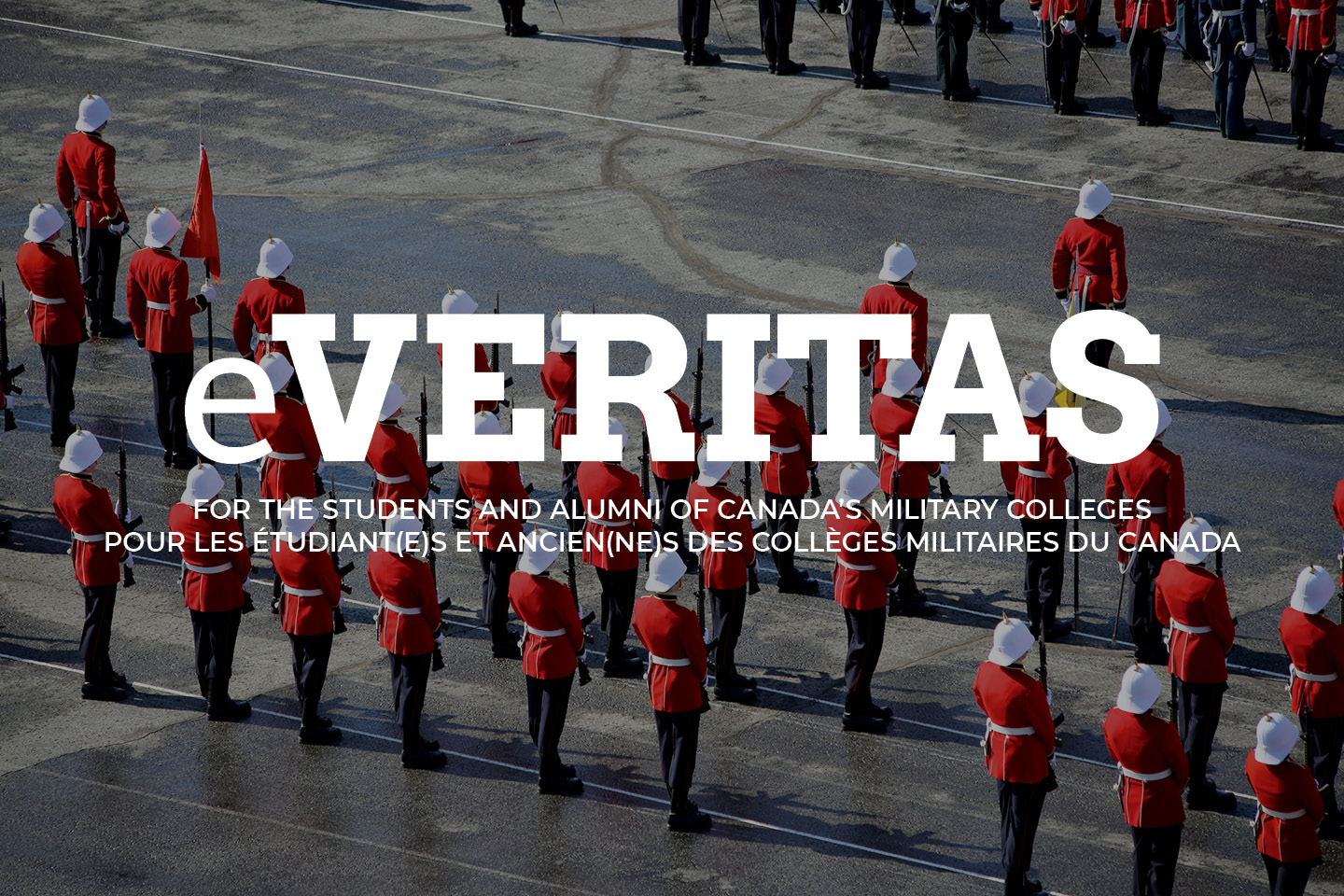 RMC Sports Update:The 2007/08 sports program has enjoyed some modest success over the past few weeks.
Rugby:
The rugby team made the play-offs winding up the season with a 2 wins / 4 loss record. RMC will be playing a very strong Brock University side on their campus this coming weekend in a winner take all match to move to the next round. Check the link for exact timings.
Rugby link…. http://oua.ca/sports/mrugby/schedule/
Women's Soccer:
Congratulations to the ladies and coach Chad Beaulieu for earning a berth in the OUA play-offs. The team has showed steady improvement during the current season and proved that they can compete with the majority of the other universities in the league.
This past Saturday RMC squandered an early 2-0 first half lead against a power-house team from U of T before falling 5-2. Amelie Clot scored her 3rd goal of the season to open up the scoring at the two minute mark. Melanie Ross added another one, three minutes later and things looked rosy for the local team. After that it was all U of T who were ahead by one at half time and they fired two more in the second half to salt away the victory.
The RMC ladies finished strong at home Sunday under baseball like weather conditions with a convincing 4-1 win over Ryerson. Melanie Ross with two goals led the offensive attack, her 4th & 5th markers of the season; Laura Gray fired home her second goal during league play while Massalie MacKenzie dashed any hopes of a Ryerson come back with her first goal of the year. Goalie Erica Pessotto played two strong games over the weekend.
The team finished the regular campaign with 3 wins, 9 losses and 4 ties good enough for the play-offs. This was a big improvement over their record from last season at 1-12-3.
http://oua.ca/sports/wsoccer/schedule/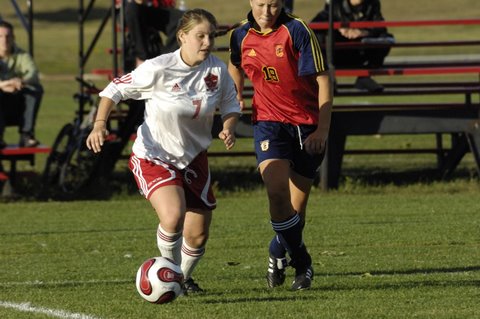 Late Breaking News….(scroll over photo for caption.)
RMC WOMEN'S SOCCER ON TO THE NEXT ROUND
Spirited Effort Propels Paladins Past Golden Gaels
October 24, 2007
KINGSTON, ON – RMC and Queen's took to Richardson Stadium in OUA women's soccer first round of playoffs. The Paladins were making their debut in OUA post-season play, and were lifted by a great number of fans en route to a 2-0 victory.
The win marked the first CIS playoff victory for any RMC team since the 2000-01 men's hockey team won game 2 of their second round matchup against the University of Toronto on March 2, 2001.
RMC supporters erupted into cheers as the visitors got out in front just three minutes into the match. Amelie Clot served a corner into the Queen's goal area where a mad scrabble ensued. Third-year Heather MacLellan eventually put the ball into the goal for an early 1-0 lead.
Four minutes later, Clot made another impact on the match. Off a Queen's corner-kick, it seemed the Golden Gaels would level the match until Clot cleared the ball off the line as she guarded the front post. It was a moment that changed the match. "We knew we had to hold our lead for as long as we could," notes Chad Beaulieu, Head Coach of the Paladins "Credit to our players knowing their assignments and executing them."
At the start of the second half, Queen's came out in a more attacking formation. RMC stayed organized defensively and capitalized on the counter attack to take a 2-0 lead in the 57th minute. Alexandre Brault won the ball in midfield and quickly got the ball into Laura Gray. The first-year striker then found Melanie Ross in the danger area. Ross took a touch into the penalty area before slotting home a firm strike past the Golden Gaels goalkeeper Hannah Soichet.
Queen's was relentless in their attack and continued to try and find a way back into the match as RMC defended with real determination. The numerous Paladins supporters chanted and cheered on their team as the final minutes closed out a historic win for RMC women's soccer. "We really appreciated the tremendous presence of our supporters. They helped team to a great win and gave them a great atmosphere to play in" added Beaulieu
RMC will now travel to Ottawa on Saturday, October 27 to take on the University of Ottawa Gee-Gees in OUA quarterfinal play.
Final match stats: Saves Pessotto 3, Shoichet 8: Total shots: RMC 10, Queen's 3: Corners RMC 4, Queen's 4: Offsides RMC 0, Queen's 2
Men's Soccer
The men's team did not make the big leap of being competitive in OUA play this season. A record of two wins, nine losses and three ties had them buried in their division and not in contention for the play-offs. This followed a 0-11-3 record last season and a 2-5-3 mark in 2005.
The team did finish on a winning note during the last weekend of the regular season. After falling 2-0 to U of T on Saturday they came back strong against Ryerson the next day with a hard fought 2-1 victory. Trevor Guile led the way by scoring both goals in the second half after Ryerson had taken the 1 nil lead in the first half.
http://oua.ca/sports/msoccer/schedule/

Hockey
The most impressive varsity story of the year – to date, is the outstanding performance by the hockey Paladins. This past weekend saw them split encounters by 3-2 scores losing to Guelph on Friday night but bouncing back 24 hours later with a clutch win against a Brock Badger team who sported a 5-0 won / loss record prior to their RMC match. Both contests were decided by shoot-outs. The weekend results have the team sitting a top their OUA Mid East Division with seven points. Impressive indeed!
In the tough shoot-out loss to Guelph, Luke Pierce scored both goals in regulation time and even added one in the shoot-out. Ian Miller and Paul Bradley were the set-up men for the two regulation goals. On Saturday Paul Bradley and Duaine Fetzner were the marksmen while Luke Pierce, Richard Lim, and Ian Miller all chipped in with assists. Adam Briggs was solid in goal once again, turning away 27 of the 29 shots fired at the RMC net.
The big test(s) awaits the team over the upcoming few weeks. All their games between now and the break are against teams within their division. Back to back weekends, first in Toronto and then back in Kingston against U of T and Ryerson will go a long way in determining if the team can remain in the lofty position they now hold.
http://oua.ca/sports/mhockey/schedule/
Fencing
Top results were in order for athletes with RMC Fencing Programs for this past weekend, at the Queens Open Fencing Tournament, held Sat and Sun October 20th and 21st. A stellar Gold Medal finish was claimed by first year Ocdt Eric Castellani in Men's Foil, followed by teammate IV Ocdt Alex Prymack in fifth place and II Ocdt Michael Dubois-Boudazza in 7th place. Men's Foil is looking very strong for this upcoming season. Top female finishers included III Ocdt Shauna McLeod in 7th place, III Ocdt Jackie Power 8th place, and II Ocdt Emma McDaniel in 11th place in Women's Epee. Rebecca Walker,our post grad War Studies student, finished 11th in women's foil while forth year Ocdt Sarah Rogers, this years women's Team Captain, finished 10th in women's sabre followed by IV NCdt Chantel Lemay in 11th.
Assistant Coach David Howes is currently attending a Fencing Masters Coaching Course in Germany, which left Head Coach Patricia Howes with over 45 athletes competing from both RMC varsity fencers and RMC Cutting Edge fencers. Coach Howes would like to acknowledge the support and assistance from ex-cadet champion fencers who came out to support the team. Special thanks go to 2Lt Marilyne Lafortune, 2Lt Erin McEachern and 2Lt Sarah McRae.

Men's Volleyball
The Men's volleyball team played host to both Waterloo and WLU this past weekend in the opening matches of the regular season. Against Waterloo RMC were in all four games with respectable scores but lost the match 3 games to 1. The next day against WLU the scores were also pretty close but they lost all 3 games.
RMC is coming off a season where they had only 1 win and 19 losses; the two previous seasons they managed little better with two wins while losing 18 matches each year.
Men's volleyball link http://oua.ca/sports/mvolleyball/schedule/

Women's Volleyball
The women traveled to Lakehead and came close in their very first game of the season barely losing – 28 to 26 in a nail-biter. In their remaining five games, however, the best they could do is muster up 17 points in a game in losing both matches by 3-0 scores.
Since entering the OUA the women's team has not managed to win a match. Hopefully this will be the break through year.
http://oua.ca/sports/wvolleyball/schedule/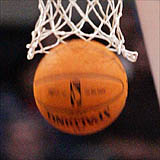 Basketball
Men's & Women's Basketball will be starting up soon. The women take to the floor at Queen's University – Friday 2 Nov at 6PM. The Men will start following "Kevin Dulude Night" – 9 Nov. 8PM.
Both teams are coming off horrendous seasons – the Men managed only one win last year while the Women did not win a game for the fourth OUA consecutive season. Hopes are high that both teams will enjoy some success in the winners circle this time around.
Women http://oua.ca/sports/wbasketball/schedule/
Men http://oua.ca/sports/mbasketball/schedule/

Commandant's Cup 2007- 08 Results

 
 

Squadron

1

2

3

4

5

6

7

8

9

10

11

12

13

 
 

 
Harrier & Tabloids

100

120

50

60

90

110

30

130

80

40

20

10

70

 
Obstacle Course

80

50

100

110

120

80

10

30

20

50

130

80

90

 
 

 
Total Points

180

170

150

170

210

190

40

160

100

90

150

90

160

 
Place

3

4

8

4

1

2

13

6

10

11

8

11

6

 
 

 
 
 
 
Updated 22 Oct 07
 
 
 
 
 
 
 
 
 
 
 
 
 
 

The Fall Convocation – November 16th
The Fall Convocation ceremony at the Royal Military College will be
held on 16 November 2007 in Currie Hall at 1030hrs to confer graduate
and undergraduate degrees upon those individuals who have completed
their degree requirements after the previous Spring Convocation.
Remise des diplômes de l'automne -16 Novembre
La cérémonie de remise des diplômes de l'automne au Collège militaire
royal du Canada (CMR) aura lieu le 16 novembre 2007, à 10 h 30, à la
Salle Currie. La cérémonie aura pour objet de décerner des diplômes
d'études supérieures et de premier cycle aux étudiants qui ont
terminé leur programme d'études depuis la remise des diplômes du
printemps.