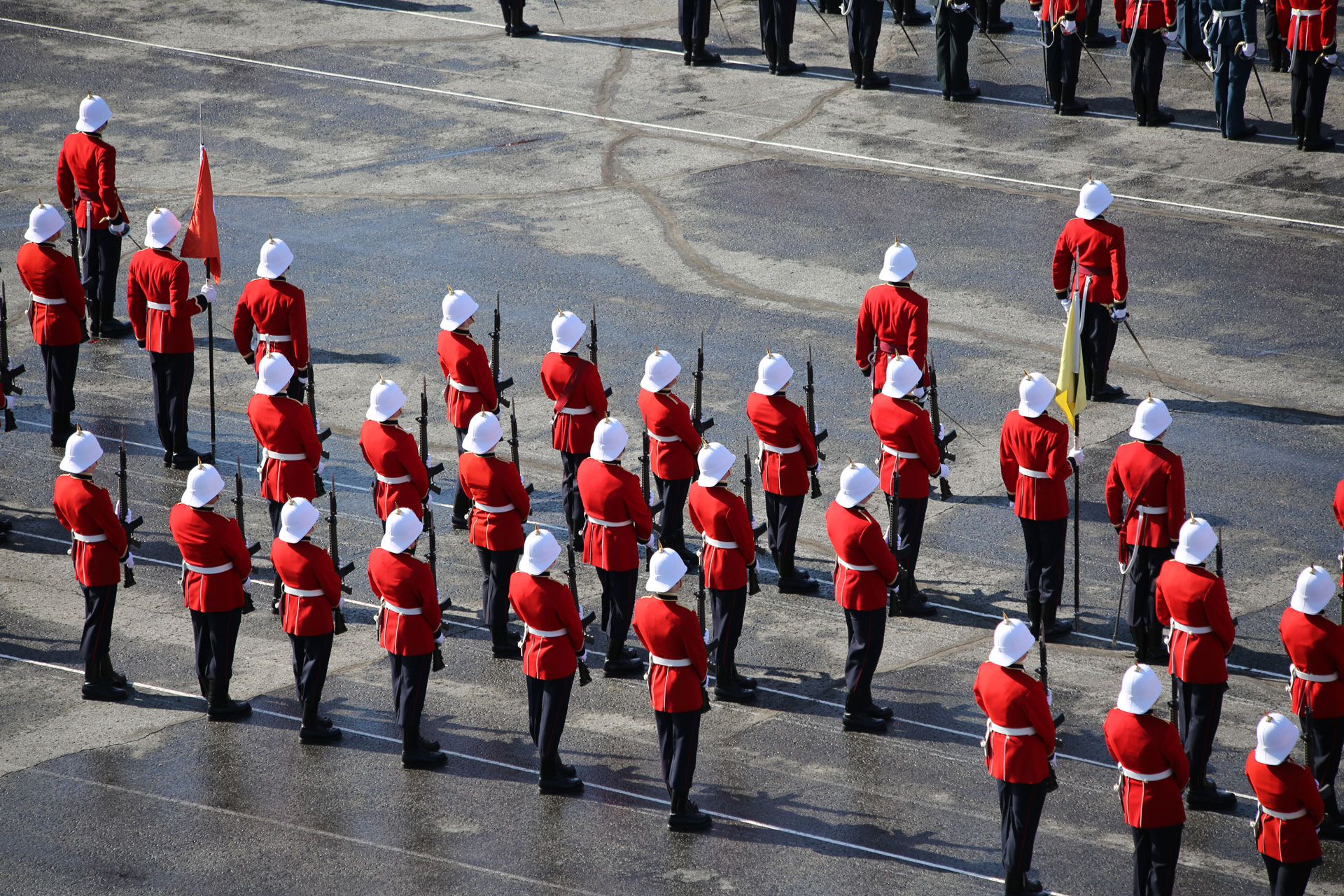 16394 Lieutenant-Colonel Cheryl Baldwin enrolled in the Canadian Forces (CF) in 1984 and completed an Honours Economics and Commerce degree at Royal Military College graduating first in her program. She served at a variety of locations such as 406 Maritime Operational Training Squadron in Shearwater, Nova Scotia, Martime Forces Atlantic Detachment at the US Naval Facility Argentia, 8 Wing Trenton and 15 Wing Moose Jaw. While in Moose Jaw she served as Wing Personel Services Officer responsible for the management of Personnel Support Programs, accommodations and housing, food services, and the official language program. In addition she acted as the Wing Commander's representative on the MFRC Board of Directors and she had the pleasure of serving as Honourary Aide to the Lieutenant Governor of Saskatchewan.In 1998, LCol Baldwin took her voluntary release from the CF and accepted the position of Regional Manager Human Resources (RHRM Ontario) with the CFPSA . In this position she provided advice and guidance to senior PSP and CFPSA HQ management on sensitive personnel issues. LCol Baldwin subsequently accepted the position of Director Human Resource Administration and led the development new human resources policies and initiatives. In fall 2001, LCol Baldwin left CFPSA on a one year personal sabbatical.
LCol Baldwin returned to the workforce with Landsdowne Technologies Inc, as a Project Management Consultant where she was involved in both proposal preparations and big evaluations. Most notably she contributed to the development of a CF family strategy document for the Director Quality of Life (DQOL). It was through this project that LCol Baldwin chose to re-enrol in the CF as a Reservist in DQOL as of October 2003.
While in DQOL, LCol Baldwin, served as a policy staff officer and then as section head of the Family Policy Team where she engaged in matters pertaining to the Military Family Services Program, MFRCs, childcare, family health care clinics, the Military Family National Advisory Board, and the Operational Stress Injury Social Support program as it relates to families. She also served, and continues to do so in her current role, as Chairperson of the Family Violence Advisory Committee.
On 1 May 08, LCol Baldwin was appointed as the Deputy Director Military Family Services and assumed responsibility for the corporate management of the Directorate.
LCol Baldwin resides in Ottawa, ON with her husband who retired after more than 40 years of dedicated service in the Canadian Forces. In July 2007, she graduated from the Canadian Forces College Joint Reserve Command and Staff Program and is currently working on her Masters degree in Family Studies and Gerontology from Mount Saint Vincent University.   Source
_____________________________________________
Fighting for the 'little guy'
HOME FROM WAR
Posted By BRIAN SMITH – The Barrie Examiner – 1 November
E1937 Maj. Jason Thomas Adair is home from battle.
And after three tours of duty in Afghanistan, the 33-year-old Barrie native remains convinced Canada's mission there is far from over.
"If we were not there, people would be oppressed" said Adair, when asked if he believes the presence of the Canadian military is having an impact in Afghanistan.
His last deployment was as Commander of Battle Group Operations for the Task Force Kandahar Battle Group in Kandahar, Afghanistan. Adair is assigned to the Second Battalion of the Princess Patricia's Light Infantry and was responsible for the control and coordination of all land and air combat operations. "Our responsibility was to make the Taliban as insignificant as possible to the people of Afghanistan" Adair said. "And I believe that we are buying time for the little guy."
The "little guy" Adair refers to is the average citizen of Afghanistan who has lived for centuries under the dictatorial regime of the Taliban government. In trying to find words to define what "victory" would mean, Adair describes enabling the Afghani government, military and other social agencies to begin to understand what it's like to live in a democratic process.
"You cannot expect the Afghani people to get it right away," Adair said. "Victory will be slow and incremental, the Taliban is still a presence and we are still needed."
Adair exudes a confidence and passion for his chosen profession. Attending Western University after graduating from Innisdale Secondary School and not knowing what career path to follow, he jumped at the opportunity to attend Royal Military College after initially being turned down. Graduating with a Bachelor of Military Arts and Science, Adair completed Infantry officer training in 2000 and then graduated from the Canadian Land and Staff College in 2005. His initial posting in Afghanistan was as a Platoon commander in the 3rd Battalion of the Princess Patricia's light infantry as part of Operation Enduring Freedom under the command of the 3rd Brigade of the 101st Airborne of the U. S. military in 2002.
It was during his second deployment in 2006 that Adair experienced the full measure of combat. With responsibility for the lives of his men and experiencing the loss of comrades, Adair began to understand Canada's effect on the people of Afghanistan. Yes, bullets and mortars were required against enemies but more often compassion and courage demonstrated values of the Canadian soldiers because of the leaf they wore on their sleeves.
"It was not just a patch to them," Adair said. "The most amazing part of the whole experience was to watch the young men and women mature and realize that they represented a way of life, and learn to respect a differing way of life."
And during a recent Thanksgiving dinner with his family, Adair realized that many families celebrate the holiday with an empty chair at the table.
"They realized the risk," Adair said of his family. "But they realized what they were fighting for."
With sadness, Adair's counts the number of personal friends lost, however, underneath is the steely determination of a professional who realizes there is still a job to do.
"Mourn, memorialize and move on. I will memorialize them for the rest of my life."
_____________________________________________
14481 Dr. Linda A Newton (RMC '84) is an Adjunct research professor in the Department of Civil and Environmental Engineering at Carleton University in Ottawa. She holds a B.Sc. (RMC), and a M.Eng., Ph.D. from (New Brunswick). She has a research interest in Infrastructure Management, Quality, and Condition Assessment Methods in the Transportation discipline. She also works at Defence Construction Canada (DCC), which provides contracting, construction contract management and related infrastructure services to the Department of National Defence (DND). She was one of the first 32 female graduates of RMC. \
http://www.cee.carleton.ca/faculty/Bio_Faculty.php3?Faculty=90
_____________________________________________
Ms Kimberly St-Louis who is best known at the main organizer for the past two highly successful RMC Club Foundation Legacy Dinners has moved on to a new position at Queen's University. She has made a huge positive impression on all of us at Panet House and many others in the RMC community during her short time on the job.
Kimberly was involved with a number of successful fund-raising initiatives and her eagerness to take the time to help out the rest of us on the staff  in challenging times was always appreciated.
All at Panet House wish her much success in her new position.