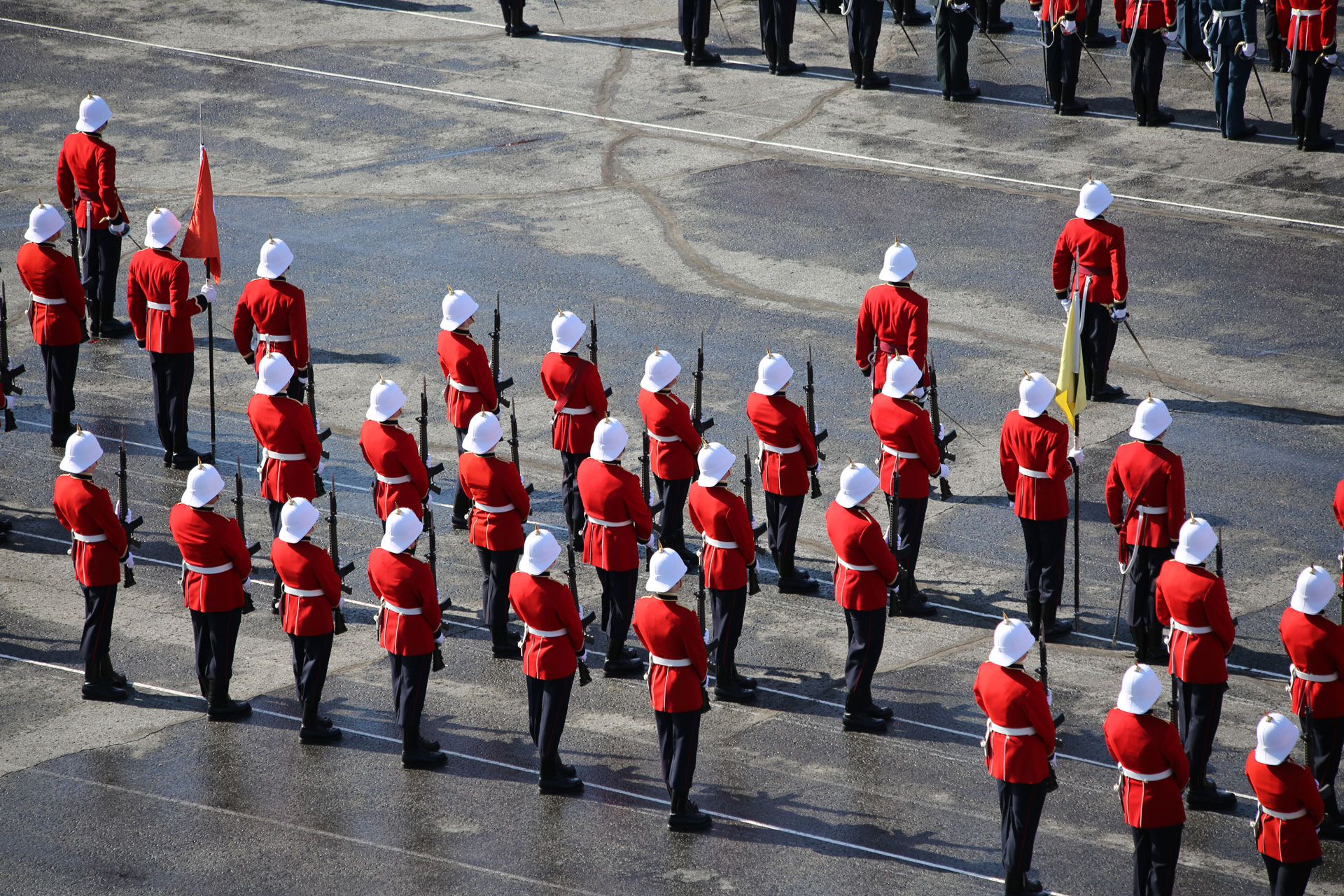 23227 Lt Tyler Peitzsche (RMC '06), a member of the Royal Canadian Dragoons, deployed to Kandahar Afghanistan in September 2008 with the 3 RCR Battle Group. Lt Peitzsche is a tank Troop Leader attached to A Squadron, Lord Strathcona's Horse (Royal Canadians) that is operating in the Panjawai District of Kandahar Province. The Squadron operates a mixed fleet of Leopard 1C2 tanks and the newly purchased Leopard 2A6M tanks. The Squadron spent nearly a year preparing for the deployment, participating in major exercises in Fort Bliss, Texas and Wainwright, Alberta. The final step of work-up training was a month long conversion course on the Leopard 2 tank at the Panzertruppenschule in Munster, Germany. So far the Squadron has been kept busy with maintaining a standing Quick Reaction Force to respond to incidents in the AO and providing security for Forward Operating Base Ma'sum Ghar. Lt Peitzsche and his troop have also been involved in several successful operations to rout the Taliban from the Panjawai District. The mixed fleet of Leopard 1C2 and Leopard 2 tanks gives the Squadron a lot of flexibility to conduct intimate support for the infantry and assist in complex breaching operations with engineers. The 120mm main gun of the Leo 2 is a welcome asset in any firefight.
Lt Peitzsche, call-sign T12, rolling across the open desert after Op ARAY
_____________________________________________________________________________
14508 Captain (ret'd) Sheila Cornelisse (nee Walters) (RMC '84) is a Library Technician for five elementary schools in the Kemptville, Ontario area. She is also the head Beaver Leader (TicTac) for the 1st Merrickville Colony. She is learning to play snare drum in the Smiths Falls Gordon Pipe Band, a "talent" that she took up in 2007 and often finds herself marching to the beat of a different drum!! So much for all those drill lessons. She resides in Merrickville, Ontario with her husband, son, one dog and four cats. She was in the first class of 32 women accepted to RMC in 1980.
____________________________________________________________________________
11363 Lieutenant General Michel Gauthier (RMC '77), Commander of Canadian Expeditionary Force Command responsible for all military missions overseas, will provide an in-depth update on the Canadian Forces engagement in Afghanistan, on Tuesday November 18 at the Monk Centre for International Studies at Trinity College. He will outline recent successes and addressing the challenges that remain. LGen Gauthier will highlight the Canadian Forces part in the 'Whole of Government' effort addressing Canada's declared priorities for supporting Afghans as they rebuild their nation. Lieutenant-General Gauthier enrolled in the Canadian Forces in 1973, graduating from the Royal Military College in Kingston with a Bachelor's degree in Civil Engineering. His early regimental assignments were with 5th Combat Engineer Regiment in Valcartier, Quebec and 4th Combat Engineer Regiment in Lahr, Germany. He also served as an instructor at the Canadian Forces School of Military Engineering, in Chilliwack, B.C, and in various staff assignments in Mobile Command Headquarters, Montreal. He returned to Germany to command 4th Combat Engineer Regiment from June 1990 to October 1992. During his regimental command, the regiment deployed as the lead UN unit into the Former Yugoslavia in support of the initial United Nations Protection Force (UNPROFOR) mission build-up on Operation Harmony from March to September 1992. In recognition of his leadership on Operation Harmony, he was awarded the Meritorious Service Cross. Upon returning to Canada, he was appointed for a short time as Division Engineer, 1st Canadian Division. On promotion to Colonel in September 1993, Gauthier returned as an operational commander for a second year-long tour at the height of the war in Bosnia serving as UNPROFOR's Force Engineer responsible for demining, infrastructure and force protection support, and reconstruction efforts in support of this 35,000 person UN mission. He subsequently served as Deputy Commandant of the Canadian Army Staff College in Kingston from 1994 to 1997 and, on promotion to Brigadier-General, served as Chief of Staff to the Deputy Chief of Defence Staff at National Defence Headquarters. In May 2000, Gauthier was appointed Commander Land Force Central Area, responsible for the 12,000 Regular and Reserve soldiers and civilians of the Army in Ontario. On 19 April 2002, he assumed operational command of Joint Task Force South-West Asia, consisting of the Canadian battle group, ships and aircraft detachments deployed in support of the Campaign against Terrorism in Afghanistan and the adjacent region. Promoted to Major-General in November 2002, he initiated and led a broad-ranging transformation of the defence intelligence function as the Chief of Defence Intelligence. Major-General Gauthier was appointed the first Commander of the Canadian Expeditionary Force Command on 12 September 2005 and was promoted to Lieutenant-General in April 2006.
____________________________________________________________________________
16975 Colonel Omer H. Lavoie (RRMC '89) joined the CF in 1983 as a private soldier in the Lake Superior Scottish Regiment. Upon high school graduation, he transferred to the Regular Force and attended Royal Roads Military College from 1985-1989. Upon completion of infantry phase training, he was posted to Second Battalion, The Royal Canadian Regiment. Col Lavoie's regimental employment includes service with 2 RCR, 1 RCR and as the Regimental Adjutant. As a member of 2 RCR, he was employed as a platoon commander, officer commanding reconnaissance platoon and as a company second-in command. While posted to 1 RCR, he served as the battle group operations officer and as Officer Commanding the Duke of Edinburgh's Company. Col Lavoie's extra regimental service has included postings to Canadian Forces Northern Area Headquarters in Yellowknife, attendance at the CF Command and Staff College in Toronto, and staff officer to Director General Strategic Planning in National Defence Headquarters. Col Lavoie assumed command of 1st Battalion, The Royal Canadian Regiment on 24 June 2005. Shortly after his appointment, Col Lavoie commenced specialized training for OP ARCHER and deployed to Afghanistan in August 2006. Col Lavoie's operational experience includes employment as a rifle platoon commander during the OKA Crisis, as a company second-in-command in Croatia and Bosnia in 1992/1993, and as a battle group operations officer in Kosovo in 1999/2000. Most recently he was Commanding Officer of the 1 RCR Battle Group in Afghanistan in 2006/2007. Col Lavoie has been awarded the Meritorious Service Cross for his role in leading the First Battalion, Royal Canadian Regiment Battle Group in Afghanistan and has been awarded the NATO Meritorious Service Medal for leading NATO's first offensive ground operation at the Battle Group level and defeating the enemy during OPERATION MEDUSA. His formal education includes an Honours degree in Military Leadership and Applied Psychology from Royal Roads Military College and a Master's degree in Defence Studies, specializing in counter-insurgency operations, from Royal Military College. His personal interests include hunting, fishing, and driving (but mostly fixing) rusty old trucks.
____________________________________________________________________________
20633 Major Geneviève Lehoux (CMR RMC '97) enrolled in the CF in June 1992 in Trois-Rivières (QC). She completed three years at CMR St-Jean and graduated from RMC in May 1997 with a bachelor degree in Civil Engineering. While at CMR and RMC, she was a member of the varsity women soccer team. She completed basic training and trade training in Chilliwack (BC). In November 1997, she was posted to 17 Wing Construction Engineering, Winnipeg, (MB). Promoted to Lt in May 1998, she became the 171 Airfield Engineer Flight Commander and later the Construction Engineering Operations Officer. She was promoted to Capt in May 2000. In 1998 she had a tour in Kumanovo, Macedonia and in 2000 a tour in Aviano, Italy. She was posted to 3 Wing Construction Engineering, Bagotville as the Study and Design Officer in April 2001. In July 2002, she was posted to RMC to complete Post Graduate Studies. She graduated in June 2004 with a Master Degree in Civil Engineering. She is currently the Royal Military College Engineering Officer and an assistant professor in the Civil Engineering Department. She is also one of the assistant coaches with the varsity women soccer team.

lehoux.mcg@forces.gc.ca
____________________________________________________________________________
9678 Brigadier General (ret'd) Steve M. Irwin (RMC '73) is Vice-President, Operations at Defence Construction Canada. He joined DCC in 2006 after a brief but influential period as CEO of the Canadian Forces Housing Agency. Mr. Irwin graduated from the Royal Military College in 1973 with a Bachelor of Engineering (Mechanical) degree. He served in many military engineer and army positions in Canada and abroad before ending his service at the rank of Brigadier General as the Chief Engineer at the Canadian Forces.
Defence Construction Canada Website
____________________________________________________________________________
8698 Colonel (Ret'd) Pierre L Lagueux (CMR RMC '71) is currently a Senior Partner in CFN Consultants providing consulting services to Canadian and Foreign multinational defence and security firms wishing to do business with the Canadian Government. Mr Lagueux retired from the Canadian Government Public Service on 27 July 1999, after having served with the Canadian Forces and the Department of National Defence in various military and civilian capacities for almost 33 years. At the time of his retirement, he was the Assistant Deputy Minister (Materiel) in the Department of National Defence. He was responsible for all aspects of materiel Research and Development, engineering, acquisition, logistics, quality assurance and supply chain management for the Canadian Forces and the Department of National Defence. During his tenure, as part of the Government Public Service downsizing, the Materiel Group downsized from approximately 12,000 persons to slightly less than 6,000, while maintaining an annual procurement budget of almost $4 billion. Of note, under his direction as ADM (Materiel) the department contracted for the Cormorant helicopters, the Victoria class submarines, the NATO Flying Training in Canada (NFTC) Program, and joined the US led multinational Joint Strike Fighter Program. As part of his duties, Mr. Lagueux also served as the Canadian National Armaments Director. In this capacity he was Canada's senior representative in all issues of international armaments co-operation in various fora such as NATO. He was also responsible for industrial relations between the Defence Department and Canadian and international industry. During his career as an executive level public servant, Mr. Lagueux served in a variety of other related acquisition positions within DND: Director of Procurement and Supply Services; Director General Procurement and Supply; Assistant Deputy Minister (Supply); and, as a result of re-organization, Assistant Deputy Minister (Equipment Program Management).. Mr. Lagueux joined the Canadian Forces as an Officer Cadet in 1966 under the Regular Officer Training Plan, attending the College militaire royal de Saint-Jean, and graduating from the Royal Military College in Kingston, Ontario in 1971. During his military career as a logistics Officer, he held a number of positions in Supply and Transportation, retiring from the Canadian Forces with the rank of Colonel in 1990. Mr. Lagueux has a Bachelor of Arts degree from the Royal Military College of Canada and a Master of Business Administration from the University of Western Ontario in London, Ontario.
____________________________________________________________________________
6783 Dr. André Caillé (CMR '66), former president of Hydro-Quebec and Gaz Metropolitain, will be joining Junex's team as Senior Strategic Consultant. In May 2004, the Royal Military College of Canada awarded him an honorary doctorate in engineering. Mr. Caille was Chairman of the World Energy Council from September 2004 to November 2007. He held the position of Chairman of the Board of Hydro-Quebec from April to September 2005. Prior to this appointment, he was President and Chief Executive Officer of the Corporation for a period of 9 years starting in October 1996. Moreover, for more than 14 years he has occupied several other strategic management positions within Gaz Metropolitain such as president and CEO between 1987 and 1996. He was also appointed Quebec's Deputy Minister of the Environment from 1978 to 1981.
____________________________________________________________________________
19030 LCdr Michael Wood joined the CF in 1989 and attended Royal Roads Military College and Royal Military College as a Naval Combat Systems Engineer graduating with an Engineering Degree. He served in multiple platforms such as minesweepers, Restigouche Class Destroyer and Halifax Class Frigate, since 1992 until 2005 as an Engineer. He served in Bosnia Herzegovina in Roto 4 as a CIMIC Reconstruction Officer and Liaison Officer to Non-Governmental Organizations. He also served in the US as a war games planner and communications exercise director for NORAD and USNORTHCOM in Colorado Springs. Fulfilling every maritimer's dream, he is currently serving in Toronto as the Commanding Officer for Canada's best recruiting centre, proudly operating in the most diverse city in Canada, if not the world. He was a presenter at thePlanning for Success Employment Equity 2008 symposium on Nov 12-14, 2008 in Ottawa.
____________________________________________________________________________
17830 Major Apollo Edmilao joined the military shortly after deciding the priesthood was not the life for him. On graduation from Holy Cross High School in Surrey, B.C. he completed basic officer training in Chilliwack and attended the Royal Military College of Canada in Kingston, ON (1987 to 1991). After four years there, during which time he was a member of the Highland Dance Team that performed at DisneyWorld in Orlando, he graduated with an Honours English degree, was commissioned as a Logistics-Human Resources officer and posted to Ottawa. After six years in the Personnel world at National Defence Headquarters, he was transferred to Toronto to work in the Army Headquarters for Central Area. From there he deployed to Kabul, Afghanistan for seven months (July 2003 to February 2004) as the personnel officer for the task force. He considers this the highlight of his career as he got to see first hand the difference that can be made by the Canadian Forces and NATO and Canada to a country and a people who have so little and have had so much taken away from them. On return to Canada he was moved to Trenton, ON where he worked as the personnel administration officer for the largest and busiest Air Force base in the Canadian Forces. From Trenton, he deployed for six months to Camp Mirage in the Middle East from June to December 2007. Major Apollo Edmilao retired from the Regular Force 1 February 2008 after completing 20 years and six months of service. He moved with his family (spouse Tracy, step-daughter Emma and dog Tudder) from Trenton to Ottawa in June 2008 after finding the perfect house with a swimming pool in Barrhaven. He is currently employed as a Reservist with the Directorate of Human Rights and Diversity, still biking in to work and enjoys tremendously all the fascinating cases and case law surrounding his work on policies in the human rights field for the military. He presented on Accomodations Policy at the Planning for Success Employment Equity 2008 symposium on Nov 12-14, 2008 in Ottawa.