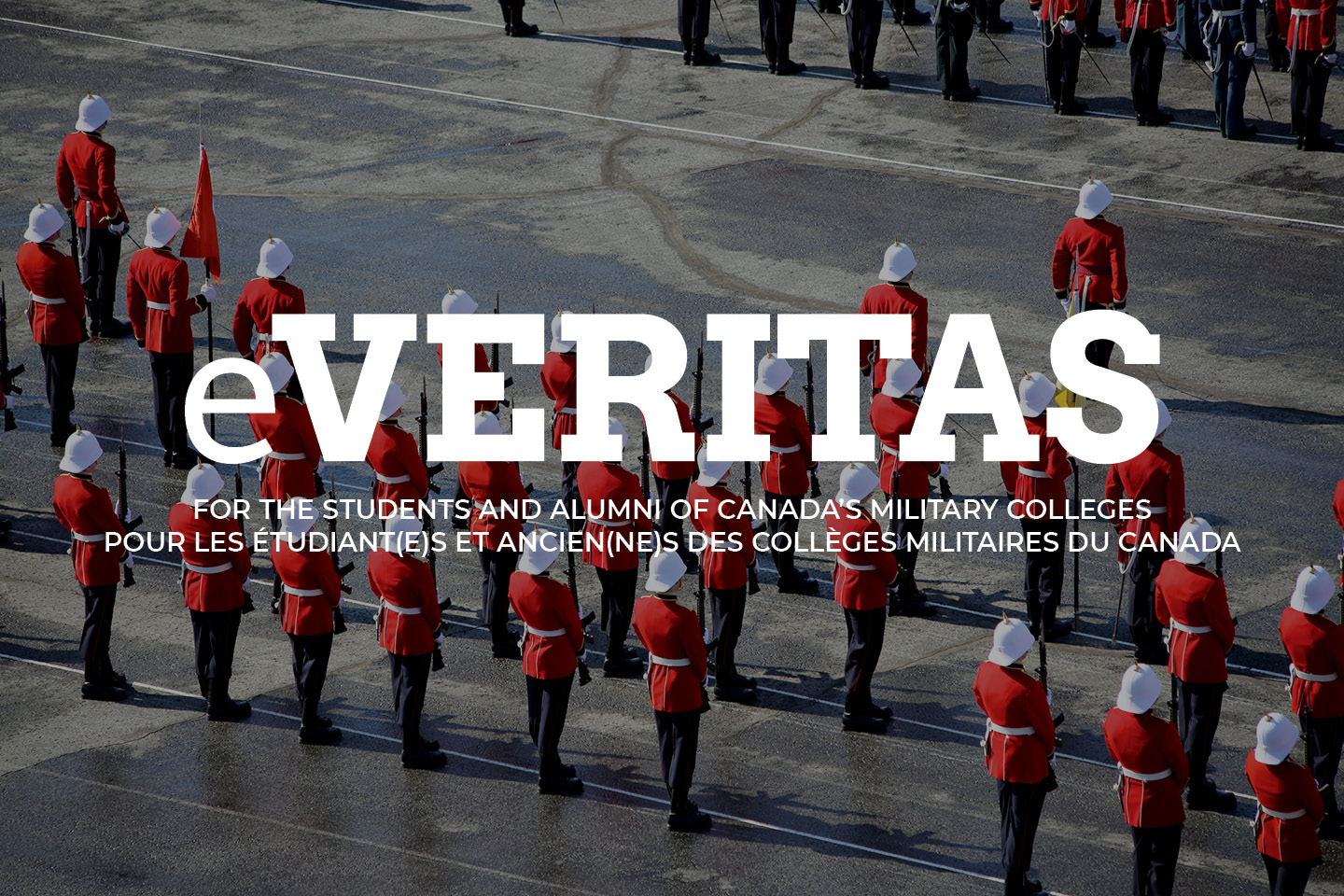 3141 Dr. John Kyle (RRMC '53); 5708 William (Tory) Payne (CMR RMC '63); 8417 Dr. David Green (RMC '70); 10073 Charles Barkman (RMC '75); 12046 Pierre Ducharme (CMR '79); 13710 Bruce Beavis (CMR RMC '82); 13991 Frederick Bigelow (RRMC '83); 15414 Catherine Paquet-Rivard (CMR '86); 16171 Mario Asselin (CMR RMC '88); 17386 Glen Schlyter (RMC '90); 19822 Todd Dupuis (RMC '95); 21889 Michael Arnot (RMC '00);

3141 Dr. John Kyle (RRMC '53) is an Adjunct Professor at University of Victoria, School of Business where he instructs business ethics and leadership. He is a graduate of the Royal Roads Military College. He has had an extensive career in industry, government and the military. He has held senior appointments with Eaton's of Canada, the Bank of Nova Scotia and Price Waterhouse Associates, management consultants. John was the founding Executive Director of the Greater Vancouver Mental Health Service and is a retired Commander of the Canadian Naval Reserve. He was Dean of the School of Business at the British Columbia Institute of Technology (1981-1988). Academic positions have included tenured professorships at the University of Alberta, the University of Toronto, and at Mount Saint Vincent University in Halifax, NS. He lectured at the Banff School of Advanced Management, Canadian Forces Staff College in Toronto, and at the Royal Naval Staff College, Greenwich, England. He has lectured and conducted seminars for a wide variety of schools and organizations. John is also a professional photographer who operates a portrait studio. He is an active member of the Professional Photographers of Canada. He holds a BA, University of British Columbia; MBA, University of Western Ontario; PhD, University of Southampton.

5708 Dr. William (Tory) Payne (CMR RMC '63) is co-founder and President of Routes AstroEngineering in Ottawa, which specializes in developing complex scientific payloads and bus components for space applications. He brings over 35 years of management and technical experience in Aerospace and communications. Prior to founding Routes, Tory was Vice-President of Advanced Systems and Board Member at Canadian Astronautics Limited (now EMS Technologies Canada). Tory also spent a number of years as the principal investigator and supervisor of three payload elements over various phases of the Communications Technology Satellite. Tory holds a B.Sc. Honours in Math and Physics from the Royal Military College in Kingston. He received his M.A. Sc. and Ph.D. in Aerospace Engineering from the University of Toronto.
Routes AstroEngineering has positions available in Product Assurance
and Electrical Engineering.

8417 Dr. David Green (RMC '70) is the founder and Chairman of
Carmanah Technologies Inc., a company focused on the manufacture and
sale of solar LED lighting products. Dave has an engineering physics
degree from the Royal Military College, Kingston, Ontario and a Ph.D.
from the University of British Columbia. He is a pioneer in the
marriage of LED and solar power technologies and holds five patents
which form the basis of many of Carmanah's products.
more…

10073 Charles Barkman (RMC '75) has worked as an
Engineer / Analyst at International Safety Research Inc. since 2005.
He has 35 years experience as a naval officer including 11 as a
Nuclear, Biological and Chemical Defence (NBCD) specialist and
Emergency Response Advisor. He earned an Applied Science degree from
the Royal Military College in 1975. He worked in Nuclear, Biological
and Chemical Defence (NBCD) (August 2004 – August 2005) as advisor to
the Canadian Forces' Joint Chief of Staff for international NBCD
operations and the Director of NBCD for Canadian Forces NBCD
training. In addition, he worked in Nuclear, Biological and Chemical
Defence (NBCD) (September 2001 – August 2004) as Advisor to Chief of
Maritime Staff for naval NBCD, fire fighting and flood control
policy, doctrine, procedures, training and equipment.

12046 Pierre Ducharme (CMR '79) is Past President of the RMC
club. He is president of MARCON in Montreal. Pierre oversees market
research and strategic planning at MARCON.
Pierre received his university education at the Collège militaire
royal de Saint-Jean, at the Université du Québec à Montréal (UQAM)
and at McGill University. After spending several years working in the
public and private sectors, Pierre Ducharme occupied successive
positions at three major international consulting firms: SNC Lavalin, Mercer
Consulting and Ernst & Young. Since MARCON was founded, he has
been responsible for the strategic planning efforts of several North
American companies, working in a wide range of fields, such as
forestry products, pulp and paper, engineering, financial services,
energy, heavy machinery manufacturing, metal treatment, recreational
vehicles, automotive parts public transportation and environment. He
also manages major market research projects.
Pierre sits on the boards of directors of many organizations in
Canada and abroad, where he represents the interests of institutional
investors and non-profit organizations. He chairs the Board of ATF
Can, a not-for-profit organisation dedicated to the implementation of
clean energy technologies in developing countries.
He and his spouse Cathy live in Saint-Jean-sur-Richelieu, QC.

13710 Bruce Beavis (CMR RMC '82) is the President
of Beavis & Associates Management Consulting, which performs Supply
Chain, Sourcing, and Operations Consulting in the greater Chicago
area. He has twenty years experience as a line manager, staff
manager, and management consultant. He studied at Wharton School
[University of Pennsylvania], College Militaire Royal de St-Jean and
Royal Military College of Canada. He served with the Canadian Army
Logistics Branch from July 1982 to October 1986.
more…

13991 Colonel Frederick Bigelow (RRMC '83) was named the new Commander of 19 Wing Comox in July, 2007. He graduated from Royal Roads Military College with a bachelor's degree in physics and physical oceanography.
Peter Vasdi (RRMC 1966-1968) worked as a technical writer until 1978 when he started NIVA Inc, a communications company, in Ottawa. He is raising two daughters. He edits SuzNews, the Ottawa Suzuki School of Music newsletter and works as an occasional violin teacher at the school. He studied Engineering Physics at Royal Roads Military College in 1966-1968. At RRMC, he started an engineering club, and a sailing club. "I learned that military life was not quite what I really wanted for my future. In retrospect, the military option may have had its benefits, but at that time I didn't think so. After two years at Royal Roads, I moved on." From 1970 through 1971, he took a break from engineering and Canada, and spent 16 months hitch-hiking around Europe and living and studying in Toulouse. He graduated from the University of Toronto with a Bachelor of Applied Sciences and Engineering (Aeronautical) degree in 1972.

15414 Catherine Paquet-Rivard (CMR 1986)
described a skiing accident she suffered last March to The Globe and
Mail. She and her family had been skiing and boarding for more than
two hours, toward Chamonix down La Vallée Blanche of France's Mont
Blanc range. After a 15 metre plunge down a crevasse, a 50-kilogram
slab of snow crashed down on her, pinning her body to the bottom of
the crevasse. After her quick-thinking daughter, Laurence and
husband Pierre called her on her blackberry, a German physician
rappelled down and lifted off the slab of snow. She felt well enough
to handle the ascent, which involved pushing off the wall of the
crevasse as she was pulled up. Since she had rappelled while a cadet
at the Royal Military College, she had an idea of what to do. Despite
all this, her fervour for skiing hasn't diminished, and she looks
forward to hitting the slopes again. She lives in Toronto with her
husband, Pierre, and children Laurence and Simon.
more…

16171 Mario Asselin (CMR RMC '88) is currently
Vice President Engineering with Sino Swearingen Aircraft Corporation.
His previous functions at SSAC were Manager Flight Sciences and FAA
Flight Analyst DER. Previously, he was Learjet's Chief of Stability
and Control at the Bombardier Flight Test Center in Wichita, and
Chief Technical for the aerodynamic design and certification of
Bombardier's CRJ-900. Asselin was group leader at CAE for the upgrade
of the ballistics, navigation, and maintenance software of the
Canadian Forces fleet of CF-18s. While at the Bombardier Flight Test
Center, Asselin was a Transport Canada DAD in the field of
performance, stability and control. He has taught courses for the
Royal Military College of Canada, McGill University, and Concordia
University in Montreal. He is the author of An Introduction to
Aircraft Performance. Asselin holds a B.E. degree in mechanical
engineering from the Royal Military College of Canada and an M.Sc.A.
degree in aerothermodynamics from École Polytechnique of Montreal.
more…

17386 Glen Schlyter (RMC '90) is the Project
Manager on the Nunavik Nickel Project, Canadian Royalties Inc.. He is
a graduate of the Royal Military College of Canada (B. Eng.), and has
over 13 years of experience in leadership and general management
roles. Mr. Schlyter is a management consultant, providing general,
technical and project management services primarily to small and
medium sized companies since January 1999. Mr. Schlyter's background
includes business development, project management, strategic
planning, financial analysis, and systems analysis/design.
more…

19822 Lt (N) Todd Dupuis (RMC '95) led an 18-member diving
unit deployed as part of Operation UNISON, the Canadian Forces
contribution to relief efforts in the aftermath of Hurricane Katrina.
Dupuis serves as a Clearance Diving Officer for the Canadian Navy and
works as a Battle Damage Repair Officer and Department Head at the
Fleet Diving Unit (Pacific) in Colwood, B.C. He graduated from the
Royal Military College with a double major in Politics and Geography
in 1995 and has served in the Canadian Armed Forces since 1991. He
lives in Victoria and is enrolled in the 2005 Master of Arts in
Applied Communication program at Royal Roads University.
more…

23470 Captain Jennifer Jones (RMC '06), 28, of Grand-Mere, Que., was
appointed as the Canadian Forces Snowbirds Public Affairs Officer for
the 2008 and 2009 show seasons after a thorough selection process.
"Captain Jones is a strong communicator with excellent interpersonal
skills," said Major Robert Mitchell, Commanding Officer, Canadian Forces
Snowbirds. "She has demonstrated that she has the professional
competencies and leadership qualities required to excel in this vital
position on our team." Upon graduation from Shawinigan High School in
1996, Captain Jones was accepted to the Royal Military College of Canada
in Kingston, Ont., where she earned an Honours Degree in Politics and
Economics. Captain Jones subsequently attended the Canadian Forces Air
Navigation School in Winnipeg, Man., following her graduation from the
Royal Military College and commissioning in May 2000. "It is a
tremendous privilege to be a part of such an outstanding and elite
team," said Captain Jones, who is currently in Comox, B.C., with the
Canadian Forces Snowbirds for their Spring Training. "From a
professional perspective, I am looking forward to the challenge and
excitement of this unique position. This is an experience that I will
carry with me my whole life." Captain Jones, an experienced Air Force
Public Affairs Officer, has been posted to 8 Wing, Trenton, Ont., 1
Canadian Air Division, Winnipeg, Man., and 4 Wing Cold Lake, Alta.
Career highlights include working as the Canadian NORAD Region Public
Affairs Officer and the Exercise MAPLE FLAG 39 Public Affairs Officer.
During the 2008 Season, the Snowbirds are scheduled to perform in about
65 air shows in 40 locations across North America, as proud ambassadors
of the Canadian Forces and Canada.