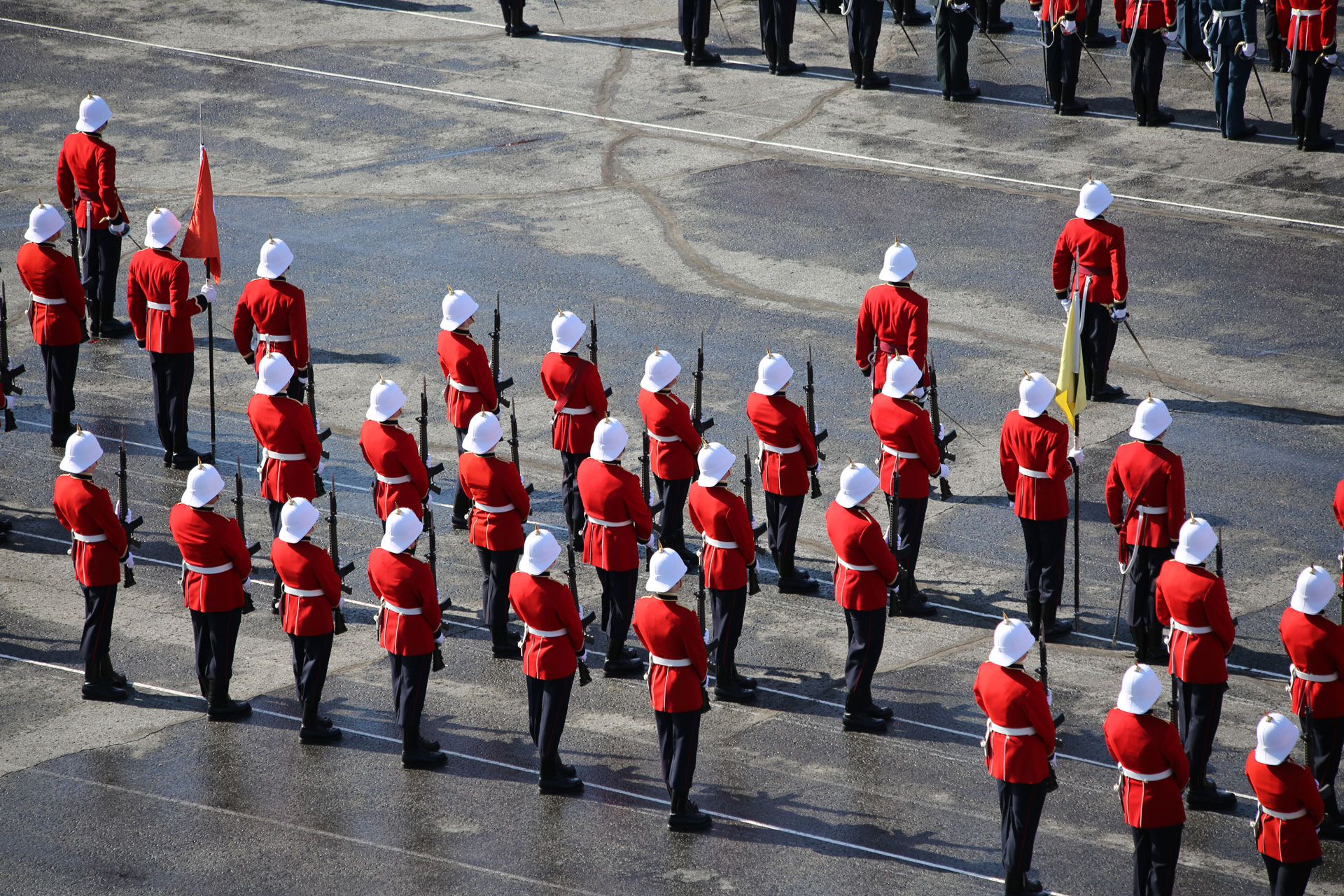 We have contacted numerous ex-cadets from the fifties through to the new millennium and plan to feature them in the coming months to give readers a chance to catch up with names and faces from each of the respective CMCs. If you would like to contribute to this column, please feel free to email me at dean.fleet@rmc.ca.
by M0917 Dean Fleet
– 3584 Archie Beare (RRMC RMC 1956)
I arrived at Royal Roads 12 September 1952 along with about 89 classmates after a train ride from Edmonton, Alberta to Vancouver, BC and a crossing to Esquimalt Harbour in a frigate provided by the RCN. After two years at Royal Roads as a naval officer candidate, I went on to RMC in the fall of 1954 to have a stab at the Electrical engineering program.
That proved unsuccessful, so I transferred to the Royal Regiment of Canadian Artillery under the direct entry officer candidate program. After training with the gunners in Picton, Ontario, Shilo, Manitoba, and with 1 RCHA, Winnipeg, Manitoba, I was commissioned second lieutenant in 1 RCHA in August 1956.
Shortly at being commissioned, I was engaged to Marcia Roberta Murray in Winnipeg and we married there on 27 April 1957. Our marriage produced five children, 12453 Murray Beare (RMC 1980), 13337 Stuart Beare (CMR RMC 1983), Deborah, Valerie and Jennifer. From these five children there are now 12 grandchildren added to our family tree, including 25002 Sarah Beare(RMC 2011).
Army life provided much variety and many opportunities for travel. As a family we were in West Germany for six years, serving with the Canadian Brigade twice and once on exchange with the Royal Horse Artillery between 1957 and 1970. Our older son and eldest daughter were born there during those tours.
After only one year with the Royal Horse Artillery exchange posting, I was selected to attend what turned out to be the last 22 month Army Staff Course at Fort Frontenac, Kingston, from September 63 to June 65. Following that, there were a number of regimental and staff assignments to keep us on the hop. Highlights included Battery Commander of B Battery, 1 RCHA, into which I had been commissioned, from August 68 to July 70 in Germany; serving as the Range Control Officer, CFB Shilo at the start up of the German Army training there early in 1974; and a stint as the Senior Staff Officer (Operations) at HQ UNEF ll in Ismailia, Egypt from November 76 to July 77.
The culmination of my Army life was serving as Commanding Officer, Camp Wainwright from August 1981 to August 1985. During that era the army reinvented divisional level training, and virtually all field units and formations of the army came to Wainwright bi- annually starting in 1983 until 1991 in what were called "Rendezvous" (RV) training exercises. During RV 85 I was told I would be posted to NDHQ, Ottawa. In lieu of the posting I chose to resign my commission in August 85 and started a civil career at Lakeland College, Vermilion, Alberta.
In June of 1994 Marcia and I ended our nine enjoyable years of stability in Vermilion and returned to Wainwright for our retirement. For the first time in some fourteen moves, Murcia had more than a couple of days to select and agree to what would be our home. We spent the winter of 94 – 95 in temporary digs planning the house that we built from April to June 95.
In the summer of 95 an acquaintance stopped me on the street in Wainwright and, learning that I was retired, asked me what was I going to do now to keep out of mischief – run for town council? That seemed a good idea, so I did and served two three-year terms as a councillor until October 2001.
Over the past seven or eight years I have been working as an independent contractor for Calian Technology with their Edmonton Garrison site from time to time. I am also an independent contractor with Cubic Technology using the Canadian Weapons Effect System at the Canadian Manoeuvre Training Centre, CFB Wainwright. To my mind, it is a privilege to be able to take part, with these systems, in the training of our troops as they prepare for their Afghanistan mission.
Archie can be contacted at archnmar@telus.net
____________________________________________________________________________
– 5300 Robert H. Thomas (RRMC RMC 1962)
Through high school I spent all my summers sailing and decided that the Navy was what appealed to me. I decided to go to Royal Roads because of its naval background and because it was distant but still in Canada. My time there is best remembered for the friendships I made and meeting my wife-to-be, although neither of us realized that fact at the time. RMC was a much happier experience and failing third year science turned out to be one of the best things for me as I switched to History and gained the basis for many of the most rewarding positions later in my career. I had no plans to serve beyond my obligatory service but ended up with a highly enjoyable career in the Navy, lasting almost 38 years.
The first half of my commissioned service was largely spent at sea and in naval-related jobs, serving in 10 ships, including time as the Weapons Officer of HMCS YUKON. The second half focused on various aspects of officer professional development. I returned regularly to RMC and had all the best jobs. I was a Squadron Commander in 1969-70, then Assistant to the Director of Cadets in 1970-1 and during those years was Assistant Coach, then Head Coach of the basketball team. I was promoted to Lieutenant-Commander and posted to the Land Forces Command and Staff Course as the token sailor (my one foreign posting!) before going back to sea as the Executive Officer of ST LAURENT and ASSINIBOINE and (briefly) Commanding Officer. I then went to NDHQ to work in NATO Plans for three years and spent four years on the Directing Staff of the Staff College. This involved three jobs – naval staff planner, DS (following promotion to Commander) and SSO national Security Studies. I returned to RMC in 1981 to pursue an MA in War Studies and shortly after arrival found myself the Director of Administration. After completing my MA, largely on my own time, I was appointed Director of Cadets from 1983-6 and still regard it as the best job I ever had. I then commanded the Officer Candidate School for several years, moved back to NDHQ and started a record of closing institutions. I was the Director of Military Strategy – a position eliminated in one of the periodic re-organizations in NDHQ, then was the Visiting Defence Fellow at the Canadian Centre for International Peace and Security which the government of the day closed, and moved to Kingston as the Director of the Centre for National Security Studies at the National Defence College and this, too, was closed in 1994.
It was clearly time to retire and Bonnie and I decided to stay in Kingston. Our children had completed high school here and had then gone to Queen's, so it was very much their (and our) home town. Since retirement I have been active as a Research Fellow at the Centre for Foreign Policy Studies at Dalhousie University, writing on a variety of naval topics, and as a member of the adjunct faculty of the Pearson Peacekeeping Centre where I developed and ran a course on the Peacekeeping Dimension of Maritime Operations for seven years. I also did contract work for RMC and exercise development for the Army Simulation Centre. Bonnie and I were deeply involved in the volunteer sector. I spent a decade on the Board of the Thousand Islands Playhouse in Gananoque, (seven as President) and am a Governor of the Kingston General Hospital and have served on a variety of committees. Bonnie was Treasurer of the Kingston Symphony Volunteer Committee and a Board member and Vice-Chair of the United Way until her death in 2004 from ovarian cancer. My daughter is a teacher in Kingston and my son is a partner in a law firm in Ottawa; they have made me the proud grandfather of five kids! I play golf (acting as a witness for Ed Murray's holes-in-one) and cycle in the summer, then swim, ski and follow the fortunes of the RMC basketball teams in the winter. I have also been seriously addicted to genealogy. I am also helping the Queen's Faculty of Health Sciences in raising funds for the Nancy Sutherland Memorial Fund for the Promotion of Knowledge in Ovarian Cancer and have joined a programme called Survivors Teaching Students – a programme of Ovarian Cancer Canada designed to assist in the teaching of medical students.
Robert can be contacted at thomasrh@sympatico.ca
____________________________________________________________________________
– 13774 Paul Ohrt (RRMC RMC 1982)
Paul  graduated  with a Bachelor's Degree in Electrical Engineering. Following Junior Officer training at the Canadian Forces School of Electrical and Mechanical Engineering in Borden, Ontario, Paul was assigned to Base Maintenance, CFB Montreal where he was employed as the Weapons and Electronics Platoon Commander and finally as the Operations Officer for the unit. In 1985 he was assigned as the Staff Officer 3 for Weapons and Electronics at Canadian Forces Europe Headquarters in Lahr, Germany and then in 1987 he served as the Headquarters Platoon Commander in Maintenance Company, 4 Service Battalion. In 1988, he was selected to serve on exchange with the British Army of the Rhine as the Second in Command of 20 Electronics Workshop, which was the specialist electronics workshop for 1st British Corps.
In 1990, he was selected to attend the US Naval Post Graduate School in Monterey California where he achieved Master's of Science Degrees in Electrical Engineering in Radar Systems Design and Electro-Optical Design. He was promoted to Major in 1992 and was subsequently transferred to National Defence Headquarters in Ottawa, Ontario as a Project Manager and Life Cycle Material Manager for Army radar, meteorological and robotic systems. In 1996, he was selected to serve as the Officer Commanding 17 Wing EME Squadron in Winnipeg, Manitoba and held that position during the civil disaster relief Operation Assistance during the Red River Flood in Apr/May of 1997
He assumed the position of Canadian Forces Liaison Officer to Developmental Test Command (DTC), Army Research Laboratory (ARL) and Soldier Biological Chemical Command (SBCCOM) at the Aberdeen Proving Grounds, Maryland in January 1999. During his time there he completed the Canadian Army Command and Staff College in Kingston, Ontario and was selected to attend the Mubarak Al-Abdullah Joint Command & Staff College in Kuwait on promotion to LCol in 2002.
The year in Kuwait was an exciting one for the whole family. Their daughter was quite happy to start kindergarten at the British School of Kuwait and promptly developed an English accent, as well as becoming more fluent in Arabic than her parents ever managed to achieve. Unfortunately the Second Gulf War kicked off in Feb 03 and therefore Becky, Victoria and the dog "Radar" had to be evacuated back to Canada for 3 months. They returned in May 03 for the final few months in Kuwait (just as it was starting to get hot again!)
Paul arrived back in Canada in August 2003 and started work in the Directorate of Armoured Vehicle Project Management (DAVPM) where he assumed the duties of Section Head for Anti-Tank and Air Defense Systems, as well PM Mobile Gun System & PM Multiple Mission Effects Vehicle. He has also been involved in the acquisition of the Armored Patrol Vehicle IOR and, more recently, as the first PM for the Tank Replacement Project for the introduction of the Leopard 2A6M into CF service in Afghanistan.
Paul left the CF in Nov 06 in order to accept a position in the Public Service as an Engineer within Defence Research and Development Canada (DRDC) where he was responsible for the coordination of the Sustain engineering thrust, as well as the Soldier Systems thrust. He has been responsible as the Project Director (PD) for 6 Technical Demonstration Projects (TDPs), the Active Protection System Technology Exploitation Project, Scientific Advisor Tank and being the DND ADM S&T representative to the Interdepartmental DG Committee on Energy S&T, as he was responsible for Army power generation technologies.
In Mar 09 Paul accepted the position of Director Electrical Engineering Program at the Quality Engineering Test Establishment (QETE) where he is responsible for QETE's electrical engineering program that provides field and laboratory engineering support and consultation services to the Department of National Defence and the Canadian Forces. This program is primarily in the areas of sensor systems, power and control systems, emissions security testing, electromagnetic environmental effects and the technical management of DND's Radio Frequency Safety Program. Paul and his wife Becky have one child, Victoria (age 11).
Paul can be contacted at ohrt.pa@forces.gc.ca