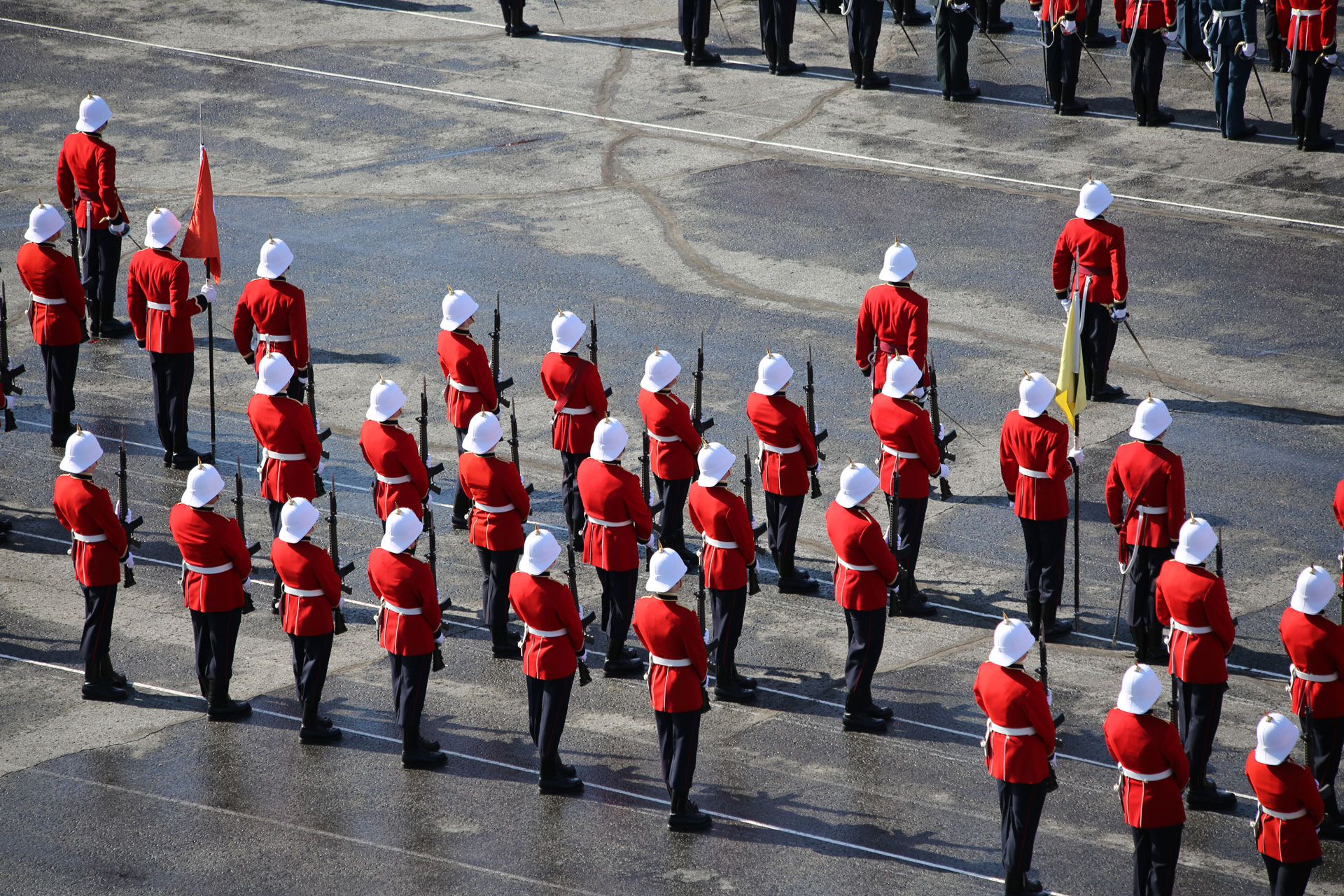 6930 Maj (Ret`d) Len Morrow`s (RMC 1966) military career included postings in B.C. and a return to RMC, this time as a lecturer. He obtained a Master of Science degree from Case Western Reserve University in Cleveland, where he did early work on lasers. He obtained an MBA from Queen`s 1972. After another posting back to his beloved B.C., Len decided to leave the military and bought a local construction company with a partner. He later acquired a struggling building supply store that grew to produce $15-million in revenues a decade later. Since selling his business interests in 1992, Len has devoted himself to his many causes. He learned to fly a plane, and is now president of the local airpark in Courtenay, B.C., near his home. He started a local environment group to protect the watershed. He was founding director of the Community Justice Centre, which brings juvenile delinquents face to face with their victims and saves $1.5 million to $2 million a year in court costs. He's also a volunteer pilot with Angel Flight, airlifting cancer patients living in remote areas to hospitals for treatment. Established in February 2007 by Len Morrow, M.B.A. 1972, the Len Morrow Entrance Scholarship in Commerce is awarded on the basis of academic excellence to female students entering the first year Bachelor of Commerce program at Queen`s School of Business.
Interview conducted by E3161 Victoria Edwards (RMC 2003)
E-veritas: Describe your background at the college.
6930 Maj (Ret'd) Leonard Morrow (RMC 1966): I was an active leader in my high school; heavily involved in sports (track & field, football, cross-country racing, etc) and other extra-curricular activities (school paper, student council, etc) and, because I was good in all subjects, especially maths and sciences, I was interested in taking engineering in university. My brother, who was a Petty Officer in the Navy at the time, was the first to suggest RMC. I was particularly impressed by the small class sizes and the intensity of the activity level. Since I wore glasses, I couldn't become a pilot and, although the Navy still had the rum ration, they weren't looking for engineers at that time, so I chose the Army. I was accepted for entry in 1962 and, in Robert Frost's words, "that has made all the difference."
RMC exceeded all my expectations. I found that I was good at everything except marching and looking "military." It was all so much fun. During the common First Year, I learned that civil engineers took tours to gravel pits and asphalt plants; electrical engineers visited power plants, but chemical engineers toured distilleries and breweries. I enrolled in chemical engineering.
At the end of the First Year, all Army cadets got a tour of the main Army bases across Canada to help them select a Corps affiliation. After stops in Camps Borden, Gagetown, Shilo and Wainwright, we headed for Chilliwack. The Boeing 707 touched down in Vancouver on one of those Beautiful BC days in July and I didn't even need to leave the airport to know that, although this was my first time in BC, I was home. I joined the RCE, who were based in Chilliwack.
e-veritas: Outline the highs and lows in your college experience.
Len Morrow: I don't think that there were ever any real lows at RMC, or the psyche has conveniently forgotten them. In part, that may be because I was assigned to #1 Squadron for my first three years. The relative isolation of The Stone Frigate, and the somewhat more enlightened leadership that existed there, may have shielded me from some of the excesses that existed elsewhere. I think that we were just kept so busy at RMC there never was time to waste on feeling bad. All the survivors quickly learned that you can endure any hardship as long as you know that it will eventually end. At RMC, there was so much to do that no hardship lasted long before something else came up, and usually it was exciting, funny, or ironic. My senior year at the college was spent in Wing Headquarters as the deputy Recreation officer, which meant that I kept up morale by playing a lot of bridge.
My only real struggle at RMC was to get my left arm to move forward at the same time as my right foot when I was on the Parade Square. I just tried too hard; it was not until just before my first Xmas at RMC that I learned to relax got the knack. In fact, the affliction suddenly returned on my Graduation Day four years later. I was to lead the Graduating Class onto the Square. As we marched up the hill beside the Frigate it turned out that I was the only one in step! My error was quickly corrected and I completed the rest of the day with a big smile.
E-veritas: What did you do after the military college experience?
Len Morrow: In my final year at RMC, I got a scholarship to attend Case Institute of Technology (the MIT of the US mid-West, located in Cleveland). I spent 15 months there getting an MSc and doing some cutting edge research on lasers, which had just been developed a few years earlier. After that, I returned to Chilliwack to teach military engineering and had time to write a field manual on bridging. In 1969, I was posted back to RMC as an instructor in Chemical Engineering. I had enough time free from instructional responsibilities to enrol in the Queens MBA program. My graduation from Queens coincided with a posting, in 1972, to CFB Comox, BC as the Base Engineer. Comox is one of those paradises that nobody in Canada knows about, except the military, and once posted there you never want to leave. The same proved true for me. In 1975, with a possible posting to Ottawa looming over the horizon, left the Forces and bought a commercial construction company that did a lot of work on Vancouver Island. This was extremely successful, so in 1982, I took the accumulated profits of the construction company and bought a struggling building supply business in Comox. This business was easily turned around and also became very successful so the construction company was sold off. Ten years later, in 1992, a fellow with a lot more money than me, but no building supply business, came along and we changed roles… he took the business and I took the money.
Although I was only 49 when I "retired" from business, I did so because of the great sense of duty (remember TDV) and responsibility that I felt towards my country, my province and my community. I had been so lucky thus far in life that I wanted to give something back. Selling my business permitted me to concentrate on community service. I was elected to the local School Board, serving for 12 years and eventually becoming Chairman. I was also elected to the Provincial body, BCPSEA, which negotiates with the Province's teachers and support staff and generally establishes working conditions for all educational employees in BC. In the Comox Valley, I and a retired Provincial Supreme Court Justice helped found The Community Justice Centre to bring restorative justice (mediation) programs to deal with first-offenders, bypassing the expensive, and often ineffective, court system. Together with a few community leaders and environmental activists I was a founding Director of Project Watershed, a powerful change-agent focused on protecting and preserving critical watersheds serving the Valley. I also found time, in 1994, to get my pilot's licence, my instrument and multi-engine ratings, and purchase, successively, a Piper Cherokee, an Arrow, a Seneca and another Arrow aircraft.
e-veritas: What are you doing now?
Len Morrow: I have just completed 7 years as President of the Courtenay Airpark Association, which operates an airpark for the City of Courtenay. I have also served as a volunteer pilot with Angel Flight of BC, flying cancer patients from the BC coast, at no cost, to chemotherapy sessions in Vancouver or Victoria then back home. For most of the patients, many of whom are children, this turns a painful 8 or 10 hour drive into a simple 1 or 2 hour flight.
e-veritas: How do you stay in touch with RMC?
Len Morrow: I am a life member of the Ex-cadet Club, regularly read e-Veritas and, aside from my !969-72 posting to RMC, have re-visited the College three times during cross-country plane vacations to Ottawa, Halifax or Toronto, where I have relatives. I have mixed feelings about these visits. Although all my memories of my time there are pleasant, age having filtered out any of the sadness, I know that the military, the staff and the Cadets have moved on and that this is their time, not mine so I don't really feel comfortable there. Perhaps there is some wistfulness. I also know that this is as it should be so I have tried to support the College, through the Foundation, as best as I can over the years.
e-veritas: What do you like or dislike about what is happening these days?
Len Morrow: I am intensely proud of the achievements and contributions to Canada that have been made, and continue to be made, by graduates of RMC. That is a tradition that should be preserved.
e-veritas: Any tips?
Len Morrow: I have always believed that the only reason why we are on this earth is to let the next generation climb up on our shoulders to see a little farther over the horizon. The world has become a lot more serious since I graduated; however, I hope that the current crop of Cadets doesn't forget to have a lot of fun along the way.
Len Morrow may be reached at  Morr716@aol.com