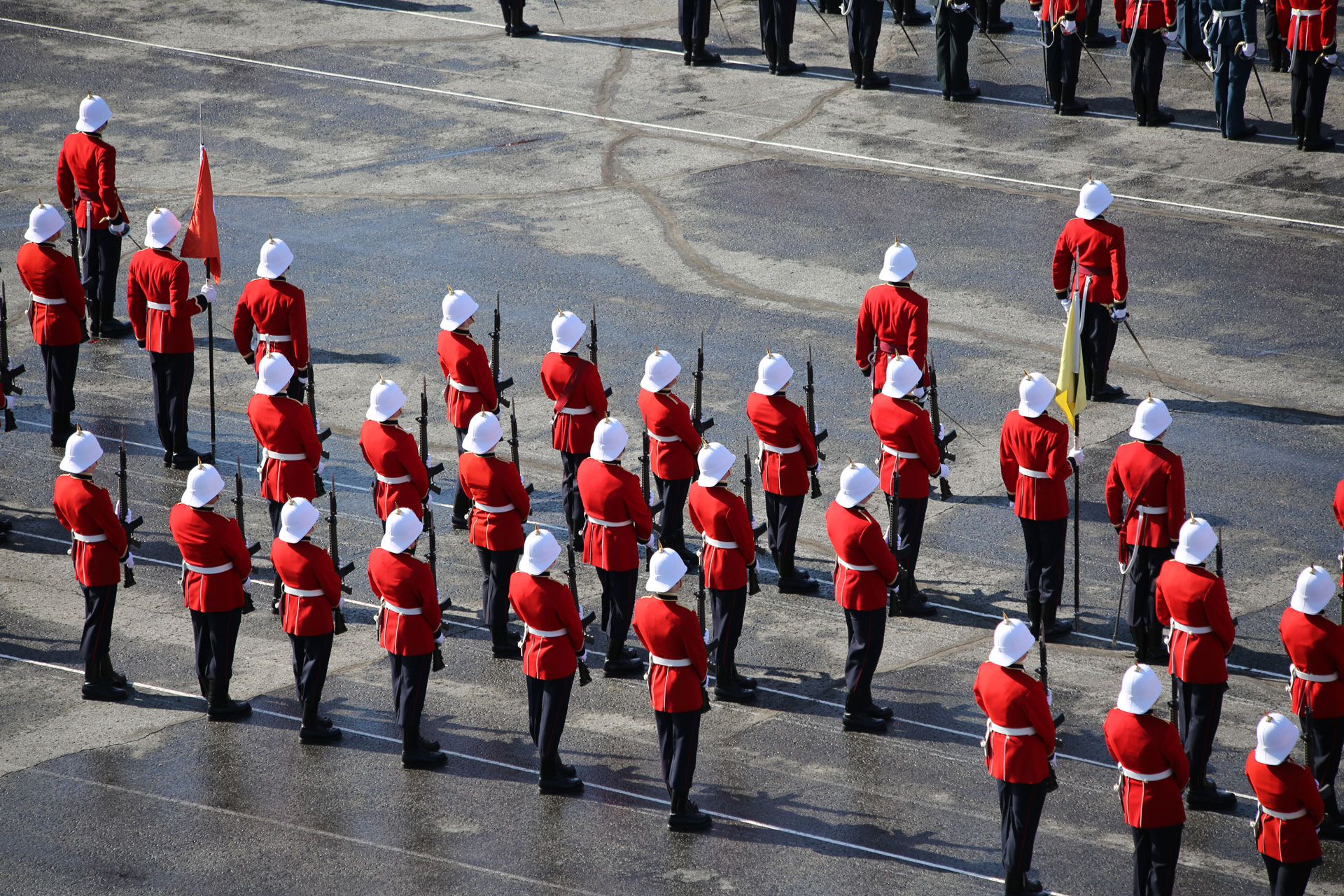 2Lt a "utility wrench" for ALLC
A/SLt 24498 Noelani Shore (RMC 2009)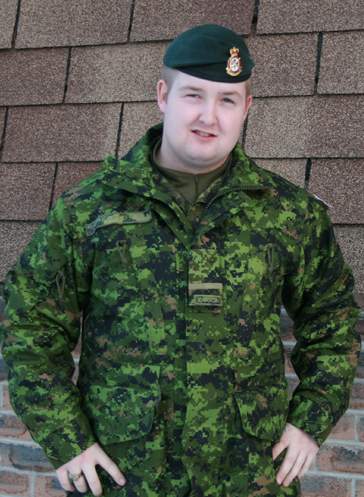 Second Lieutenant Parker Horton (RMC 2009) began his time in the military as a cook in the Navy, but he decided to join the Officer Corps in 2005.
So he left West-Point, Prince Edward Island, where he was born and raised, to move on to Kingston and the Royal Military College.
"I decided to join the CF when I was fairly young; I signed up in the reserves as a cook when I was 16. I wanted to have the experience of doing basic training before I made the commitment of joining the Regular Force," 2Lt Horton explained. "So I went into the recruiting center and joined up in the Navy at whatever trade they needed. The paperwork moved quickly and before I knew it I was off to basic, even though I still didn't know what trade I was. There was one memorable inspection where I was supposed to present myself, and I said "Ordinary seaman Horton, 776, Trade …Unknown." The Chief was shocked, and replied, "Horton, how the hell do you not know what trade you are?" I decided to say nothing. He continued to inform me that I was indeed a Cook. I said, "Yes, Chief, I'm a Cook."
He looks back fondly at his time as a Cook, and 2Lt Horton understands what a great life skill he picked up, and "it also made doing basic training for officers a breeze," he added.
"It was my fist Commanding Officer who led me to the path of RMC. Lieutenant Commander Allen Dale told me that he thought I would make a good officer, so I decided to apply to RMC."
2Lt Horton enjoyed the many opportunities at RMC, but he didn't let himself get too overwhelmed. He wanted to enjoy his time at RMC, and in that, he was successful.
"Academics are only one pillar, and in my books there are five pillars at RMC: academics, bilingualism, sports, military, and my own personal pillar, having a life. I have seen a lot of people's personalities change over the years at RMC, and I believe that there is not one specific way to be an officer," he said. "For me, I am Parker Horton from West Point, PEI, ex-farmer, fisherman, and now an officer in the Army. I choose to be as easy-going as always and don't feel that people should dictate their own personality to fit the position they are in. Let your personality dictate how you run your position. I think people respect that – being yourself, that is."
He worked hard to benefit from the various sports and college activities that were going on, but made sure to keep it all in perspective. As long as he completed the RMC program successfully, he would have a career in place.
"At the end of the day it did not matter if I had a 95 percent or a 65 percent, as I measured ultimate success on becoming an officer in the CF," he said.
2Lt Horton had a chance to hold various bar positions at RMC. He was a section commander, as well as the third year deputy class senior.
"In all honestly, being a comsec was a great experience. It was where I felt I had the greatest impact on people. When you can work closely with six or seven people on a daily basis, you really get to know them. I believe that is where you really find out what kind of a leader you are," he said.
He also had the chance to work with a new program called the Aboriginal Opportunity Year (ALOY).
"This proved to be more of a challenge than anyone thought it was going to be. There are always issues when starting up a new program, but in general it was a really good experience."
As a recent graduate with a degree in Business Administration, 2Lt Horton has stayed in Kingston to work at Land Force Doctrine Training System Headquarters (LFTDS HQ) with the Army Lessons Learned Centre (ALLC). He has been working as the Deputy Coordinator for ALLC on an OJT since his graduation, and while he is currently an infantry officer, he is awaiting a component transfer.
According to 2Lt Horton, he is somewhat of a "utility wrench" at ALLC, as his tasks are varied. This makes for a diverse and interesting work environment, and he has also had the opportunity to get an inside perspective to the Staff Officer position. He has met many interesting people at his first posting, and he has learned invaluable information stemming from all areas of the Army.
"I am sure it is the same as it is for everyone else, when you step into a new organization. I basically had to learn a whole new language, as everything has an acronym – it almost seems like there are acronyms for acronyms. But I have settled in now, and everything isn't quite as new as it was before. Not a day goes by that I do not learn something, and for that I am grateful," he said.
While the ALLC has a total of only seven people, 2Lt Horton, along with his co-workers, produces a great deal of high quality reports on Lessons Learned, which are taken from observations by the troops on the ground.
In order to have a functional Lessons Learned program, it is important to have the support of the entire chain of command.
"The support is one thing we do have on our side, especially from the senior officers in the Army. A recent example would be from Haiti. Brigadier General Laroche requested that a lessons learned capability be deployed to Haiti as soon as possible, in order to collect observations from the mounting, deployment, and conduct of the operation," he said.
Once the observations are gathered from the soldiers on the ground, they are formatted into reports and sent back to ALLC. From there, 2Lt Horton and his team take the observations and submit them into the Army Lessons Tracker (ALT).
"That is a tool which we use to keep track of observations, track trends, and store our reports. From there, the Subject Matter Experts (SME's) make recommendations on the observations which will lead to change," he said.
While it sounds complicated, "it really isn't," assures 2Lt Horton. "It's important to note that we do not consider an observation a 'Lessons Learned' until the change is seen on the ground and in the mentality of the soldiers," he added.
As a young junior officer in the Canadian Forces with no operational experience in the military, 2Lt Horton has learned a lot from the publications, and finds that it is a good source of information. The reports that 2Lt Horton puts together are concise and right to the point, and they provide a good grasp on many specific topics.
"We are a smart Army, and we choose to learn from our experiences. The information and reports we put together are available to all those who seek it," 2Lt Horton said.
____________________________________________________________
Hubert James Seamans (RRMC 1970s) owns Seahold Investments Inc. of Moncton NB, which provides bridge financing to people awaiting fair insurance claim settlements due to motor vehicle accidents. His previous work experience includes personal and corporate lending with a major Canadian chartered bank, twenty three years experience as a partner in a building supply business, and as the President of a private venture capital group operating in New Brunswick. He was elected at the municipal level in 1983 and provincially in 1985. He served as Minister of Municipal Affairs in the McKenna government during the late 1980's. He was born in Saint George, New Brunswick, the son of Whitman Hubert Seamans and Jean Nells MacDonald. He was educated at Mount Allison University, the Royal Roads Military College and the University of New Brunswick.
seahold@seaholdinvestments.com
http://www.seaholdinvestments.com/who.html
____________________________________________________________
Mini-class reunion for the class of '63.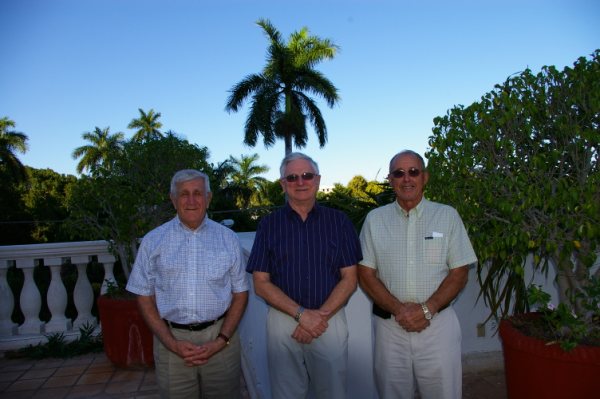 5717 Doug Sinclair celebrated his retirement from the Public Service 22 Jan 10 by taking a two-week holiday in Mexico, staying with 5944 Clay Samis and his wife, Janet. Over the course of the holiday we had several get-togethers with 5680 Bernie Laliberté and his wife Colette and 5483 Don Gilliland and his wife Ann. In the picture are (from left to right) 5680 Bernie Laliberté, 5717 Doug Sinclair and 5944 Clay Samis. Missing from the picture was 5483 Don Gilliland. The picture was taken on the patio of the Fiesta American Hotel in Merida, Yucatan, Mexico 07 Feb 10.
____________________________________________________________