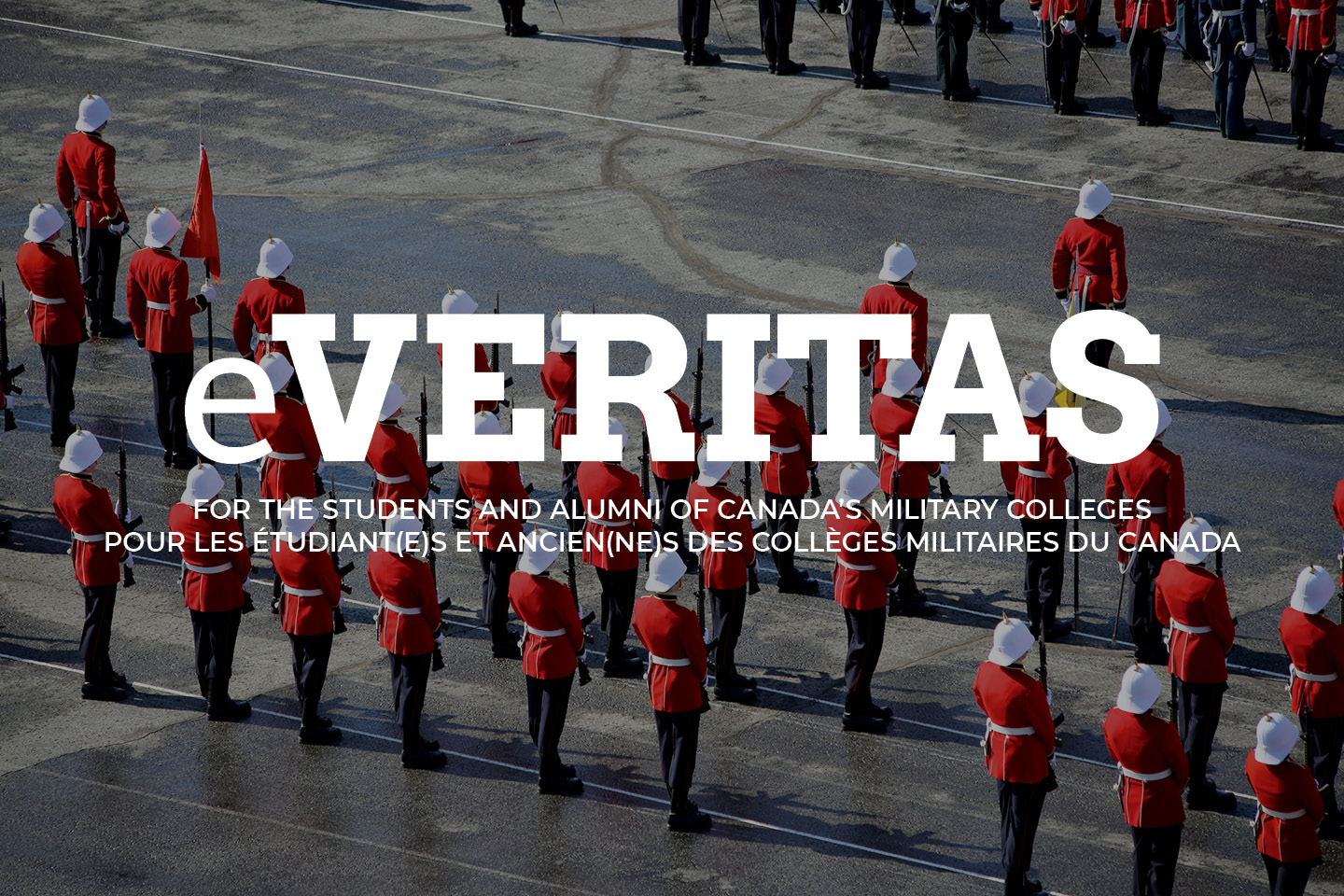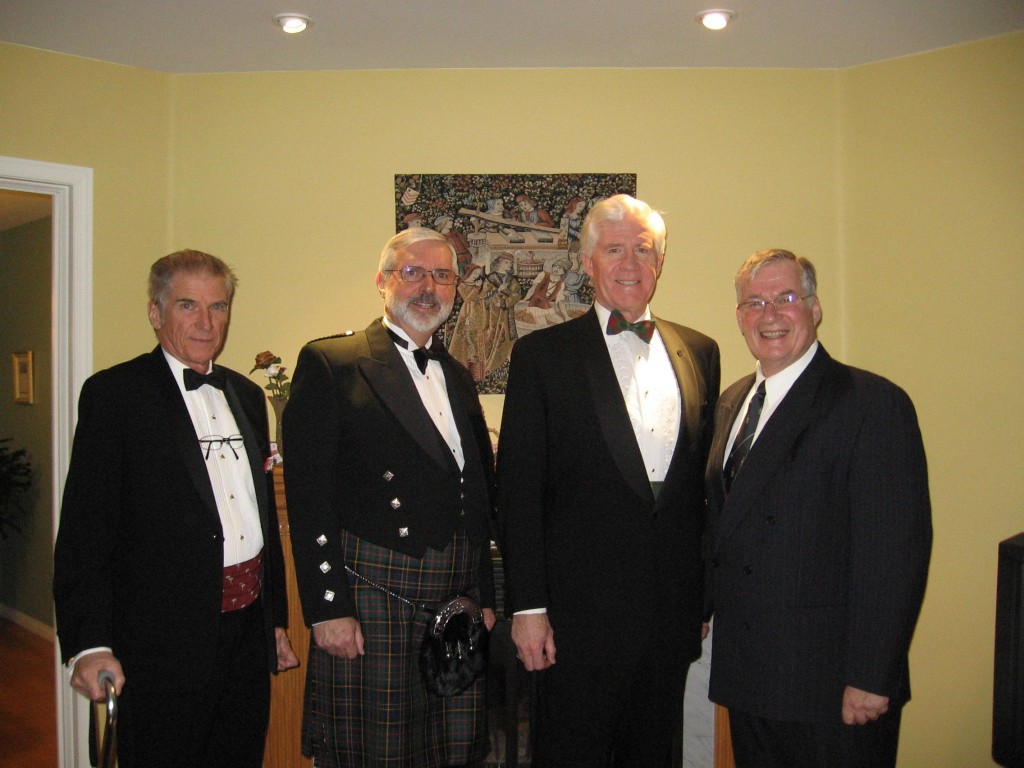 "Four members of the RMC class of 1969 (left to right, 8003 Norm Gervais, 7964 Don Bell, 7855 Paul Hession and 7956 Paul Corriveau) were among 27 ex-CMR Cadets who joined the Cadet Wing at the Mess Dinner which was held on March 8 at Saint-Jean campus in the General J.A.Dextraze Pavilion. The guest of honour for the evening was Major-General Chris Whitecross, Chief Military Engineer of the Canadian Forces. MGen Whitecross' dinner address included 60th anniversary greetings to the staff, students and alumni of CMR as well as special recognition of the role of women in the CF – particularly appropriate as the event was held on International Women's Day."

3521 Charlie Simonds, Class of '56 will be a special guest at the RMC Athletic Sports Award Night later this month. Charlie will be on hand to present the prestigious Guy Simonds Memorial Trophy to the fencing MVPs. Charlie is the son of late 1596 Lieutenant-General Guy Simonds, Class of '21 whom the trophy is named.
5564 Norm Hass, Class of '62, is an Exercise Training Mentor at Pearson Peacekeeping Centre; he acts as Guru to personnel manning simulated Brigade-level Headquarters during High Level training exercise at Corps level for Turkish, German,Dutch and other NATO participants. and Exercise Controller at Calian/DLSE.
6601 Ernie Cable, Class of '65, retired from CF after 35 years spent mostly associated with Argus/Aurora operations. A three year exchange with the US Navy at the Naval Air Development Center provided excellent experience for developing and operating the Aurora. After retirement Ernie became involved in researching Air Force and naval aviation history. Currently he is helping two fourth year RMC cadets with a project about Argus/Aurora operations in the Cold War. Ernie and wife, Carol, reside in Dartmouth, NS.
6804 Alec Calder, Class of '66, retired in 2005 from a lifelong career in the helicopter business. He returned to the family home in Elora Ontario where he spends many happy hours tending the gardens and renovating the house. Do not disturb at siesta hour.
10238 Ron Guidinger, Class of '74 – the former Base Commander at 4 Wing – CFB Cold Lake (1996-98); retired as VP&GM Raytheon Canada Support Services Division in 2011 he is currently the President at Guidinger Military Insights Ltd.
10569 Gary Hook, Class of '76 has been the President at SET International in Winnipeg for the past nine years; prior to this position he was an Instructor at Southern California Safety Institute in Torrance, CA.
11001 William (Bill) Schultz, Class of '76 is the Process Manager at Canadian Pacific Railway in Calgary. Canadian Pacific Railway Limited, through its subsidiaries, operates a transcontinental railway in Canada and the United States and provides logistics and supply chain expertise.
M0121 Jim Grecco, Class of '78 finds himself living and working in Calgary these days. After spending 27 years in the CF he is currently the Team Lead at Cenovus Energy Inc and Board Chair at Aero Space Museum Association of Calgary.
12341 Al Stephenson, Class of '79 has been a full-time PhD student at Carleton University since August 2010. The RRMC BSc, Physics & Physical Oceanography grad hold a MA, Strategic Studies Air University / Air War College in '02.
12606 Brian Read, Class of '80 who owns Horizon Plastics International Inc in Cobourg Ontario has been appointed as the Honorary Colonel for ATESS at CFB Trenton. He has recently started a solar panel manufacturing facility which was expanded in 2012 and relocated to Welland Ontario. He and Kym have an 18 month old Grandson and they currently reside in Cobourg.
14082 Michael Sharon, Class of '83 is Chief Pilot, Transport Canada Aircraft Services. Prior to this position he was: Chief, Safety at TC Aircraft Services; Senior Accident Investigator at Transportation Safety Board of Canada. His last position in the CF was as a pilot at 421 Sqn.
14831 Yves Tessier, Class of '85 is currently a pilot with GX aviation near Hartford Connecticut; the former CF Fighter Pilot also had a position with Bombardier as a Demonstration Pilot for over 10 years.
16147 Brett Stewart, Class of '87  brought his collection of Royal Roads Military College uniforms, badges, yearbook, album, memory box, and photos for the show-and-tell part at the (March) monthly meeting of the Bytown Militaria Collectors' Association last week in Ottawa.
16169 Andrew (Andy)  Anderson, Class of '88 is now working and living in the Seattle area and along and with Heidi spending just about every free moment in hockey rinks on both sides of the border following Daniel's hockey.
17846 Shirley Greenwood, Class of '91 has been a Logistics Officer at Department of National Defence since May 2007.
19350 Lieutenant-Colonel Carla Harding, Class of '94, will be handing over her job as Canadian Army G4 Operations as she prepares to deploy to Op PROTEUS in Jerusalem for one year. Op PROTEUS is the Canadian contribution to the Officer of the United States Security Coordinator which has a mandate to encourage co-ordination on security matters between Israel and the Palestinian Authority.
21443 Cheng-Hsin Chang, Class of '99 and wife Penny are proud to announce that Philip Edward was born on Tuesday, March 6 within 3.5 hrs after arriving at the hospital weighing 5lbs 10oz (only 3 weeks early). The proud father reports that Penny and baby are doing great and were expected to be home last Thursday.
E3161 Victoria Edwards, Class of '03 presented on Military College insignia memorialized in various media (silk, silver, stone, stamps, stained glass) at the Bytown Militaria Collectors' Association (BMCA) on Wednesday March 7. Her powerpoint slideshow and talk was based on her ongoing research as a staff writer for e-Veritas for which she was awarded the RMC Club President's Award.
Ex-Cadets & More in the News…
Muskoka Mosaic: Introducing 19052 Jason von Kruse and 19016 Tanya Sprathoff – Class of 1993

"When we were going to Moose Jaw everyone was divvying up who was going to be roommates. The only person I knew was Tanya,"
Captain Crosier reached for a dream and landed a very large plane
"I have always wanted to fly, even when I was 10 or 11, and I guess it might have been from going to all the air shows. My dad (Brian) was a navigator in the military and I enjoyed hearing all his stories, as well."
24204 Elizabeth Crosier (RMC 2008)  Article
RCAF flies Arctic Ram
"Today's operations were extremely successful," said Lieutenant-Colonel Nick Grimshaw, Chief of Staff, 1 CMBG, regarding the Feb. 19 activities. "The airborne insertions into Whati and Gameti were executed according to plan through the dedicated support of the Air Component Commander and its affiliated Royal Canadian Air Force elements."
19033 Nick Grimshaw (Class of 1993) Article
Presenter on clean energy
 "It's not the first time I've talked about it," she says with a smile. "I was pretty comfortable. Knowing what level to break things down to was the most difficult."
22777 Sarah Roberge (Class of  2004) Article
Vet serving in Afghanistan arrives home
"He said it was quite a hero's welcome," she wrote. "They had 15-20 police cruisers escorting them through the city (they didn't have to stop at a single intersection) from the Edmonton airport to the base where they were reunited with their families. On all bridges and overpasses fire trucks were pulled over with firemen saluting."
23165 Tom Hammond (Class of 2005) Article