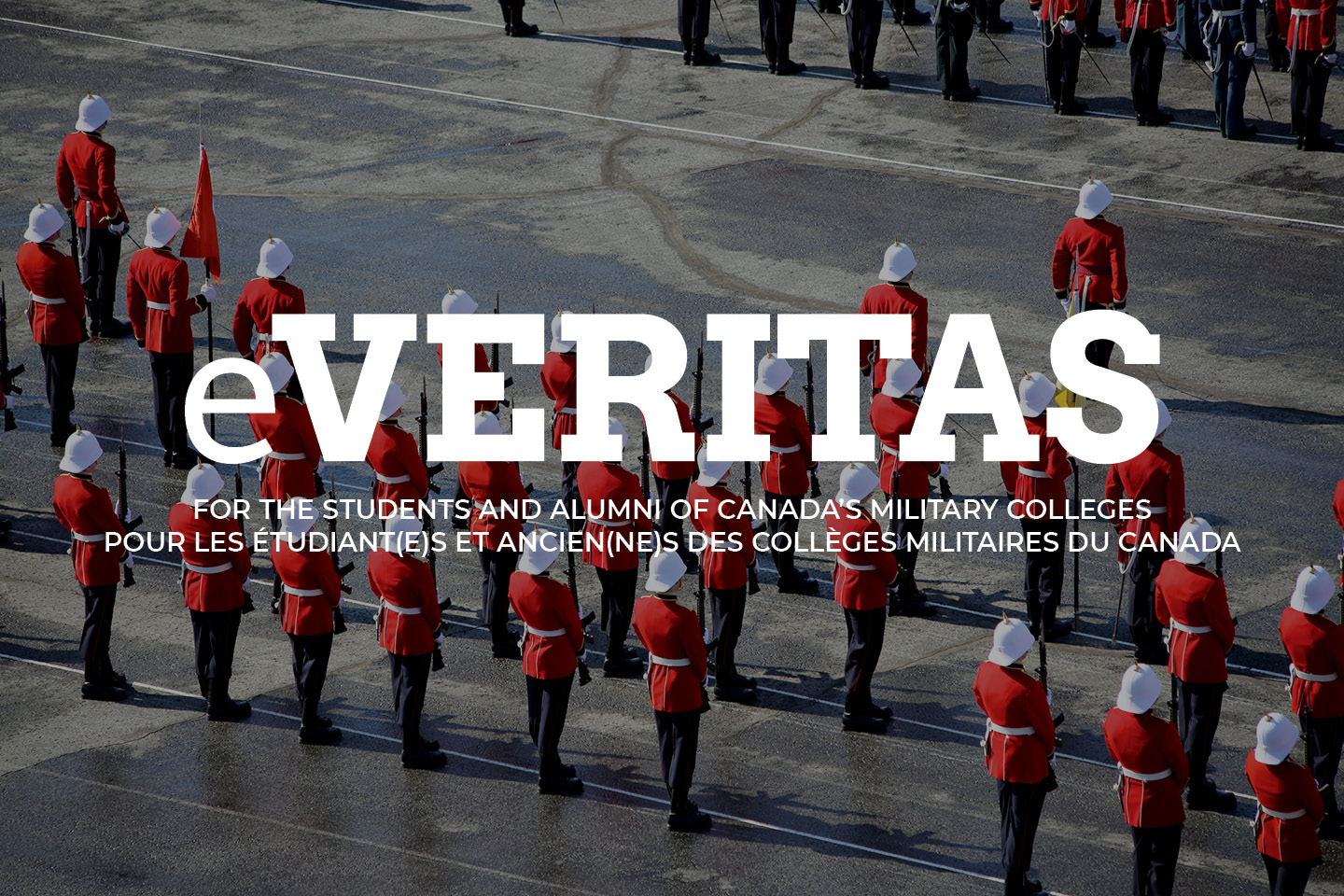 8500 Chris Ford; 13874 Douglas J Gray; 14607 George M Pankiw; 14938 Luc Clément; 15648 Klaus K. Kollenberg; 16008 Paul Miller; 16493 Chand Sooran; 16564 Joseph (Joe) W Little; 16771 Donald A Neill; 17495 Trevor T.N. Nuyens; 17834 James (Jim) Fasano; 18524 Chris B Theal; 21802 Clayton Kotzer; M0776 Captain Marc J Fricker; 22131 Lieutenant (N) Sean Williams; Pierre Allard
8500 Chris Ford (RRMC RMC '70) is an instructor at the Group Works Leadership Institute in Ottawa, which provides Leadership Skills for Everyday Leaders, Leadership Networks and
professional Services. He retired from the Canadian Forces after 35 years of service across Canada and in many countries around the world, including peace-support operations. As a member of Toastmasters International for 23 years, Chris has distinguished himself as leader at the club, district, and international levels. He is also a member of the Ottawa chapter of the Canadian Association of Professional Speakers. Chris is a graduate of the Royal Military
College of Canada (Bachelor of Applied Science); the Defence Services Staff College, India; the Queen's University Program for Public Executives and Strategic Leadership, and recently earned a Graduate Certificate in Conflict Resolution from Carleton University in Ottawa. Chris's connection with GWLI happened when he realized that he had met a group of leaders who were marching with a mission that was parallel to his own, and he could help them march in step.
chris.ford@leadershipinstitute.ca
http://www.group-works.com/gwli/about/profiles.htm

13874 Douglas J Gray (RMC '83) is Vice-President, Engineering/Construction/Project Implementation at Woodland Biofuels Inc. in Mississauga, ON. For the past twelve years Mr. Gray has held senior project and management roles for technology companies within
the chemical processing industry. He is experienced with the design, construction and operations of process facilities that include the implementation of technologies, ranging from the destruction of hazardous waste to the production of cellulosic ethanol. Mr. Gray holds a Mechanical Engineering degree from Canada's Royal Military College (RMC) and a Masters of Science in Environmental Engineering from the University of Guelph. He is a Professional Engineer (P.Eng.) in addition to holding the Project Management Professional (PMP) designation from PMI. Doug began his career with the Department of National Defence, managing flight line maintenance and systems engineering for major projects. His background in both gasification and alternate energy technologies, with an emphasis on project
implementation, equips him well for his role as Woodland's lead engineering and construction manager.
http://www.woodlandbiofuels.com/a-3-whoweare-ourmanagement.htm#dougg

14607 George M Pankiw (RMC '85) is the Director, Facilities Planning & Redevelopment for the Brant Community Healthcare System in Brantford, Ontario. More….

http://www.chesconference.com/CHCC/Faculty.htm

14938 Luc Clément (RMC '85) is the Senior Director, Product Management at Active Endpoints', which develops Services- oriented Applications. Luc held the position of Director Product Management at HP, and previously at Systinet, acquired by Mercury Interactive and subsequently acquired by HP. Before Systinet, he held a senior program management position in Microsoft's Windows Server group. Prior to this, he directed the product development activities at Zoomit. Prior to joining the software industry, he was an officer of the Canadian Forces. He holds a Bachelor's degree in Electrical Engineering and a Master's in Computer Engineering from Royal Military College of Canada.
http://activevos.com/company-management.php

Active Endpoints is currently seeking Senior Software Architects and Engineers, Inside Sales Rep, Senior Consulting Architects and Engineers, Senior QA Engineers and QA Engineers.
http://activevos.com/company-careers.php

16008 Paul Miller (RMC '87) is a Ph.D. Candidate in the Department of Geography at the University of Victoria. His research deals with the relationship between aquaculture, development and the environment. His M.Sc. (Interdisciplinary CO-OP) thesis in 1996 from
the University of Victoria."Biophysical Survey and State of Sustainability Assessment for Coastal Shrimp Aquaculture: A Case Study of the Upper Gulf of Thailand." He holds a B.Eng. (Fuels and
Materials Engineering)from the Royal Military College of Canada 1987.  His thesis was "Preliminary Production Plant Design for the Recovery of Zinc, Manganese Dioxide and Mercury from Spent Primary
Electrochemical Cells."
pmiller@uvic.ca
http://www.geog.uvic.ca/shrimp/Pages/Researchers/Miller/miller.htm

16493 Chand Sooran (RMC '88) has been Senior Vice President & Senior Analyst, Columbus Hill Capital Management in the greater New York City area since 2006. He was Vice President, Global Trading Strategies at Lehman Brothers 2001-2006. He earned BA (Hons), Economics & Politics, Royal Military College of Canada 1984 – 1988. At RMC, he was Cadet Wing Administration Officer, President – RMC Debating Society. He played Varsity Wrestling, and was a member of the Pipes & Drums. He eaned a MA, Economics, in 1990 from Queen's
University and a MBA, Financial Engineering from MIT Sloan School of Management in 2001. He is married with two daughters. His primary interests include corporate finance, economics, fundamental and technical research and distressed investing.
http://victoryrisk.com/chand.htm

16564 Joseph (Joe) W Little (RRMC RMC '88) is Vice-president of Hughes Little Investment Management Ltd, a boutique investment management firm based in Vancouver BC. He is responsible for investment research and portfolio management at HughesLittle. He was
a portfolio manager and analyst with Duncan Ross Associates Ltd. from 1992 to 1997 and from 2000 to 2005. In 1998 and 1999 he was a principal at Calgary-based Sun Alta Investment Counsel Ltd. Joe is a Chartered Financial Analyst and a graduate of the Royal Military College.
http://www.hugheslittle.com/about-hugheslittle.html
joe@hugheslittle.com
16771 Donald A Neill (CMR '89) earned a doctorate in International Relations at the University of Kent, in Canterbury. He is a strategic analyst at the Centre for Operational Research and Analysis,National Defence Headquarters, Ottawa. His publications include articles in Jane's Defence Weekly, Canadian Defence Quarterly, numerous national and international newspapers, and several strategic studies occasional papers. His research "Riot control and incapacitating chemical agents under the chemical weapons convention" was published in September 2007.
pubs.drdc.gc.ca/PDFS/unc64/p528121.pdf

Engineer in Residence (EIR) Program
21802 Captain Clayton Kotzer (RMC '00) an aerospace engineer and officer with the Canadian Forces, gave a presentation about the Engineer-in-Residence (EIR) Program at the annual meeting of Kingston Professional Engineers Ontario on February 20, 2008 at RMC's Senior Staff Mess Hall. The EIR program, administered by Professional Engineers Ontario (PEO), matches a volunteer engineer with an elementary or high school in his or her area. The EIR activities are curriculum-linked and demonstrate the real-world applications of classroom theory. Clayton Kotzer says his favorite part of being an EIR is doing interesting hands on demonstrations in the classroom. Clayton Kotzer, who holds a bachelor of engineering from RMC, organized a trip to RMC by the grade 7 students of Lundy's Lane Public School. Clayton spoke about structures and tested the strength of the arch and suspension bridges created by the students out of dry noodles and glue. While at RMC, the students and their teacher
learned how much weight some bridges could hold. Although the average was 4-6 pounds, one student made a bridge that held 35 pounds! In another experiment, Clayton Kotzer engaged Grade 8's in a Pulley Activity (using a truck to pull a block and tackle system).
http://www.eir.ca/about_eir/who_are_the_eirs.php?link=1
http://www.eir.ca/about_eir/gallery/gallery03/
M0776 Captain Marc J Fricker (RMC 2002), a lecturer in computer and electrical engineering at the Royal Military College, joined the Engineer-in-Residence (EIR) program to make school programs fun. He loves the 'aha' moment when his students 'get it'. Capt Fricker, who studied engineering at the RMC, adds leading edge technology from today's space program. He became an engineer because he loves learning how things work. His mottos include 'Mars or bust" and his favourite TV show is Star Trek-the Next Generation.

17495 Trevor T.N. Nuyens (RRMC RMC '91) is a Chartered Financial Analyst, Research Analyst, Equity Trader and US Product Manager at SEAMARK Asset Management Ltd. in Halifax, Nova Scotia. Prior to joining SEAMARK in 2001, Trevor spent ten years in the Royal Canadian
Navy as an electrical engineering officer. His experience includes project management, risk management, and overall systems integration testing. This wealth of experience enhances Trevor's knowledge as a research analyst, covering the information technology sector. Trevor
has held several positions since joining SEAMRK, including Manager, Portfolio Analytics, providing back-up support to the equity trade desk, assisting in client service, assisting in marketing and research. He received the Professional Engineer designation in 1996 and he is a member of the Association of Professional Engineers of Nova Scotia. Currently working towards the Chartered Financial Analyst designation, Trevor holds a Masters in Business
Administration from Saint Mary's University and a Bachelor of Engineering from the Royal Military College of Canada.
http://www.gregreid.com/Large_Cap_Durable.html

17834 James (Jim) Fasano (RMC '91) has been Senior Principal in the CPP Investment Board, a professional investment management organization based in Toronto, since 2004. Formerly, he worked in the investment banking practices of Merrill Lynch & Co., RBC Capital
Markets and Goldman, Sachs & Co. He holds an MBA from the University of Chicago and a Bachelor of Engineering from the Royal Military College of Canada.
http://www.cppib.ca/Private_Investments/private_investment_contacts.html

18524 Chris B Theal (RRMC '92) is Managing Director, Institutional Research at Tristone Capital Inc., an investment banking firm in Calgary specializing in the energy industry. Prior to
joining Tristone in 2002, he was a research analyst at CIBC World Markets Inc. for four years. Prior to CIBC, he was a corporate analyst for a major Canadian integrated oil and gas company. He was previously an officer in the Canadian Navy and is decorated with the Canadian Peacekeeping Service Medal for UN service abroad. He has a Bachelor's degree, with distinction, in Economics and Political Science from Royal Roads Military College and an M.B.A. degree from the University of British Columbia. He is a Chartered Financial Analyst. He is a member of the Executive Committee of the Calgary Branch of the RMC Club of Canada.
http://www.tristonecapital.com/tristone_team.html
ctheal@tristonecapital.com
22131 Lieutenant (N) Sean Williams (RMC '01) is a Marine Systems Engineering Officer of HMCS VILLE DE QUÉBEC. He enrolled in the Canadian Forces in 1997. He subsequently graduated from the Royal Military College of Canada with a bachelor's degree in mechanical
engineering. He completed his marine systems engineering officer training aboard HMCS Regina and spent three years in National Defence Headquarters in Ottawa. In his spare time he enjoys skiiing, cycling,windsurfing and all types of outdoor activities.
http://www.navy.dnd.ca/villedequebec/crew/ship_crew_profiles_e.asp?category=171&id=465
Pierre Allard is a member of the Veteran's Affairs Gerontological Advisory Council, which is comprised of 15 members who represent many of Canada's leading authorities in the fields of aging, seniors' and Veterans' issues. He first enrolled in the militia as a private with the "Régiment de Hull". He joined the Royal Canadian Navy in 1964 as a pilot. Subsequently, through a thirty-five-year career in the Canadian Forces, he flew various maritime patrol aircraft culminating in a tour as Commanding Officer of 415 (MP) Squadron and Wing
Commander of 14 Wing, Greenwood, Nova Scotia. He also served in Naples/Italy as Senior Canadian Liaison Officer at NATO Allied Forces Southern HQ during the Kosovo conflict. He is a graduate of the "Institut Supérieur de Défense" in Bruxelles, Belgium, received a BA in Political Science from the University of Manitoba and a Certificate in Organisational Communications from l'Université du Québec. He has recently completed an MA in War Studies at Royal
Military College. Following 18 months as a Dominion Command Service Officer, Pierre Allard is the Royal Canadian Legion Service Bureau Director in Ottawa.
pallard@legion.ca
http://www.vac-acc.gc.ca/providers/sub.cfm?source=councils/gac/member