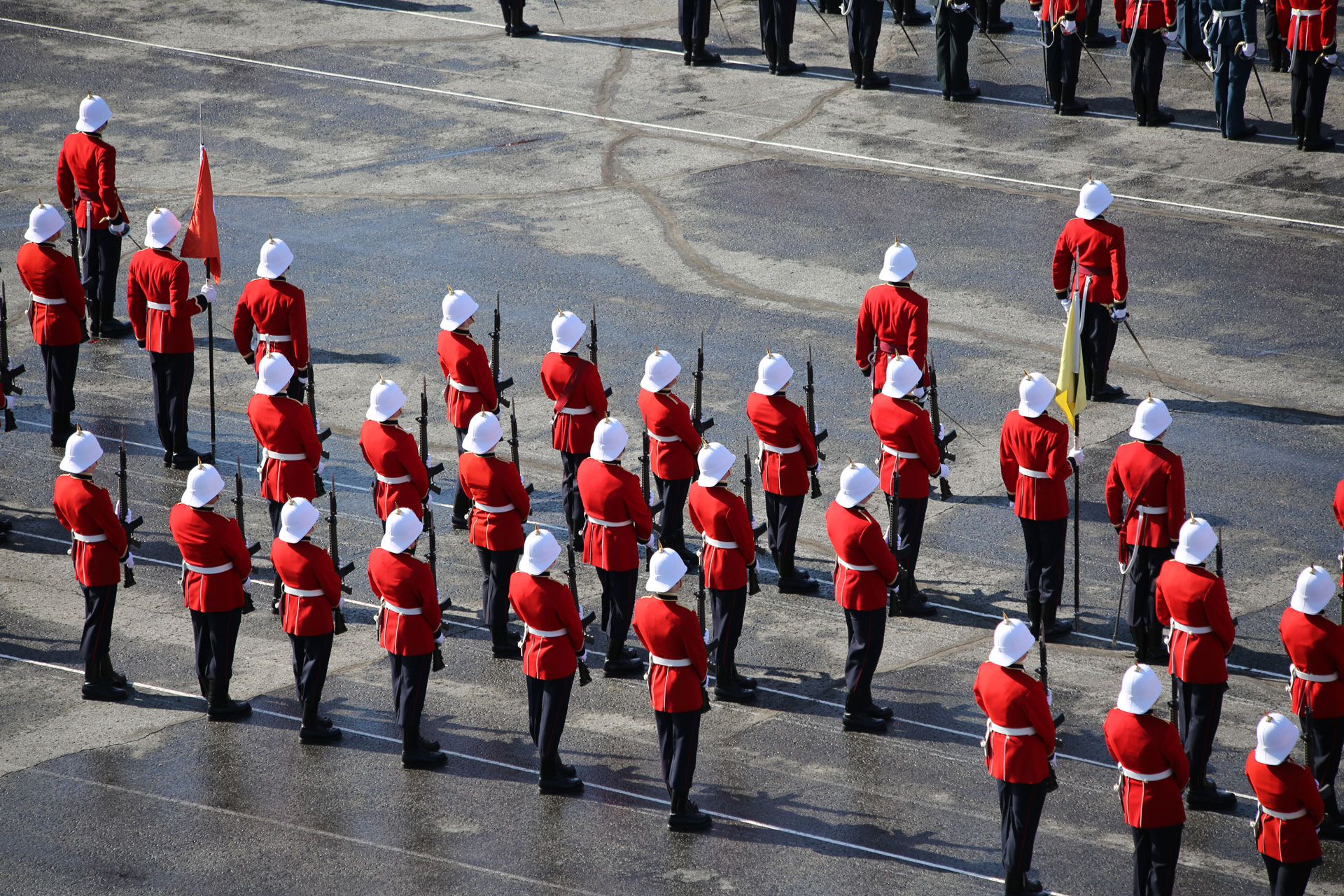 Who Am I?
Researched by E3161 Victoria Edwards (RMC 2003)
First Person:
Who am I?
I was born in 1860. My parents lived in Brockville Ontario.
I was a member of the old 18, the first class of cadets at RMC, 1876-80. I served either as a cadet or on staff under all of the commandants at the college until World War I.
I served at RMC as assistant instructor in survey, military topography, chemistry and physics from 1882-97.
I was the first person in Kingston, Ontario, to build and use an x-ray apparatus.
Within two months of the announcement of Roentgen's discovery in December 1895, I made x-ray images in my laboratory at the Royal Military College in Kingston. I gave public demonstrations and local doctors asked to use my x-ray apparatus for diagnostic purposes. In the fall of 1896, Kingston General Hospital was one of the first hospitals in Canada to acquire an x-ray machine. I became a professor of physics and chemistry from 1897-1915. I was professor of survey 1897-1904.
I joined the Surveys Department, Department of Militia in 1914.
I became director of survey, geographical section, General Staff from 1916-29.
I was president of the RMC Club in 1899.
I died in 1946.
a) 14. John Bray Cochrane
b) 15. Francis Joseph Dixon
c) 16. George Edwin Perley
d) 17. Harold Waldruf Keefer
e) 18. Duncan MacPherson
___________________________________________________________________________
Second Person:
Who am I?
I was born 19 August 1909, in Brantford, Ontario.
I was an army cadet at St. Catherine's Collegiate Institute cadet corps from 1922-26.
I attended Royal Military College, Kingston, Ontario from 1926-1930.
In 1930, I commissioned as a Lieutenant in Royal Canadian Engineers
I was Captain Adjutant Royal Canadian Engineers 1934-1937
In 1938, I joined the staff at the Royal Military College in Kingston.
I attended British Army School of Military Engineering 1932-1933; National Defence College 1948, Kingston Nova Scotia Technical College and McGill University.
I was overseas in 1940 as Commanding Officer 3rd field column Royal Canadian Engineers. I joined the Spitzbergen expedition in 1941.
From 1942-43, I was commander Royal Engineers, 1 Canadian Division, Sicily and Italy.
I was promoted Brigadier, Chief engineer, First Canadian Army, 2 Canadian Corps, Normandy in 1944.
In 1951, I was Commander, 27th Infantry Brigade, Europe
Upon being promoted Major General, I became Quarter Master General of Canadian Army in 1959
I was promoted Lieutenant General, and served as Chief of General staff Canadian Army from 1961-4.
I became vice-chief of the Canadian Defence Staff in 1964, following integration of the three services.
I retired from Canadian Army in 1965.
From 1970-74, I served as Colonel Commandant Royal Canadian Army Cadets and the Cadet Services of Canada
I died on 3 April 1999 in Ottawa, Ontario
The Royal Canadian Legion – Outstanding Canadian Army Cadet Memorial Sword was named in my honour in 2004. The award of the "Memorial Sword" to the Outstanding Army Cadet is funded from an endowment by my estate, as a founder of the Army Cadet League of Canada.
a) 1934 Douglas Sauer
b) 1937 John Stanfield
c) 1938 James Stewart
d) 1941 Geoffrey G. Walsh
e) 1958 Alan Connelly
http://www.armycadetleague.ca/Templates/pdf/polManual/English/pol_13_5.pdf
Answers:
First Person:
Answer:
a) 14 Lt. Col. John Bray Cochrane (RMC 1876-80)
Sources: Preston "Canada's RMC: A History of the Royal Military College"
http://agora.virtualmuseum.ca/edu/ViewLoitLo.do;jsessionid=4EFAFFE26468A897CCA934C3F5E5C906?method=preview&id=4044&lang=EN
___________________________________________________________________
Second Person:
Answer:
d) 1941 LGen Geoffrey G. Walsh C.B.E., D.S.O., C.D. (RMC 1926-1930) Walsh Memorial Sword