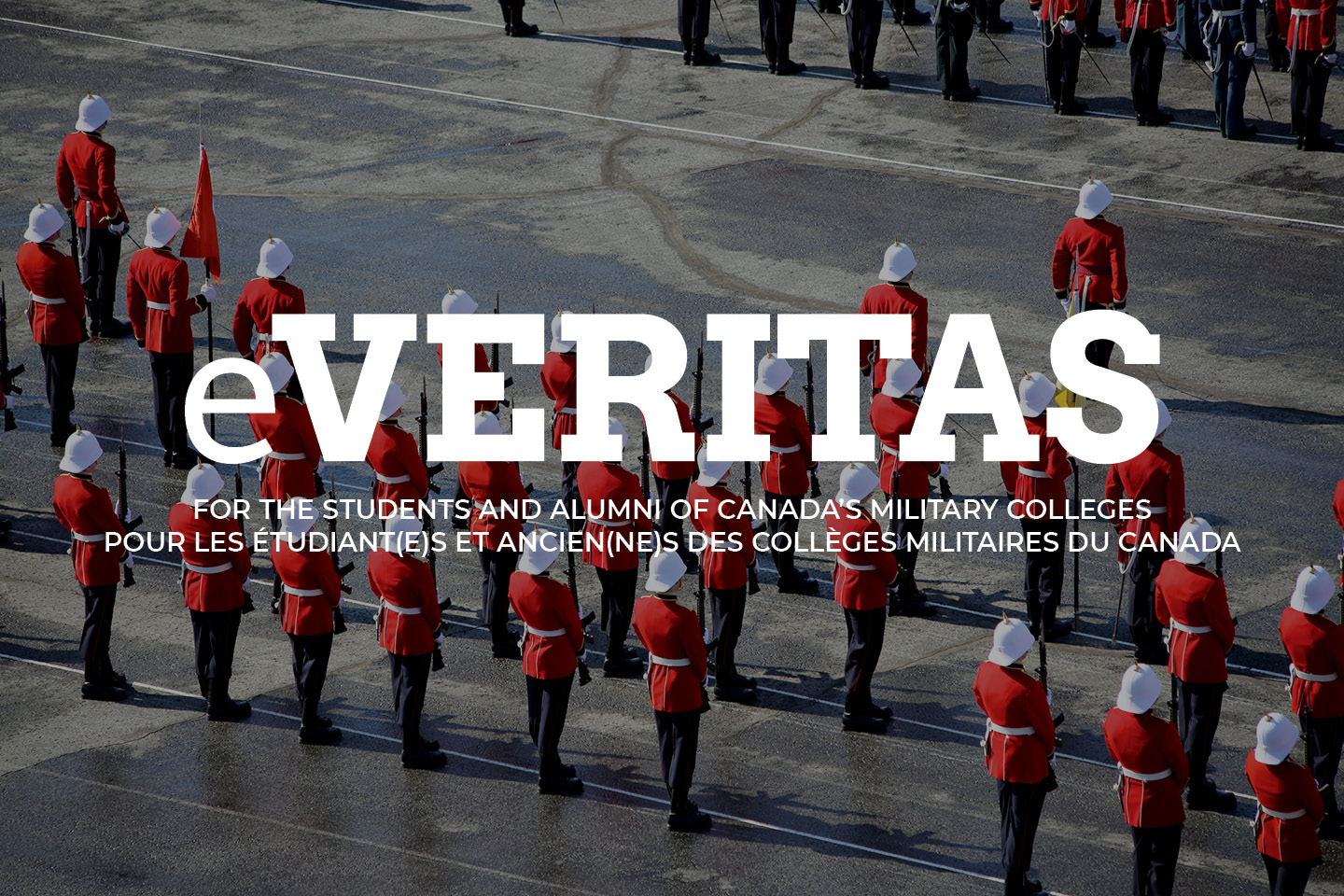 E3161 Victoria Edwards (RMC 2003) interviewed 14435 Colonel Michael Gibson, CD (RMC 1984), who has been the Deputy Judge Advocate General (JAG) Military Justice, responsible for military justice policy, legislative reform and strategic initiatives concerning the Canadian military justice system, since July 2011.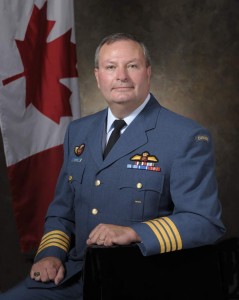 e-veritas: Which Military College did you attend?
14435 Col Michael Gibson: After graduating from secondary school in Strathroy, Ontario, I joined the Canadian Forces in 1980. I attended the Royal Military College of Canada from 1980-1984. I graduated in 1984 with an Honours Bachelor of Arts in Political Science and History.
e-veritas: What were your main extracurricular activities while at the college? I understand that you were a member of the Debating Team and defeated West Point twice….
14435 Col Michael Gibson: I was part of the RMC Debating Team, which was a very prominent activity at RMC in those days. Debates were held in two-person teams. Together with my debating partner 14465 Bob Lawson, we defeated the West Point team during the annual exchange weekend in both 1983 and 1984. Bob and I also placed second in the Canadian University Debating Championship in 1983. The final round against U of T was held on the floor of the Legislative Assembly in Halifax. I can still acutely remember all the spectators looking down on us from the gallery, as we were standing there in our Scarlets, which was pretty intimidating. At least we looked good. Bob and I also competed twice in the World University Debating Championships, at Princeton and Edinburgh. It was great training in advocacy which proved very useful in my later career as a lawyer.
Another great experience was participating twice in the Queen's Model Parliament, which is where I met my wife. So I can highly recommend it.
I was also a member of the Rifle Team one year.
e-veritas: What are your best memories from Military College?
14435 Col Michael Gibson: My best memory from Military College was marching off the square with my classmates at Grad Parade, feeling proud and on top of the world. The former College Director of Administration, S103 Col (Ret'd) Arthur H. "Harky" Smith, periodically provides my classmates with updates as to how the classes of 84, 85 and 86 are doing. The Class of 84 currently has 10 general officers and 11 colonels still serving, so it has been a pretty strong class.
e-veritas: What are your worst memories from Military College?
14435 Col Michael Gibson: My worst memory from military college was the first week of recruit term at RMC. We arrived directly from doing the Basic Officer Training Course (BOTC) in Chilliwack, and felt pretty cocky getting off the bus. That didn't last long. The night we arrived was like a scene from a Wagnerian opera: there were lightning storms all around as we lined up on the parade square, and the cannon flashes from the last Retreat Ceremony up at Fort Henry reflected off the low cloud layer. We were marched up to our rooms, with lots of shouting from the Fourth Years, and I remember thinking when I saw how small the room was, "there must be some mistake."
The next morning, for our first inspection, my roommate, a super keener who had been a Prep at CMR, proceeded to iron his bed for inspection. I observed that this was more than a little over the top. He assured me that this was necessary. I refused to iron my bed. Of course my pit looked like a mess in comparison to his. After a week of having my bed torn up each morning at inspection, I finally conceded that I would have to iron mine as well unless I wished to continue suffering this fate. Resistance was futile. It always struck me though that that ironing one's bed was more than a little surreal….
Our Recruit Flight's wake up song was the "Orange Blossom Special", which definitely got the adrenaline pumping. Some mornings we were given only the duration of that song to get up, shave, make our beds, dress and stand for inspection.
e-veritas: Your operational category was as an Air Navigator.
14435 Col Michael Gibson: After obtaining my Air Navigator Wings at CFANS Winnipeg and my operational category as an Air Navigator on the CC-130 Hercules and CC-137 Boeing 707 aircraft at 426 Squadron Trenton, I flew on 437 Squadron doing passenger, cargo, VIP and air refuelling missions. I also served as a strategic airlift operations planner at Air Transport Group Headquarters and as a Platoon Officer training officer candidates on the Basic Officer Training Course.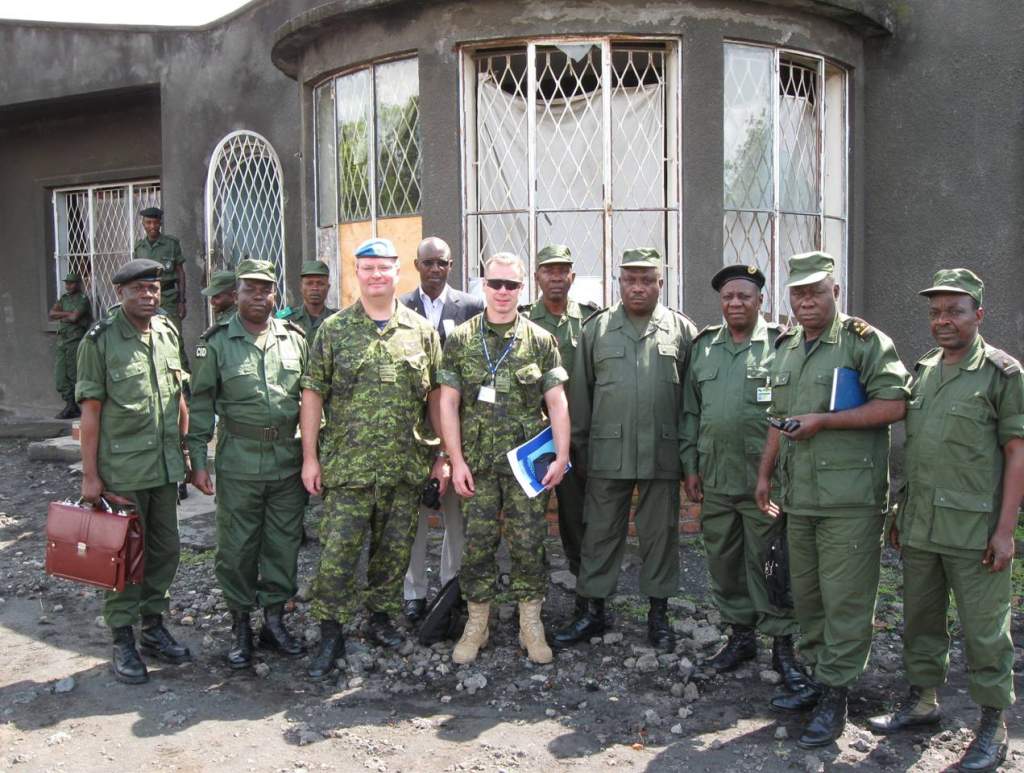 e-veritas: What university studies have you undergone since you graduated from RMC?
14435 Col Michael Gibson: Since graduation, I have completed three other university degrees but have never forgotten the lessons I learned at RMC. I graduated from the London School of Economics and Political Science (LSE) twice (M.Sc. International Relations, and LLM Public International Law). I was awarded a scholarship to LSE directly after RMC, then returned twenty-two years later for a Masters of Law. After attending law school at the University of Toronto Faculty of Law (LLB) under the Military Legal Training Plan, I articled at the Department of Justice office in Toronto, and was called to the Bar in Ontario. I also completed the United States Marine Corps Law of Armed Conflict course, and the advanced course on International Humanitarian Law at the University of Liverpool.
e-veritas: Do you serve with other ex-cadets in JAG?
14435 Col Michael Gibson: Certainly. There are a number of ex-cadets currently serving in the Office of the JAG, including: 14865 Col Pat Gleeson, 15788 LCol Mark Gendron, 12339 LCol Randy Smith, 15519 LCdr Sandra MacLeod, 19413 Maj Curtis Smith and 19210 Maj Angela Koskie.
e-veritas: You are a member of the National Military Law Section of Canadian Bar Association.
14435 Col Michael Gibson: Yes, the National Military Law Section is a national Section of the Canadian Bar Association. This Section promotes military law, holds periodic conferences and publishes a newsletter called the Sword and Scale. I have given presentations at their last two annual meetings.
e-veritas: Your career at JAG is very varied compared to a traditional practice in criminal or civil law.
14435 Col Michael Gibson: Yes, it is. Canadian military lawyers within the Office of the Judge Advocate General practice within one or more of three broad "pillars"of law: military justice, operational law, and military administrative law. Since becoming a Legal Officer in the Office of the JAG, I have been prosecution, defence and appellate counsel. I have had significant involvement in recent legislation affecting the military justice system as policy architect, instructing counsel for the drafting of legislation, and as a witness before Parliamentary committees considering proposed Bills. I have served as Deputy Judge Advocate Trenton, defence counsel in the Directorate of Defence Counsel Services, Director of Military Justice Policy and Research, Director of Strategic Legal Analysis, Director of International and Operational Law, and as a member of the Canadian Forces Military Justice Strategic Response Team.
e-veritas: You have also done several operational deployments as a JAG officer.
14435 Col Michael Gibson: My operational deployments as a JAG officer have included being Legal Advisor to the Canadian contingent of the NATO Stabilization Force in Bosnia-Herzegovina, Legal Advisor for the Canadian Disaster Assistance Response Team on its deployment to provide humanitarian assistance to the victims of an earthquake in Turkey, Deputy Legal Advisor at the NATO Stabilization Force Headquarters in Sarajevo, Bosnia-Herzegovina, and Senior Military Law Advisor in the Rule of Law Unit of MONUC, the United Nations Mission in the Democratic Republic of Congo. Each of them was fascinating, and each quite different from the others.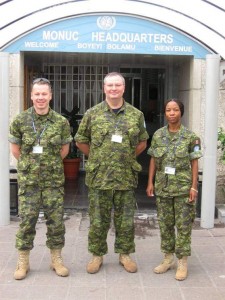 e-veritas: Did you do any interesting trials as a defence counsel?
14435 Col Michael Gibson: Yes, I did many interesting trials as a defence counsel, including one in which I was required to cross-examine one witness I recall in particular, then-Colonel Walter Natynczyk. I am kind of hoping that he may have forgotten about that…. However, my client was acquitted at that court martial, so it was all worthwhile in the end.
e-veritas: What is the purpose of the Canadian military justice system?
14435 Col Michael Gibson: The Canadian military justice system has two fundamental purposes: to promote the operational effectiveness of the Canadian Forces by contributing to the maintenance of discipline, efficiency and morale; and, to contribute to respect for the law and the maintenance of a just, peaceful and safe society. It thus serves the ends of both discipline and justice.
e-veritas: What are your areas of research interest in the law?
14435 Col Michael Gibson: My main areas of research interest are Military Justice and Public International Law. I combined the two in an article entitled "International Human Rights Law and the Administration of Justice through Military Tribunals: Preserving Utility while Precluding Impunity", which was published in 2008 in the Journal of International law and International Relations. I have also had the opportunity to lecture on these two topics recently at the Yale Law School and the University of Melbourne Law School. One of the great aspects of being a legal officer in the Office of the JAG is the opportunity / requirement to maintain strategic legal engagement in emerging areas of the law.
e-veritas: The International Society for Military Law and Law of War is holding its triennial Congress in Quebec City from 1 -5 May, 2012. Are you involved?
14435 Col Michael Gibson: Yes, this will be a very interesting meeting for both practitioners and academics in the fields of Military Justice, International Humanitarian Law and procurement law. This Congress will be held at the hotel Fairmont le Château Frontenac in Québec City from 1 to 5 May 2012. The central theme is: Legal Interoperability and Ensuring Observance of the Law Applicable in Multinational Deployments. I will be giving a presentation on National Authorities Enforcing National Military and Criminal Law in Multinational Operations – Problems, Challenges and Solutions. The Society's website is at http://www.soc-mil-law.org.
e-veritas: Do you feel that your experiences at RMC have prepared you well for your subsequent endeavours?
14435 Col Michael Gibson: I recall that one of the Commandants at the time described the experience gained at RMC as preparing one to keep a large number of balls in the air at the same time, then catch a broad-axe thrown at you – without dropping any of the balls. Since that sounds like a pretty apt description of daily life at NDHQ, then I guess that they did.