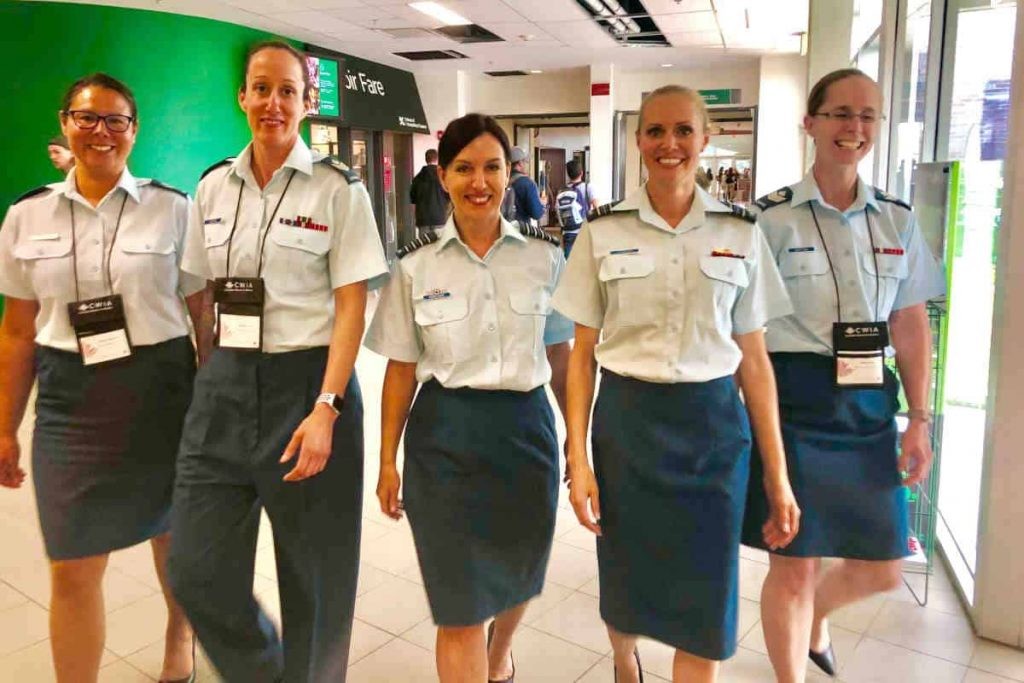 Article shared from:  https://www.canada.ca/en/department-national-defence/maple-leaf/rcaf/2023/03/elevate-your-career-through-mentorship.html
In 2019, the Royal Canadian Air Force (RCAF) partnered with Elevate Aviation, a non-profit organization that provides a platform for women and underrepresented groups to thrive and succeed through careers in aviation. Through this partnership, among many other programs and initiatives, an RCAF-wide informal mentorship program was developed.
Elevate Aviation's President and CEO, Kendra Kincade, is an Air Traffic Controller in Edmonton, AB. and the Honorary Colonel for 417 Combat Support Squadron in Cold Lake, AB. "Elevate Aviation is proud to work with the RCAF in many of our programs across the country," says Kendra. "This partnership is near and dear to my heart as Honorary Colonel of 417 Combat Support Squadron. Being able to provide mentorship and career development support to so many members in the RCAF aligns with our mission of helping women and underrepresented groups thrive and succeed through careers in aviation."
The mentorship program is open to all RCAF members, at all ranks, and in all occupations and provides an opportunity to create a one-on-one relationship with someone outside your chain of command who can guide you through your career, regardless of what your goals are. Senior ranking members have the option to be mentored by another military member or a civilian working in an executive leadership role. The mentorship program currently has over 200 RCAF mentors and mentees from Aviator to General.
"The Elevate Aviation mentorship program has helped me explore who I am and where I want to be as a leader. Having a mentor allows for a safe-space to bounce ideas off of or share frustrations and has always given me a good opportunity to reflect on the situation in a more structured or less-emotionally driven process. Over the years, there [has] been countless times that I didn't think I needed to meet but experienced some of the most profound discoveries during those calls. As a mentor, I think I'm learning just as much from my mentee, as perhaps they are from me. It truly is a rewarding experience; not only do I get to help someone else navigate through a career in the CAF but I'm also learning about what challenges they are experiencing and what career aspirations they might have. All of this experience has helped me as a leader but also as a spouse, mother, and friend." LCol Kirsten Dubreuil.
The mentorship program is always seeking more mentors. If you are passionate about helping others, please consider becoming a mentor. Your involvement will make a difference in the life of your mentee.
About Elevate Aviation
Elevate Aviation was founded in 2015 in Edmonton, AB. Today, they are a primary provider of aviation career support for women, working alongside industry professionals to promote diversity, equity, and inclusion in the workplace.
Alongside the mentorship program, Elevate Aviation has several other programs in place to assist women in becoming successful in the challenging and rewarding aviation industry:
The Elevate Aviation Learning Centre – The Elevate Aviation Learning Centre hosts a variety of programs for all ages. Junior Jets is an introduction to aviation program for kids ages 5-10, ACE is an Aviation Career Exploration program targeted to youth and women to discover aviation careers, and Elevate U has professional development encouraging women into leadership roles. A new program called "Women's Employment Skills Training" (WEST) offering a 9 week skills training for career ready women and introduction to aviation courses launched in summer 2022. The RCAF has actively participated in the ACE program since it launched in 2018.
Cross Country Tour – Annual cross country tours allow attendees to spend the day with women in the industry, hear inspirational stories of their journeys into aviation and visit their workplaces to see firsthand why they love their jobs. What started as a day for 20 young women in Edmonton, has now expanded to 22 cities nationwide, connecting with thousands of women and girls across Canada. In 2023, the Cross Country Tour will feature many military speakers and stops will be hosted at CFB Trenton, CFB Goose Bay, CFB Gander and CFB Winnipeg.
Speaking Engagements – Elevate Aviation provides inspirational speakers across Canada to visit schools, Indigenous communities, career fairs and organizations to share the world of aviation and spark interest in the industry.
Bursaries – Women in Canada who show exceptional potential and require financial assistance throughout training are eligible for our bursaries. Since 2015, they have awarded over $50,000.
For more information, please visit: www.elevateaviation.ca, follow them on Instagram, LinkedIn, or Facebook.
How to join the RCAF Internal Mentorship Program
Joining the program is simple:
Submit a request at https://elevateaviation.ca/military-members/
A program administrator will review your needs with you to find the best match possible before facilitating an e-introduction between the mentor and mentee.
The rest is up to you! As each mentorship is different, the mentor and mentee will find what works best and foster the relationship, whether it be meeting for coffee occasionally, regular email exchanges, or video chat every couple of months.
An Elevate Aviation Military Mentorship administrator will follow up with everyone a few times in the year to ensure that the program is beneficial to you, and if required, find you a new mentor or mentee.
If you have any question about the program, do not hesitate to contact your volunteer program Co-Leads, LCol Lydia Evéquoz and CWO Jean Plamondon at ElevateAviation@forces.gc.ca.
---
En 2019, l'Aviation royale canadienne (ARC) a noué un partenariat avec Elevate Aviation, un organisme sans but lucratif qui travaille pour l'épanouissement et le succès des femmes et des membres de groupes sous‑représentés dans le domaine de l'aviation. Grâce à ce partenariat, qui s'inscrit parmi de nombreuses autres initiatives, un programme de mentorat informel a pu voir le jour à l'échelle de l'ARC.
Kendra Kincade, présidente et chef de la direction d'Elevate Aviation, est contrôleuse aérienne à Edmonton, en Alberta, et colonelle honoraire du 417e Escadron de soutien au combat à Cold Lake, en Alberta. « Elevate Aviation est fière de collaborer avec l'ARC à la tenue de nombre de ses programmes au pays », souligne‑t‑elle. « En tant que colonelle honoraire du 417e Escadron de soutien au combat, j'ai ce partenariat bien à cœur. La possibilité d'offrir un mentorat et un soutien au cheminement de carrière à un si grand nombre de membres de l'ARC cadre dans notre mission, qui consiste à aider les femmes et les groupes sous‑représentés à mener des carrières fructueuses dans le domaine de l'aviation. »
Le programme de mentorat est ouvert à l'ensemble des membres de l'ARC, tous grades et groupes professionnels confondus. Il permet de tisser une relation avec une personne de l'extérieur de votre chaîne de commandement et de profiter de ses conseils tout au long de votre carrière, quels que soient vos objectifs. Les militaires plus hauts gradés ont la possibilité de recevoir l'appui d'un autre membre de la force militaire ou d'un civil occupant des fonctions de direction. Le programme de mentorat regroupe actuellement plus de 200 personnes mentores et mentorées de l'ARC (allant des aviateurs aux officiers généraux).
« Le programme de mentorat d'Elevate Aviation m'a aidée à mieux me connaître et à cerner mes aspirations en tant que leader. Le mentorat offre un espace sûr pour faire part de ses idées et vider son sac. J'y ai toujours trouvé la façon de structurer mes réflexions pour aborder les situations de manière rationnelle. Je ne compte pas les fois où j'ai vécu des rencontres hyper enrichissantes, même si, a priori, je ne ressentais pas le besoin de tenir la séance de mentorat. En tant que mentore, je me dis que j'en apprends autant de la personne sous mon aile qu'elle peut en apprendre de moi. C'est extrêmement instructif : non seulement suis-je appelée à aider une personne dans son cheminement de carrière au sein des FAC, mais j'apprends à connaître les défis auxquels elle est confrontée, ainsi que ses aspirations professionnelles. La somme de cette expérience profite à mon rôle de leader, mais fait aussi de moi une meilleure conjointe, mère et amie », résume la Lcol Kirsten Dubreuil.
Le programme est toujours à la recherche de nouvelles personnes mentores. Si vous avez à cœur d'aider les autres, envisagez de vous porter volontaire! Votre participation aura de grandes retombées dans la vie de votre personne mentorée.
À propos d'Elevate Aviation
Elevate Aviation a été fondé en 2015 à Edmonton, en Alberta. Aujourd'hui, l'organisme est l'un des principaux fournisseurs de services d'aide au développement de carrière pour les femmes dans le domaine de l'aviation, s'employant, aux côtés de professionnels de l'industrie, à promouvoir la diversité, l'équité et l'inclusion au travail.
Parallèlement à son programme de mentorat, Elevate Aviation a lancé plusieurs autres initiatives visant à aider les femmes à se réaliser dans le domaine, notamment :
Centre d'apprentissage Elevate Aviation — Un centre qui regroupe une variété de programmes destinés à des gens de tous âges, comme Junior Jets, une introduction à la formation en aviation pour les enfants de 5 à 10 ans, ACE, un programme d'exploration des carrières en aviation destiné aux jeunes et aux femmes, et Elevate U, un programme de perfectionnement professionnel encourageant les femmes à occuper des postes de direction. Un nouveau programme nommé Women's Employment Skills Training (WEST), lancé à l'été 2022, propose par ailleurs une formation professionnelle de neuf semaines aux femmes prêtes à faire carrière, ainsi que des cours d'introduction à l'aviation. L'ARC participe activement au programme ACE depuis son lancement, en 2018.
Tournée pancanadienne — Chaque année, la tournée permet de passer la journée avec des femmes du secteur, qui racontent leur parcours inspirant en aviation et font visiter leur lieu de travail pour témoigner de leur passion. Ce qui se voulait au départ une activité d'une journée regroupant 20 jeunes femmes à Edmonton est devenu une initiative qui s'étend aujourd'hui à 22 villes partout au pays et rayonne auprès de milliers de femmes et de filles à l'échelle du Canada. En 2023, la tournée pancanadienne, qui réunira de nombreuses conférencières et nombreux conférenciers militaires, s'arrêtera à la BFC Trenton, à la BFC Goose Bay, à la BFC Gander et à la BFC Winnipeg.
Conférences — Les conférencières et conférenciers d'Elevate Aviation proposent des exposés inspirants dans les écoles, les communautés autochtones, des salons de l'emploi et des organisations à l'échelle du pays pour stimuler l'intérêt envers le domaine de l'aviation.
Bourses — Les femmes du Canada qui font preuve d'un potentiel exceptionnel et ont besoin d'une aide financière tout au long du processus de formation peuvent présenter leur candidature pour recevoir l'une de nos bourses. Depuis 2015, nous avons décerné plus de 50 000 $ en bourses.
Pour en savoir plus, veuillez consulter le : www.elevateaviation.ca. Abonnez-vous aussi aux pages de l'organisme sur Instagram, LinkedIn ou Facebook (en anglais seulement).
Comment intégrer le programme de mentorat interne de l'ARC
L'inscription au programme est simple :
Rendez-vous sur le site https://elevateaviation.ca/membres-militaires/ et présentez une demande.
Un responsable du programme cherchera avec vous l'option la mieux adaptée à vos besoins avant de procéder à la mise en contact (par voie électronique).
Ce sera ensuite à vous de jouer! Chaque relation mentor(e)-mentoré(e) étant différente, vous trouverez ensemble la formule idéale : un café à l'occasion, des correspondances régulières par courriel, une réunion virtuelle à quelques mois d'intervalle, etc.
Quelques fois par année, un responsable du mentorat militaire d'Elevate Aviation fera un suivi pour s'assurer que le programme vous profite, et, si nécessaire, verra à faire de nouveaux jumelages.
Si vous avez des questions au sujet du programme, n'hésitez pas à communiquer avec les coresponsables de votre programme de bénévolat, la Lcol Lydia Evéquoz et l'Adjuc Jean Plamondon, à ElevateAviation@forces.gc.ca.