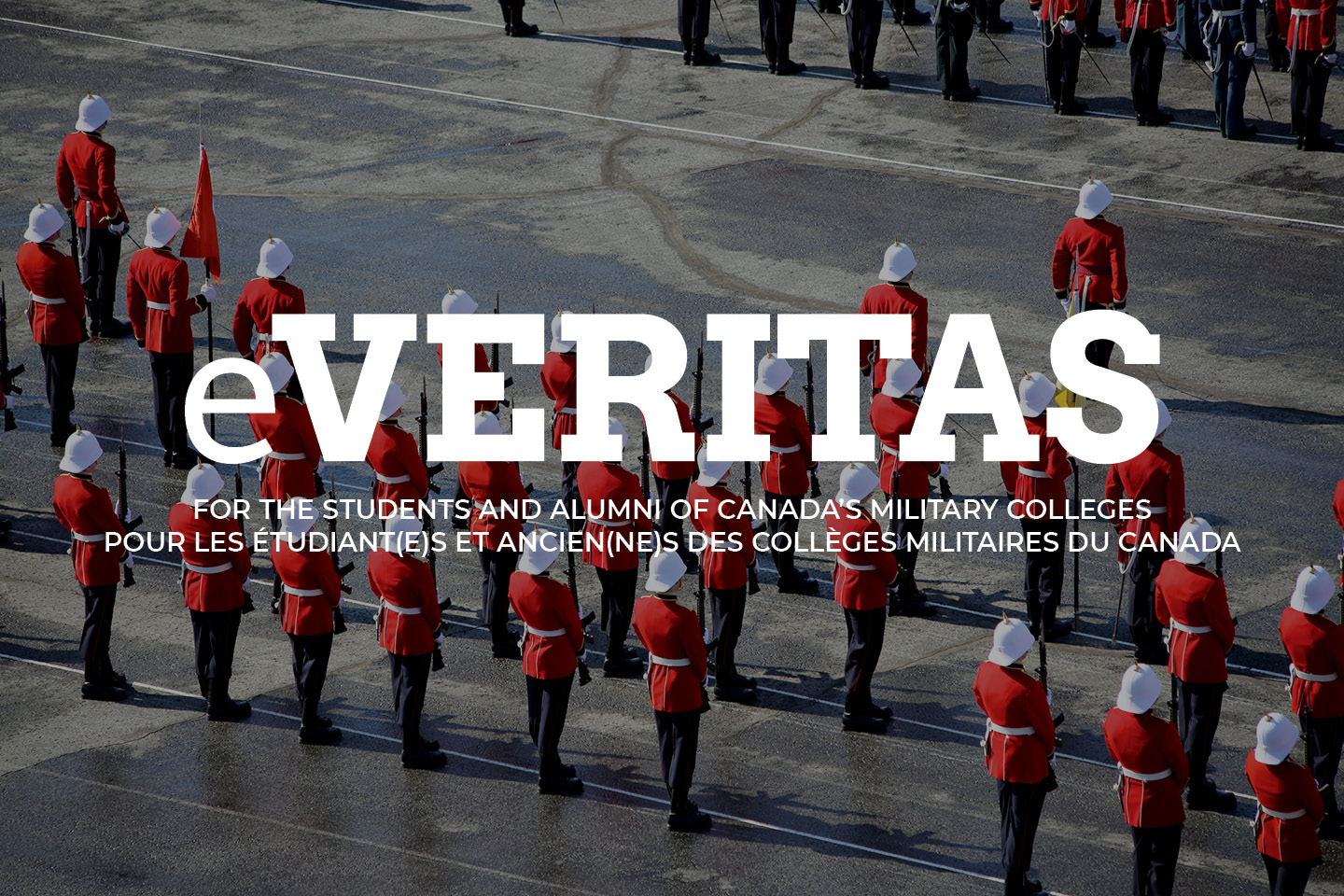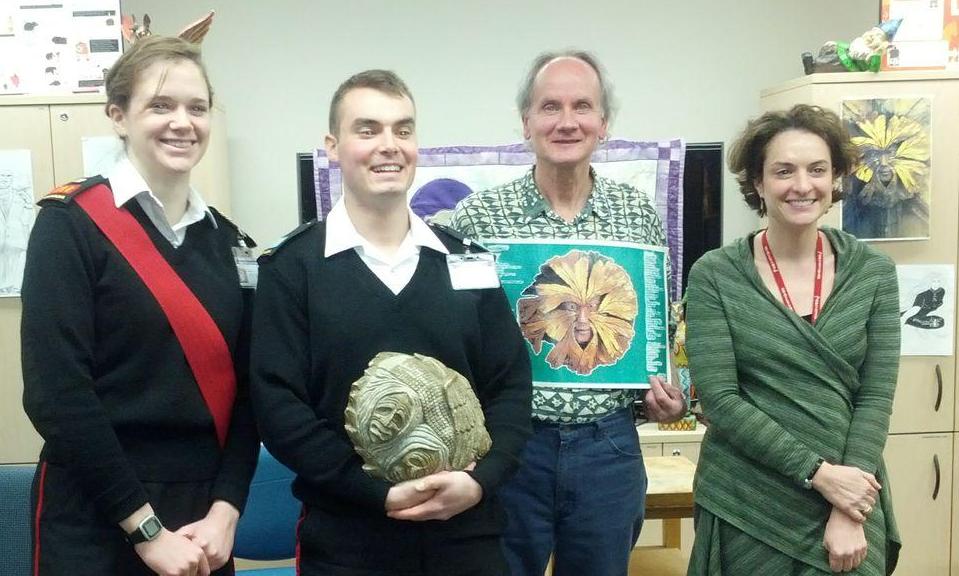 A Poetic RMC?
Article by 25892 (IV) Meghan Thompson
On January 25th, the English Department hosted an in-house Poetry Reading featuring four local—and I mean very local—poets. This year's first Poetry Reading opened with slam-poetry by 25927 OCdt (III) Rikki Bell, and poetry by 25786 OCdt (IV) Brennen Roche, Dr. Chantel Lavoie and Dr. Micheal Hurley. Open for all staff and students to attend, the Reading drew such guests as Mr. Joseph Michel Ouellette, our writer-in-resident, Dr. Lawrence McDonough, the Dean of Arts, and Dr. Laura Robinson, the Head of the English Department, not to mention a number of other professors, students from other departments and as many English majors as could make it…considering that it fell on the Friday of the West Point exchange.
The event began with an introduction of our writer-in-residence, Michel Ouellette, and an introduction of the main coordinator for the event, Dr. Hurley. Michel Ouellette was the subject of my first introduction, and many of those in attendance, including myself, had never met him before the Reading. His prolific writing career includes over forty plays, two novels, two works of children's literature, and a poetic narrative. He is the recipient of the Governor General's award for French Town, the French Trillium Award for Le testament du couturier and the Prix Michel-Tremblay for Le guerre au ventre, and has been involved with theatre for over 25 years. I also had the chance to ask him to review this year's semi-bilingual play Shakespeare Wears CADPAT (by 26056 OCdt (III) Aaron Jacques); thus, the Poetry Reading may also have sparked a partial collaboration for the upcoming production on March 1st-3rd of this year.
Next, I had to try to find a way to introduce the very master of introductions himself, Dr. Hurley. Professor Michael Hurley, who has been teaching at RMC since 1988, specializes in what he calls "the imagination," and by trying to follow the twisting turns that seem to have led him to his "destiny" of "teaching poetry to the military," I came to see why such an imagination is necessary. As a stand-alone force against the conventional, Dr. Hurley has been graduating Cadets with credentials to go on and be anything from Rhodes Scholars to war-heroes since he began working at the college.
The first presenter was 25927 OCdt (III) Rikki Bell who recited rhythmic poetry completely from memory. More of a verbal performance than a recitation, Bell's poems "Grey," "Urban Beat," "A Response to the Editorial 'Why Women Shouldn't Be Allowed in the Infantry" and "Just Breathe" were all composed at different times in her life but hold continued relevance to the concerns of the present day. While "Grey" was written while she was in high school in response to drug use of her peers, her response to an editorial against women in combat had been written and memorized the day before, the 24th of January. With lines that describe children "on the street walking on broken glass in bare feet" and how we can seem to have "lost our eyes while looking for our dreams," OCdt Bell has an excellent talent for using words to paint disturbingly powerful images for her audience.
Following on OCdt Bell's heels was 25786 OCdt (IV) Brennen Roche. Different from OCdt Bell's poems, OCdt Roche's pieces dealt primarily dealt with a the concept of the type of dystopia that seems to be created by, and exist within, a society established and defined by the technological conveniences of the modern information age. Unlike "Day-to-Day Amusement," a stream-of-consciousness work, "Your World, If You Please," and "Clarity of Mind" focused on news headlines and speak of the problems "caused by ignored emotions." His other poems, "On Humankind's Pursuit of Answers to Cosmic Questions," "Lust," and "Contemporary Intercourse," also impressed. In his poems, OCdt Roche explores the barriers that form between people when headlines all predict gloom and doom, human kind reaches beyond its limits towards a new home rather than to repair the one we have, and anything one could ever want seems to be available through a screen or gadget.
After OCdt Roche's presentation, Dr. Hurley called upon Dr. Lavoie to read five original pieces of her own poetry, including a sonnet she wrote while at RMC. She described the story of this poem's conceptualization as a result of complaints from her ENE 210 class, who, upon being assigned a sonnet to write one year, grumbled that she should write one too; so, she did. Her presentation, which included poems of erasure written after a visit to Guatemala, "Laundry, "Laundered" and "Tangled," and that more recent sonnet "Weaponry," was primarily focused on one of her prime areas of fascination: teeth. With the poems "Teething One" and "Teething Two," Dr. Lavoie introduced the concept of the role of teeth in our lives which she then solidified in "Phillis Wheatley's Teeth" and "Waterloo Teeth." Particularly in "Phillis Wheatley's Teeth," a poem about a famous female African-American poet from the 18th century, the importance of teeth in defining our lives became evident. In Wheatley's case, her two missing teeth, having fallen out during the voyage, were used to determine her age when she arrived—seemingly without name, age, and language—as a slave in North America.
To complete this first Poetry Reading, Dr. Hurley presented two longer, hypnotic, flowing, poems which had deep connection to nature. "James Hillman's Acorn," according to Dr. Hurley, "pays tribute to psychologist James Hillman whose 'acorn theory' proposes that each life is formed round a particular image, a vibrant image that is the essence of that life and calls it to its destiny, just as the mighty oak's destiny is written in the tiny acorn." This force, described throughout the centuries in different ways from the Greek "daimon," to the Roman "genius," and the Christian "guardian angel," might be more casually referred to as "our calling" in this day and age, and Dr. Hurley, and in trying to help the audience explore how this destiny concept gets us in "The Zone," recited this piece as a natural flow of sounds like a soft call for all in the audience to seek their own destiny. Similarly, "The Green Man" also had a heavily meditative tone, although it more directly speaks about nature—literally. The poem is about a "father nature" figure "who seems to have been dropped from Western culture and specifically the Christian church" while "he is still alive and well in the East, just as the Divine there is imaged forth as both God and Goddess."
At the conclusion of the reading, the audience had the sense that the works shared some common trends. All poems offered a mix of caution and calls for change or empowerment, and thus all served to complicate the presupposed superiority of the status quo and suggest that it can be dangerous to take anything at face value in our world. At the end of the presentations, there was a discussion period that granted the audience a chance to ask questions about methods employed by each poet and the origins of different pieces. Hopefully next time we will see other writers willing to present their poetry.