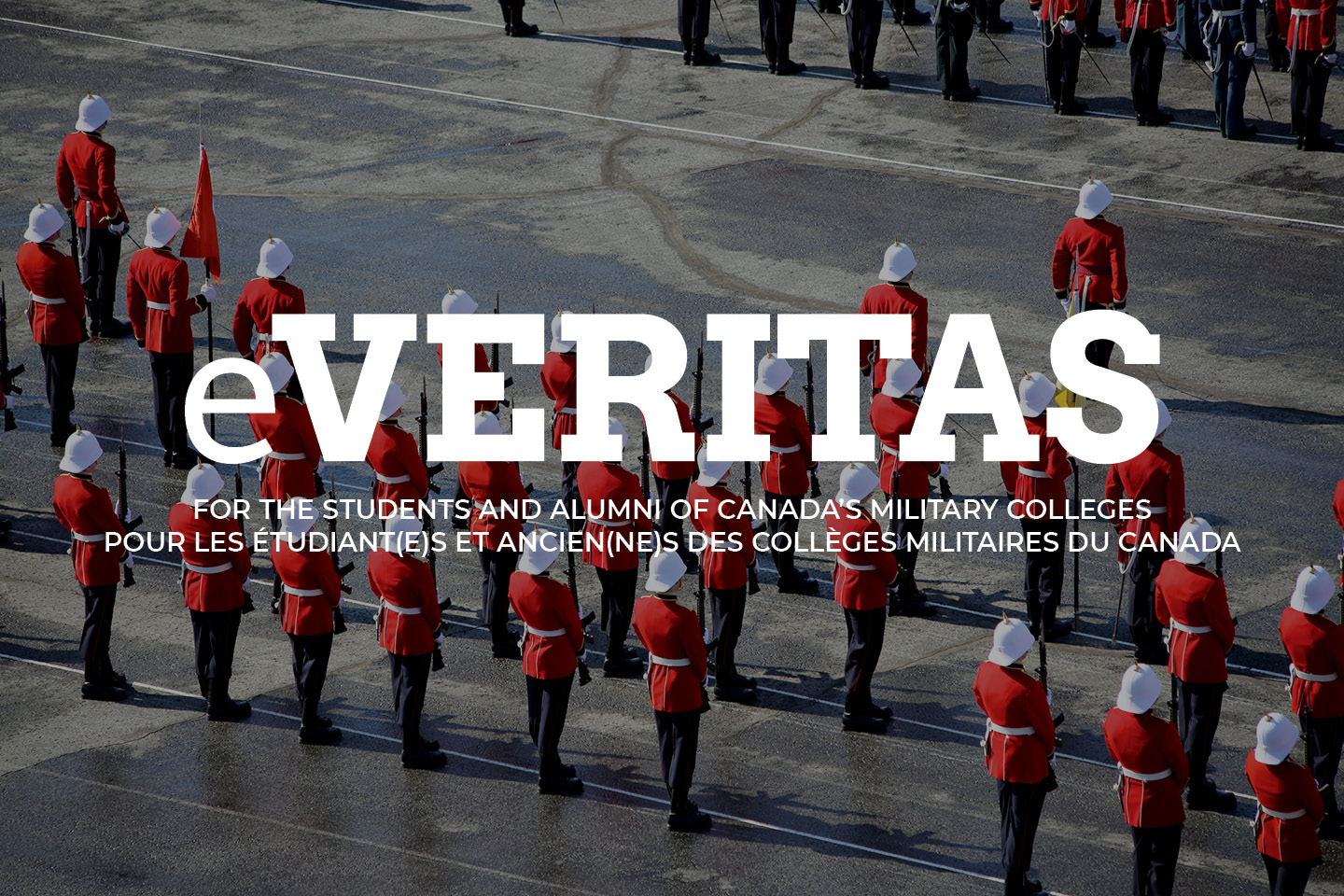 Once Upon a Time They Were Officer Cadets…
Upon completion of basic communications and signals training, he was posted to the Canadian Airborne Regiment in Petawawa, Ontario where he served as an Infantry Platoon Commander, Communications Troop Commander, and Adjutant and DCO of the Airborne Headquarters and Signal Squadron.
After completing his Maritime Surface Classification training in 1991 he joined the Atlantic Fleet. His sea going tours included time in HMC Ships SKEENA, HALIFAX, ATHABASKAN and PRESERVER.
His first tour of duty was with the 8th Canadian Hussars (Princess Louise's) Armoured Regiment. He served as a tank troop leader, reconnaissance troop leader and Adjutant with the Regiment in both Petawawa and Germany.
He graduated with a Bachelor of Science degree from the Royal Military College in June 1984, and was commissioned to the rank of Second-Lieutenant.
Over the course of his career, he served in 5e Régiment d'artillerie légère du Canada, as instructor at the Artillery School in Gagetown, NB, as G3 Operations of 5e Groupe-brigade mécanisé du Canada and G7 of Land Force Quebec Area Headquarters (SQFT) in Montreal.
Served with 429 Transport Squadron in Trenton where he flew as an Advanced Tactical Airlift Navigator and as a Formation Lead Navigator on the CC130 Hercules. He later joined 435 Transport and Rescue Squadron in Winnipeg, conducting strategic airlift and tactical air-to-air refueling missions during the Gulf War, Operation Airbridge (Bosnia-Hercegovina), and Operation Determination in Kuwait.
Following occupational training as an Aerospace Engineer, he was promoted and posted to 4 Wing Cold Lake, Alberta in 1989 where he served as a Lieutenant and later as a Captain at the software development squadron for the CF18 Hornet.
After graduating from Command and Staff College in 2002, he was assigned as the Commanding Officer of 14 Air Maintenance Squadron in Greenwood, Nova Scotia. Following this second tour in Greenwood, he had had to again pay his dues as a staff officer, this time at the NATO Allied Command Operations Headquarters of SHAPE in Belgium.
Since becoming a Legal Officer in the Office of the Judge Advocate General, he has been prosecution, defence and appellate counsel, and has had significant involvement in recent legislation affecting the military justice system as policy architect, instructing counsel for the drafting of legislation, and as a witness before Parliamentary committees considering proposed Bills.
He has served in numerous operational, staff and project appointments at NDHQ and the operational commands such as Chief Engineer DWAN, EA ADM IM, CF Deputy J6 and CEFCOM J6.
His operational experience includes deployments to Haiti, and to Europe where he provided legal advice in support of Royal Canadian Air Force combat operations over the Balkans. He has also acted as the legal advisor to Joint Task Force 2, the Canadian Forces Counter-Terrorism/Special Operations unit.
In 1992, he was posted to 434 Combat Support Squadron at CFB Shearwater, Nova Scotia. As a Crew Commander in the CC-144 Challenger, he flew a variety of missions including support to Canadian Forces operations in the former Republic of Yugoslavia and Haiti and maintained qualifications as a Standards Officer and Simulator Instructor.
14016 Richard Fawcett – Upon completion of basic communications and signals training, he was posted to the Canadian Airborne Regiment in Petawawa, Ontario where he served as an Infantry Platoon Commander, Communications Troop Commander, and Adjutant and DCO of the Airborne Headquarters and Signal Squadron. Bio
17114 Rich Feltham – After completing his Maritime Surface Classification training in 1991 he joined the Atlantic Fleet. His sea going tours included time in HMC Ships SKEENA, HALIFAX, ATHABASKAN and PRESERVER. Bio
15114 Hugh Ferguson – His first tour of duty was with the 8th Canadian Hussars (Princess Louise's) Armoured Regiment. He served as a tank troop leader, reconnaissance troop leader and Adjutant with the Regiment in both Petawawa and Germany.  Bio
14429 John Fletcher – He graduated with a Bachelor of Science degree from the Royal Military College in June 1984, and was commissioned to the rank of Second-Lieutenant. Bio
17125 Dany Fortin – Over the course of his career, he served in 5e Régiment d'artillerie légère du Canada, as instructor at the Artillery School in Gagetown, NB, as G3 Operations of 5e Groupe-brigade mécanisé du Canada and G7 of Land Force Quebec Area Headquarters (SQFT) in Montreal. Bio
16855 Sean Friday – served with 429 Transport Squadron in Trenton where he flew as an Advanced Tactical Airlift Navigator and as a Formation Lead Navigator on the CC130 Hercules. He later joined 435 Transport and Rescue Squadron in Winnipeg, conducting strategic airlift and tactical air-to-air refueling missions during the Gulf War, Operation Airbridge (Bosnia-Hercegovina), and Operation Determination in Kuwait. Bio
16542 Phil Garbutt – Following occupational training as an Aerospace Engineer, he was promoted and posted to 4 Wing Cold Lake, Alberta in 1989 where he served as a Lieutenant and later as a Captain at the software development squadron for the CF18 Hornet.  Bio
12955 Daniel Geleyn – After graduating from Command and Staff College in 2002, he was assigned as the Commanding Officer of 14 Air Maintenance Squadron in Greenwood, Nova Scotia. Following this second tour in Greenwood, he had had to again pay his dues as a staff officer, this time at the NATO Allied Command Operations Headquarters of SHAPE in Belgium. Bio
14435 Michael Gibson – Since becoming a Legal Officer in the Office of the Judge Advocate General, he has been prosecution, defence and appellate counsel, and has had significant involvement in recent legislation affecting the military justice system as policy architect, instructing counsel for the drafting of legislation, and as a witness before Parliamentary committees considering proposed Bills.  Bio
15318 Martin Girard – He has served in numerous operational, staff and project appointments at NDHQ and the operational commands such as Chief Engineer DWAN, EA ADM IM, CF Deputy J6 and CEFCOM J6. Bio
14865 Patrick Gleeson – His operational experience includes deployments to Haiti, and to Europe where he provided legal advice in support of Royal Canadian Air Force combat operations over the Balkans. He has also acted as the legal advisor to Joint Task Force 2, the Canadian Forces Counter-Terrorism/Special Operations unit. Bio
14561 Paul Goddard – In 1992, he was posted to 434 Combat Support Squadron at CFB Shearwater, Nova Scotia. As a Crew Commander in the CC-144 Challenger, he flew a variety of missions including support to Canadian Forces operations in the former Republic of Yugoslavia and Haiti and maintained qualifications as a Standards Officer and Simulator Instructor. Bio