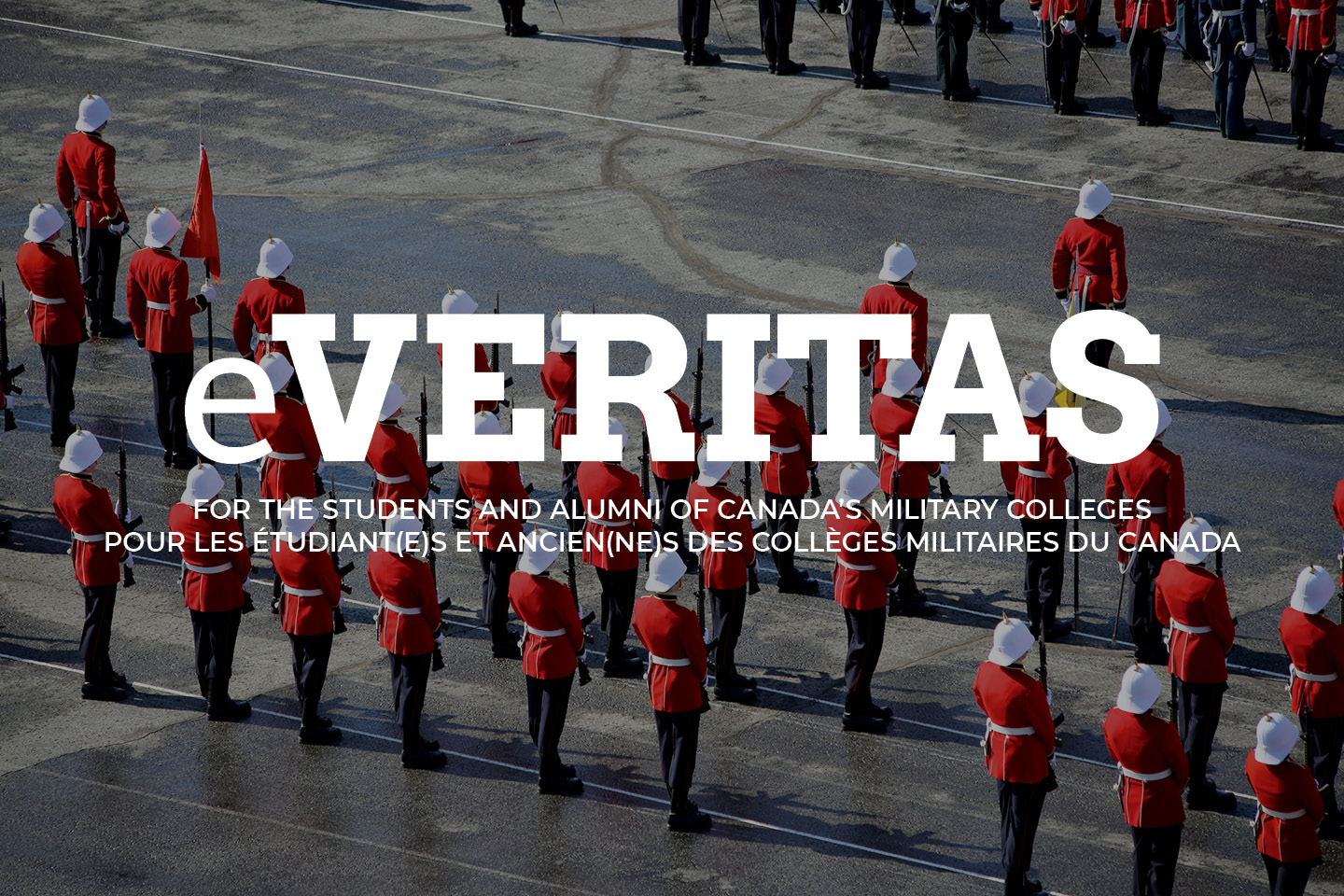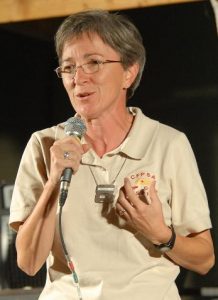 During her combined 15 years or so at both CMR and RMC Johanne M. Thibault not only served – she "lived" life at both Military Colleges. She was a recognizable face and a full participant at every campus event – not just athletic activities. Her tenure at RMC was not without its many ups & downs. In general, the Canadian Forces were hurting. CMR & RMC closures caused tension and stress on many fronts. The 1994/95 Force Reduction Programs cut deeply into the availability of quality and experienced PERO/PERI staff. The closure of the SAM (athletic centre) for over a year while the new Field House was being built was a major inconvenience for many. The uncertainty of the ongoing CF force and financial reductions which eventually included the "standing down" of the PERO Branch and PERI trade in 1997 in itself was shocking. Finally, implementing a new (PSP) civilian athletic department workforce system was just another reality she had to deal with over a prolonged period of time.
She ran a tight ship as both a Lieutenant Commander and as a PSP employee. She also demonstrated a clear understanding of how military college Physical Education & Athletic programs should be run. Staff and coaches alike were aware that there was an accountability factor. Mediocrity is not included in her vocabulary: just cruising or or keeping afloat was not acceptable.
Johanne was well known to be kind and understanding to both military and civilian staff. When called upon to make tough staff and program decisions, she acted swiftly and with conviction.  In short, she showed strength wrapped in kindness when the situation dictated. She was equally tough in ensuring the right thing was always done in the best interest of the mission.
At all times she was a lady.
Victoria Edwards recently had the chance to interview her.
A113 LCdr (ret`d) Johanne M. Thibault is the Director Sports, Recreation and Messes – Director General Personnel and Family Support Services in Ottawa (Feb 2007-current). She completed a tour with the Deployed Operations Team in Kandahar in 2006. Afghanistan. She was the Director of Community Recreation in CFB Valcartier (Jan 04 -Feb 07 – including 6 months deployed to Kandahar, Afghanistan). She is a former Director of Athletics at CMR (1992-94) & RMC (94-2004). She served as Director Athletics at RMC in uniform from 1994-1997, and has worked as a NPF employee ever since.
e-veritas: As Director Sports, Recreation and Messes, you organized the Women in Conseil International du Sport Militaire (CISM) Week conference at RMC/CFB Kingston on 16-21 June, 2008.
A113 Johanne Thibault: Mr. Roy Hillier, NDHQ International Sports Manager with DGPFSS was the organizer of the conference; he was very supportive of the women in sport. He wanted to encourage women in all nations to participate in sport and to lead in the sport organization. Next summer we are hosting CISM world swimming & lifesaving competition in Montreal. The CF participates in international sports as a member of the CISM, an international military sports organization with over 130 member countries. CISM holds more than 20 competitions annually. Canada currently participates in basketball, fencing, golf, running, sailing, shooting, soccer, swimming, taekwondo, triathlon, volleyball and wrestling. The fundamental aim of CISM is to promote sport activity and physical education between armed forces as a means to foster world peace. These ideas are encapsulated in the CISM motto "Friendship through sport".
e-veritas: You are truly a pioneer. I understand that you were Director of Athletics at both CMR and RMC. Also, you were the first and only (to date) female Director of Athletics at both Institutions.
A113 Johanne Thibault: When I started, there were only three women officers in the Physical Education & Recreation Branch; therefore it is easy to be the first when there are so few of us. Captain Louise Maziarski, served at the RMC before me, she retired from RMC is 1994 and is back in the Canadian Forces today. Captain Poirier served at CMR in the early 90s; she was not in the PERO trade. I was the only female DAthletics. I served at RMC for 10 years and at CMR for 2 years. The Athletics Program at CMR and RMC is important in the training of officer-cadets for effective service as officers in the Canadian Forces (CF). The PE Program encompasses physical education classes and evaluations. As an officer in the Physical Education & Recreation trade, I was comfortable directing the training of officer-cadets in a challenging and motivating Physical Education and Sports program.
e-veritas: Please comment on the disbandment of the Physical Education and Recreation trade.
A113 Johanne Thibault: In the early 1900's the Military operated a Physical Training cadre for the troops. In 1968 during unification of the Canadian Forces, the Navy Physical Education & Rrecreation Trade, The Army Physical Training Specialists and the Air Force Recreation Specialist trades were amalgamated and became the Physical Education and Recreation Instructor (PERI) /PERO trade. As well, all Officers were assigned to the PE&R Personnel Support Branch. Following this, in 1980 the PE&R Branch of the Canadian Forces was established and was subsequently disbanded in 1997. When the trade disbanded, I was hired by PSP to be the first civilian Director of Athletics at RMC. I believe Jean Blanchet, Jocelyn Girard and Brendan Bennett are the last of the original crew from my time at RMC.
e-veritas: Please outline the project resulting in the Kingston Military Community Sports and Fitness Complex.
A113 Johanne Thibault: At the time, RMC and CFB Kingston each had their own sport and fitness facilities. Although some were reluctant to lose their sport facility, there was an opportunity to a build a bigger complex if we worked together and partnered on the project. The construction of the facilities was under PSP's new recapitalization program was as a result of the partnership between the Canadian Force Base Kingston, RMC, the CF Recruiting Education and Training System (CFRETS) the Army and the CFPSA. The CFRETS and the Army contributed one half of the funding while the CFPSA came up with the other half. Partnership and communication were keys to success. The management of the resulting facility is the responsibility of CFB Kingston. The Kingston Military Community Sports and Fitness Complex provide the students of RMC, base personnel and the local community with state of the art facilities to maintain a high level of physical fitness and well-being. The complex features an eight-lane 25-meter pool, a 4,500m2 field house encircled by a new 200m running track and a refurbished gymnasium. The existing weight and cardiovascular fitness areas, multi-purpose rooms and office spaces were all upgraded as part of the project.
e-veritas: I came across a photo of you at the opening of Tim Hortons in Khandahar, Afghanistan.
Johanne Thibault: Yes, Tim Hortons opened in Khandahar, Afghanistan on 1st July, 2006. Since it was Canada Day, I am wearing a red hat in the photo. As a civilian employee of CFPSA, I served a 6 month rotation in Kandahar. My commanding officers, LCol. Conrad from Petawawa on the ROTO 2 and LCol Doug Labrie on the ROTO 3 were very generous with their time. I found my rotation in Kandahar to be rewarding, a wonderful experience of my life. The CFPSA staffs in Kandahar are similar to those on base, consisting of a few former serving members, many spouses of military, and some civilians who have never served in the Canadian Forces. At Kandahar, CFPSA (now called CFPFSS) runs some of the same basic programs as on a base – morale & welfare programs, travel, barber, retail, Tim Hortons, recreation, phys ed, general management and a gym. Unlike other bases, an American company supplied the staff in the eating establishments. Many of the servers were Russian, although they could be from many countries and most did not speak a lot of English.
e-veritas: To what extent does the Kingston Military Community Sports and Fitness Complex demonstrate the CF`s commitment to the well-being of Canadian Forces members and their families? Do you have any tips or recommendations?
A113 Johanne Thibault: Every time members of the CF community shop at CANEX or take out SISIP insurance policies, the money is funneled back into the community and is used for community programs (morale & welfare) and to construct wonderful building projects such as the Kingston Military Community Sports and Fitness Complex in Kingston.
e-veritas: As Director of Messes, how do you train your staff to deal with underage and/or problem clients?
A113 Johanne Thibault: Mess staff in Smart Serve trained and having a kit on site to offer new staff training, and review of the program as required, shows that you are operating with due diligence and are practicing good risk management. Smart Serve Ontario is a non-profit organization dedicated to developing and delivering a responsible service training program to all individuals who serve alcohol beverages or work where alcoholic beverages are served in the Province of Ontario. All staff who work in the area where alcoholic beverages are served including management, security and door staff should be trained. The Smart Serve Ontario online training program outlines your host responsibilities and liabilities and how to reduce your risk as host, including how to recognize the signs of guest intoxication and handling intoxicated guests. Clients who are underage, for example RMC or CMR cadets don't have to keep out of the mess; however they should identify themselves as underage. http://smartserve.org/
e-veritas: Describe your housing at CMR and RMC?
A113 Johanne Thibault: I lived on campus at CMR in a lovely red brick PMQ, at CFB Kingston, I lived in a beige PMQ with a lovely view of Fort Henry and RMC. It was a great location and lovely place to live. I have nice memories of doing the dishes at the PMQ at CFB Kingston and looking out the window at the RMC.
e-veritas: Did you see yourself as a role model to the cadets?
A113 Johanne Thibault: I have nice memories of the students at the Colleges. I found the cadets to be young, energetic, challenging and fun to be with. By the early 1990s, when I served at CMR and RMC, the cadets and staff were predominantly male however there were a large number of women in both institutions. As an officer in the Physical Education and Recreation trade, I tried to be a role model to the male and female cadets. As a role model, I dressed properly, was fit and provided assistance to cadets who needed it, I tried to guide cadets. I participated actively in all college activities, and had a lot of contact with cadets.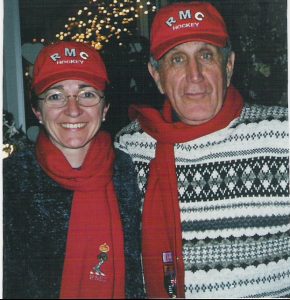 A113 Johanne Thibault and 5780 Bernard Laliberté  pictured immediately following a West Point / RMC hockey game in 2002.
e-veritas: What memories of your time at CMR and RMC stand out?
A113 Johanne Thibault: My military and civilian staff consisted of several coaches, physical education instructors and administrative support. . I remember spending a lot of time on the bench, on field, in the arena, and on the gym floor. At the time there were 15 teams at least. There were activities going on 7 days a week. Although the teams traveled a lot, I did not travel with the team and concentrated to support the teams at home. I had a lot of support from both the academic and military staff. The special events that stick in my memories are of course the famous West Point Weekends.