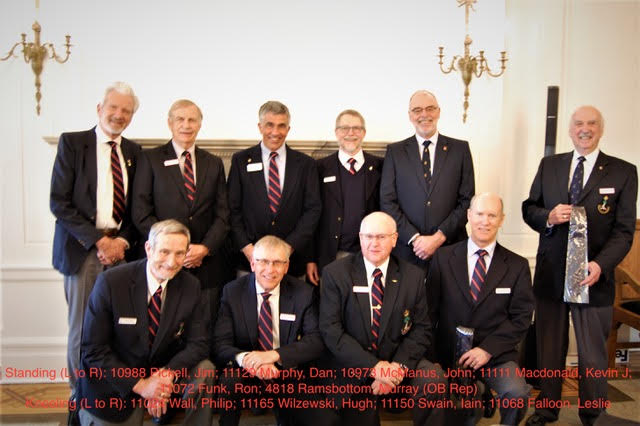 Kingston Branch News and Upcoming Events
The Kingston Branch of the RMC Alumni Association held its Annual General Meeting at the Army Navy Air Force Club on May 4, 2022. Approximately twenty-five members attended.
The election of officers resulted in the following appointments:
President and Treasurer-8170 Keith Orton (1969)
Vice-President and Director of Communications- 10208 Cameron Carbert (1975)
Secretary- 8851 John Moyer (1971)
Director at Large- S125 Bill Oliver
The Kingston Branch  was pleased to return to the RMC Senior Staff Mess for the first time in over two years for its monthly meeting June 1, 2022. Approximately forty-five members and partners attended the event during which a delicious meal of salmon or gnocchi was served. More details on upcoming Branch luncheons will be announced soon.
---

Vancouver Branch Upcoming Events
Golf day – June 19th.  Scramble format at Fort Langley Golf Club
Abbotsford Airshow – Aug 5-7
Fall BBQ – last weekend of Sep.  Location TBD
Annual Dinner – tentatively planned for Nov 19th.  Details pending
---

30e tournoi de golf / 30th GOLF TOURNAMENT – Fondation des Anciens du CMR Ex-Cadet Foundation
Chers (ères) Anciens(nes),
Après deux ans de pandémie, où nous avons dû reporter le tournoi de golf bénéfice, la Fondation des Anciens du Collège militaire royal de Saint-Jean Ex-Cadet Foundation est fière de vous inviter à la 30e édition du Tournoi de golf annuel, jeudi le 25 août 2022, au Club de Golf Vallée des forts (1145 Petit-Bernier, Saint-Jean-sur-Richelieu, Qc, J3B 6Y8, Tél : 450-346-6090).
Le tournoi sera sous la présidence d'honneur de Monsieur Claude Raymond. Natif de Saint-Jean-sur-Richelieu, il est un ancien lanceur de relève au baseball ayant joué dans les Ligues majeures de 1959 à 1971. Il a été intronisé au Temple de la renommée du baseball canadien, au Temple de la renommée du baseball québécois, au Panthéon des sports canadiens. Il a été reçu Chevalier de l'Ordre de la Pléiade de  l'Assemblée nationale et a été nommé membre de l'Ordre du Canada. Il est un des grands ambassadeurs de notre région.
Le tournoi coïncidera avec la fin de semaine de retrouvailles (26-27 août) où nous célébrerons le 70e anniversaire d'ouverture du CMR. Consultez le site web (https://fondation-anciens.com/tournoi-de-golf-2022) pour toutes les informations et pour vous inscrire.
Il est temps de supporter votre Alma Mater.  Alors venez profiter d'une belle journée et soutenir votre Fondation et votre Musée en participant au tournoi de golf annuel. Réunissez une équipe de vos amis et venez frapper la balle.  Nous espérons que vous pourrez vous joindre à nous en grand nombre.
Dear Ex-Cadets,
After two years of the pandemic, when we had to postpone the benefit golf tournament, la Fondation des Anciens du Collège militaire royal de Saint-Jean Ex-Cadet Foundation is proud to invite you to the 30th edition of the annual Golf Tournament, on Thursday August 25, 2022, at Club de Golf Vallée des forts (1145 Petit-Bernier, Saint-Jean-sur-Richelieu, Qc, J3B 6Y8, Tel: 450-346-6090).
This year our honourary President will be Mr. Claude Raymond of Saint-Jean-sur-Richelieu. He is a former major league baseball pitcher who played from 1959 to 1971. He was inducted in the Canadian baseball Hall of Fame, the Québec baseball Hall of Fame, the Canadian Sports Hall of Fame. He is a Member of the Order of Canada and was named Knight of the Order of La Pléiade. He is one of the great ambassadors of our region.
It will coincide with the Ex-Cadet reunion week-end (26-27 August) where we will celebrate the 70th anniversary of the opening of CMR. Please click here (https://fondation-anciens.com/en/2022-golf-tournament) for all the details and to register.
Why not once again support your Alma Mater, your Foundation and the Museum by participating to the annual golf tournament.  Come with friends and hit the ball. We hope to see you all.
Hélène Ladouceur
Directrice générale
Fondation des Anciens du CMR Ex-Cadet Foundation
514-867-5264
---

Nova Scotia Branch News
Re-Initiation of Colleges Attractions Program
Now that the Covid pandemic appears to be diminishing, the Nova Scotia Branch is taking steps to re-initiate its Colleges Attractions Program in coordination with the Canadian Armed Forces Recruiting Centre Atlantic.  In the coming months, we will be promulgating information and soliciting participation in the program from alumni in the Atlantic Provinces.  Contact colleges@rmcclubns.ca for details.
Programme de ré-initiation des attractions des collèges
Comme il semble que la pandémie de Covid diminue, le Chapitre de la Nouvelle-Écosse prend des mesures pour relancer son programme d'attractions des collèges en coordination avec le Centre de recrutement des Forces armées canadiennes de l'Atlantique.  Au cours des prochains mois, nous diffuserons des informations et solliciterons la participation au programme des anciens des provinces de l'Atlantique. Contactez colleges@rmcclubns.ca pour plus de détails.
---

Vancouver Island Ex Cadet Club News
On April 20th, in conjunction with the VIECC's AGM at Royal Roads University, the VIECC hosted their  "three year catch up" of OB tie presentations due to Covid cancellations!  The presentations were hosted by 4818 Murray Ramsbottom, OB rep.
VIECC 1 is Roger Walmsley, Class of 1977
VIECC 2 is Lunch Photo of Class of 1976 plus Roger Walmsley ('77)
VIECC 3 is Class of 1975
VIECC 4 is Class of 1976
VIECC 5 is Scott Miller, Class of 1977
---

Chapitre de Québec
Le premier juin, le Chapitre de Québec a tenu sa première rencontre sociale depuis le début de la pandémie, en présence d'une quinzaine de personnes.  L'événement s'est tenu dans une maison presque tricentenaire du Vieux-Québec.  En effet, Catherine Paquet (15414) et Pierre Rivard (11306) nous ont reçu dans leur résidence qui a été bâtie en 1753, par un certain Louis Vallée, maître menuisier de l'époque.  C'est une maison à l'architecture et au cachet exceptionnel, qui n'a jamais été endommagée par un incendie ou les actes de guerre qu'a connu la ville.  Poutre et maçonnerie d'origine, cour extérieure, toît en tôle à la canadienne, etc. tout y est magnifiquement aménagé et entretenu.  Un havre de paix historique au cœur de la magnifique ville de Québec.  Un énorme merci à Catherine et Pierre pour leur hospitalité et la chaleur de leur accueil.
On the first of June, the Quebec City Branch held its first social meeting since the beginning of the pandemic, in the presence of about fifteen people.  The event was held in an almost three hundred year old house in Old Quebec.  Catherine Paquet (15414) and Pierre Rivard (11306) welcomed us to their home, which was built in 1753 by a certain Louis Vallée, a master carpenter at the time.  It is a house of exceptional architecture and character, which has never been damaged by fire or the acts of war that the town has experienced.  The original beams and masonry, the exterior courtyard, the Canadian-style tin roof, etc. are all beautifully designed and maintained.  A historic haven of peace in the heart of beautiful Quebec City.  A huge thank you to Catherine and Pierre for their hospitality and warm welcome.
---