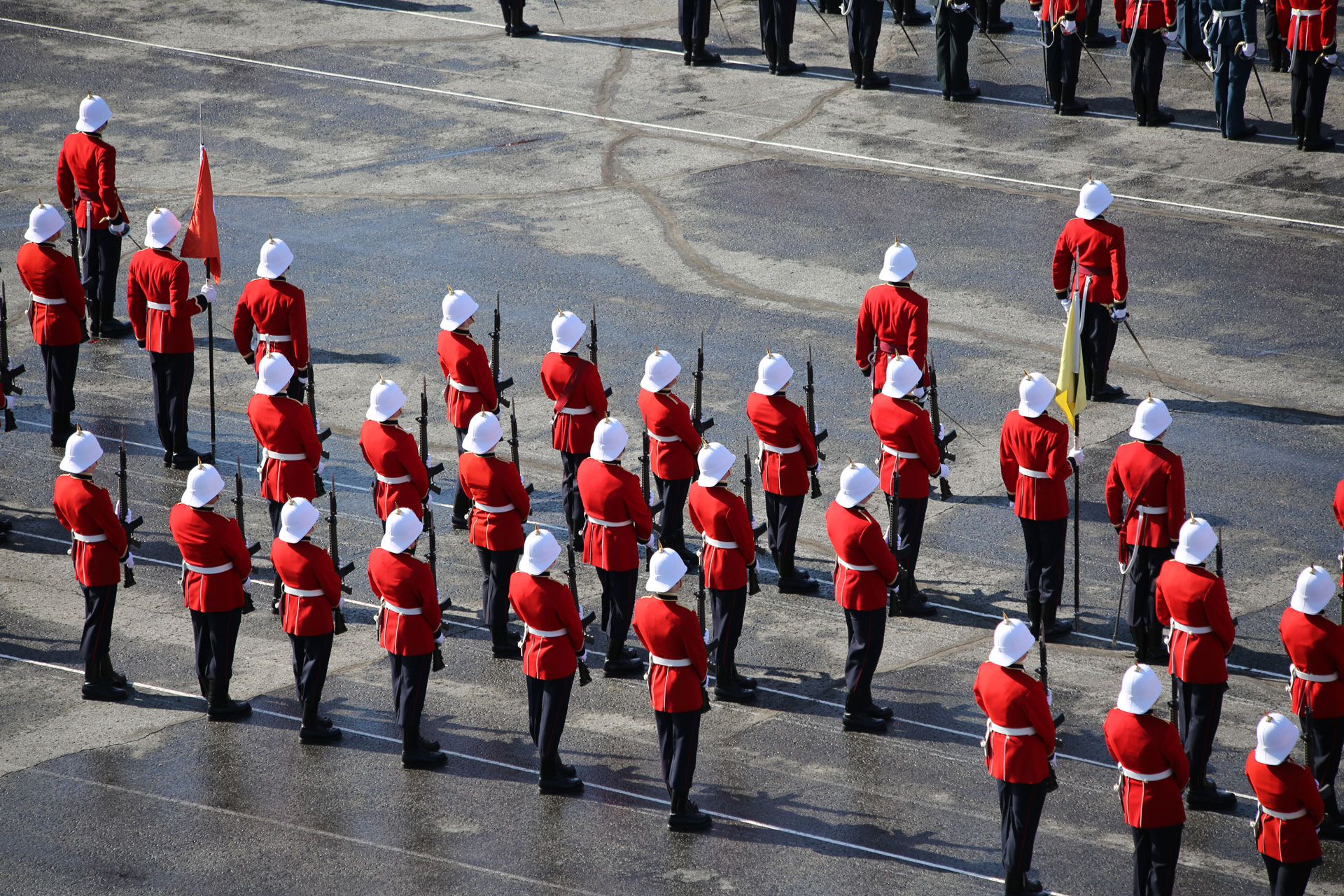 Watch out Boat … Lasalle is number ONE!
CW Harrier and Sports Day
By: 24196 OCdt JC Lasalle – CWSRO
Le 6 septembre 2008, marqua la traditionnelle journée sportive pour le CMR. Même si le soleil ne fit pas partie de la journée, le tout s'est dévoilé en un grand succès. La journée a débuté avec le directeur des élèves-officiers, LCol O'Keeffe qui a adressé l'escadre en portant fièrement un pyjama aux couleurs de l'escadron 2. Le mot de bienvenue fût suivi par la course Harrier, une course de 5 Km autour de la péninsule. IV Eve Boyce, (24411) eut le meilleur temps féminin et le meilleur temps masculin fût obtenu par Mike Spears, un élève-officier en échange de l'académie West Point. Nous tenons aussi a mentionné l'exploit de III Geordie Cheeseman (M0929) qui a terminé la course en 26 minutes traînant un Ruck-sack sur tout le trajet. L'effort exceptionnel donné par tous les coureurs doit aussi être soulignée. L'escadron 2 fût l'escadron gagnant pour cette course.
Le reste de la journée fût rempli par diverses activités comme la course à obstacle (remporté par l'escadron 7), le défi du labyrinthe (remporté par l'escadron 2), le flag-football (remporté par l'escadron 3), le souque à la corde (encore une fois gagné par l'escadron Otter) et finalement la course à relais de la chaîne de commandement (remporté par l'escadron 9).
La journée s'est terminé par une remise de prix et un barbecue dans le Fort Frédérick. L'énergie et l'esprit d'équipe a été sentie par tous ceux et celles qui étaient présents-es. Finalement, après cette fantastique journée, l'escadron qui remporta le plus de points au cours de la journée fût l'escadron 2. Un gros merci à tous les bénévoles qui ont fait de cette journée un énorme succès.
This week-end, on the 6th of September, RMC hosted its annual sports day. This event, even though the sun decided not to show, turned out to be a complete success and marked the beginning of another year at RMC. The day started out with an address to the wing by the Director of Cadets, LCol O'Keeffe, who sported a full-body red pyjama suit, which boosted 2 Sqns ego. The speech was then followed by the traditional Wing Harrier, a 5 Km run around the peninsula. The top female runner was IV Eve Boyce (24411) and the top male runner was Mike Spears, an American exchange student from West Point academy. A special acknowledgment went out to III Geordie Cheeseman (M0929), an Otter Sqn member, who finished the 5 Km in under 26 minutes carrying his ruck-sack the whole way. The exceptional effort given by all the runners must also be acknowledged. Overall, 2 Sqn finished with the best average running time.
The rest of the day included various activities such as tabloids (won by 7 Sqn), the maze challenge (won by 2 Sqn), and Flag football (won by 3 Sqn), tug-of-war (obviously won by Otter Sqn) and the chain of command relay race (won by 9 Sqn). The day finished off with the award ceremony held in Fort Frederick. Anyone present could easily feel the raw energy, team spirit, and the RMC sense of belonging radiating from the cadets. Finally, after an amazing day filled with amusement, 2 squadron were the ones to collect the most points and win the overall sport day.
Special thanks to the team of OCdt volunteers for making this day a great success.
________________________________________________________
No Fluke Harrier Run & Sports Day – A Big Success
By: WJO
A tip of the cap and congratulations to the organizers of the Wing Harriers and the Sports Tabloid. OCdt JC Lasalle – CWSRO and her hard-working crew of cadets who were superb in ensuring all the events went off without any serious hitches.
Behind the scenes leadership provided by PSP staff – Christine Powers, Intramural Sports Manager and her assistant Chad Blundy was impressive. Their arms length "guidance" went along way in ensuring the cadet leaders had the opportunity to experience the satisfaction of completing a challenging and potentially complicated event.
Two Squadron captured most of the trophies and deserved the loud applause and recognition at the Awards ceremony. We salute them too!
Three other stars:
Otter Squadron won the tug-of-war for the 4th consecutive year. Regardless of what the ROTP / RETP cadets think this is no easy accomplishment – members of Otter Squadron certainly do not take it for granted!
E-Veritas readers may recall the history of The Greenwood Cup.  This solid silver Cup is a very historic trophy. It was presented "for Annual Competition by Gentlemen Cadets" for well over 75 years – up until 1954.
Two years ago the family of the late 3252 EA "Ted" Tromanhauser (RMC '54) donated TGC back to the college. Ted was an exceptional athlete and, specifically, a great runner. His many accomplishments as a runner included winning The Greenwood Cup for the one-mile run in each and every year of the four years he competed for it at RMC. For this remarkable achievement Ted was allowed to keep the Cup. In his final Will & Testimony, he requested that the Cup be returned to the College and it was decided by college authorities at the time, that TGC would be given to the top female runner of the Annual Harrier Race.
For the second year in a row IV 24411 Eve Boyce was the winner. 24204 Elizabeth "Beth" Crosier captured it in 2006.
For the first time in the history of The Wheatley Challenge Cup – the "Cup" awarded to the overall winner of the Harrier Run, dating back 100 years or so, went to a runner from West Point. Mike Spears, an American exchange cadet from left over 1,000 RMC runners in his tracks. From all reports, the competition was fierce.
Well done – Event organizers, Two Squadron, Otter Squadron, Eve Boyce, and Mike Spears.