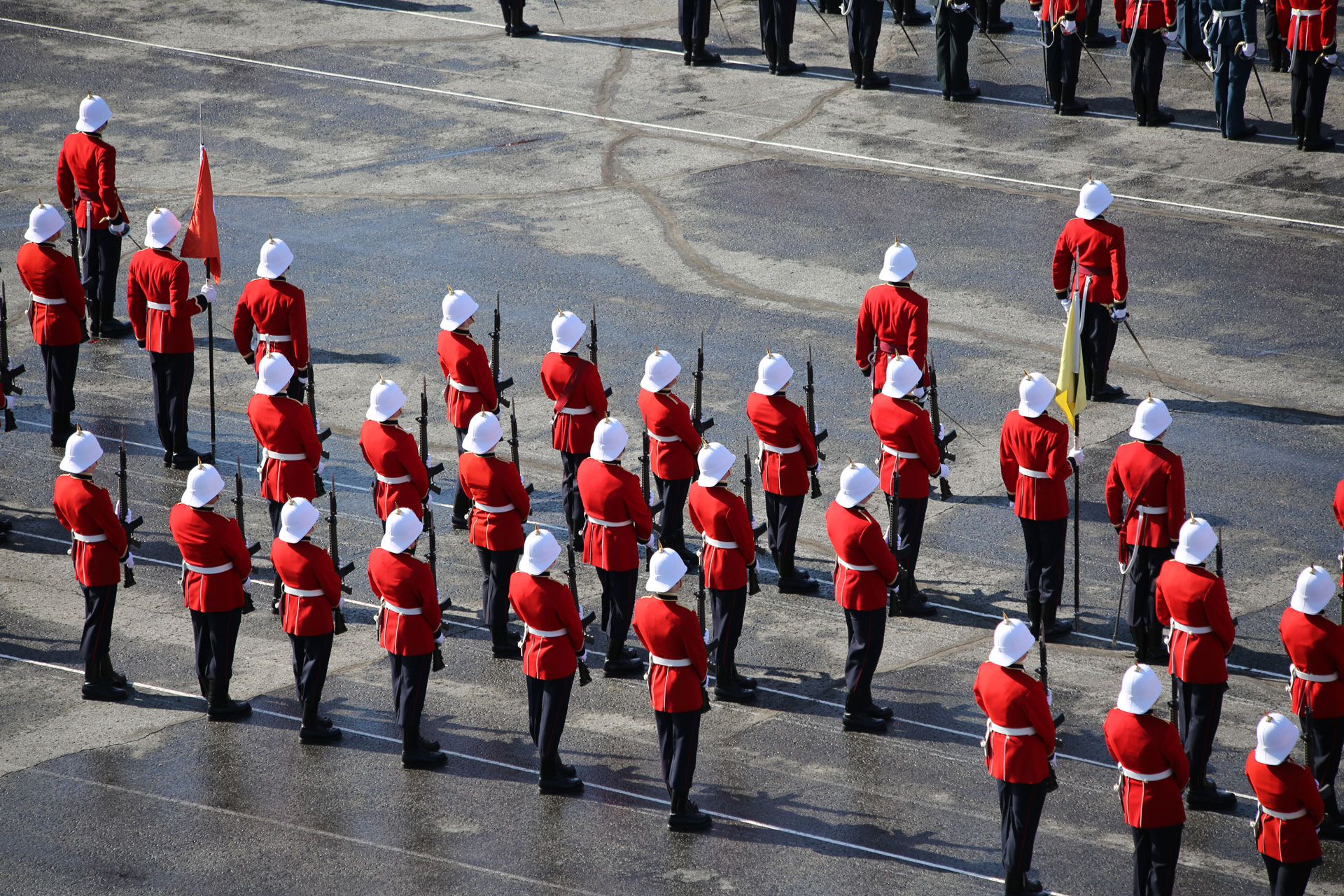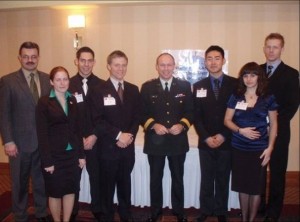 RMC Model NATO Wins Silver at American National Conference
By: Model NATO Team Members
As represented by RMC, Poland was a veritable superpower at the 24th National Model NATO Conference in Washington D.C., February 19th – 22nd. The Model NATO Conference is designed to provide university students with a venue to understand the purpose, organization, capabilities, and activities of NATO in a three-day simulation and embassy briefings. Each university represents a NATO member state and has one delegate on the following committees: the North Atlantic Council; Political Affairs; Defence Planning; Nuclear Planning; Working Group on NATO Operations.
Before the simulation, RMC spent several sessions, researching Poland's foreign and security policy. This year the team's Faculty Advisor was Major Ian Rutherford, from the Department of Politics and Economics.
Once in Washington, the team spent the first day exploring the city after a welcoming and informative tour of Canada's Embassy to the United States. The White House, Washington Memorial, National Museum of Natural History, National Museum of Art, Spy Museum and Capitol Hill were only a few of the landmark sights taken in by the team.
RMC placed 2nd as a delegation, while individual Committee prizes went to 24409 Francois Bossé, 24742 Matthew Hou, and 24877 George Gillam. A/Slt (G4200) Becky Weisbloom and 2Lt (G4221) Marta Rzechowka, Masters students at RMC, and 24908 Derek Vanstone all made significant contributions to the overall effort.
The team's strong performance during the simulation required a mélange of skills. First, each member had to gain an understanding of NATO, then Poland and other NATO states' policies in relation to a host of issues including Afghanistan, Iraq, Russia, Georgia and the Ukraine. Second, that knowledge had to be expressed through extemporaneous speeches of one minute every ten minutes. Third, each individual had to network with students from other schools – put simply, to charm and cajole – with the goal of forging consensus and convincing others to craft policy amenable to Poland's interests.
Most importantly, RMC was unique amongst the thirty universities, primarily American and civilian, in placing an emphasis on policy coordination and cohesion. Our delegation's dedicated research and their ability to charm and work tenaciously, were undoubtedly factors in for success but, above all, RMC's ability to work as a well-directed team carried the day.
The RMC team also made a powerful showing at Model NATO Ottawa in January. The team was composed of 24409 Francois Bossé, 24877 George Gillam, 24742 Matthew Hou, 24329 John Keess, 2Lt (G4221) Martha Rzechowka, and A/SLt (G4200) Becky Weisbloom. The Ottawa Model NATO was conducted at Carleton University and was a much different experience than Washington. Ottawa simply had a different dynamic and structure that made its challenges quite different, but RMC was able to adapt and overcome, over powering the competition and achieving a 2nd place finish representing the nation of Denmark.
GO RMC!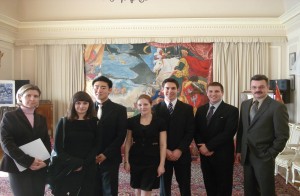 Équipe de simulation de l'OTAN du CMR gagne l'argent à la compétition nationale américaine
Par : Les membres d'équipe de simulation de l'OTAN
Représenté par le CMR, la Pologne était une super puissance à la 24ième édition de la conférence nationale de simulation de l'OTAN à Washington D.C. du 19 au 22 février. Cette conférence est bâtie de façon à amener les étudiants à comprendre le but, la structure, le potentiel et les opérations de l'OTAN en trois jours de simulation et de présentations d'ambassades. Chaque université représente un état-membre de l'OTAN et a un délégué pour chaque comité: Comité de l'Atlantique-Nord, Affaires politiques, Planification de défense, Planification nucléaire ainsi qu'un comité consultatif sur les opérations de l'OTAN.
Avant la conférence, l'équipe avait conduit ses propres simulations, dispersée en trois après-midi et simultanément recherché des éléments de la politique de défense et politique extérieure de la Pologne. Cette année l'équipe avait la chance d'être encadrée par un membre de la Faculté, le major Ian Rutherford du département des Sciences politiques et d'économique du Collège.
Une fois à Washington, le premier jour fut utilisé pour explorer la ville; après une réception et un tour d'information de l'Ambassade canadienne au États-Unis. La Maison blanche, le Washington Mémorial, le musée national d'histoire naturelle, le musée national des arts, le musée international de l'espionnage et le Capitole étaient quelques unes des attractions visitées par l'équipe.
Le CMR, représentant la Pologne, a terminé au 2ième rang comme délégation et des prix individuels sont allés à 24409 François Bossé, 24742 Matthew Hou et 24877 George Gillam qui ont tous été classé 2ième dans leurs comités respectifs. De plus, l'Ens2 G4200 Becky Weisbloom et le 24908 Derek Vanstone contribuèrent de façon significative à la contribution de la délégation du CMR à la conférence.
La performance de l'équipe à la conférence de simulation s'explique par un heureux mélange d'aptitudes. Chacun des membres a dû s'assurer une meilleur compréhension de l'OTAN, de la Pologne et dossiers qui leurs sont connexes (Afghanistan, Russie, etc.). Cette connaissance devait être interprété dans un discours bref, clair et concis d'environ une minute, et ce, une fois presque tous les dix minutes. Il est aussi important de créer des réseaux avec les autres universités dans le but de rechercher un consensus et d'amener les politiques sous un angle favorable aux intérêts de la Pologne.
Le CMR était unique parmi les 30 universités représentées, principalement américaine et civiles, plaçant une attention particulière sur la coordination et la cohésion des politiques en jeu. Notre délégation a su faire preuve de charme et de ténacité mais c'était surtout l'esprit d'équipe qui a su amener l'équipe du CMR au succès à la conférence tenue dans la capitale nationale américaine.
Le CMR a aussi emporté l'argent à la conférence de simulation de l'OTAN d'Ottawa. L'équipe était composée des 24409 François Bossé, 24877 George Gillam, 24742 Matthew Hou, 24329 John Keess, Slt Martha Rzechowka, et Ens2 Becky Weisbloom. Cette conférence organisée par l'université Carleton était très différente de celle de Washington. Elle avait tout simplement une dynamique et structure qui demandait une approche contrastée de celle à Washington. Le CMR a su s'adapter et s'avancer encore pour finir en 2ième place représentant le Danemark. Vérité-Devoir-Vaillance!
_____________________________________________________________________________________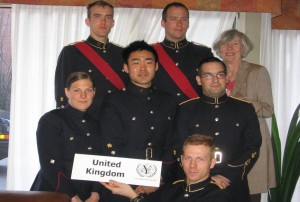 RMC MODEL UNITED NATIONS' TEAM WIN
The Model United Nations is an academic forum for students to enhance their understanding of international relations, globalization and multilateral diplomacy through active participation. In a simulation of the United Nations, students take on roles of foreign diplomats and engage in debates and discussions of international issues and policies, and develop solutions to world problems through seven delegations (UNHRC, DISEC, UNDP, UNSC, NATO, SCO, JCS-CAB).
Started nearly ten years ago, YMUN has grown from an on-campus initiative for York students, to a must-attend event for students across Ontario and Quebec (160 plus students in 2009), and finally to a world class conference. YMUN has garnered the attention of the United Nations itself and has been offered two top delegate positions at their GMUN (Geneva) 2009 conference.
This year, Dr. Nicole Schwartz-Morgan (Politics and Economics) led our RMC Team of six (6) students to win several prestigious awards at the event. RMC student awards included:
*OCdt Matthew Hou* was chosen as the best delegate at the United Nations Development Program (UNDP) "Clearly an experienced delegate who offered nuanced points and leadership in forging consensus formally and informally throughout the weekend."
*Ocdt Maxime Parenteau* was chosen as the best delegate at the Shanghai Cooperation Organization committee (SCO) "Active delegate showing strong abilities to negotiate under the pressure of a crisis committee. He shows good aptitudes to work with others delegates and demonstrates good capacities to regroup other delegates in a cohesive caucus."
*OCdt Maxime Parenteau* won the top prize: best delegate of York Model United Nations (YMUN) "For demonstrating a perfect knowledge of foreign policies, being professional in public speaking, opting for important and decisive actions combining the use of different diplomatic tools, Maxime Parenteau has been considered as the best delegate of the conference and will represent Canada in the Canadian team at the Genève Model United Nations."
ÉQUIPE GAGNANTE POUR LE MODELE DES NATIONS UNIS DU CMR
Le modèle des Nations Unis est un forum académique pour que les étudiants puissent augmenter leur compréhension des relations internationales, de la globalisation ainsi que la diplomatie multilatérale par la participation active.  Dans une simulation des Nations Unis, les étudiants jouent le rôle de diplomates et engagent des débats et des discussions sur les politiques internationales et développent des solutions sur les problèmes mondiaux au travers sept délégations.
Commencé il y a presque dix ans, MUNY a grossi d'une initiative de campus des étudiants de l'université York à un évènement couru par des étudiants de tout l'Ontario et le Québec (plus de 160 étudiants en 2009) et finalement à une conférence de classe mondiale.  Le MUNY s'est attiré l'attention des Nations Unis et une offre de deux positions de délégués leur a été offerte pour la conférence du MUN de Genève en 2009.
Cette année, la Dr. Nicole Schwartz-Morgan du Département de science politique et d'économique a conduit les six étudiants de l'équipe du CMR qui on gagné plusieurs prix prestigieux à l'évènement.  Les étudiants du CMR qui se sont mérités un prix sont :
*Élof Matthew Hou* choisi le meilleur délégué au programme de développement des Nations Unis. «Clairement un délégué expérimenté qui a offert des points nuancés a bâti un consensus de leadership formel et informelle toute la durée du weekend.»
*Élof Maxime Parenteau* choisi comme meilleur délégué du comité de l'organisation corporative de Shanghai. «Un délégué actif démontrant de fortes habilités de négociateur sous pression à l'intérieur d'un comité de crise.  Il démontre de bonnes aptitudes de travail avec les autres délégués et démontre aussi de bonnes capacités de regroupage  dans un caucus.»
*Élof Maxime Parenteau* gagnant du grand prix de meilleur délégué à la délégation du MUNY «en démontrant une connaissance parfaite des politiques étrangères, un conférencier professionnel qui a opté des décisions importantes et décisives combinant l'usage de différant outils diplomatiques.  Il a été considéré comme le meilleur délégué de la conférence et représentera le Canada dans l'équipe canadienne à Genève.»