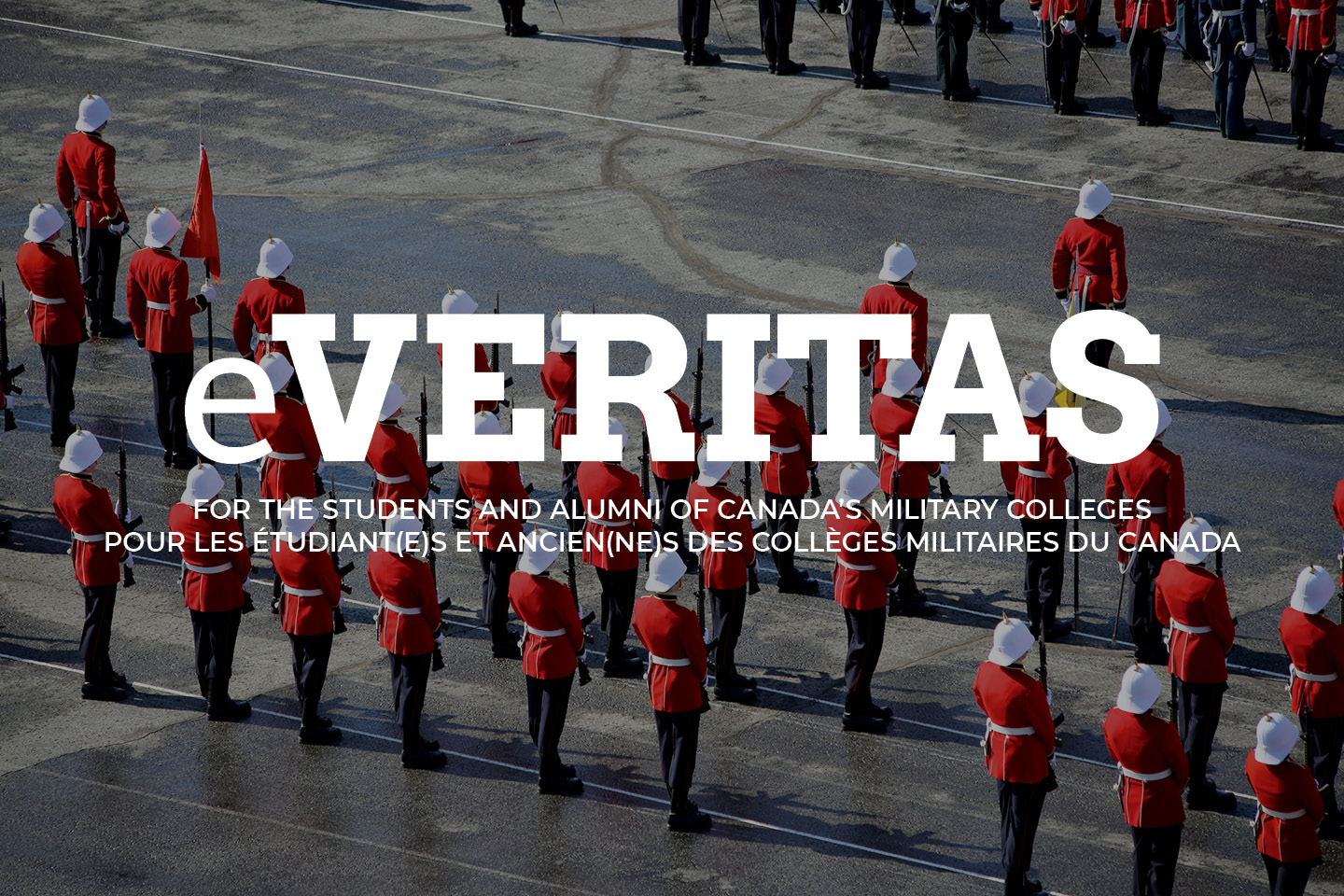 Commandant Off to China
The Royal Military College of Canada Commandant, Brigadier-General Eric Tremblay, along with Officer Cadets Brittnay Brown and Richard LeBlanc and Captain Lesley Kerckhoff, will be travelling to China from 22 October until 1 November. They will attend a seminar on "The Development of Officers in the Information Age" at the PLA University of Science and Technology in Nanjing, China. The other nations attending include: Japan, France, Australia, United States, Korea, Turkey and Germany.
____________________________________

I Year, 26346 Daniel Ryan follows grandfather and Dad…
At the recent Ex-Cadet weekend Grandfather 3503 Marc Chagnon (Class of 1956) had the honour of presenting 26346 Daniel Ryan his college Coin after the Obstacle Race and his hat badge on the Saturday Parade.
Proud father 13687 James Ryan (Class of 1982) had the pleasure of photographing both events.
____________________________________
Senator Roméo Dallaire: Pillar of Valcartier Family Centre
"After the Cold War, there were many deployments. We knew that it was important to offer support to the soldiers, but we didn't consider that if the soldier's family has no support, the military would not be able to serve,"
7860 Roméo Dallaire
____________________________________
15687 Captain(N) Kurt Salchert will present on `Maritime Domain Awareness` at SecureTech 2011, a two day public safety and security omnibus Conference and Exhibit, organized by the Canadian Association of Defence and Security Industries (CADSI) to be held on October 25-26 2011, in conjunction with a major 55,000 square foot exhibit at the new Ottawa Convention Centre.
He was appointed to North American Aerospace Defence Command Headquarters in 2008 as the Maritime Operations Division Chief. Building on his recent NORAD experience, and recognizing the need for close collaboration between the numerous Canadian and U.S. agencies engaged in securing the maritime approaches to North America, Captain(N) Salchert was selected as the first Canadian NORAD Maritime Liaison Officer in the National Capital Region, Washington D.C. in July 2011.
A native of Powell River, British Columbia, Captain(N) Salchert has held numerous and diverse sea-going and joint staff appointments over his 28 year naval career. Captain(N) Salchert holds a Bachelor of Arts degree in Military and Strategic Studies from Royal Roads Military College, a Masters Degree in Defence Studies from the Royal Military College of Canada and is a graduate of the Canadian Forces College.
Career highlights include back-to-back commands of HMCS VANCOUVER (2004-2006) and VENTURE, The Naval Officers Training Centre (2006-2008). His operational tours include deployment on Operation Friction, Canada's contribution to the 1990-1991 Gulf War crisis; appointment as a United Nations Military Observer in Cambodia (1992-1993), two deployments on Operation Forward Action, the United Nations embargo against Haiti (1994); and appointment to the Canadian Forces Liaison Team to United States Central Command in Tampa and later on in Qatar (2002-2003).
https://www.securetechcanada.ca/mobi/index.php?action=showSpeaker&id=22
____________________________________
Australian military pomp on show for queen
Hundreds of white-coated cadets stood to attention at the Royal Military College at Duntroon as they were inspected by the queen…
____________________________________
Canada has 'ethical obligation' to help rebuild Libya, RMC expert says
"Canadians have a reputation of sitting down with the locals and figuring out, 'Well, how do you guys want to do this and how do you think we can do this?' (It's) bottom up rather than top down.
____________________________________