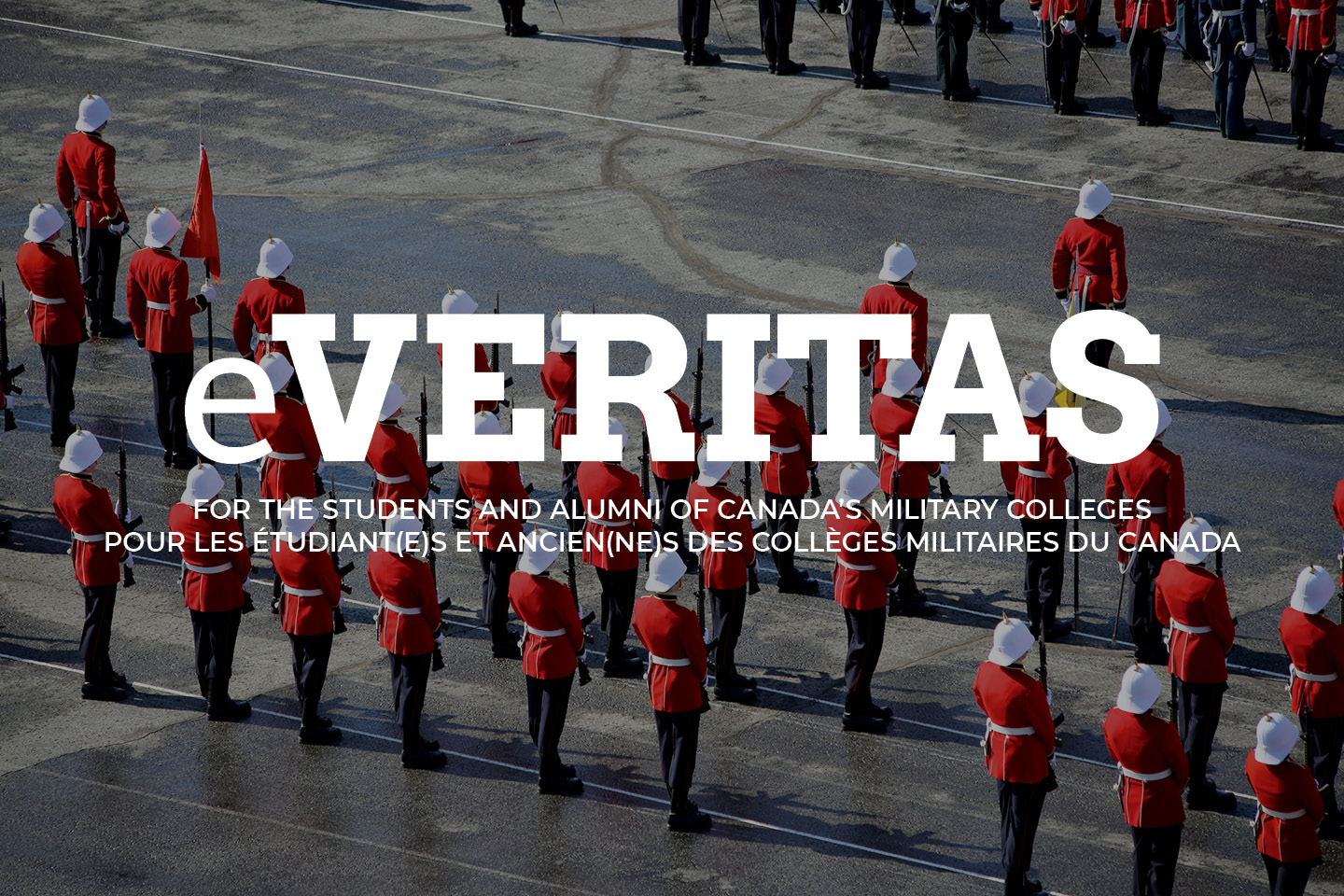 24647 Paul Lystiuk recently had the chance to sit down with Chad Blundy, Recreation & Intramurals Assitant.
After four very hardworking years with the RMCC Athletic Department, Chad Blundy is leaving his current position of Rec & IMs Assitant to pursue other life aspirations.  I have had the privledge to know Chad on both a personal and professional level throughout his duration here.  Having been involved with both the varsity hockey team and the intramural program, I know first hand the amount of dedication and commitment Chad puts into every challenge he takes on.  Chad has went above and beyond to improve both programs that he has been invovled with and the college is better off because of it.
I would be heavily criticizedand rightly so by some varsity athletes if I failed to mention Chad's latest contribution to the Atheltic Program, #BlundyFit.  #BlundyFit is an off-season training plan that was intended for mainly for hockey players, however athletes from other team have since joined due to its gaining popularity.  This is a complete workout program, specifically designed for various  aspects of every sport, from conditioning, strength training and skill development.  Chad has also gone to the extent of filming specific or difficult exercises and posting them on the internet so athletes who may not be in Kingston during the summer may still participate in the program.
I'm sure that I am not alone when I say best wishes and good luck in whatever the future has in store you.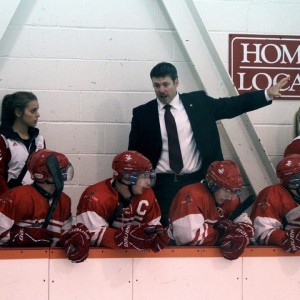 e-Veritas: What was your background prior to coming to RMC?
Chad: Prior to coming to RMC I studied and played varsity hockey at McGill University for 5 years where I received a Bachelor's Degree majoring in Kinesiology and minoring in Management. Following graduation I ventured down to Odessa, Texas and played professional hockey for the Odessa Jackalopes of the Central Hockey League. I always tell people that I was there just long enough for a burrito and a cerveza as I was only there for a couple of months before returning home to Oakville, Ontario and taking part in a number of different jobs that included being a strength and conditioning coach, a sports admin assistant, and selling Christmas trees. In 2007 I was given the opportunity to fill the position of Recreation and Fitness Coordinator at Sheridan College which gave me some excellent hands on experience that prepared me for the role of Recreation and Intramural Assistant at RMC when I was hired in 2008.
e-Veritas: What were your responsibilities as Assistant Rec & IM Manager?
Chad: My main duties as the Rec and IM Assistant consisted primarily of administering and overseeing the daily operations of the Intramural Sports program. This included booking facilities, managing equipment inventories, creating schedules, updating online and portal information, and mentoring OCdts in various positions such as the CWIMO, CSSOs, IM team captains, and referees. I was also very involved in helping to plan, organize, and execute the college's two annual Sports Days, the Wing Harrier race, and various staff vs students sporting events. The Rec and IM Manager, Christine Powers-Tomsons, and I have worked very hard in the last few years to streamline a lot of the daily and weekly operations and procedures surrounding both Intramural and Recreation programs and activities. We have been fortunate enough to work with Sebastien Ival from College Information Systems and much of the information associated with Rec and IMs can now be found on RMCC's portal. Registration, game results, and attendance reporting for IMs is also done using the portal, which has made things easier and more accurate, but it also added another aspect to my position as I was constantly monitoring and maintaining the data on it. I have also worked with a number of RMCC's Rec clubs to try and secure them resources and facilities. For the past year I have acted as the Outdoors/Expedition Club admin supervisor and I have even stepped in to teach a variety of physical education classes from time to time.
e-Veritas: What were responsibilities as Assistant Coach to the Varsity Hockey Team?
Chad: I believe that it is the responsibility of any great assistant coach to be able to adapt to just about any situation that may come up and be ready to provide the head coach with feedback and advice whenever it is needed. I
would like to think that this is a role that I filled with reasonable success. I wore many different hats in the 4 years that I worked with the hockey team. For my first 2 years I was asked to work specifically with the defensemen and the team's penalty kill, and then for the last 2 years I have spent my time providing direction to the forwards and working primarily with the power play. Working in these capacities I was involved in helping with the growth of the individual skills of players as well as the development and implementation of team systems. Head Coach Adam Shell does a good job of using his entire support staff to help the hockey program run smoothly, allowing us to all feel a part of the team. Because of this, the other assistant coaches and I have often been called upon to do a variety of tasks such as design on-ice drills, run one-on-one video sessions, take specific statistics during games, and even perform curfew checks when on the road. I even sharpened the skates of some of the more superstitious players. I have also had the great pleasure of creating and directing the bulk of the team's off-ice conditioning, which has given me an excellent opportunity to interact and establish some valuable relationships with many of the players; relationships that I am proud to have been able to create and turn into friendships now that I am moving on.
e-Veritas: What were you best experiences working with the cadets in the IM program?
Chad: That is actually a tough question as there have been so many great experiences that I have had over the last 4 years. I guess at the top of the list would have to be the opportunity to work with some highly motivated individuals within the cadet wing. We realize that the Intramural program has often received a bad reputation in the past as it is sometimes viewed as just one more "mandatory" task that OCdts are required to perform. However, when given the chance to work with a CWIMO, CSSOs, or team captains who have an honest love of sport and who care about how the leagues and programs are run, it gives me energy and enthusiasm to stay on campus until IMs are done at 2300 hrs or later to make sure things run smoothly. I love it when OCdts come to us with new ideas as it shows that they are invested in what is happening at the college.
Beyond this, there are the 8 sports days and 4 Harrier Races where I have had the pleasure of working very closely with OCdts. These are massive events with many moving parts that require weeks and weeks to plan and organize, and then they are amazingly done and over with inside of 8 hours. Christine and I often get a lot of credit, but there is no way that these activities could be executed successfully without the hard work of OCdts.
I am also happy to have been around for the establishment of some new and exciting clubs such as scuba and skydiving, as well as the continued development of other clubs such as women's rugby, triathlon, outdoors/expedition, swimming, and rowing. Over the past few years the Athletics Department has seen a dramatic increase in the number of activity requests being submitted by the rec clubs. This is a great sign that OCdts are immersing themselves in college life and pursuing interests that they feel passionately about.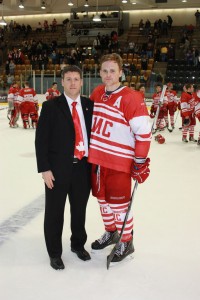 e-Veritas: What are your best memories working with the Varsity Hockey team?
Chad: Like with the Rec and IM programs, I have a lot of fond memories about working with the hockey team. The first would be the opportunity that I had to work with OUA athletes and be part of a team. After spending the majority of my life being involved with sports teams in general and hockey specifically, it has been an honour to be a part of the program at RMCC, to grow and develop as a group, and to all work together towards a common goal. Maybe I am biased because I played ice hockey at the Canadian university level, but I have always maintained that CIS and OUA hockey is some of the most underrated elite level hockey in Canada (if not North America). Working with the team has taught me a lot about myself as a former hockey player, a coach, and as a person.
A couple of specific memories that I will always remember have to include defeating the University of Ottawa in overtime in 2008. I was acting as temporary head coach for the game as Adam was unfortunately called away for a family matter. The team had been on a bit of a losing streak and was suffering from some injuries. The boys held it together and showed a lot of character to score early into the extra period to win 8-7.
Another great memory was beating Western in a shootout in the last game before the Christmas break in 2010. We had actually lost a tough one 4-3 against Waterloo the night before in a game that we could and should have won. Coming into the game against Western the cards were stacked against us as we were fighting off the disappointment from the night before, we hadn't had a single win yet that season, and Western has been ranked #1 in the Western Conference for as long as I can remember. Anyways, the lead changed hands a couple of times throughout the game and we had to score with less than 2 min to go in the third to send the game into overtime. We survived overtime and pushed it to a shootout where Andrew Flemming stopped all 3 shots and Alex Leclerc scored for us. I still remember the celebration… it was like we had just won the Stanley Cup.
One final memory that I will cherish going forward is the thought of being part of the return of the RMC-West point hockey game this past season. Even though the result wasn't what we North of the Border had hoped for, the significance of re-establishing this historical hockey series will continue on long after Bill Oliver retires from E-Veritas (which could be another 50 years). I have had the good fortune of being involved with a number of notable points within the hockey history books: playing for McGill University, the oldest hockey team in the world; coaching in 4 Carr-Harris cups, the oldest hockey rivalry in the world; and now experiencing the RMC-West Point game, the oldest international hockey rivalry in the world. Every hockey player wants to feel like they are a part of something substantial, and thanks to RMC, I do.
e-Veritas: Final Thoughts?
Chad: I'd just like to take a moment to thank everyone that I have had the chance to work with, both staff and OCdts, throughout the last 4 years. Working at RMCC has been significant in my development, both professionally and personally, and it is because of this that my departure is very bitter-sweet. I have made some good acquaintances and even better friends. I am proud to have been associated with the Canadian Forces and to have been a part of sports teams representing both RMCC and CFB Kingston. Best of luck.