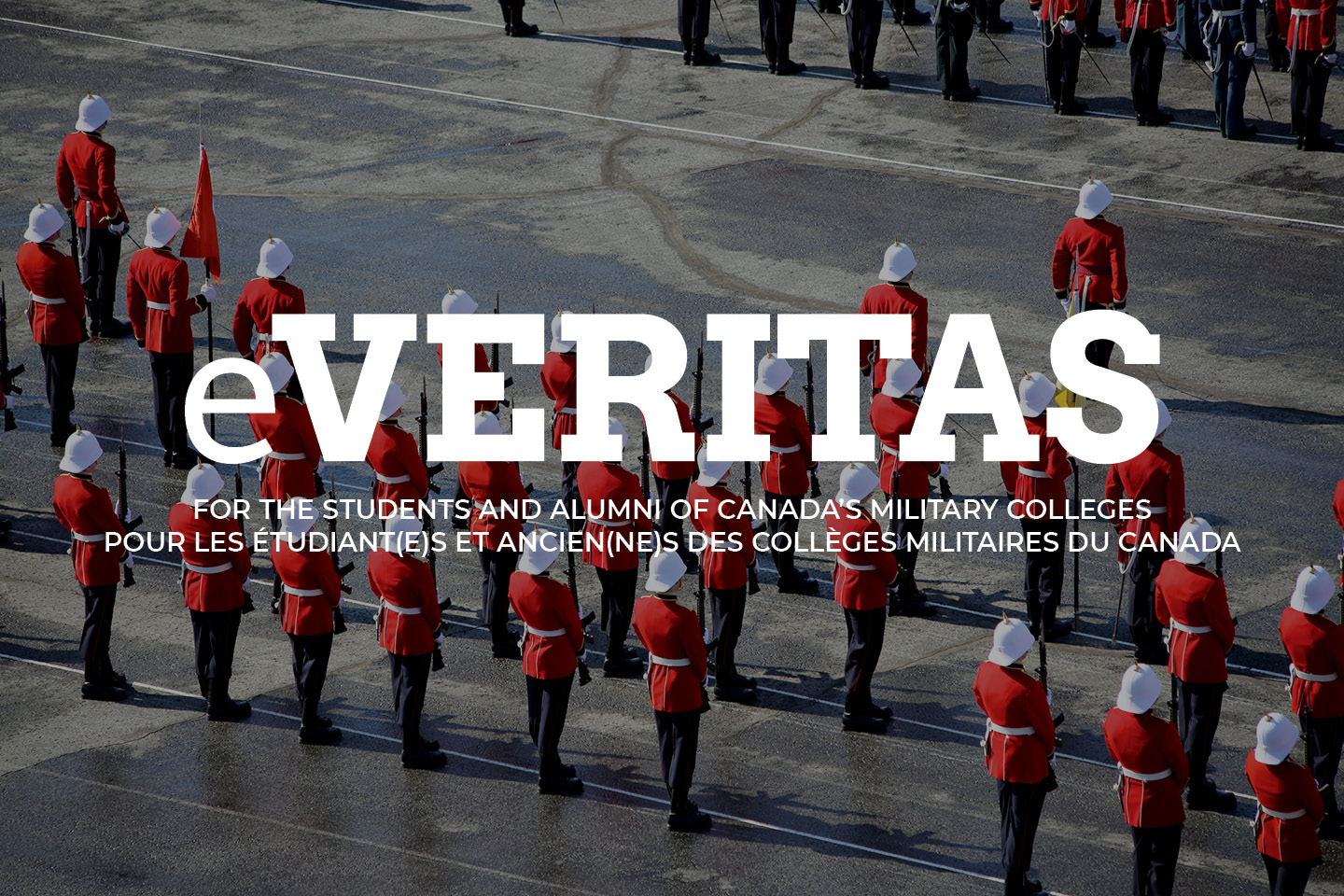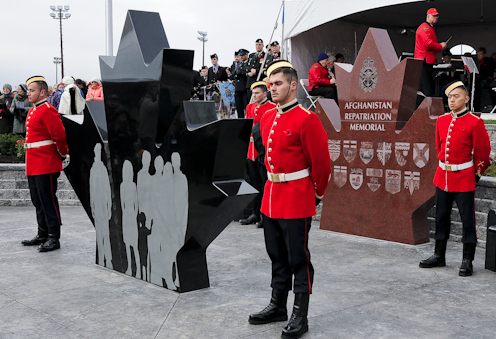 Canadians gathered to honour soldiers who died in Afghanistan during the unveiling of the Afghanistan Repatriation Memorial in Trenton, Ontario. Saturday November 10th. More photos.
We are always on the lookout for ex-Cadets to add to our Class Notes section. If you are or if you know of an Ex Cadet with something interesting going on, we want to hear about it! Whether it's career related or more on the personal/family life, we would like to know to know what's going on with you and / or them.
Just send a short write up, and, if you want, a recent JPEG appropriate photo, to: everitas.classnotes@gmail.com.
Ex Cadet RCNC 205 James Gordon Thompson has been retired for quite some time.After graduation from RCNC in 1946 he served in the RCN(R) for several years at HMCS York and HMCS Prevost during university years.
In 1949 he married Beverly Smith. They now have 5 children, 15 grandchildren and 2 great-grandchildren.
During these early years he was intimately involved in the operation of the Miss Supertest unlimited racing boats. There were three boats in all. Miss Supertest II set a world speed record in 1957 at 184.5 miles per hour. This was followed by Miss Supertest III which he designed and built. It was successful in winning the British International (Harmsworth) trophy in 1959 at Detroit Michigan against the United States and successfully defended this title in 1960 and 1961 at Picton Ontario. He was inducted into the Canadian Spoorts Hall Of Fame in 1960.
Colonel J.G.Thompson CD (retired)also served as Honorary Lieutenant-Collonel and Honorary Colonel of the Ist Hussars (RCAC) from 1975 to 1999.1st Hussars is a distinguished Canadian regiment dating from 1856 and which was part of the Canadian assault in Normandy on D-Day. (jthompson@sunningdalegolf.com)
10071 Ted Bain, Class of '74, is still working at Biodynamic Research Corporation along with Ex-Cadet 9884 Bob Banks (Class of '74). Bain and Banks actually live in the same neighbourhood in San Antonio, TX. As Banks has stated before, they live a parade square distance from each other.
Bain is still flying for recreation and spends more time working on his plane than flying it. Although he doesn't get to float down rivers in the Yukon and the NWT as much as he likes to, he does float around on creeks and swamps in Texas. His plan is to get back to Vancouver one of these years so he and his wife Nancy can spend more time at their cabin in the middle of nowhere, BC. Once that happens, avid fisherman 10221 Bob Deane (also Class of '74), now domiciled in Comox, will probably be camped out on their doorstep. (tedbain@sbcglobal.net)
11182 Jean-Marc Comtois, Class of '76, retired in 1992 as the Base Surgeon in CFB Cold Lake, Alberta. FFollowing his military career, he practiced family and emergency medicine, and was a coroner and examiner for the Medical Council of Canada'. For many years, he also was a volunteer firefighter in the municipality of Mitchell, Ontario.
In 2000, Jean-Marc joined the Canadian Space Agency in Saint-Hubert, QC as the Director, Operational Space Medicine and CSA Flight Surgeon. His responsibilities have since evolved and he is currently the Director, Astronauts, Life Sciences and Space Medicine, accountable for those 3 important elements of the Human Spaceflight program at CSA. He also oversaw the most recent Canadian Astronaut Recruitment Campaign. He loves his work and he credits the skills he has learned and developed from Military College and his military career for landing this very unique and interesting job.
Jean-Marc is married to Ann, a freelance dance teacher and choreographer. They have 3 children; Marcel 29 who is currently enrolled in the MBA Program at the Kellogg School of Management, Northwestern University in Chicago; Lindsay is 28 and an Editor with Next Film in Toronto; Rebecca is 27 and a social worker with the Children Aid Society in Toronto; she is getting married next summer. (Jean-Marc.Comtois@asc-csa.gc.ca)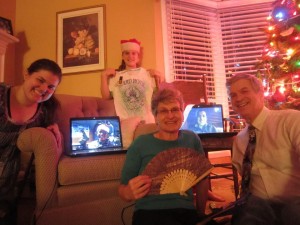 12151 Gary Banks, Class of '79, lives in Stittsville, ON, enjoying his last few years of Reg Force service close to, but not quite in, our nation's capital. As one of a constantly dwindling number of classmates still in uniform who are not CDS, Gary still anticipates donning his LCol uniform each day with vigour to do battle with the NDHQ bureaucracy. He is currently serving as Portfolio Coordinator for Communications and Sense Projects in Information Management Group Project Delivery.
Gary's first love is his family which he has turned into a prolific CF and RMC recruiting career. Along with his incredible wife Christine, they have raised 22809 Margot Hirst, 23415 Lauren Banks, 26193 Vanessa Banks and TBD Andrea Banks. Margot is back from KAF and helps her husband Major Michael Hirst with his duties as WTISO at 14 Wing Greenwood and raising Gary's grandchildren Connor, Kaia and Brienne. Lauren is back from Kabul and is currently serving as WTISO at 9 Wing Gander and organizing Maritime WTISO Conferences so she can visit her nieces and nephew in Greenwood. Vanessa is the only non-CELE(Air) member and is currently achieving fame as a Third Year Armoured Officer Cadet, producing the RMC Gangnam-Style music video in which she appears as the 12 Sqn Mascot, among other characters. Andrea is still in the pipeline, having just entered Grade 9. Her goal is to play both basketball and soccer for RMC so you have three more years to reinstate the RMC Women's Basketball Team.
Gary devotes much of his remaining free time to his second love, triathlon. As a recreational triathlete over the last seven years, he came to the realization very early in his career that he could not do anything particularly fast so he decided to go long. Having completed his last three iron distance races with increasing times, he has currently set his sights on Ironman 70.3 Syracuse in 2013 and Ironman Mont Tremblant in 2014 after which he plans to call it quits for the longer races and devote himself to his second career as professional Pace Bunny for Ottawa running races and Spinning Instructor at the local rec centre.
Gary has been incredibly blessed in all aspects of his life. He has so much to be thankful for, yet he is eager to see what adventures the future holds for he and his darling wife Chris. Together they plan to live a life of alternating between stuffing themselves on cruise ship buffets and running off the calories at destination races.
Gary and Chris can be reached at Gary.Banks@forces.gc.ca or GBanks2872@rogers.com. Please email to say hi or if you are looking for advice on how to train to complete a triathlon in as long a time as possible.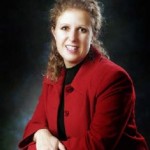 18866 Eva Martinez, Class of '93 – For her role as a Director on the executive board of Women in Aerospace Canada, Eva Martinez has been recognized as a 2012 Canadian Diversity Champion by Women of Influence, Inc. A champion is described as exceptional examples of Canadian board of director, CEO and/or senior executive leaders, recognized for their consistent dedication and commitment to i) sponsoring and mentoring senior executive women, ii) advancing women in business, iii) leading and developing innovative diversity initiatives and programs across Canada, iv) championing diversity in the workplace and boardroom and v) contributing significantly to thought leadership in the areas of diversity and inclusion. The list of Champions demonstrates the depth of commitment by each of these leaders to the business case for diversity, so that they may inspire many other corporate leaders across Canada, the U.S., and globally, to follow in this visionary path.
Women in Aerospace Canada (WIA-Canada) is a not-for-profit organization dedicated to expanding women's opportunities for leadership and professional development as well as increasing their visibility in the aerospace community by creating a professional network in Canada and across the globe. The objectives of WIA-Canada are to: identify, foster and promote the interests and professional development of women working in the aerospace industry and other related sectors; to be a networking platform for women and men in the aerospace industry and other sector areas related to aerospace; to advance aerospace education for women in schools, colleges, and universities; and to develop alliances with aerospace associations (provincially, federally and internationally) and other relevant associations across Canada and globally. Eva is currently the Director of Boeing Program Management at UTC Aerospace Systems Landing Gear in Oakville, ON. She and Bill Foster (18329, Class of '92) live in Oakville with their three kids – Emi (7), Ken (3) and Willa (1). eva.martinez@utas.utc.com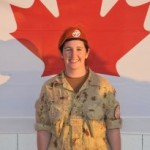 22836  Lt.(N) Lisa Shields, Class of '04 is stationed in the Sinai Desert in Egypt, as part of Operation Calumet. Her role is that of a managing engineer, which looks after engines and electrics of a ship, among other things, while the ship patrols the coastline. Canada has 28 personnel stationed at the El Gorah camp.
There have been several highlights in her career, starting from her first deployment in 2008. She served as a junior engineer on HMCS Toronto, which spent a month in the Canadian Arctic on Operation Nanook. The mission was a sovereignty patrol, and worked with helicopters and submarines to conduct Search and Rescue training scenarios in the arctic environment.
Later that summer she spent a month and a half in the Caribbean on Operation Carribe, a counter narcotics operation. In the summer of 2009, she sailed with the NATO fleet, with ships from the USA, Germany and Denmark.