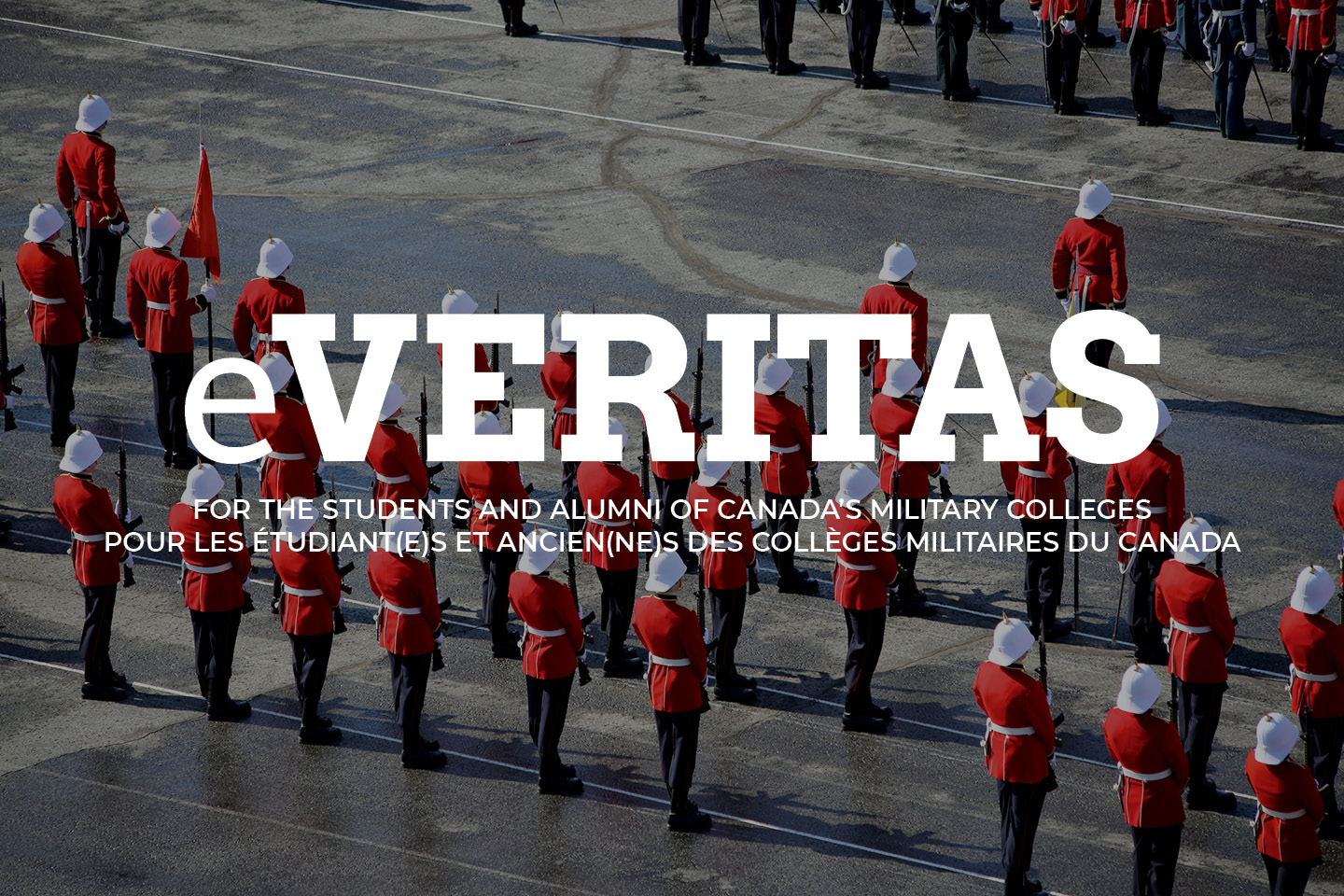 Ex-cadet tops MARS course
A/SLt 24498 Noelani Shore (RMC 2009)
After three months of hard work, Acting Sub-Lieutenant 25458 Jackie Ghanam (RMC 2012) finished on top of her MARS III course.
She was awarded the John F Kilner Trophy which was donated by Mrs. Denise Kilner in remembrance of her late husband, Lieutenant-Commander John F. Kilner. It is awarded to the student who, during MARS III, displayed the highest level of excellence in navigation and academics.
Just weeks after graduating from RMC, A/SLt Ghanam moved across the country to being her trade qualifications as a MARS officer at the Naval Officers Training Centre VENTURE at CFB Esquimalt.
Under the training plan, candidates spend 10 weeks on Naval Environmental Training Plan (NET-PO) to familiarize themselves with the naval environment and life at sea. They must then complete three months of MARS III, followed by five months of MARS IV.
This intensive training plan includes introductions to navigation, rules for collision avoidance, relative velocity problems, mental math, as well as determining tides, currents, and astronomics.
"The academic phase of MARS III was not too difficult, but the all material was new," A/SLt Ghanam explained. "RMC made sure we were well-rounded in our studies, but I'd never seen any of this material in any other course I had taken before. The closest overlap was from an Oceanography course, which was somewhat helpful. In general, there was a lot of memorization needed for the academic phase."
The academic phase is followed up by two weeks at sea on the ORCA training vessel for a practical application of the skills the students learned. They were split into three separate vessels, and sailed around the Gulf Islands, Juan de Fuca Strait, and down into the northwest point of Washington state at Friday Harbour.
"Sea phase went well for the most part. We had a good instructor on our ship. He knew we could really only learn a few things per day because of the information overload. At the end of each day he focused on certain points and learning objectives for the next day. It was a good way to manage the information flow and make sure we got the best out of our time at sea," she said.
Born and raided in Windsor, Ont., A/SLt Ghanam worked as a Reservist for one year at HMCS HUNTER. She was encouraged by her family to join the reserves and go through basic training.
"It wasn't a requirement for my sister, brother and me to stay in the military, but we had to at least go through basic training to see if it was something we'd be interested in," she said. "My parents encouraged us to be self-sufficient and independent."
There is a history of military members in her family, as her mother, father, brother, sister, aunts, and uncle are, or have been, members of the CF.
A/SLt Ghanam graduated with an Honours Degree in Military and Strategic Studies, and she feels that her time at RMC prepared her for her future career as a MARS officer.
"RMC taught me some key work habits that helped during MARS III. In school, it was our job to go to class, learn the material, consolidate the lessons, and be tested. This forced me to develop good study habits and learn to time manage," she explained. "In my program, there were a number of presentations in the later years, which helped me be more confident speaking in front of people, hit key points, and think on my feet."
She was a member of the Debate Club for three years at RMC, and because it's a fairly small club, there are more opportunities for positions of responsibility. In her third year, she was the Internal Vice President, and her role was teaching newer members the format required, points they needed to hit, and general mentoring. A/SLt Ghanam also acted as a judge in some tournament debates.
"There were lots of opportunities for public speaking in that club, and we had to manage how much time we spent making certain points, which meant that we had to organize our thoughts and think on our feet. Only the first speech can really be planned; from there, we have to improvise and work off what our opponents and teammate bring up," she said. "That's a useful skill as a MARS officer because as Officer of the Watch, it's critical to react to new situations and quickly make decisions."
A/SLt Ghanam's family is very proud of her for topping the MARS III course, and while MARS IV will be another set of challenges, "I feel as prepared as I can be for the next course."