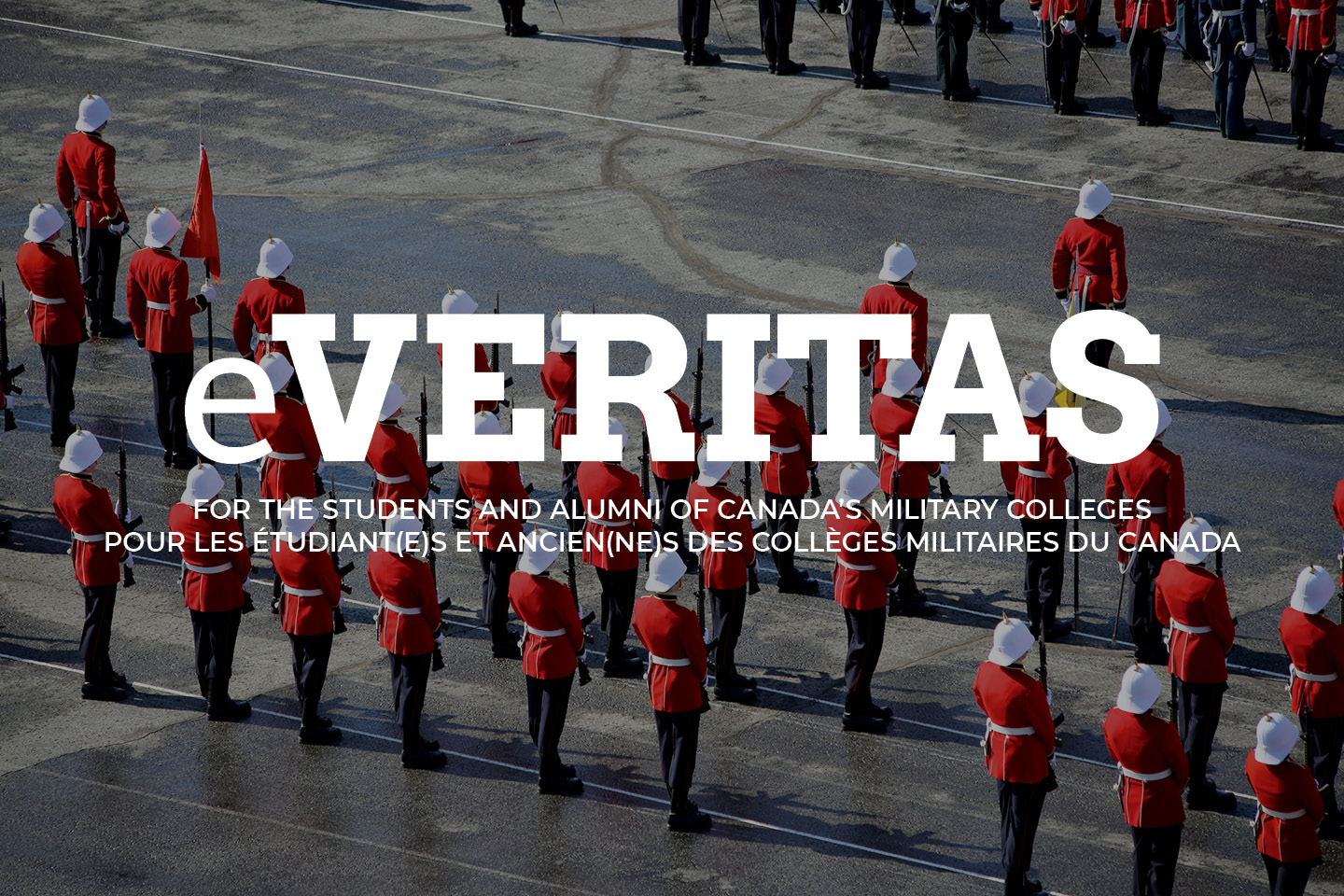 CLASS NOTES:
Help us to keep you and your buds up-to-date: Send us current info – william.oliver@rmc.ca This section "Class Notes" is about habitual, casual reading to see who else among your peer group is grabbing headlines, making a difference. No experience / event is too big or too small.
8307 Paul Larose-Edwards, Class of 71, a legal and political practitioner on international issues such as human rights, democracy, governance, peacebuilding and peace operations. He earned a LLB Honours International Law and a LL.M. International Human Rights Law, University of Wales. He has been on missions to Kosovo, Rwanda, Mozambique, Tanzania, Uganda, Zambia, Zimbabwe, The Gambia, South Africa, Yemen, India, Malaysia, Thailand, most of Western Europe, Croatia, Australia, New Zealand, Cook Islands, Western Samoa, Papua New Guinea, St.Kitts, Trinidad, and St.Vincent. In 1996, proposed its creation to the Canadian Government and in 1997 was funded by DFAIT to set up and run CANADEM, Canada's civilian reserve which includes a national Roster of Canadians skilled in human rights, rule of law, peacebuilding, democratization, admin-logistics, security, reconstruction, and other field expertise. CANADEM also carries out deployments for the Canadian government. He started his career as an armoured corps officer in the Canadian Army.
9592 Claude Perras, Class of '73, took off his uniform in 2011 having reached CRA 60. Joining at the age of 17, he was able to serve close to 43 years (from August 1968 to July 2011). This period corresponds almost entirely to the period when the designation 'Royal Canadian Air Force' was put on hold. The Unification Act came into effect in February 1968 and Air Command reverted back to RCAF in August 2011. (But Air Force officer cadets wore the RCAF TWs on parade at BOTC in Chilliwack summer 1969!)
Claude flew tactical helicopters (Kiowas and Twin Hueys) in the '70s, '80s and '90s. Some of the highlights included logging over 100 flying hours in the Kiowa supporting the 1976 Summer Olympics in Montréal and surviving EX BRAVE LION in northern Norway in 1986. In 1987, he flew with the Rotary Wing Aviation Unit (Twin Hueys) in the Sinai Peninsula (Multinational Force and Observers). His last flying appointment was CO 450 Helicopter Squadron in Saint-Hubert in 1995 (supporting special ops). The Squadron was disbanded in 1996.
He has served at NDHQ during the last 15 years of his military career working in the Policy Group (Secretary to the Canada-U.S. PJBD), the VCDS Group (Alternative Service Delivery Program) which was followed by a secondment at the Privy Council Office (Security and Intelligence Secretariat). During his last year at PCO, he coordinated the One Year Later report to Parliament regarding the implementation of the National Security Policy announced by the government in April 2004. In 2005, he secured a Reservist Class B contract (yes, double-dipping for six years) with the Infrastructure and Environment Group at NDHQ where he has been handling government-wide environmental issues such as the testing of the Agent Orange herbicide at CFB Gagetown in the 1960s.
Claude was able to sport his third rosette in the hallways of 101 Colonel By during in his last year of service. In elevators and in the gym locker room, to military personnel who seemed puzzled by the seemingly disconnect in having a slim and fit body wearing three rosettes, his line was that he joined at the age of 7 and was only 49 years old!
Claude will complete his second and last civilian casual employment contract in the IE Group in June 2012 and retire in his home town of Gatineau. There might be an opportunity for him to don the uniform one more time. He has indicated to the RCAF leadership his keen interest to be on parade to hand over the 450 Helicopter Squadron Colours to the in-coming CO, when the Squadron is re-activated to fly the brand new Chinook helicopters in Petawawa!
BY AIR TO BATTLE
9982 Mgr Christian Lépine nommé Archevêque de Montréal par le pape Benoît XVI.
Mgr Lépine, qui est évêque auxiliaire à Montréal depuis l'an dernier, succédera ainsi au Cardinal Jean-Claude Turcotte qui a assumé la charge pastorale de l'archidiocèse de Montréal pendant 22 ans.
Le cardinal Turcotte a offert sa démission l'année dernière après avoir atteint l'âge de 75 ans, conformément au Code de droit canonique. En acceptant la démission du cardinal Turcotte, le Saint-Père a également annoncé qu'il le nommait administrateur apostolique de Montréal jusqu'à la prise de possession canonique du nouvel archevêque.
Né à Montréal en 1951, Mgr Christian Lépine a fait ses études au Collège militaire royal Saint-Jean (classe d'entrée 1969), puis à l'École Polytechnique et enfin en politique avant d'entrer au Grand Séminaire à l'âge de 25 ans. Il s'est consacré à des études en théologie à l'Université de Montréal et en philosophie à Rome. Ordonné prêtre en 1983, il a d'abord exercé son ministère presbytéral en paroisse, à Saint-Joseph-de-Mont-Royal et à Notre-Dame-des-Neiges, pour ensuite travailler au service du Vatican, de 1998 à 2000. De retour au Canada, il a été directeur du Grand séminaire de Montréal. En 2006, il a été nommé curé des paroisses Notre-Dame-des-Champs et Purification-de-la-Bienheureuse-Vierge-Marie.
L'archidiocèse de Montréal, le deuxième en importance au Canada, compte 214 paroisses et missions.
14028 Doug Hoyle, Class of '83, is Director of  Supply Chain, Renin Corporation located in Toronto. He filled various Roles in Army Logistics for 16 years following grad. He obtained his MSc, Operations Research – College Militaire Royal de St Jean 1992 – 1994.
16873 Rodney Keller, Class of '89, General Manager – Public Works at City of Guelph; held a number of leadership positions for over 17 years following his days at RMC including his last tour as Base Commander at  CFB Suffield from 2009 to 2011.
17003 LCol Richard Quinn, Class of '89  is currently the Materiel Group J4 Operations Officer and J4 Supply. He has been nominated as the next Task Force Commander for Operation SOPRANO, the CF mission in support of the United Nations Mission in South Sudan. He will be the lead Canadian officer amongst the twelve CF members and he is double-hatted as the Deputy Chief Logistics Operations Centre for UMISS. Richard is set to deploy for one year as of 15 June. This will be his second year long OUTCAN mission in the past two years as he was posted to OP PROTEUS in Jerusalem from Jul 09 to Aug 10.
17432 Thomas Bradley, Class of '90, was Base Commander CFB Edmonton for the last two years and two months of his military career. He currently is Director-Regional Recovery Coordination Group for the Government of Alberta. He spent November 2007 – August 2008 (10 months) Chief of Operations – Task Force Kandahar.
17613 Robert Sarfi, Class of '91, is managing partner at Boreas Group LLC in the Greater Denver Area. He went off to University of Waterloo after RMC and earned his PhD, EE in 1996. He spent about five years in a few different engineering positions prior to settling in with Boreas in 2000.
18351 Paul Jackson, Class of  '92 is Senior Vice President, Corporate Client Group Director, Senior Investment Management Consultant at Morgan Stanley Smith Barney in the greater Boston area.  Following graduation he spent five years in the Navy in a number of roles: including Surface Warfare Officer, Dive Team Officer, Air Controller, & Divisional Officer.
19377 Amanda Kalhous (nee Munro), Class of '94 moved back to Toronto after taking her release in 1999 and completing an MEng at Dalhousie in May 2001 with her husband 18946 Tom Kalhous (RRMC '93). In 2004 their daughter Emma was born followed in 2007 by a sister, Julia. Amanda joined General Motors Canada in 2005 and has enjoyed a variety of Engineering positions during the last 7 years. Amanda is currently an Engineering Specialist in Infotainment/Telematics and leads a small team in Advanced Technology projects. Amanda also mentors the University of Victoria's team in the EcoCAR 2 advanced vehicle competition. Tom retired from the Navy in 2001 and after a summer of travelling around the world with Amanda, went to work for his father-in-law repairing restaurant kitchen equipment. In 2009 he decided to become his own boss and the family has been enjoying the flexibility ever since.
21064 Rhonda Stevens (nee Eddy) (Class of '98) resides in Comox BC. She is posted to 442 Search and Rescue Squadron as an ACSO on the CC115 Buffalo and is the Squadron Operations Officer. Rhonda is married to Kevin Stevens and they have two daughters Sienna (age 4) and Sara (age 10 months).
22545  Shannon Veurink (Travis) , Class of '03 is currently on Maternity Leave until June but has given notice that she is not going to return to the "outside" workforce in the immediate future. For the past three years she has been a Child Protection Worker – Family Services at Children's Aid Society of Haldimand & Norfolk Children's Aid.   She wants to be home with her children while they're young. The other 'news' is that she was just published in the most recent issue of the New Zealand Journal of Psychology…the article is called 'A Refocus on Foci: A Multidimensional and Multi-foci Examination of Commitment in Work Contexts' (Vol 40, No 3, 2011) and it's based on her thesis from the Psych degree she did in New Zealand in 2004. Shannon credits that her RMC education was really the foundational because she did a Business Major and Psych Minor at RMC, and her study was an industrial psychology topic, merging the two domains.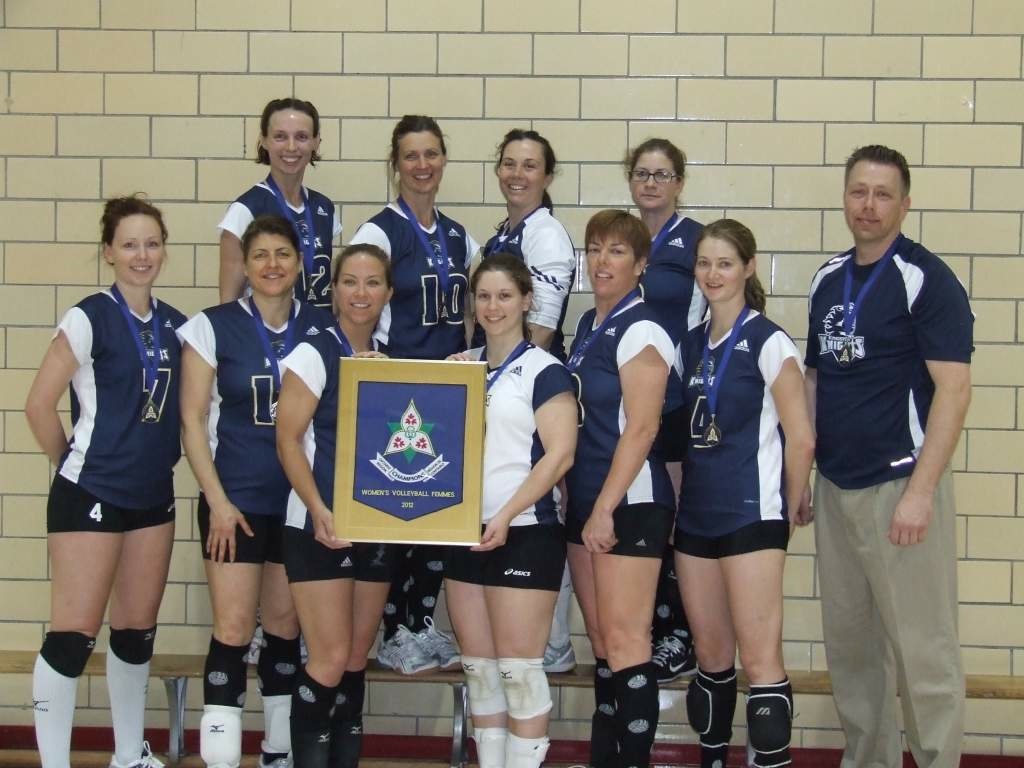 Ex Cadets Play Major Role in Regional Win
Article by 24498 A/SLt Noelani Shore (RMC 2009)
The CFB Kingston Knights, the Base Women's Volleyball team, represented RMC with three ex-cadets and a University Training Plan (NCM) cadet. The team moved through the round robin undefeated at the Canadian Forces Regional Sports Championship in Petawawa last week, and took home the gold.
The team, led by their Coach, Warrant Officer Richard Amos, has been playing together in a league in Kingston since the fall, and their hard work paid off.
"As a coach, the ultimate goal is to win gold, but for me, seeing my players evolve from the beginning of the year to now is success. Winning the gold medal was just the icing on the cake," said WO Amos.
Playing together allowed the team to be well prepared for the tournament, "and it helped build a good team dynamic," explained 23949 Captain Sarah Lemay (RMC 2008), the Libero for the Base team. "We also get the opportunity to increase awareness of CFB Kingston in the local community when we play in the league."
Capt Lemay has been playing volleyball for 14 years, and she was part of the Volleyball Varsity team at RMC for the 2004-05 season. Capt Lemay currently works at 1 Wing Headquarters in the A4 Maintenance section.
22570 Captain Helene Pettis (RMC 2003), 9 Squadron Commander, has been playing on base teams since 2004, and while at RMC, she was part of the Varsity Running Team.
She's played in the volleyball league in town for the past three years, "and I also play hockey and soccer, which keep me in shape," Capt Pettis said. "This is the first time I've won a gold medal at a Regional's, so it's very exciting."
The CFB Kingston Knights faced off against teams from Borden, North Bay, Trenton, and Petawawa in a round robin. The team won three straight sets in a best of five match against Trenton in the semi-finals, and then took Petawawa in four sets in the finals.
"It was a great feeling; we practiced hard, and played even harder," said M0985 Officer Cadet Jennifer Wotherspoon, a cadet at RMC under the University Training Plan (NCM). She's finishing her degree in Military Psychology and Leadership with a minor in History.
"We also had a good coach," she explained. "A successful coach not only understands how to communicate with players in a way that achieves results, but will also effectively guide, inspire and empower their players to realize and develop their individual potential. Having a good coach not only means the difference between having a team that is successful and one that's not, but also one in which the team members excel and thrive," OCdt Wotherspoon said.
The team will get a chance to play together again during the CF National Sports Championship at the end of April in Greenwood, NS.
There are a number benefits of playing with a base team, and according to Capt Pettis, it's an incredibly rewarding experience.
"The level of play is high, and you always seek to improve your game. You get to know the other players very well both on and off the court, and get the chance to interact with other military women of all ranks and units," Capt Pettis said.
______________________________________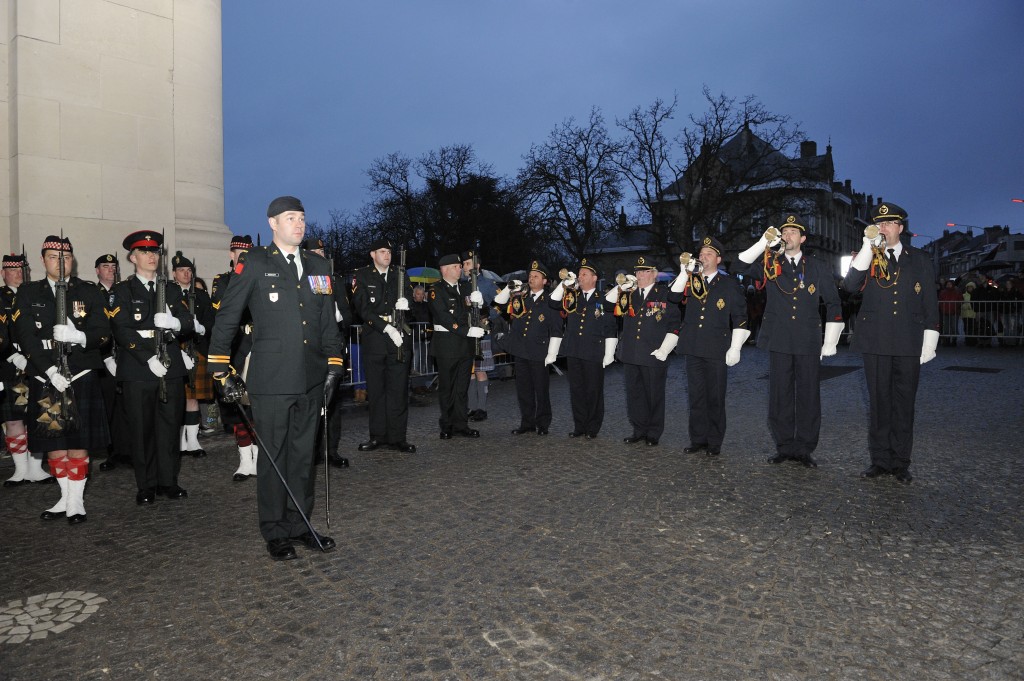 Ex-Cadets on Guard at the 95th Anniversary of Vimy Ridge
By 22198 Capt Enno Kerckhoff, MSM, CD
21357 Maj Sean French, CD and 22198 Capt Enno Kerckhoff, MSM, CD participated in the Canadian Forces Guard of Honour at the 95th Anniversary of the Battle of Vimy Ridge on 9 April, 2012. Representing the CF was a distinct honour for both ex-cadets, who were among the small military presence at the massive event. The guard was composed of soldiers whose units can trace their lineage to the battalions that carried the day at Vimy, now mostly Regiments of the Primary Reserve. Maj French, of 3rd Battalion, The Royal Canadian Regiment and Capt Kerckhoff, of The Royal Canadian Dragoons (currently posted to 1st Canadian Division Headquarters) were the only two Regular Force officers on the guard.
Along with the ceremony at Vimy Ridge, the guard and R22eR band participated in commemorative events at St. Julien and the Menin Gate in Ypres. The Menin Gate ceremony was particularly moving, as the Belgian people have conducted nightly Last Post events to honour the 10,000 Allied names inscribed on the Menin Gate monument. Marching through the city of Ypres to join Belgian buglers in honouring our dead was a poignant reminder of how Canadian sacrifices are still remembered by our hosts.
The last day at Vimy Ridge afforded the guard and band an opportunity to tour the cemetaries and monuments surrounding the Vimy area. This put historical context on the visit as the group saw the rear areas where artillery positions shelled the German trenchlines, walked the trenches and tunnels of the 3rd Canadian Division advance and saw the battlefield from a German perspective in the reserve trenches still visible between the now-grassy shell craters. In tracing the footsteps of the Canadian Corps and such influential Canadian military leaders as Worthington, Burns, Crerar and Currie, the entire group was given a more tangible understanding of the scale of the Vimy attack.
While most news stories in Canada focused on the over 4000 Canadian youth who travelled to attend the Vimy anniversary or the presence of the Governor General and Minister of Veterans Affairs, the Guard of Honour was more than just window dressing on the event. It was an opportunity to expose CF members to the sacrifices of their Regimental predecessors and a reminder to the French and Belgian peoples of the continued importance of these sites for the modern Canadian Forces.
A four-day trip is too short to provide full detail on the scope of the battlefield or to visit all the important sites in our collective military history, however Maj French and Capt Kerckhoff returned to Canada on Wed, 11 April with outstanding photos and memories to pass to their Regimental comrades. The Minister of Veterans Affairs already alluded to the 100th anniversary at Vimy being an event of apprpriate scale and representation; let the bidding begin for positions on the 2017 Guard of Honour!