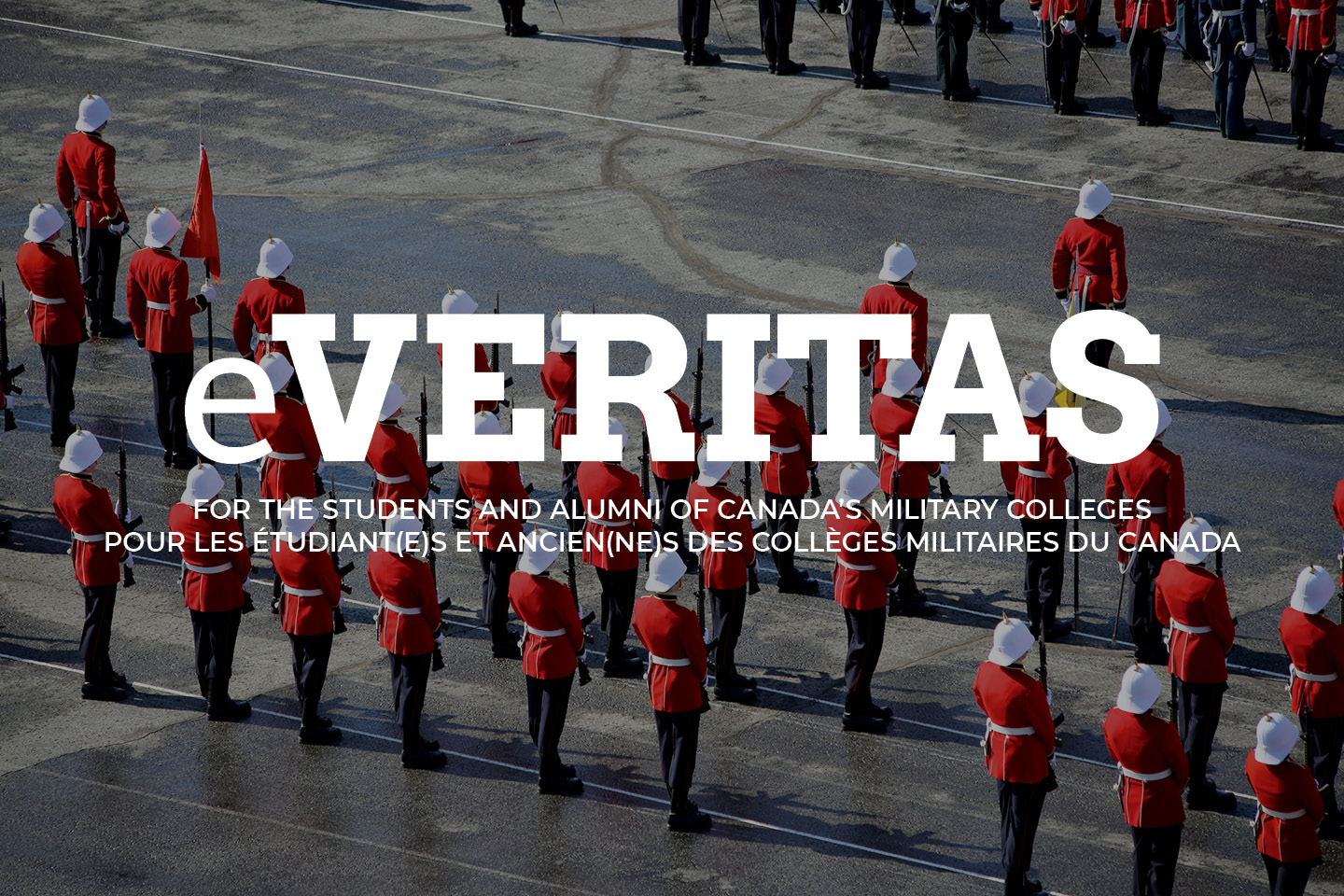 E3161 Victoria Edwards (RMC 2003) interviewed 13201 Captain (N) Paul William Catsburg, who was appointed as Director of the Defence Ethics Programme in 2011 under Chief Review Services.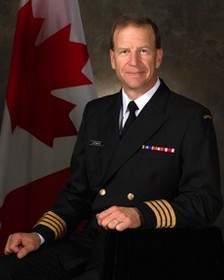 e-Veritas: Which Military Colleges did you attend?
13201 Capt (N) Paul Catsburg: I attended Royal Roads Military College from 1977 to1979. I then attended the Royal Military College of Canada from 1979 to 1981. I graduated in 1981 with a Bachelor of Science in Applied Science. I hold a minor in drill and ceremonial. (Joke).
e-Veritas: What were your main extracurricular activities while at the college?
13201 Capt (N) Paul Catsburg: My main extracurricular activities were all sports. On a long weekend at RR, you could go skiing one day, golfing the next and scuba diving on the third. I was a member of the Varsity Soccer teams at RR and RMC. At Royal Roads we played at Community College level, as well as against select local Universities who weren't members of the league. At RMC we travelled all the time. Since RMC was a member of the Ontario University League, we competed against much larger universities such as U of T, Queens, and Brock. We traveled to the US to compete against Clarkson College and St Lawrence College. We also played against CMR and other CF teams.
e-Veritas: What is your worst memory, if any, from Military College?
13201 Capt (N) Paul Catsburg: Although we won our share of matches, my worst memory was going to the University of Toronto for a Premier Division Ontario University league soccer match. We thought we were going to do reasonably well. The score was 10 – 1 for the U of T, despite a decent RMC squad.
e-Veritas: What are your best memories from Military College?
13201 Capt (N) Paul Catsburg: My best memories involved having the opportunity to learn and experience Scuba Diving at RRMC, a memorable activity shared with great friends in a West Coast setting that boasts world class diving – wonderful! After learning to scuba dive in the Royal Roads pool, a trusted buddy and I began cold water open water diving year round in the open ocean on the coast of Vancouver Island. Over the course of a typical dive, we might see anemones, rock fish, orange sea pens, nudibranch, seals, octopus, crabs, and kelp beds.
e-Veritas: Your former ship, the HMCS Saskatchewan, is now a popular artificial reef for scuba divers.
13201 Capt (N) Paul Catsburg: Yes. As Marine Systems Engineering Officer, I sailed in Her Majesty's Canadian Ship Saskatchewan, then a Navy destroyer escort. The Artificial Reef Society of British Columbia (ARSBC) did extensive work to make the Saskatchewan diveable. The ship was de-oiled, contaminants were removed, and many access holes were cut the length of the ship. She was sunk in 1997 near Snake Island, just outside of Nanaimo Harbour.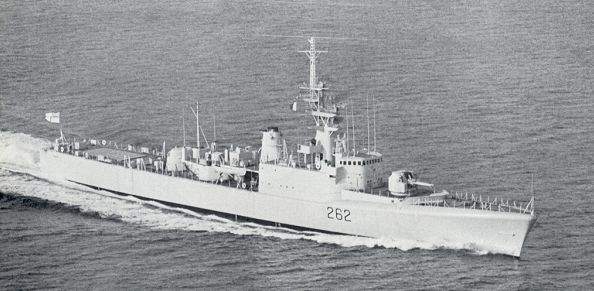 e-Veritas: What have you been doing since you graduated?
13201 Capt (N) Paul Catsburg: Since graduating, I have been sailing to interesting worldwide destinations. I have met diverse and interesting folks. I have worked at my profession. I have been raising a family and trying my best to contribute to the defence and local communities.
e-Veritas: You served in a number of marine engineering positions domestically and abroad.
13201 Capt (N) Paul Catsburg: Early on I focused on the applied aspects of my chosen occupation, marine engineering, and was fortunate to have enjoyed a number of thoroughly challenging positions, including Marine Systems Engineering Officer of now payed off HMCS Sakatchewan, and exchange officer at the Royal Naval Engineering College in Plymouth, England – teaching marine transmissions systems. After some time in NDHQ performing engineering and personnel work I was fortunate to have another exchange opportunity with the United States Navy, working for the Supervisor of Shipbuilding at Pascagoula, Mississippi, to oversee the construction of Arleigh Burke Destroyers in preparation for delivery to the US Navy. Thereafter I returned to the East Coast as the Business Manager at Fleet Maintenance Facility Cape Scott, followed by a tour as the East Coast Fleet Technical Officer. Then back to the West Coast as Commandant of Canadian Forces Fleet School Esquimalt. Then it was back to Ottawa as Director of Maritime Personnel, then to Canadian Expeditionary Force Command as Assistant Chief of Staff and finally as Director of the Defence Ethics Programme.
e-Veritas: Did you expect to remain in marine engineering for your entire career?
13201 Capt (N) Paul Catsburg: In retrospect I would have to say that I have been very fortunate to have been given such diverse and interesting / challenging opportunities. When I started the CF journey I had an expectation of remaining in the "marine engineering family", so to speak, where the pinnacle would be ship's engineer and CO positions at shore support organizations. However, as you gain experience and understanding of the bigger picture you come to realize that you can branch out to international or CF wide positions that challenge your skills and abilities to the utmost.
e-Veritas: How have you balanced work with the personal side?
13201 Capt (N) Paul Catsburg: On the personal side I supported my spouse in the raising of our two children during all the moving and re-adjusting. These were growth opportunities for everyone, while also being difficult at times since the family support base was one of self-reliance. However, we made a tremendous number of good friends in interesting postings and shared some wonderful experiences – on the whole I believe that it was a journey worth taking and one that we would repeat if the opportunity arose anew. (I'd need to get a blessing on that one from the family!)
e-Veritas: Where exactly have you served?
13201 Capt (N) Paul Catsburg: I served in several Canadian cities or bases: Ottawa- twice, Halifax – twice, Esquimalt – twice, Saint John NB, Plymouth, UK and Pascagoula, Mississippi USA.
e-Veritas: How did you and your family come to be evacuated to Texas while serving in Pascagoula, Mississippi, USA?
13201 Capt (N) Paul Catsburg: I was selected for exchange duties with the United States Navy, Supervisor of Shipbuilding, where I was the AEGIS project production Officer responsible for the naval overseeing of the Arleigh Burke Destroyer Class at Ingalls Shipbuilding in Pascagoula Mississippi. My young family loved the warm Gulf coast climate: we went fishing, swimming, snorkelling and boating near the barrier islands. Since the area is prone to hurricanes and tornadoes, we tuned to the weather situation from May-Nov. During one of the hurricanes, the families evacuated west to Texas. The single naval personnel evacuated to Meridiam in Northern Mississippi. Ships went to sea with a skeleton staff and the shipyard was shut down.
e-Veritas: At RMC, the curriculum emphasizes ethics, for example: Professional Ethics and Defence Management (DM527); Business Ethics (BAE422); Leadership & Ethics (PSE402); Military Professionalism & Ethics (PSE401B); Social & Ethical Issues Of Business (MBA577); Military Ethics (WS527). http://www.rmc.ca/aca/ac-pe/gsc-adc/gsc-aes-eng.pdf
13201 Capt (N) Paul Catsburg: The defence ethics programme incorporates essential elements of the "Values and Ethics Code for the Public Service" and the CF's military ethos as described in "Duty with Honour". It also emphasizes other values such as courage and responsibility for military personnel, and "impartiality" for public servants. The defence ethics programme is in keeping with the goals and ethical culture of the Canadian Forces. Education and training to that standard are the keys to the success of the DEP, and an ethically sound Defence workplace.Ethics courses at RMC use lectures, practical exercises, case studies, and small group discussions to explore professional ethics. Students apply decision-making tools to resolve ethical scenarios, and subject matter experts provide evaluation and feedback based on experience and published research. Given the universality of service principle that all members of the CF must satisfy, officers need a deep understanding of ethics. The courses at RMC are a foundation that supports our mandate to conduct leadership to the highest ethical standards. Ethics in DND is a wide topic. The RMC curriculum therefore explores ethics in the context of command & leadership, business & procurement, and military operations across the spectrum of conflict.
e-Veritas: The International Society for Military Ethics (ISME) provides a forum for the discussion and exchange of ideas relating to professional military ethics.
13201 Capt (N) Paul Catsburg: The Director of the Defence Ethics Program is on the advisory board of the ISME. Unfortunately my predecessors were unable to support / participate due to a number of factors, including budgetary considerations, differences in the US approach vs. the Canadian approach to Military Ethics, and subjects of interest to Canada vs. Allies. My intent is to re-engage in this activity, again subject to budget and topics of interest to the DEP. The next meeting is scheduled for 2013 and could provide topics of interest since Defence Ethics is a wide field and differing approaches normally provide "food for thought" for our own programme. I encourage alumni and students to respond to the call for papers.
e-Veritas: The Journal of the Defence Ethics Program has a call for papers.
13201 Capt (N) Paul Catsburg: The Journal welcomes the submission of manuscripts that meet the general criteria of significance and academic excellence, and will publish work that reflects subjects in military ethics, leadership ethics, public-service ethics, or other important ethics issues related to either military or civilian personnel. Submissions or suggestions should be emailed to Ethics-Ethique@forces.gc.ca.
e-Veritas: How did you come to manage the Royal Naval Engineering College squad that won the Navy Cup, the only Royal Navy officer team to have this honour?
13201 Capt (N) Paul Catsburg: After graduation from RMC marine engineers are required to take applications training. Back in 1982 it was conducted by the Royal Navy at the Royal Naval Engineering College (RNEC), then located in Plymouth, UK. As a student I joined the college soccer team and enjoyed "English football" in the land where the beautiful game was conceived. Fast forward to 1989 and I was posted back to RNEC as course officer for a three year posting. At that time I rekindled my relations with the soccer club, only to be advised that the incumbent manager was being posted in short order. So this time I was recruited into the managerial position, in lieu of playing competitively. We were fortunate to have assembled two fine teams that competed in the Devon Leagues and also the military inter-services competitions. At the time RNEC was hosting many nations for engineering and applications studies, including Australians, Kiwis, Omanis, Germans, Saudi Arabians, Iraqis, and Norwegians etc. The very best players were selected to play for the College teams and in 1991 the first eleven or senior team were fortunate enough to succeed in winning the Navy Cup.
This is an open competition of all UK naval units and is fiercely competitive; in the professional realm it would be equated to the UK's Football Association Cup, where all nationally registered teams are eligible to compete for the FA cup. With a gifted squad and a little bit of luck our team was victorious in the final and earned the distinction of being the first officer team to have won the Navy Cup. From there we went forward to play against the winners of the Army and Air Forces, but did not fare as well as in the Navy Competition. Nonetheless, a most memorable season with a great result overall.