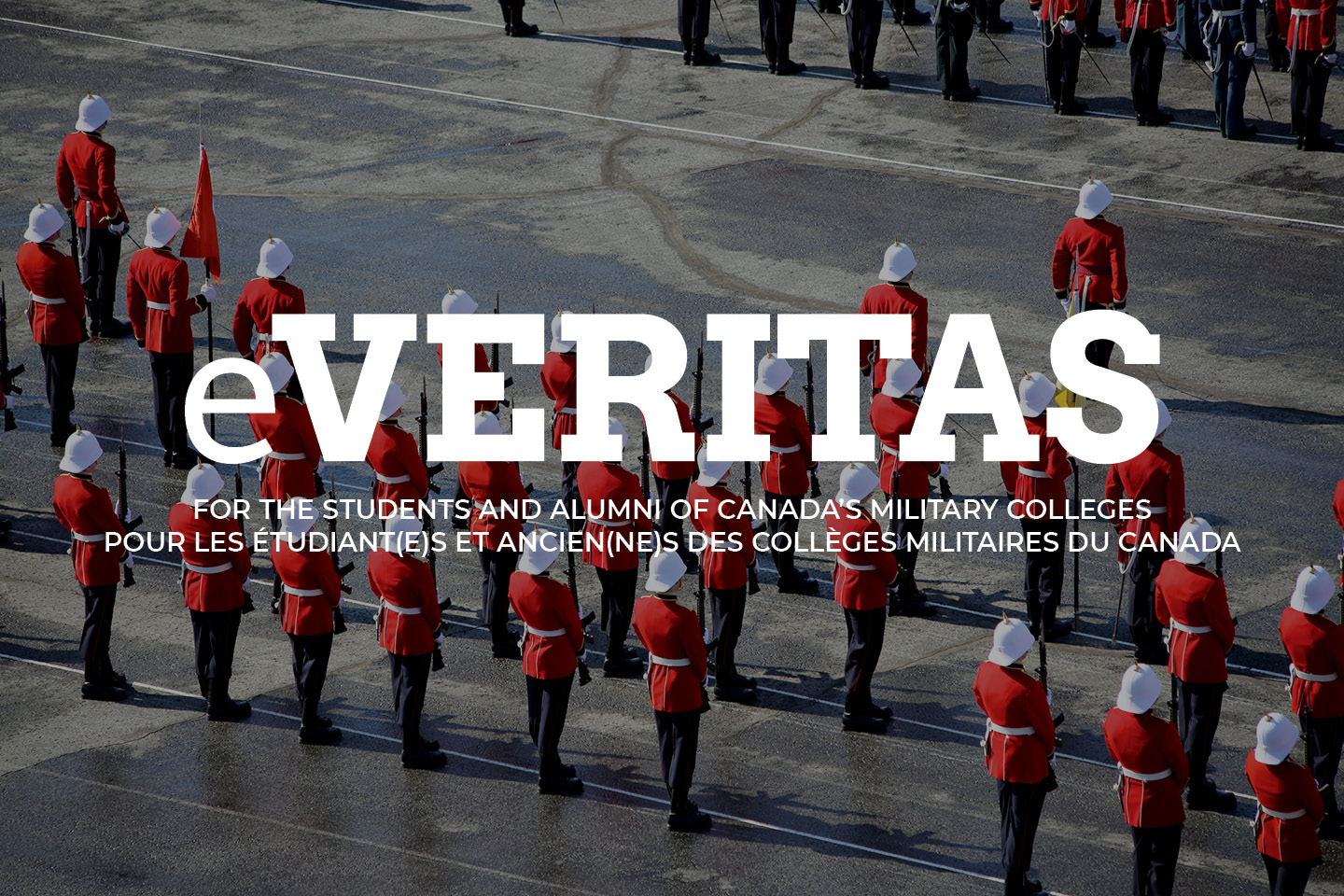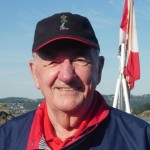 #3201 Austen (Aus) Cambon, RMC Class of '54, (photo left) continues to enjoy teaching business programs in colleges and universities , domestically and internationally. Following retirement from CEO-level assignments in the corporate world, Aus worked for a number of years as a management consultant including on projects in the Middle East for the United Nations Industrial Development Organization and in China for the Association of Canadian Community Colleges. He has been teaching international business students in China, Lebanon, the USA, and Canada for the past fifteen years. Aus currently teaches in the Faculty of Business, Humber Institute of Technology and Advanced Learning, in Toronto.
3342 Craig Moffatt, received the Class of '55  Secretary torch from 3384 Charlie Kingston in December 2011. Charlie has developed some health issues over the past year and was looking for a successor to take on the task he has handled well for 55 years.
5725 Jim Megill, Class of '63, organized and established The Canadian Association for Mine and Explosive Ordnance (CAMEO) Security in 1997; Jim is the Executive Director of this not-for-profit registered charity, whose mission is to do humanitarian land mine clearance in war-torn societies.
8439, Sunny Marche, Class of '70, a Professor – Faculty of Management at Dalhousie University is currently in the second half of a sabbatical which means a much different intellectual engagement for the native of Winnipeg. Sunny earned his PhD in 1991, London School of Economics • Information Systems.
12680 Neil Knapp, Class of '80, retired last month after 35 years of loyal and dedicated service to the Canadian Forces and the communications and electronics branch. Neil has taken up an engineering position within the public service supporting the ground based information system related to the next generation fighter capability project.  During his career he served at CFS Beausejour, ADM(MAT) LCMM AETE/PETE, CFS Baldy Hughes, Air Command NORAD modernization requirement, 4 Wing WTISO, NDHQ D Air Prog and finally NDHQ, ADM(MAT) RADAR & Communications Systems.
13069 John Baker, Class of '81 is wearing many hats these days. Among them: he is a Partner and Chief Executive of Aperio (Toronto/New York), the management consulting company that fosters social sector innovation.
15008 David Morgan, Class of '85, currently works as a Certified Investment Management Consultant. Since his retirement from the Regular Force in 2001, the province of Quebec native has been involved  in a number of positions with the Reserves, serving in the Commanding Officer role since 2007 with 37 Svc Bn and 31 Svc Bn in Saint John, NB. He lives in Moncton, NB, with his wife Jan. Their two children are now in university, Alex at Queen's in Kingston, and the other, 26173 Emily Morgan, at RMC Kingston. Emily is a member of the Expedition Club and was a part of the team that recently climbed Mount Kilimanjaro in Africa.
16178 Martin Bédard, Class of '88, Integrated Logistic Support (ILS) Manager in, NDHQ –  DGMPD(L&S), was recently awarded an ADM(Mat) Merit Award in recognition of the outstanding leadership and passion he demonstrated in the development and implementation of the life-cycle support concept for the Tactical Armoured Patrol Vehicle (TAPV) project.
16990 Steve Nash, Class of '89, Owner, Traditional Excellence in Kingston, has recently made himself available as an advisor and supervisor for the RMC Expedition Club, and will be assisting in the creation of the Expedition Selection Process and Fitness Program, in order to ensure that teams of cadets embarking on journeys to the ends of the Earth are able and prepared.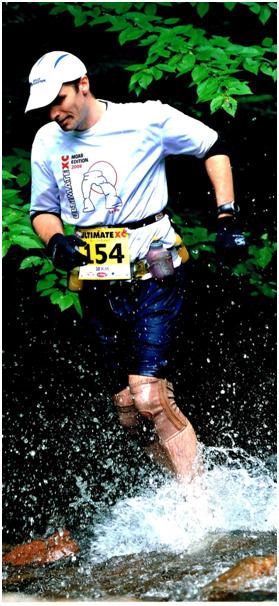 With two of his running friends, 17768 Bruno St-Pierre (photo left) will be in Morocco from April 6 to April 16 to rise to the challenge of a lifetime by taking part in the 27th MARATHON DES SABLES, known as one of the most demanding footraces in the world. They will have to draw on their mental toughness and on their determination to cover the distance of nearly 250 kilometers across some of the hardest, most difficult and inhospitable terrain on the planet, the Sahara Desert.
In preparation for the Marathon des sables, they have raised more than 11,000$ in less than four months for the Quebec Federation for Autism, an organisation defending the rights of people with autism and their family. Their dedication to the cause will enable the Federation to produce a guide helping families who have children with autism.
During the event, the three runners will keep in mind that going beyond their limits will be necessary, which is exactly what people with autism and their family have to do every day. Bruno knows it all too well since one of his children has autism.
If you would like to make a donation or to follow Bruno and his friends during their adventure, please visit: www.mds2012autisme.com.
Bruno St-Pierre    bstpierre@sba-inc.qc.ca
22149 Kevin Kozak, Class of '01, is currently having fun flying CC-144 Challengers at 412 (T) Sqn in Ottawa. He was recently engaged to fellow '01 classmate 21929 Paige Charbonneau (Retired from the CF and currently in 3rd year Dentistry at McGill) and they have plans to tie the knot in August of this year.
22471 Shannon Goudie, Class of  '02, spent any spare time he had over the past six months coaching a Peewee AA team in the Ottawa area. His group finished the regular season with a record of 23-4-3, which was good enough for second place. They won their first round of the play-offs but lost a tough semi-final series against Nepean. The former Paladin team captain from St. Anthony, NL  scored the overtime winning goal in a 3-2 come-back against West Point in 2002. "Gouds"  has always been considered a student of the game and surely has much to offer elite young hockey players.
22909, Kevin Dulude, Class of '04, recently retired from the CF after 11 years of service. Kevin completed an MBA at HEC Montreal during his final posting and has recently moved back to his home town of Ottawa where he is now pursuing a JD at U of Ottawa. This summer, he will be working for one of Canada's leading Employment Law Firms, Emond Harnden LLP. Kevin is also very proud to announce his recent engagement with Mylène Gagné and looks forward to their upcoming wedding on August 18th, 2012.
23803 Jennifer Donofrio, Class of '07, deserves congratulations. The former RMC Paladins star basketball player moved to Alberta last summer and is now the coach of the Olds College Women's team that competes in the Alberta Colleges Athletic League. Her squad recently finished their perfect season (15-0) with an ACAL Gold Medal. Jennifer also earned the ACAL Coach of the Year Award. Pretty impressive first year start!
24598 Caitlin Clapp, Class of '10, is a MSc Chemistry & Chemical Engineering candidate at RMC. She will defend her thesis "Characterization of the Bax Suppressor 14-3-3β/α as a Possible Anti-Programmed Cell Death Gene" at RMC in the near future. Last summer she was at Portage La Prairie, Manitoba, for Phase 1 of Pilot Training, and following her successful thesis defense, she will be posted to Moose Jaw, Saskatchewan for Phase 2 Basic Flying Training. After that she will be assigned to one particular aircraft stream (fast air, fixed wing, or rotary). She is still "on the fence" about which stream she would prefer.
24868 Steve Burry, Class of '11, is enjoying Halifax. He is currently living with three "buds" – 25000 Kevin Bowness, 24768 Matthew Stokes, and 25132 Matt Wookey. Steve is a Naval Officer; however, his passion is flying. The former 4 Squadron CSL  mentioned in a recent e-mail: "I fly every weekend and it looks like I'll be able to get a civilian flying job on the weekends soon." In the meantime, he is due to be posted to HMCS IROQUOIS in June, and he expects his summer will be quite busy abroad.
25027 Adam Masood, Class of '11, is a former Reserve Entry Training Program (RETP) cadet who switched over to the Regular Force a few month ago. He is currently on the AERE Orientation Basic Course at CFB Borden, ON, as well as going to the gym and getting back in shape after 4 study-filled years of Mechanical Engineering. He recently returned from trips to Egypt and China and is hungry for more travel.