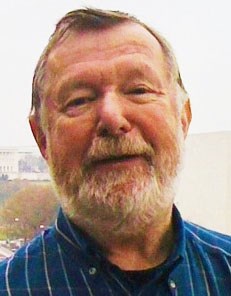 5514 Carl Rose, RMC Class of 1962
It is with great sadness that we announce the passing of a devoted husband, father, grandfather, brother, uncle and friend, Carl Rose. Carl passed away Wednesday, February 22, 2023 at the age of 83. He will lovingly be remembered by his children and 7 grandchildren: John (Tina), Deanna (Rob) and Erik (Tobey), and his sister Deanna and her families.
Carl was born in Port Hope, Ontario on June 27, 1939. He graduated from the Royal Military College in 1962 and served in the Royal Canadian Navy. His dedication to serving his community continued well after he left the military.
Carl was a math and science teacher and found great satisfaction teaching in the Academic Upgrading program at Confederation College.
An active member in the Thunder Bay community, Carl was a member of Lakehead Unitarian Fellowship, sang tenor with the Thunder Bay Symphony Chorus and Silver Sounds. He would often be seen attending plays at Magnus or the concerts at the Thunder Bay Community Auditorium.
Always curious and concerned about the environment, Carl was active with the Thunder Bay Field Naturalists and ran locally as a Green Party candidate. Carl was a true activists on a variety of issues at the local, provincial and national levels. His involvement extended well beyond this list but he was in every respect a patient and respectful teacher always taking time to help others.
Carl was diagnosed with Parkinson's almost 2 decades ago, but that didn't slow him down. While always active, he fought hard against the inevitable. Carl continued to travel, hike, bike, cross country ski, play hockey, practiced tai chi, among others. He was a dedicated and loving husband, and ultimately caretaker to his wife, Carol Bernhardson, who passed away in 2010 from ALS. He did not dwell on his limitations as they progressed, and was, and will remain, a true inspiration.
We'd like to thank the wonderful staff at St. Joseph's Care Group as well as the healthcare workers/ friends from Comcare, Bayshore, among others, who helped with his care in later years. Based on our experience, we cannot say enough about those individuals who work in the healthcare field and strive day-in and day-out to help others.
A Celebration of Life will be held in the near future organized by Lakehead Unitarian Fellowship.
Donations can be made to Thunder Bay Field Naturalist – Nature Reserves program (https://tbfn.net/product/nature-reserves/), Lakehead Unitarian Fellowship (https://luf.ca/get-involved/giving) or the Charity of Your Choice.
---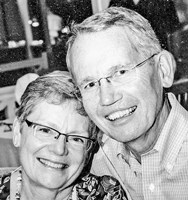 H5604 Ken Smee, RRMC RMC Class of 1962
KENNETH SMEE 1940 – 2023 After a courageous battle with cancer, Kenneth Alfred Smee died peacefully on May 10, 2023 with his family by his side. Ken left us to join the love of his life and best friend, his late wife of 48 years, Willie (2013). He is survived by his mother-in-law, Willie Ruben; his siblings Gwendie, Doug, Tom and Linda, their spouses, Frank, Jen, Ellen and Ken; his brother-in-law Rudy and his wife Reina; his three beloved children and their spouses, Andrew and Yvonne, John and Kate, and Caroline; his eight adored and adoring grandchildren Madeleine, Charlotte, Sami, Lindsey, Michael, Dean, Ian, and Gabriel; and, many loving nieces and nephews. Born in Pincher Creek in 1940, he grew up in Lethbridge and graduated from the Royal Military College of Canada in 1962. He continued his education at McGill University, where he met Willie, and where he earned an MSc in Physics. He served in the Artillery in Petawawa and Cyprus, and was on the faculty at RMC for five years. After leaving the Canadian Armed Forces, he obtained an MBA from Queen's University in 1971. He then joined Alcan for several years after which he began his long successful career with Royal Bank of Canada serving in a variety of roles from Comptroller and Chief Accountant to President, Royal Bank of Puerto Rico, and ultimately as Executive Vice-President, Systems and Technology. After retiring from RBC in 1997, he served on the board of directors for several companies. Always an active contributor to his community, Ken was a member of the RMC Club, Chairman of Queen's University School of Business Advisory Council, and Chairman of the Conservation Foundation of Greater Toronto. Ken was an enthusiastic member of the United Church, first at the Mount Royal United Church, then Oriole York Mills, and now Eglinton St. George. A wonderful person, Ken was happiest spending time with family and friends and traveling the world to experience new cultures and to see his grandchildren. He was the consummate good sport. No fan of running from his military training days, he nevertheless took up running in his 60s to join Willie, his children and grandchildren on many 10k races. He loved adventures and was curious about the world, becoming a wine expert after many trips to France with Willie and their friends. He and Willie also enjoyed many long walks on the Camino de Santiago where they made many friends from all over the world, a tradition he continued after her passing. Ken was kind, generous, funny, intelligent, loving, and cultured. Interesting to talk to, Ken will be sorely missed but leaves us to be with his cherished Willie. The family will receive friends at the Humphrey Funeral Home A.W. Miles – Newbigging Chapel, 1403 Bayview Avenue (south of Davisville) from 6:00 – 8:00 p.m. on Friday, May 19th. The service in celebration of Ken's life will be held on Saturday, May 20th at 1:00 p.m. at Eglinton St. George's United Church, 35 Lytton Blvd., Toronto, with a reception to follow. Memorial donations may be made to Eglinton St. George's United Church or to the RMC Alumni Association (http://weblink.donorperfect.com/KenSmeeMemorialFund ). Condolences may be forwarded through www.humphreymiles.com.
The Class Obituary can be found here.
---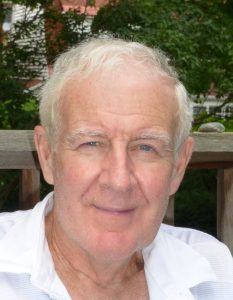 4873 Robert Henry Brett, RRMC RMC Class of 1960
Colonel Robert Henry Brett, "Bob" died on May 1, 2023 in Ottawa, Ontario at age 84, following a battle with multiple myeloma and dementia.
Bob was a devoted husband to his wife Jean (née MacRae) of 53 years until Jean's death in 2017. Bob is survived by his children Tamara (Scott Colbourne), Allan (Kathleen Marsman) and Sue (Stephane Boileau), and his 8 grandchildren: Stephanie, Nathalie and Melanie Colbourne, Ella and Dylan Brett, and Michelle, Kristine and Mathieu Boileau.
Bob was born August 7, 1938 in Simcoe, Ontario to Malcolm and Nancy Brett (née Wood). Bob attended the Royal Military College of Canada and Queens University, obtaining a degree in Chemical Engineering. He went on to have a successful career in the military (RCAF). Upon retiring from military service, Bob became a Real Estate Agent before accepting the full life of a retiree. Bob and Jean enjoyed travelling, playing tennis and bridge, and having their morning coffee together.
Bob had many passions and interests, including tennis, golf and skiing. He was also an avid bridge player and became a life master. He worked hard and played harder. He was known for his intelligence and his sharp wit, and he loved to debate.
A funeral service will be held on May 23, 2023 at Beechwood Funeral Home (280 Beechwood Avenue, Ottawa) with visitation at 1 pm, memorial service at 2 pm, and interment at 3 pm. A reception follows from 3 – 5 pm. In lieu of flowers, the family requests that donations be made to the Canadian Cancer Society.
Rest in peace, Bob. You will always be remembered and loved.
---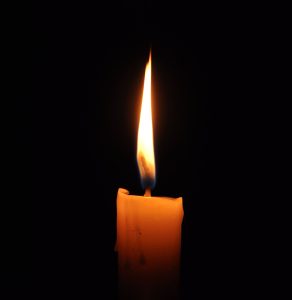 12068 John Terrence Goldie 
Passed away on Saturday, April 29, 2023, in Kitchener, Ontario, from sudden health complications. He was 66 years old. John was born in Goose Bay, Labrador, on June 4, 1956, to parents, Thomas James and Mary Irene (MacPhee) Goldie. In his younger years, he lived in Montreal, Quebec, and Petitcodiac, New Brunswick, where he graduated from high school. He would then go on to joining the Royal Canadian Navy which included his attendance at the Royal Military College. Lieutenant Commander John Goldie's distinguished Naval career spanned 37 years of honourable service onboard HMCS West and East Coast ships: Kootenay, Restigouche, Terra Nova, Toronto, as well as postings to CFB Esquimalt, Halifax, CFS Aldergrove, NDHQ in Ottawa. He served during several global deployments/conflicts including the Gulf War. A conscientious, dedicated, and responsible serviceman, his talents, knowledge and expertise were recognized early in his career and enabled him to rise quickly through the ranks and to being commissioned from the ranks. This unique vantage point, coupled with his devoted leadership and untiring contributions, earned him the respect of a seasoned Naval Officer. In his spare time, John took joy in camping, hiking, cycling, reading, travelling, and spending time with family. He would often go for long drives and always managed to find a dirt road to go down. John loved stopping at local diners wherever he drove just to try new dining places. More famously, he liked to go to the movies and was known as an avid watcher of westerns, 007, and war movies. He was also an active member of the Knights of Columbus and Scouts Canada. He will always be remembered as a loving husband, father, brother, and grandfather. John is predeceased by his parents, Tom and Irene Goldie; infant sister, Anne Irene; and his brother, Peter. He is survived by his wife, Susan of Kitchener, ON; his daughter, Laura Maskell (Barry) of Dartmouth; his grandson, Colton Maskell; his son, Alex of Coquitlam, BC; and his former spouse, Donna Haynes. He is also survived by his brothers, Brian (Margie) of Greenwood, Don of Halifax, Harvey (Brenda Riley) of Antigonish, and sisters, Mary Flemming (Larrie Davis) of Innisfail, AB, Peggy Smith of Halifax, NS, Teresa (Phil Rivers) of Edmonton, AB, many nieces and nephews, and his stepchildren. Funeral Mass will be held at 12 p.m., on Friday, May 19th, at St. Joseph's Church in Shad Bay, NS, with Father Earl Smith officiating. Reception to follow at Prospect Rd Community Center, In remembrance of John's life, the family asks that any charitable donations be made to Diabetes Canada or the Kidney Foundation
---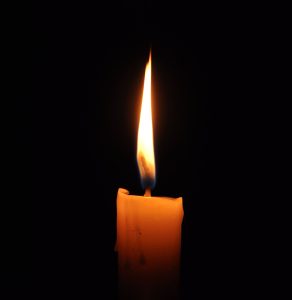 2925 Robert Swartman, RRMC  RMC Class of 1952
ROBERT KERR SWARTMAN passed away peacefully at University Hospital in London, Ontario on Saturday, October 8 2022. He was predeceased by his wife Laura, and son Jim. Lovingly remembered by his children Christine Cavers (John Harper), Tom Swartman (Hanne), Barbara Ridgewell (Tony Parker), Peter Swartman (Patty) and daughter-in-law Jan Webb-Swartman. He will also be missed by many grandchildren, great-grandchildren, nieces and nephews. Bob was born in Toronto, Ontario in 1930 and grew up in Parry Sound. He attended Royal Roads Military College, Royal Military College and Queens University obtaining degrees in Mechanical Engineering. After graduating, he joined the RCAF. Newly married to Laura, Bob was posted to a new airfield in SW Germany. After 3 years and 3 children, Bob and Laura returned to Canada. He resigned from the RCAF to become an engineering lecturer at RMC in Kingston. In 1964 Bob, Laura and 5 children moved to London and Bob joined the Engineering Dept. at UWO as a professor where he conducted research into thermal applications for solar energy. In 1982, Bob left Western to work full-time at Solcan, a company he had incorporated to commercialize products that utilize the sun. He was a pioneer in the industry, and Solcan installed the first solar hot water system and first photovoltaic system in London. Hundreds of systems were installed across Canada over the next decades. Bob was active in the Engineering Institute of Canada, ASHRAE, and the Solar Energy Division of ASME. He was always passionate about our planet Earth. He felt strongly that the earth is in peril, and that we as a society must stop using fossil fuels. He was an active member at First St. Andrews United Church, participating on many committees. Bob had a great love for Georgian Bay. He, Laura and the family enjoyed camping and boating up there for many years. He also loved the winter as he enjoyed skiing. He continued skiing well into his 80's! Travelling was another interest of his. He loved to visit countries around the world to experience the food and culture. He enjoyed making connections with people and always took time to hear their stories. He will be greatly missed by family, many friends: the Coffee Codgers, the Friday Happy Hour Guys, the Ski Bus and the UWO Williams lunch group. Thank you to the many staff members at the Westmount and UH Dialysis Units for your care of Bob during the past 2 years.
---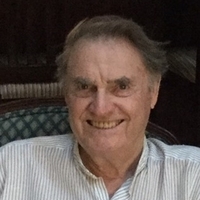 Robert (Bob) Wade was born in 1932 and passed away May 1, 2023 at Oakville Memorial Hospital at the age of 91.  He was born a Yorkshireman to Robert Swan Fothergill Wade and Ellen (Nelly) Wade.  The family immigrated to Canada and settled in Valleyfield, Quebec.  In his late teens he enrolled in the Royal Military College of Canada, Kingston and after graduation, enlisted into the Canadian army.  He quickly moved up to the ranks to Captain in the First Canadian Parachute Battalion.  He retired from military service, eventually settled in Oakville, where he met the love of his life, Joyce (Harvey Dowding), where they married and shared a happy life together.  Their touching love story sadly ended with Joyce's passing in 2021. Bob was predeceased by his sister June (Jack) Schmidt, and leaves behind his loving sister Judith (Claude) Vinet, and brother Victor Wade.
Bob leaves a legacy through his two girls Tana (Robert) in Penang, Malaysia and Wendy (Raymond) in Regina, 5 grandchildren and 2 great grandchildren (with more on the way); and extended family, loving niece Lisa (Andy) Gabriola Island, BC and many other nieces and nephews.  He was exceptionally close to his devoted grandson Benjamin and close family friends Cheryl and Jim.
Bob was an avid sailor and he and Joyce went on many great adventures, including sailing south to the Bahamas and back, twice, aboard "Seasons Ticket". They were long time members of the Oakville Yacht Squadron where Bob served as commodore in 1985. They are both missed by their close friends, who, after years of sailing together, kept strong friendship ties, sharing stories (some true) during their weekly Happy Hour gathering.
There will be no funeral at Bob's request.  Instead raise your glass and share a toast with friends and donate generously to your favourite charity in Bob and Joyce's memory.
---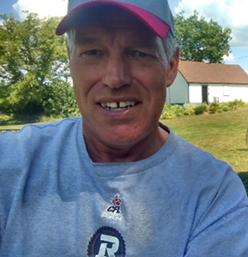 10889 Robert Tasker CMR RMC Class of 1976
10-Jul-1954 – 12-Apr-2023
Another of our Buds has left us far too soon. Tony passed away on April 12, 2023. A family man (3 kids and grandfather of 6), a sailor (6'4" in a sub????!!!), a telecom product manager and finally a business owner of a lawn care business, Tony never sat still. He was loved and respected by friends and family alike. His loss will be keenly felt by all who have had the privilege to cross his path.
Un autre de nos amis nous a quittés bien trop tôt. Tony est décédé le 12 avril 2023. Père de famille (3 enfants et grand-père de 6 enfants), marin (6'4" dans un sous-marin ????!!!), gestionnaire de produits de télécommunications et enfin propriétaire d'une entreprise d'entretien de pelouses, Tony ne s'est jamais tenu tranquille. Il était aimé et respecté de tous, ses amis et sa famille. Son départ sera vivement ressenti par tous ceux qui ont eu le privilège de croiser son chemin.
Fair winds and following seas, Tony. We have the watch.
Bon vent et bonne mer, Tony.
The Centennial Class of 1976/La classe du centenaire de 1976
In the words of his son Tristan:
In loving memory of our dad, Anthony "Tony" James Tasker, who passed away on April 12th, 2023. He was the devoted husband of Karen and loving father of Peter (Senecca), Matthew (Lane), and Tristan (Kelly), and proud grandfather of Abi, CJ, Charlie, Brynn, Nohl, and Mara. He will be deeply missed by all who knew him.
Born in Quebec City to Fred and Betty on July 10, 1954. Tony, along with his siblings, Jill and Geoff, grew up in different parts of Quebec and Northern Ontario, but it was Pictou, Nova Scotia that he claimed as his hometown.
A true maritimer at heart, Tony served in the Royal Canadian Navy after attending the Royal Military College in Kingston, Ontario. He took those invaluable learned skills and applied them to civilian life, working in the telecom industry for 25+ years. His drive and determination eventually lead to Tony starting his own small business, where his kindness and reputation preceded him.
One of the kindest souls on this planet, Tony was a gentle, giving man who worked tirelessly to ensure that his family had everything they needed. He faced every challenge in life with admirable strength and courage.
His love for his family was deep. There are not enough words to describe the love that we all have for Tony and the gap his passing leaves will not soon be filled.
Our family would like to express our deepest gratitude to the staff at the Ottawa General Hospital and Elisabeth Bruyère Hospital for their compassionate care in dad's last days.
---