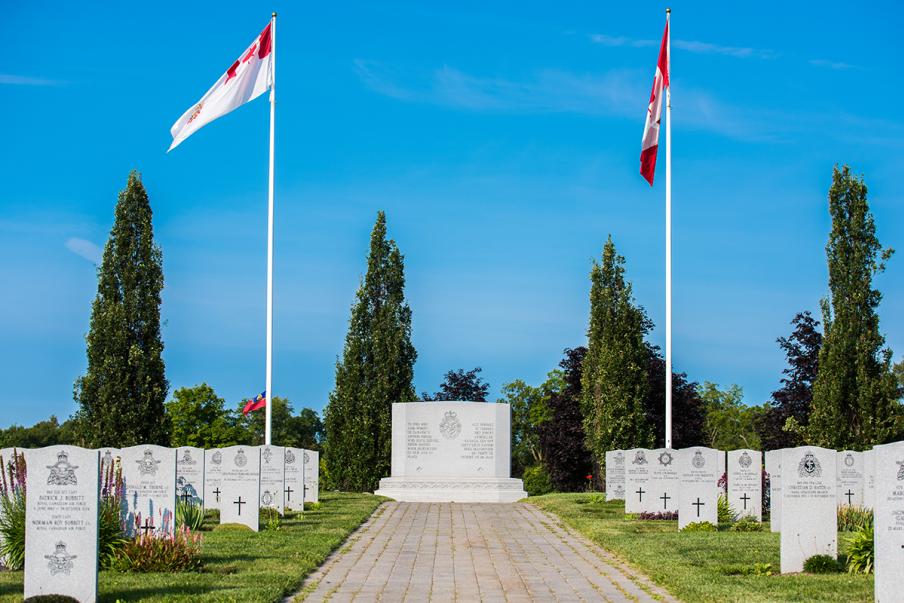 8439 Dr. Sunny MARCHE

___________________________
2533 George Duncan "Duff" Mitchell, mc.
Duff Mitchell was born in montreal in july 1915. His father was 1003 Alan Mitchell,RMC class 1913. Duff entered RMC in august 1936 from lower Canada college. At RMC he was an avid participant in inter-company sports and a keen paddler and skier. He led his class in gymnastics. He wore the four stripes of a csm in his shortened senior year when his class graduated in october 1939 with Canada at war.
Duff joined the 1st field regiment, RCHA of the 1st Canadian Division and went overseas to the UK in december 1939. He participated in the short foray into northern France in june 1940 when the British, after Dunkirk, attempted to delay the German advance on Paris. That force had to be hurriedly returned to England shortly after its arrival in France because of the speed of the German advance. The 1st field regiment RCHA was noted for its safe return to England with all of its guns despite orders to leave and destroy all equipment.
In 1941 Duff was promoted to captain and troop commander with the 5th field regiment RCA when that unit arrived in the UK with the 2nd Canadian division. In1943 Duff joined a British Naval Bombardment unit. He became the forward observer for the naval guns in support of Canadian landings in Sicily in july 1943. He was awarded the military cross for his efforts. After the landings Duff was promoted to major in command of A battery 1st field regiment RCHA. He served as battery commander during the fighting in Sicily and Italy including the heavy action around Ortona in december 1943. In september 1944 he was wounded and returned to the UK. He attended courses in the UK including the war gunnery staff course completed in august 1945.
Post war Duff obtained his BA at McGill. He then resumed his regular force career. He completed the army staff course at Kingston in 1952 and held a number of staff appointments in Canada and abroad including service with the UN in Palestine and Lebanon. He retired in 1965.
After qualifying in history and geography at the Ontario college of education Duff became a high school teacher in New Liskeard and Toronto until 1972 when his service induced hearing loss led to a second retirement. He then became involved in property development near St.Jovite, Que.until1978 when he moved to Ottawa. There he pursued his hobbies of writing about history and genealogy. Duff headed a team that compiled "RCHA – Right of the Line" in 1986, a history of Canada's oldest regular unit. "Our kindred spirits" his own family history won the top award in a 1996 contest of the Ottawa branch of the Ontario genealogy society.
Throughout his life Duff kept active in sports. He never fully recovered from a serious fall suffered in 2009.
Duff Mitchell died in hospital from pneumonia on 23 may 2012. He is survived by Phyl his wife of 50 years and by two sons, a daughter and four grandchildren.
Prepared by: 2552 Bill Young
_________________________________
5248 EXLEY, L. Col. Edward Ret'd

Passed away in Ottawa on June 12, 2012 at the age of 72. Ed was born in Blackpool, England June 28, 1939 and immigrated with his father Edward Sr., mother Irene and brother Robert David in 1954 to Cornwall, ON. Ed attended RMC and Royal Roads graduating in 1961 and later studied at Georgetown University. Ed's 31-year Military career saw him serve in the UK, Germany, USA and Canada. He joined the Civil Service after retiring from the Military. Ed was an avid outdoors man, a committed grandfather, family man, good friend and community volunteer who believed in living a productive, useful life. He will be sadly missed by his family, Robert; Bryan and Merna; Steven and Gillian, Roberta Lacey and grandchildren Liam and Lorelei. Friends are welcome to gather to celebrate Ed's life on Wednesday, June 20, 2012 from 2 p.m. to 4 p.m. in the Beechwood National Memorial Centre, 280 Beechwood Avenue, Ottawa.