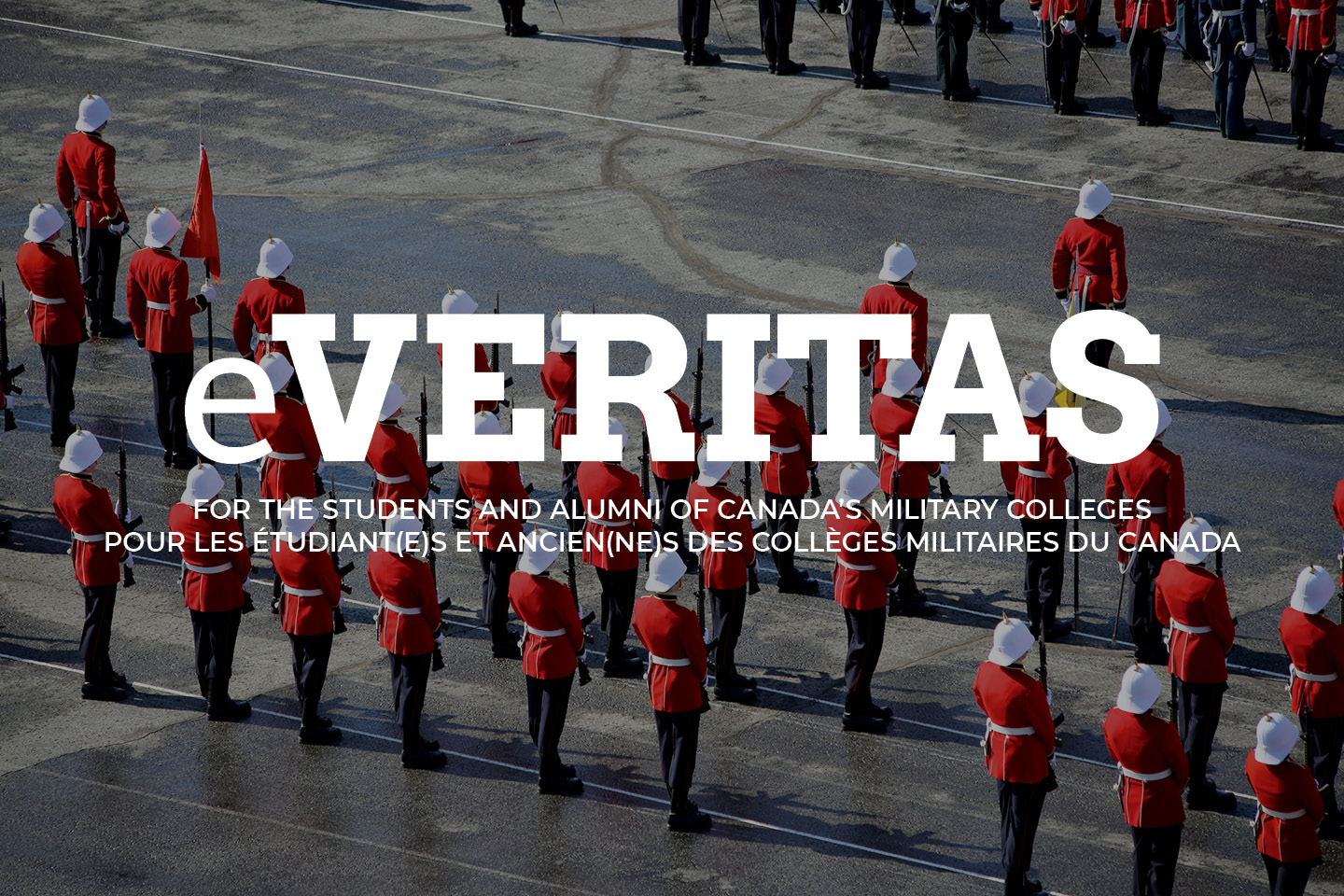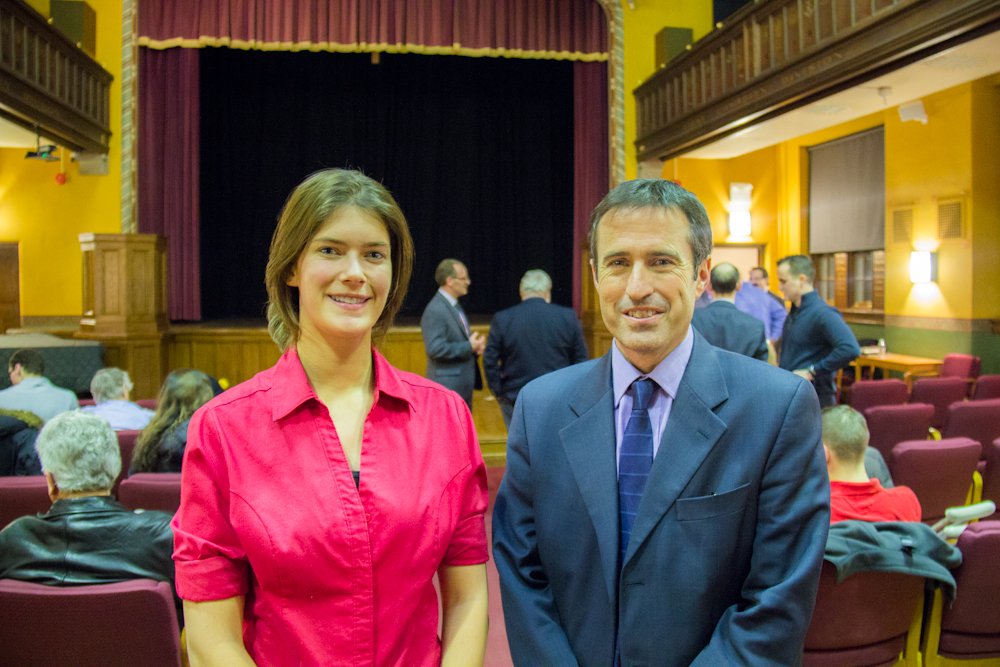 Caption: e-Veritas correspondent, 26659 OCdt (II) Danielle Andela and John Stackhouse, Editor-in-Chief of the Globe and Mail
Media and Democracy in a Digital Age
Sponsored by: Department of Political Science
By: 26659 OCdt (II) Danielle Andela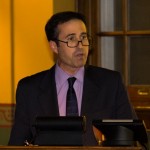 This Wednesday, the 13th of November, the Royal Military College of Canada had the pleasure of hosting John Stackhouse, Editor-in-Chief of the Globe and Mail for a lecture on the subject of Media and Democracy in a Digital Age. John Stackhouse is a graduate of Queen's University (Commerce) and has won five National Newspaper Awards.
His lecture focused on media's influence on military accountability, protection and context. John pulled on his experience from his years as a correspondent in places such as Somalia and Cambodia to discuss the importance on media, including newspapers and news stations, when it comes to the public understanding, appreciation and trust in the military as well as holding the military accountable for their actions.
Many members of the cadet wing, students and faculty alike came out to enjoy the presentation
Highlights from his presentation:
The military often does not like or want the media. Yet, the opposite, or counterpoint, would be disastrous. Without an independent and credible media covering, explaining and investigating the military, public confidence will wane. And when the military loses public confidence, at home or in a conflict zone, no power is strong enough to endure.
Public awareness is not about propaganda, or simply convincing taxpayers and volunteers of the merits of your cause; it's about including that public — and being open to them — along the way.
A responsible military also understands the context of its missions, as well as its mandate."
It is also no surprise that our forces have been used for disaster relief in areas that have significant populations of ex patriots in Canada .. Haiti, Sri Lanka and this week the Philippines.
These actions have less military than political logic, and any commander would be wise to understand the political context that drives such important matters of national defence."
As has been the case since the advent of war, military strategy follows political will which, in our democracy, is determined and shaped by public opinion. And while the traditional media industry has been severely disrupted by digital technology, and fragmented into many constituent pieces, our fundamental role — to inform the public and defend the public interest — remains. Yes, independent media are a pain to several, a nuisance to many, even a threat to some; the media is also a safeguard for all that we value in our democratic state and the military that defends it.
_____________________________
Department of Political Science Workshop: "The Future of Political Islam"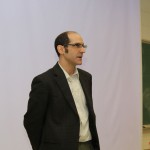 The various faculties of RMC have always been focused on preparing Cadets for the challenges they will undoubtedly face as officers in the Canadian Armed Forces. Perhaps the greatest challenge faced by any junior officer is a deployment to a country that requires an understanding of the political forces that have created the need for international intervention. The Department of Political Science recently hosted a workshop entitled "The Future of Political Islam". The event was aimed at furthering the understanding of a complicated and undeniably pervasive political force that has shaped many of the CAF's recent deployments and will conceivably influence the theatres of operation in which many of RMC's future graduates will find themselves.
xx
The workshop opened with presentations by Dr. Houchang Hassan-Yari and Dr. Ali Dizboni that discussed the historical and philosophical underpinnings of political Islam. Following the opening presentations four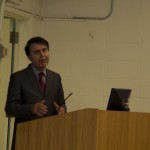 Cadets each presented their own research, with interests ranging from political Islam in South East Asia to Islamic governance and militant Muslim minority groups. OCdt Colin Cook (IV), OCdt Rachel Anderson (II), OCdt Scott Blair (I) and Mr. Sofwat Omar (III) all benefited from work-shopping their research and fielding questions from many professors and peers. The workshop was an excellent opportunity for members from diverse areas of the Cadet Wing and academic community to come together and work toward a greater understanding of this important topic. Department Head Dr. Pierre Jolicoeur and workshop organizer Maj. Pierre Lepine were both encouraged by the participation and success of this event and look forward to even greater participation in next semester's workshop which will be focused on the influence of Big Data on modern society. We hope to see you all there!
By OCdt Colin Cook (IV) 26219
xxxxx
Atelier du Département de science politique : « L'avenir de l'islam politique »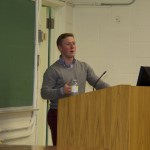 Les diverses facultés du CMR se sont toujours concentrées sur la préparation des élofs pour les défis auxquels ils feront face en tant qu'officiers des Forces armées canadiennes. Le plus grand défi pour un officier junior est probablement un déploiement à l'étranger demandant une compréhension des forces politiques qui ont créé la nécessité d'une intervention internationale. Le Département de science politique a récemment présenté un atelier intitulé « L'avenir de l'islam politique ». Cet évènement visait approfondir la compréhension d'une force politique indéniablement compliquée et répandue qui a formé la majorité des déploiements récents des FAC, et qui influencera surement les théâtres d'opération dans lesquels travailleront les futurs gradués du CMR. L'atelier a commencé avec des présentations par by Dr. Houchang Hassan-Yari et Dr. Ali Dizboni qui ont abordés les thèmes de l'origine historique et l'origine philosophique de l'islam politique. Suite à ces présentations, quatre élofs ont présenté leurs recherches individuelles sur des sujets variés : l'islam politique en Asie du Sud-Est, la gouvernance islamique, ainsi que les groupes minoritaires d'islam militant.
Elof Colin Cook (IV), Elof Rachel Anderson (II), Elof Scott Blair (I) and Mr. Sofwat Omar (III) ont tous bénéficié de l'opportunité pour présenter leurs recherches en atelier et pour répondre à des questions posés par leurs pairs et leurs professeurs. L'atelier a créé un excellent environnement pour une réunion entre les membres des différents domaines de l'escadre et de la communauté académique, ce qui a permis une meilleure compréhension de cette matière importante. Le directeur du département, Dr. Pierre Jolicoeur, et l'organisateur de l'atelier, Maj. Pierre Lepine, ont été encouragés par la participation et le succès de cet évènement et espèrent voir encore plus de participation lors de de l'atelier de la prochaine session, qui aura comme thème l'influence du « big data » sur la société moderne. Nous espérons tous vous y
voir !
xx
Rédigé par Elof Colin Cook (IV) 26219 et Aspm Alexandra Laplante (III)26253