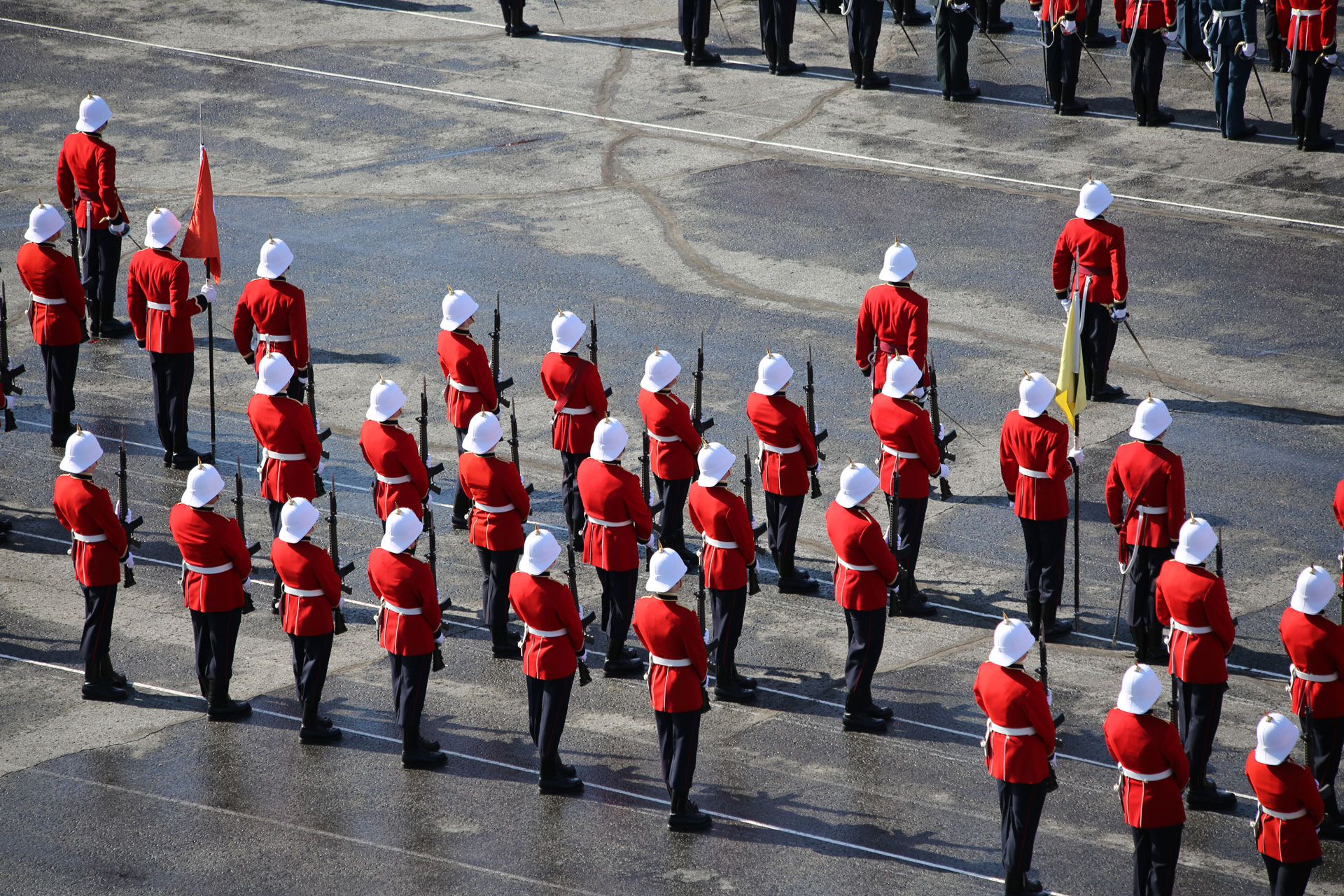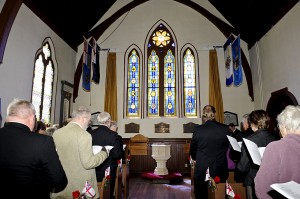 Light shines through Naval Memorial Window
RAdm Hughes told the guests what to expect: "Look for the lovely [Navy] Lady Rose that the Wrens Association has developed for the naval centennial. Look for the names of the 24 ships sunk in the First World War and the one that sunk in the Second World War, all shown in ghostly white in the deep blue sea. Look for the red jewels, symbols of the lives of those who died with the ships. Look for the names of our 24 Naval Reserve Divisions set in gold rope around the window. Look for a Sea King, the White Ensign and, of course, the oak leaves of Londonderry and the Pitcher Plant of Newfoundland that commemorates the famous Newfie-Derry Run of the Second World War. Finally, look for the two lighthouses off Halifax and Esquimalt that guided and still guide our ships back home to safe harbour. All these and more you'll see on the Naval Memorial Window."
RCNC174 Rear-Admiral Bill Hughes (RRMC 1944)
Read the entire article here.
________________________________________________________


13811 Lt. Col. Ross E. Wuerth, C.D. (RRMC RMC  1982) was honoured to serve as reviewing officer at the 22nd annual review of the the Kincardine Air Cadets, 183 Typhoon Squadron, Wednesday May 26 at the Davidson Centre arena.
He said, "As an airman, I've travelled across Canada and globally. I've lived in six provinces and one territory, as well as Egypt and Norway. I've flown through the Arctic. I've been to places most Canadians could only dream of. It's a lot of experience for a Bruce County boy. And you can do it too – it takes character, knowledge, perseverance and dedication."
Born in Galt, Wuerth was raised in Port Elgin and graduated from Saugeen District Secondary School. He enrolled into the Canadian Forces in 1978 as an officer cadet and attended Royal Roads Military College in Victoria and then Royal Military College in Kingston, graduating in 1982 with a Bachelor's Degree in Fuels and Materials Engineering.
He took pilot training on the Canadair Tutor jet at Moose Jaw in 1983 and completed his wings training in 1984 on the Bell Jet Ranger helicopter at Portage la Prairie. Wuerth is a tactical rotary wing aviator with deep experience in support of land operations. He has amassed nearly 4,400 hours while serving with several helicopter squadrons, and commanded 440 Transport Squadron in Yellowknife from 2007-2009.
Early in his career,  Lt. Col. Wuerth commanded a squadron of 100 officer cadets at the Royal Military College and served for two years as aide-de-camp to the Right Honourable Ramon Hnatyshyn, Governor General of Canada, in Ottawa. Wuerth has completed two peace support operations as an aviator while serving with the Multinational Force and Observers in Sinai, Egypt, and with the NATO Stabilization Force in Bosnia-Herzegovina.
Following a two year stint in Yellowknife ( C.O. of 440 Squadron)  he was posted in July, 2009, to the Canadian Forces Recruiting Group Headquarters in Borden, Ontario, where he is currently the Chief of Staff for Policy and Doctrine, and the Headquarters Commanding Officer. He and his wife, Monique Bujold of Elliott Lake, have three daughters.  Reference
________________________________________________________
New Canadian commander arrives in Kandahar
Vance has served as Canada's top soldier in Afghanistan before, from February 2009 to November 2009. He will lead the Canadian military pending the arrival of the next commander, Brig.-Gen. Dean Milner. Vance arrives at a pivotal time as NATO launches an offensive aimed at flushing the Taliban out of insurgent strongholds in the midst of the summer fighting season
15696 Brigadier-General Jonathan Vance (RRMC 1986)
Read the entire article here.
________________________________________________________