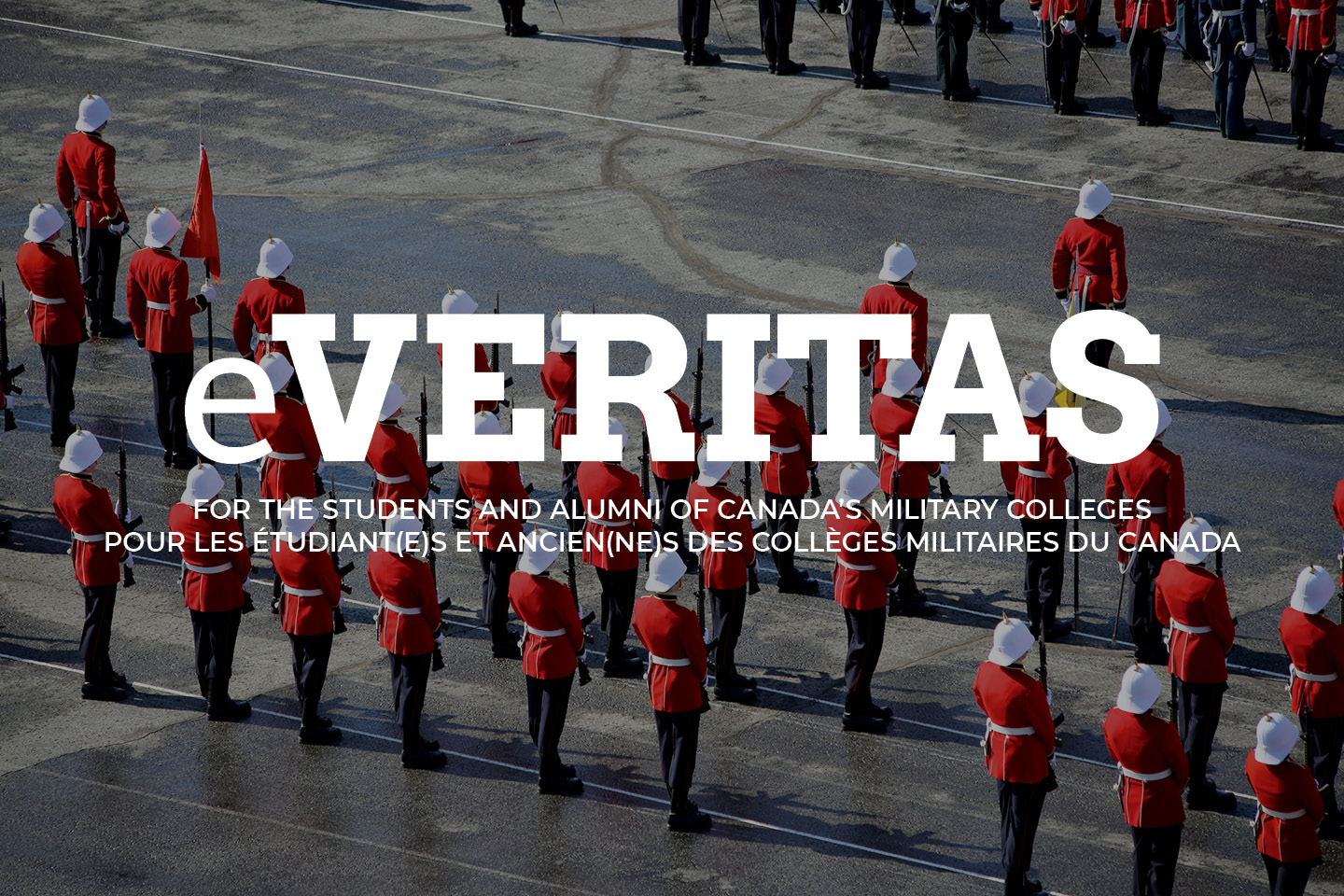 25366 Mike Shewfelt recently had the chance to sit down with 14510 LCol Sue Wigg, the outgoing Director of Cadets at the College.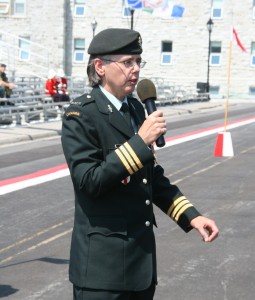 e-Veritas: What have you seen change since your arrival on the Peninsula and now…?
14510 LCol Sue Wigg: From my perspective the essence of both the DCdts responsibilities and College life has not changed since I graduated in 1984, but over the last two years they have been reinvigorated. We have renewed and evolved both the purpose and the actions behind the essence of what RMCC is designed to do…provide the CF with duty ready junior officers. Through transparency, clarity and focus on the Cadet Wing as a CF unit we now have a common context and means for unified effort from all involved. There is now a tangible, real "military" meaning to the experiences of an officer cadet.
e-Veritas: Have there been any memorable challenges in your time here…?
14510 LCol Sue Wigg: The most important challenge has been one that is shared by all organizations. To be truly effective an organization cannot be viewed as "outside of" or "different from" its intended environment. Yet, a certain uniqueness must be maintained or it suffers from naysayers that would purport its existence is not necessary because its product can be obtained elsewhere. Maintaining that balance of uniqueness vs being identifiably part of the Canadian Forces seems to be very hard for most. RMCC is a tough environment for Cadets, Faculty and Staff alike and I would point to having to maintain balance as one root cause. There is no time to specialize in only those things you like and still be successful. This translates into the single most important lesson – no matter what your age or experience – Know yourself, know your "know-how to succeed". Always be on top of your game, be professional, be competent and be constructive when dealing with the subjects that are not your strong points.
e-Veritas: Since you graduated from the College in 1984, you have had many postings. Was there anything in those previous postings that helped you in this one…?
14510 LCol Sue Wigg: My past experiences helped me to be forward leaning, adaptable, agile and most importantly, not to stop looking until I could see the essence of the issue at hand (not the superficial or the "constructed reality"). One cannot cling to a decision because it was made, one must adapt to new information all the time. Also, Rome was not built in a day – one needs strategy and patience but should not be lulled into stagnation or accept prolonged resistance to evolution.
e-Veritas: There have been a number of changes on the peninsula in the last couple of years. Given that, do you feel you've been able to improve the College at all, and if so, how…?
14510 LCol Sue Wigg: If asked "what was improved" I would say the Officer Cadets are beginning to be more aware of the power of their experience at RMCC. They are taking the opportunity of evolving their CF unit systems to obtain meaningful self-identy and control of their environment while developing the real skills needed but not taught at their next unit. They have the size, the chain of authority, the responsibility and the longevity of four years to develop relevant experiences needed for a successful life faster than when they are immersed in the more narrow perpectives that will be their role as a specialized junior officer in their next unit. The next unit is about depth in their field; this unit is about how to be successful in that environment.
e-Veritas: What advice would you give to the Cadets as you leave RMCC…?
14510 LCol Sue Wigg: If I was asked for advice, I would say – know yourself honestly. Examine any lack of success closely to find out how you kept yourself from succeeding. The environment is not the enemy – our approach to it is the key to triumph. That starts with self identifying our internal barriers whether they are physical, mental, or emotional and finding our own way of removing those factors that hold us back. Conversely, invest in success – "know how" you succeeded and keep improving it.
e-Veritas: Any final thoughts for the College you leave behind…?
14510 LCol Sue Wigg: At the close of my tenure I would be remiss if I did not formally acknowledge the RMC Club of Canada, the Foundation and the Ex-Cadets that were ever present and supportive of the role of the Director of Cadets in their passion for keeping the College relevant and on course. Throughout the two years there was moral, ethical, financial and leadership help from all corners. It came to me without asking and at just the right occasion. Through this experience I have benefited from what we take for granted as we make our way through our careers – we are a family. Everyone relies on those that go before them, whether they admit it or not. A direct thank you to all those Ex-Cadets in the area that come out to the events and make the effort to keep connected to our young adults in a way that helps to bridge the generations. Your energy and wisdom is not replaceable. Thank you to those that came to welcome the arrival of my successor and bid me farewell. May I always be able to act in supporting the College, as you have given me the example, regardless of where I go this second time leaving the peninsula.