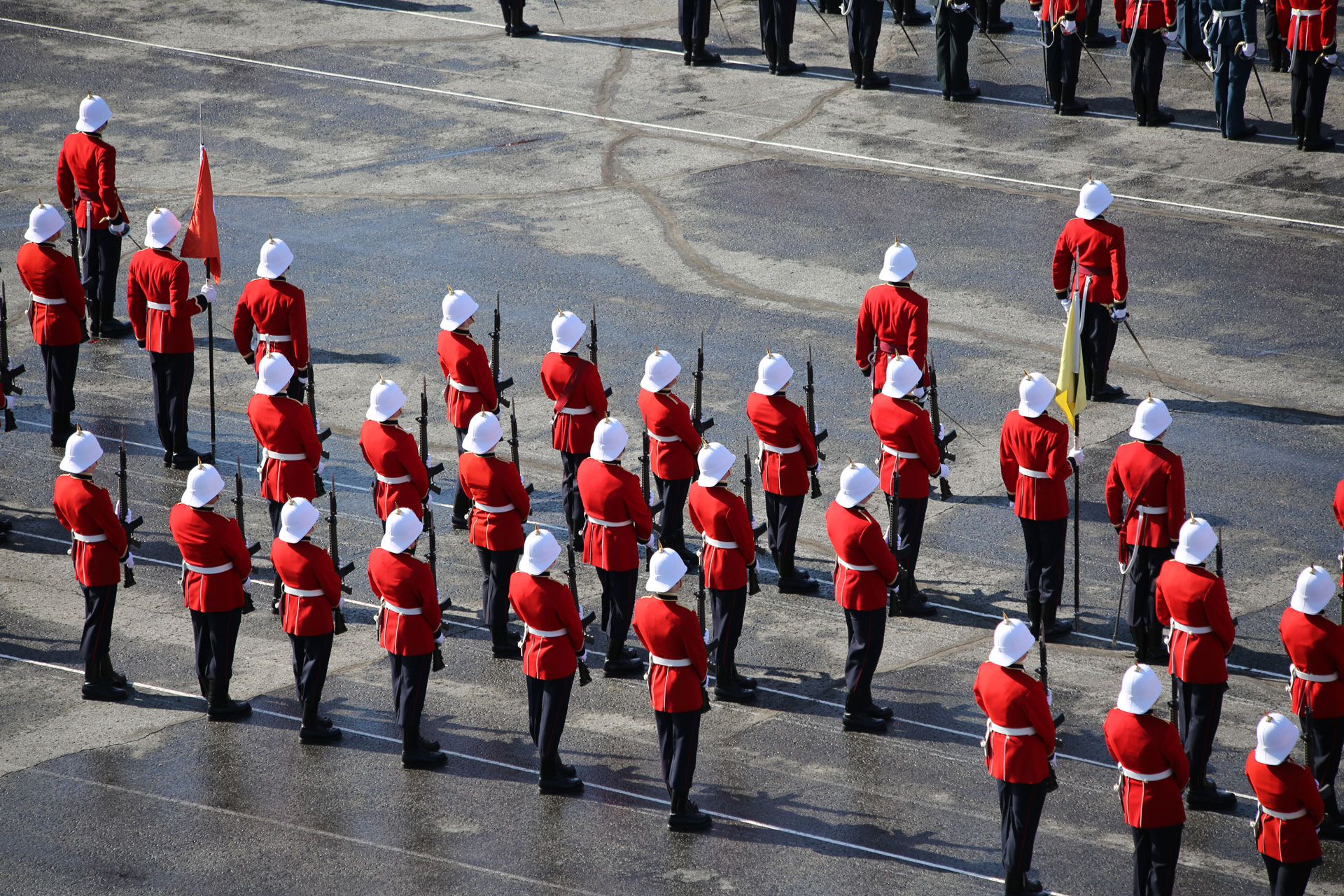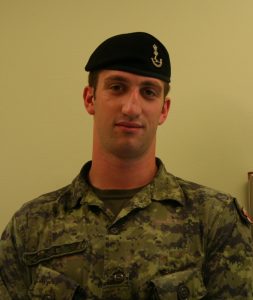 24662 Jeff Oke (RMC 2010) is a RETP cadet entering his fourth year at RMC. He was recently named team captain of RMC's hockey team for the 2009-2010 season. He is training to become a MARS officer and is pursuing a degree in Civil Engineering. eVeritas recently had the opportunity to get to know Jeff a little better and in particular discuss his role at RMC both on and off the ice.
IN CONVERSATION WITH BILL OLIVER
eVeritas: Tell us a little about yourself.  Where is your hometown and your hockey background?
Jeff: I grew up in a small town in South Western Ontario called Grand Bend, where my family continues to reside and I return when on leave. I started skating for the first time at the age of 4. My hockey playing experience started at tyke (7 years old) in Parkhill, On. In that first year I was moved up a level to where my older brother was playing. I am not sure if it was because of my ability or if it was just easier for my busy parents to take two of their sons to the same game rather then to different games. When I was of Novice age (8 years old) I tried out for an AAA club out of London Ontario, the Elgin-Middlesex chiefs. This move changed many things including how long it took to get to practice. What was formerly a 15 minute drive now took an hour, it did allow me though to spend a lot of time with my father at least until I got my driver's licence. After my bantam season I was drafted by the Oshawa Generals in the 12th round, which was very disappointing. That year I was not able to make a Jr. B club, and the Jr. D clubs had already made all of their cuts, so I was forced to play midget hockey in Parkhill. That did not last too long, about a week into the season I was called up to play to the Jr. D team, scoring in the first game, and getting moved up to the first line. The rest of the season I continued playing for both teams that season, fortunately there were no scheduling conflicts. The only difficult part was when both teams had games on the same day, but that was only for home games, so I just played two games back to back.
The next year at the Generals training camp I was picked up by the unofficial farm team of the Generals, the Bowmanville Eagles. My left winger that season was James Neal who currently plays for the Dallas Stars and our center was Matt Caruana who signed with Anaheim Ducks a couple of seasons ago. From Bowmanville I received a scholarship to Lake Superior St, in the NCAA. In a case of misfortune I contracted mono the summer prior to my freshman year at Lake Superior State University. I started the season off very slowly because of the illness and only played 4 games. Lake Superior eventually sent me back to Bowmanville to get back my skating legs. After my second season in Bowmanville, I was offered my scholarship back, but only as the 15th forward. I wanted to play, not sit in the stands and I wanted to get on with my life. I saw RMC as a great school to prepare myself for a future, at the same time be able to continue with my passion of playing hockey for the varsity team.
eVeritas: How did you end up choosing RMC?
Jeff: I was approached by RMC before I got my scholarship to the Lake Superior. I investigated their program and quickly realized all the benefits and many opportunities that are available at RMC. I knew it was a great opportunity to develop myself physically, mentally, and linguistically.
eVeritas: What have you been doing at the college this summer?
Jeff: I had surgery on my hand during the summer which kept me in Kingston for the majority of the summer. I was able to get on a Second Language Training course which will help lighten the load for the upcoming school year.
eVeritas: Most young hockey players have a favourite NHL star – one they themselves may pattern their own style of play after. As a youngster did you have such a player? If yes, who was (is) it?
Jeff: Looking back on it, and my memory is a little fuzzy, you know hockey players and hits to the head!! My favourite hockey player was, and still is today, Martin Brodeur. Some would say that I do pattern myself after him as I am frequently sprawled out on the ice, just not for the same reasons.
eVeritas: How would you describe your style of play? Are you offensive minded? A grinder? Two way up and down? Or something else?
Jeff: I would describe myself as a power forward. I will crash and bang all night long, and hit opponents with any part of my body, including my face, which usually never works out well for me. I am good at controlling the puck along the boards, winning one-on-one battles, and getting the puck to open spaces or to one of my teammates.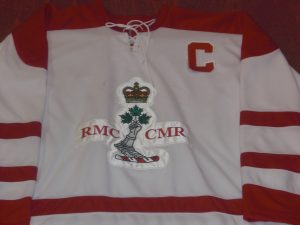 eVeritas: We understand you have been named captain of the hockey team for the 2009-10 season. Congratulations! What was the process for choosing you?
Jeff: Thank you, it is correct I have been named team captain for the up coming season. I am not entirely sure about the process as our coach, Adam Shell, makes that decision. He has told me I have earned the position due to the leadership that I displayed as an assistant captain, along with my work ethic on and off the ice.

eVeritas: What does being named captain of what is considered the flagship sport of the RMC varsity program mean to you?
Jeff: It is a tremendous honour to carry that mantle, but it is not something I dwell on too much. The rest of the team and I are singularly focused on trying to win more games. If we are a successful team then the rest of those accolades and perks that go along with being a member of and captain of the flagship sport will be there. The team has not made the playoffs for the three seasons I have been at RMC and now it is time. This season, we are not going to settle for that, we will be playing in the playoffs.
eVeritas: How do you see your role? What are your expectations?
Jeff: My teammates know first hand, that I am not a speech maker. My leadership comes by setting a standard of acceptable work ethic, and drive. Coach has told me not to try to change my game, just to continue to do what has gotten me to this point. He wants the incoming first years to see what kind of work ethic is required to be a successful hockey player at RMC. My expectations for the role of captain is to be able to properly balance school with hockey and providing the leadership necessary for my teammates and this team to be successful. Another key role for the captain is trying to get first years to practice during FYOP, which is always a challenge, along with trying to get the first years out to team functions. I am always up for a challenge though.
eVeritas: During your three seasons on the hockey team you have come close to making the OUA play-offs, but, no cigar. What are your chances this year?
Jeff: Strong. Our team is continuing to improve. We only lost a couple of key players from last season, but coach has done a good job scouting and finding players. From what I have heard we have picked up many good young players along with bringing back 2 vets for there 5th year to bring experience and leadership to the dressing room, and of course skill on the ice.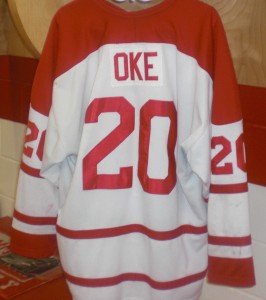 eVeritas: What is your most memorable moment, to date, wearing a "Paladin" jersey?
Jeff: It would have to be the first season game against UOIT from the 2008-09 season. I had scored my first ever OUA hat-trick, but that wasn't the reason why it was the most memorable. Our starting goalie got kicked out, and our backup got injured, so we had to throw our rookie forward Lavictoire into net, we ended up going into a shootout and winning the game.
eVeritas: What do you like most about being an officer cadet at RMC? What has been the most challenging aspect for you?
Jeff: The responsibility and work that they cram into a day at RMC is what I like the most about being an officer cadet at RMC, which hass also been the most challenging. Being FYOP staff, while being an assistant captain of the hockey team, and studying civil engineering was a lot to put on one plate. I went a whole month only sleeping 3-4 hours each night and many cups of coffee. After it was done, I was a little behind in school, but I got to learn a lot about myself and my leadership skills. It was a good experience but it was really difficult to stay on top of everything
eVeritas: In addition to your studies and playing hockey for the past three years – what else have you done at RMC?
Jeff: Well with my studies and playing hockey, along with the military component of RMC, it doesn't leave much free time to be social or to participate with volunteer work. I have managed to fix a couple of things in here and there. I have helped out with the boys and girls club by skating with them, along with the rest of the RMC hockey team. I have participated with numerous skylarks, for my squadron, and for RMC. My dad also sends me some work to do for his company drafting houses, usually I have to send them back saying I have no time, but sometimes I get time to get them done.
eVeritas: What are your plans following graduation?
Jeff: I have been asked by the dean of Civil Engineering to remain at RMC and continue my studies. I am going to be working toward getting a masters in structural Engineering. So after grad, I guess I will be hanging around RMC for the next couple of years. Hopefully still heavily involved with RMC, and its hockey Program.