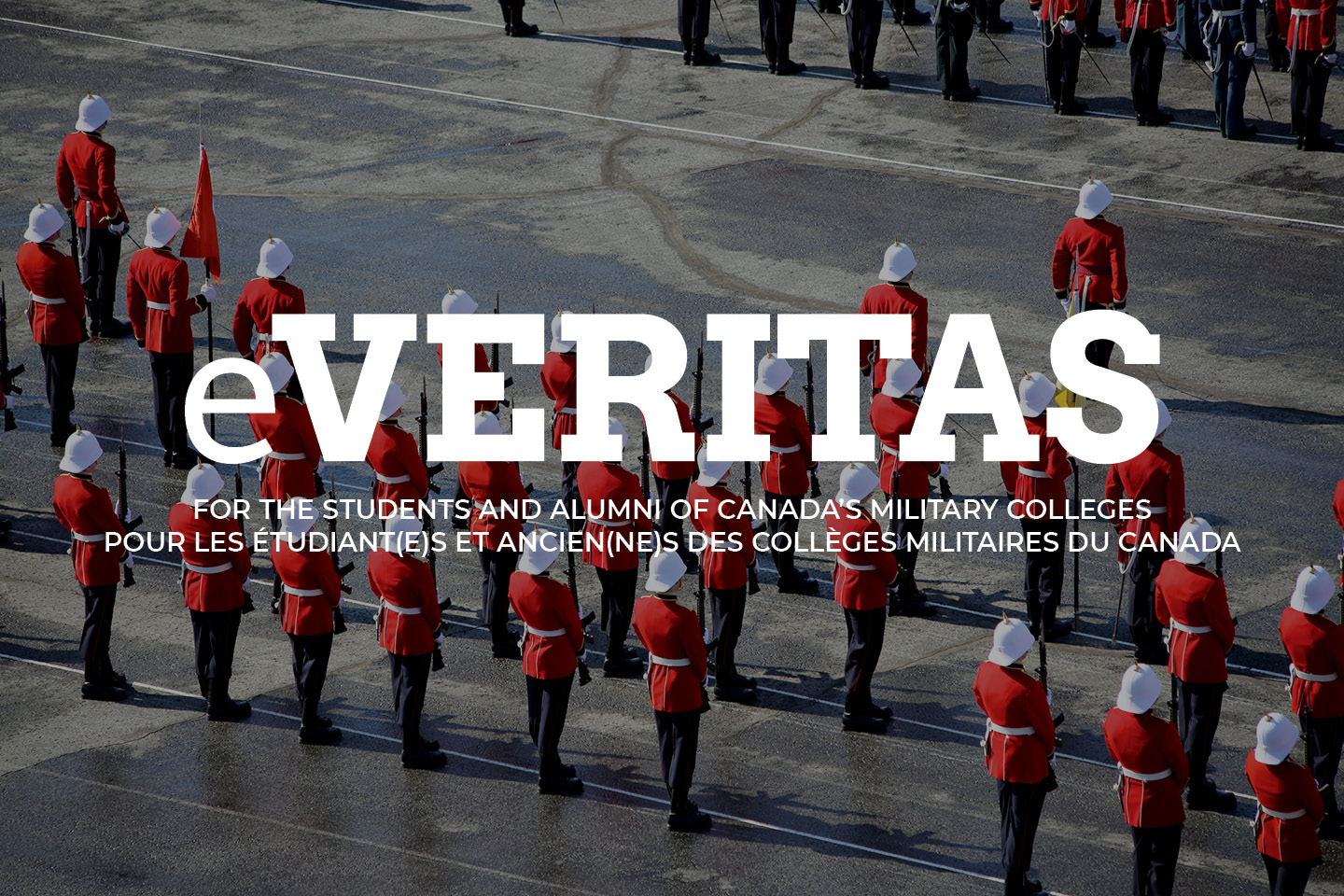 The RMC Club Member's Portal site is currently inaccessible due to technical issues. We apologize for the inconvenience. Thank you. 
Le site du portail des membres du Club des CMR est actuellement inaccessible en raison de problèmes techniques. Nous nous excusons pour tout inconvénient. Merci.
---
Happy Birthday RMC! / Joyeux anniversaire CMR!
RMC celebrated its 145th birthday on Tuesday, June 1, 2021 / Le CMR a fêté ses 145 ans le mardi 1er juin 2021
Photo courtesy of RMC Public Affairs / Photo gracieuseté des Affaires publiques du CMR
---
ISSN 2562-5071
In This Issue 11 / Dans ce numéro 11

Table of Contents / Table des matière
Alumni Making the News / Des anciens font l'actualité
Statement from the Commandant of RMC on the discovery of the remains of 215 Indigenous children at the site of a former residential school in Kamloops, B.C. / Déclaration du commandant du CMR sur la découverte des corps de 215 enfants autochtones sur le site d'un ancien pensionnat à Kamloops, en Colombie-Britannique
RMC Saint-Jean officially recognized as an educational institution at the university level / Le CMR Saint-Jean reconnu officiellement comme établissement d'enseignement de niveau universitaire
eVeritas Will Be Taking A Break This Summer / eVeritas fera une pause cet été
Don't Forget to Renew Your RMC Club Membership! / N'oubliez pas de renouveler votre adhésion au Club des CMR!
Find all the Graduation content you missed right here! / Retrouvez tout le contenu de Graduation que vous avez manqué ici !
10966 MICHEL MAISONNEUVE: MEMORIES OF RMC – SOUVENIRS DU CMR PART 12 / PARTIE 12
The Mystery of College Numbers
10970 Karmin McKay: What it's like on your first posting
Keeping Tabs / Gardez un œil sur eux
Golden Oldies / Photos d'antan
The Class of '79 Remembers: Bats and Irish Pennants
6560 Andrew Nellestyn's Food for Thought: Cities are facing potentially existential challenges. Immediate innovative substantive change is imperative!
"If you decide to perform a live demo to prove your point, do it correct."
We Get Emails – Royal Roads Football in the 1950's
RMC Marks Indigenous Awareness Week / Le CMR célèbre la Semaine de sensibilisation aux Autochtones
Qu'est-ce qui se passe au CMR Saint-Jean / What's Happening at RMC Saint-Jean
Examining The Contribution of the Judge Advocate General's Corps to Unit Leadership in the US Army
In Case You Missed It / Si vous avez raté
ATTENTION! ATTENTION! Surveying the Class of 1988 / Questionnaire de la classe de 1988 
PROJET DE RÉNOVATION DU MESS DES ÉLOFS (SAINT-MAURICE) AU CMR SAINT-JEAN / RENOVATION PROJECT OF THE OCDTS MESS (SAINT-MAURICE) AT CMR SAINT-JEAN
Military Colleges Connection: Promotions and Senior Appointments 2021 General and Flag Officers List / Connexion aux collèges militaires : Promotions et nominations supérieures 2021 – Officiers généraux
TOURNOI DE GOLF REPORTÉ / GOLF TOURNAMENT POSTPONED
Memorial Fund for Fallen Ex Cadets
TD Insurance Customer Relief: Helping Canadians Impacted by COVID-19
Tell your story! / Raconte ton histoire!