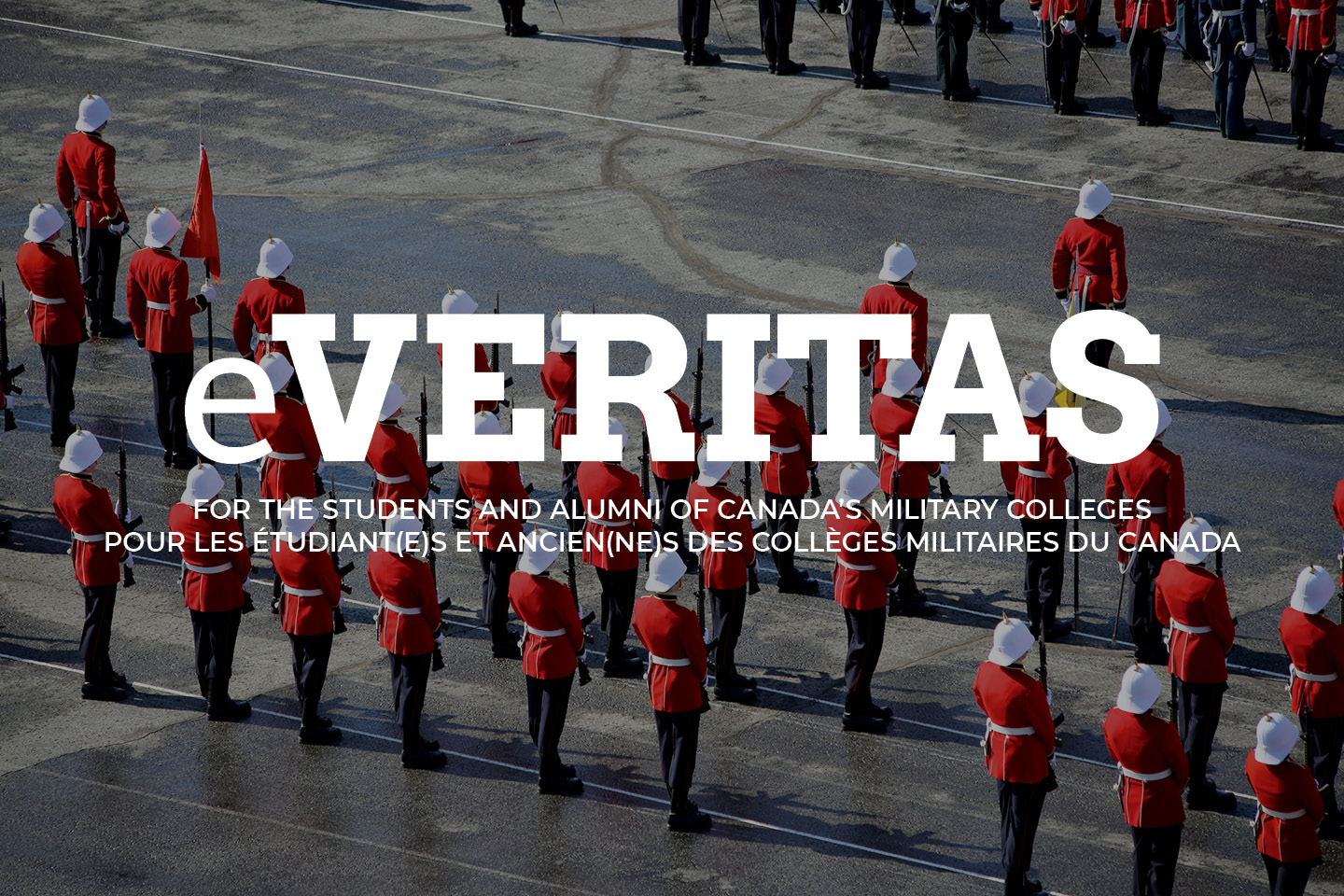 xxxx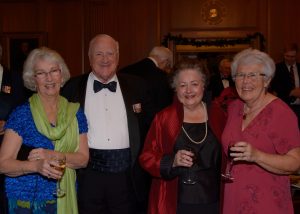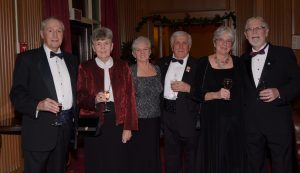 xxxx
Caption: Just some of the crowd that attended the Kingston Branch Fall Dinner
Kingston Branch Pulls Off Great Fall Dinner
By: WJO
Close to 50 people had a grand evening last Thursday at the Senior Staff Mess. The occasion was the annual fall dinner organized by the Kingston Branch.xxxxxxxxxxxxxxxxxxxxxxxxxxxxxxxxxxxxxxxxxxxxxxxxxxxxxx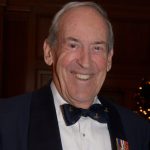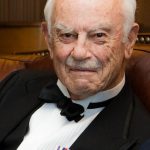 Guest speaker was 95 year old Club Honourary President, H2652 A. Britton Smith (left) who entered RMC in 1938. Introducing the guest speaker was 4459 Ed Murray (right). Master of Ceremony was the Branch President, 5877 Ted Davie.
The audience was highly entertained by a number of things.
The three course meal and the relaxed ambience were terrific. Ed Murray had done his homework in introducing Britt Smith who is well known as a highly successful businessman in the Kingston area and far beyond. Ed cited a few examples on how the young Officer Cadet Britt Smith used ingenuity and initiative among other things, in beating the Bell Telephone Company out nickels using pay-phones back in the 1930s.
The sharp-minded guest speaker mixed humour, wit and nostalgia during his close to 15 minute talk. Particularly interesting was his recollection of a number of his classmates all of whom graduated and left the college in 1940;  in what turned out to be the early part of the Second World War.
He listed in vivid detail a number of those Ex Cadets who were killed-in-action and did not return.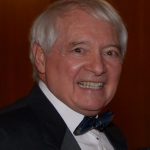 Ted Davie (left) confirmed once again that he is a skillful MC. Once he gets to read the college numbers and year of entry correctly of those he introduces, he will be ready for the pro circuit. All kidding aside, the former navy Captain did a magnificent job as the MC; he was also the driving force pulling this event off. The dinner faced many obstacles due to a number of factors well out of his control and was almost cancelled.
For those of us who attended we're very glad that he pushed on and made it happen.
In an informal survey of the crowd at the end of the evening – the verdict was unanimous – a great time was had by all.
More photos from the Fall Dinner by James Howells –

Here
***
Branch Christmas / Holiday Functions:
Vancouver;
Edmonton;
Vancouver Island; &
Hamilton
More Details –
Vancouver Branch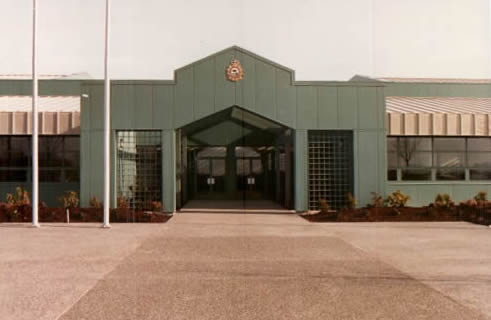 ***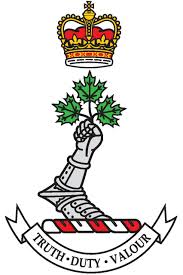 ***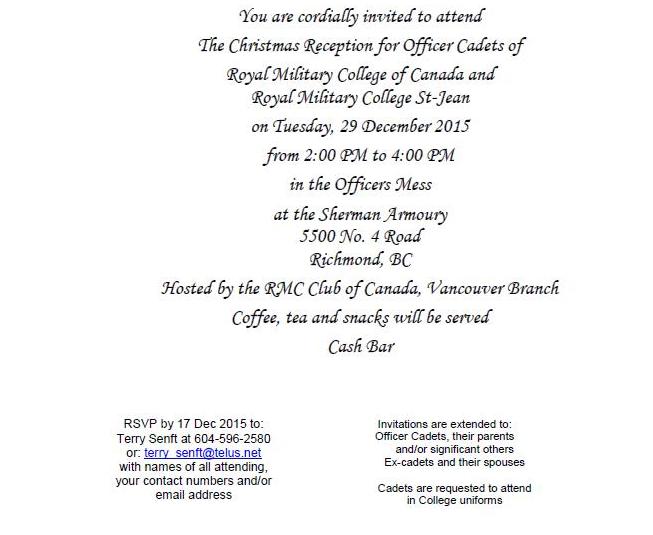 ***
EDMONTON BRANCH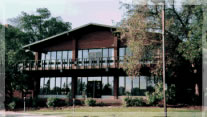 What: RMC Clubs Edmonton Branch Christmas Supper
Where: Faculty Club – University of Alberta – 11435 Saskatchewan Drive NW, Edmonton
When: 22 Dec 15 – Cocktails at 1800 with Dinner from 1900 to 2200
Cost: $ 45 per person for ex cadets and their guests. Free for current cadets and up to three family members; payable at the door by cash or cheque
RSVP cutoff of 1400 hours Eastern Time on 18 Dec:
Contact: Trent E Kane, Trent.Kane@me.com
***
 Vancouver Island Branch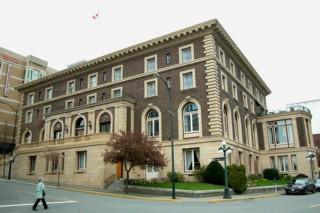 The Vancouver Island Branch of the Royal Military Colleges Club of Canada invites you to:
A Christmas Reception for Ex-Cadets and Officer Cadets of the Royal Military Colleges of Canada on Monday, 28 December 2015 at 11:30 AM at
Buffet Lunch will be served
Please RSVP by 12:00H Pacific Standard Time, Wednesday, 23 December to
6216 LCol (Ret'd) William Anderson at ocdtanderson@shaw.ca.  , (250-370-1590) providing the names of  guests. If you are unable to advise in advance, please come anyway.
Tariff: No cost for RMC Cadets with one family member or guest. Members, their guests, and any additional guests for Cadets: $35.00 (Tax & Gratuity incl) per person.
Refreshments: Cash Bar
Dress: Scarlets or Business Attire (Equivalent for ladies)
***
Hamilton RMC Ex-Cadet Club

Happy Holidays
The Hamilton RMC Ex-Cadet Club will be hosting its annual Holiday Meet and Greet on Monday, December 21st from 1730 to 1930. All past, current and prospective cadets in the region are encouraged to attend. We welcome all friends and family to join us for a night of holiday cheer.
Where: HMCS Star, 650 Catherine Street North, Hamilton, ON
When: December 21st, starting at 1730
Cost: $10 each, free for Cadets currently attending RMCC and CMR St. Jean. Light food will be provided.  
For more information, or to RSVP, please contact Branch President Bob Carr at carrbibi@gmail.com.
***