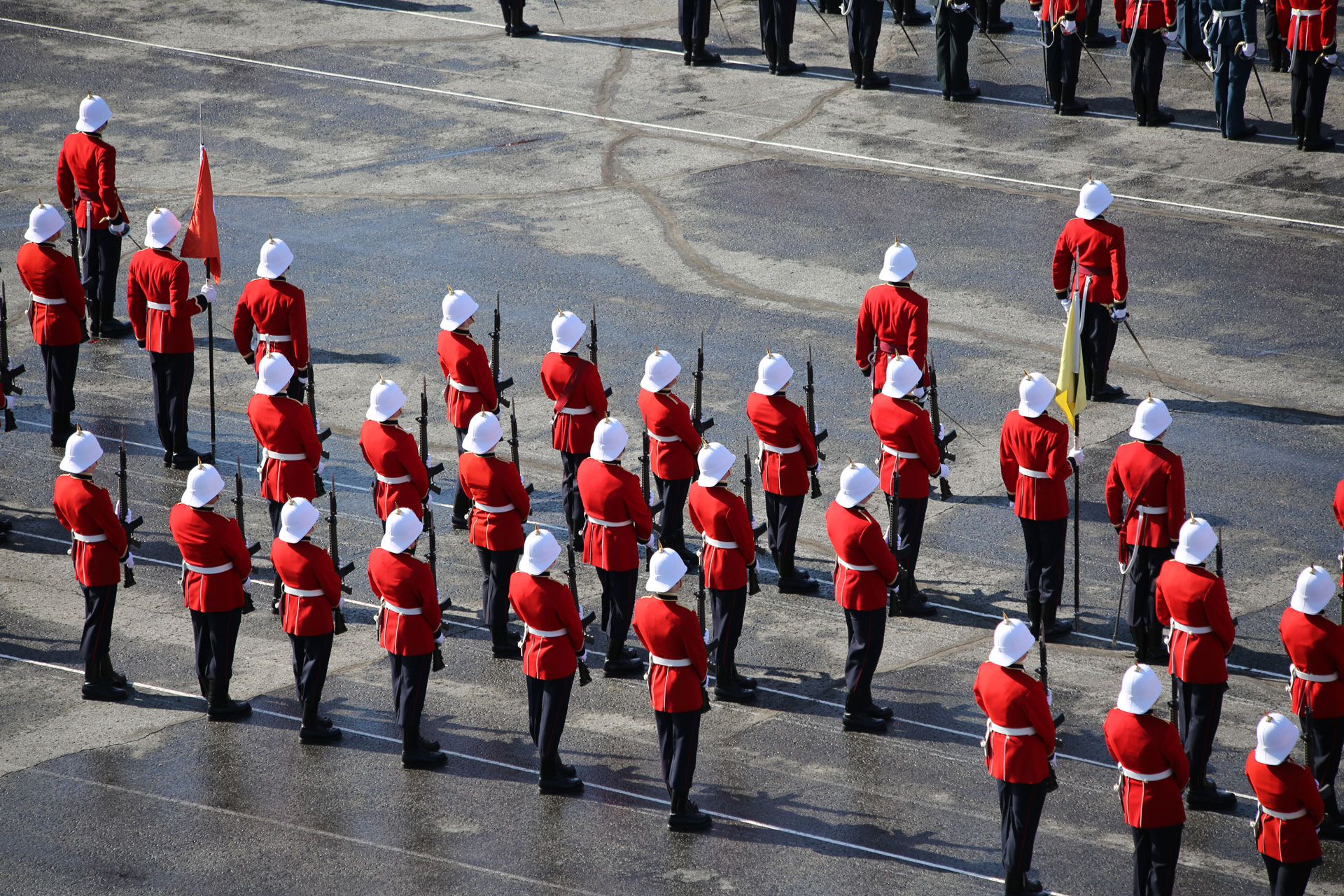 Like father, like son
A/SLt 24498 Noelani Shore (RMC 2009)
He watched on with pride as his son completed the obstacle course after this year's First Year Orientation Period at RMC.
Lieutenant Colonel 14164 Michael Voith, MSC, CD, RMC 1983, had the opportunity to relive his memoires of recruit camp, and meet up with his classmates during his son's FYOP.
"We went to the obstacle course, and the badging ceremony, and that was a proud moment, to see my son go to RMC. He wants to pursue Civil Engineering, and be an Engineer, like myself," said LCol Voith. "I have three other children. There's at least one other son that's interested in going, but he's only in Grade 10, so he's got a few more years to go before he can apply."
LCol Voith is currently the Deputy Director of Army Doctrine in Kingston, and he, along with his team, is responsible for writing all the manuals and publications for Land Warfare Doctrine. As the second in command, he is in charge of the day-to-day workings of the directorate.
"In order to write the manuals, there's a lot of coordination that's required. You have to consult with your Allies, so we have a number of international programs that we do this with. There's a NATO program and there's also an ABCA program, which is America, Britain, Canada, Australia and New Zealand program," explained LCol Voith. "We meet many times a year to coordinate, consult, and work through to make sure we develop doctrines and procedures that are relevant, so that when we go to places like Afghanistan, Bosnia, or Pakistan, our procedures are similar and we can work together."
LCol Voith is in a good position to develop these doctrines, as he has had extensive experience overseas, and knows first hand how difficult it can be to coordinate different nations.
"I deployed [to Afghanistan] in Jan 2008 and returned in Oct 2008. I was in Regional Command (RC) South Headquarters, which is a division level HQ responsible for the four brigades that are in the south. There is the United Kingdom, Canada, the Netherlands, Romania, and then there were some Americans up in one of the provinces as well. My position was the Commander's Planner. I worked for the commander of RC South, and I also looked after what was called the Governance Line of Operation," LCol Voith said.
"When you're fighting a counter-insurgency campaign, there's a security piece, and a development piece, but there's also a governance piece. I was responsible, along with a number of political advisors, to coordinate the governance effort in the south. That meant that I organized meetings with key ministers in the Afghan government. We spoke with them and tried to encourage them to develop and bring governance to the south."
While Afghanistan is his most recent deployment, LCol Voith has been on a total of seven deployments to various parts of the world.
"Probably the mission I remember the most was in Pakistan after the earthquake in Oct 2005. We deployed there on very short notice, and had to get organized very quickly, and then we had to deliver humanitarian aid to the victims of the earthquake. The level of devastation was just incredible."
LCol Voith's actions in Pakistan earned him a Meritorious Service Cross, awarded to him in Oct 2006 by Her Excellency the Right Honourable Michaëlle Jean, Governor General of Canada for outstanding professionalism and leadership as head of the Disaster Assistance Response Team (DART).
"I was awarded a Meritorious Service Cross after my two DART deployments, and accepting that award on behalf of all the members of the DART, because a unit is a team effort, and receiving that award for all the good work everybody did was probably the proudest moment in my career," LCol Voith said.
LCol Voith graduated with a degree in Mechanical Engineering, and he went on to complete two Masters Degrees.
"I have a Masters of Defence Management and Policy from RMC, and I also have a Masters of Defence Studies. But for the work that I've done over the years, the [Engineering] Degree has been very useful."
Like many officers, LCol Voith agrees RMC provides the foundation for leadership, but it is important to also learn as you go along and grow as an officer.
"RMC gives you the basics. You're constantly learning and developing throughout your entire career – it never stops. You're constantly learning and proving yourself. RMC taught me about myself, taught me about working with other people, taught me all the basic leadership skills that I need to build on."
"I'd say the best things about RMC are the teamwork and the long-lasting friendships you develop that are long-lasting. We have a great class – we meet every five years."